Moving forward on climate this Sunday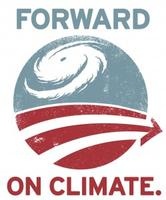 By Chris Carnevale, Southern Alliance for Clean Energy
This Sunday, February 17, will see the largest climate rally in history.  More than 20,000 participants are expected to gather on the National Mall in Washington, D.C., to send a strong message to President Obama that urgent action to address climate change is necessary. Dubbed the Forward on Climate rally, the event has come from collaboration from a diverse set of organizations including 350.org, Sierra Club, the Hip Hop Caucus and dozens more, including Southern Alliance for Clean Energy.
"Power concedes nothing without a demand" - Frederick Douglass
The rally comes at a time when popular support for climate action is high and the need for leadership is more apparent each month. 2012 was the hottest year on record for the contiguous United States and among the hottest years for global temperatures, a designation which seems to be all too common lately. 2012 was also plagued by extreme weather, exacerbated by global warming -- the mid-Atlantic derecho storm, seemingly incessant wildfires, crippling drought, and a highly active hurricane season including Superstorm Sandy. The writing is on the wall. Unchecked carbon pollution and the resulting change in climate is making the world a worse place. We owe it to our children and our children's children to do what we can to make sure they have a healthy, prosperous and livable world.
Sunday's rally will send a message that climate action is necessary. Can you lend your voice? Attending the rally may be easier than you think. Many local groups, such as Sierra Club chapters, are organizing bus trips to D.C. if you'd like to catch a ride. See the list of buses here. You can also consider taking Amtrak, Greyhound, or carpooling with one of the dozens of people looking for carpool partners here.
Other ways you can get involved include:
To learn more about the rally or to RSVP, visit ForwardOnClimate.org.