Energy watchdog pressures NC governor over conflict of interest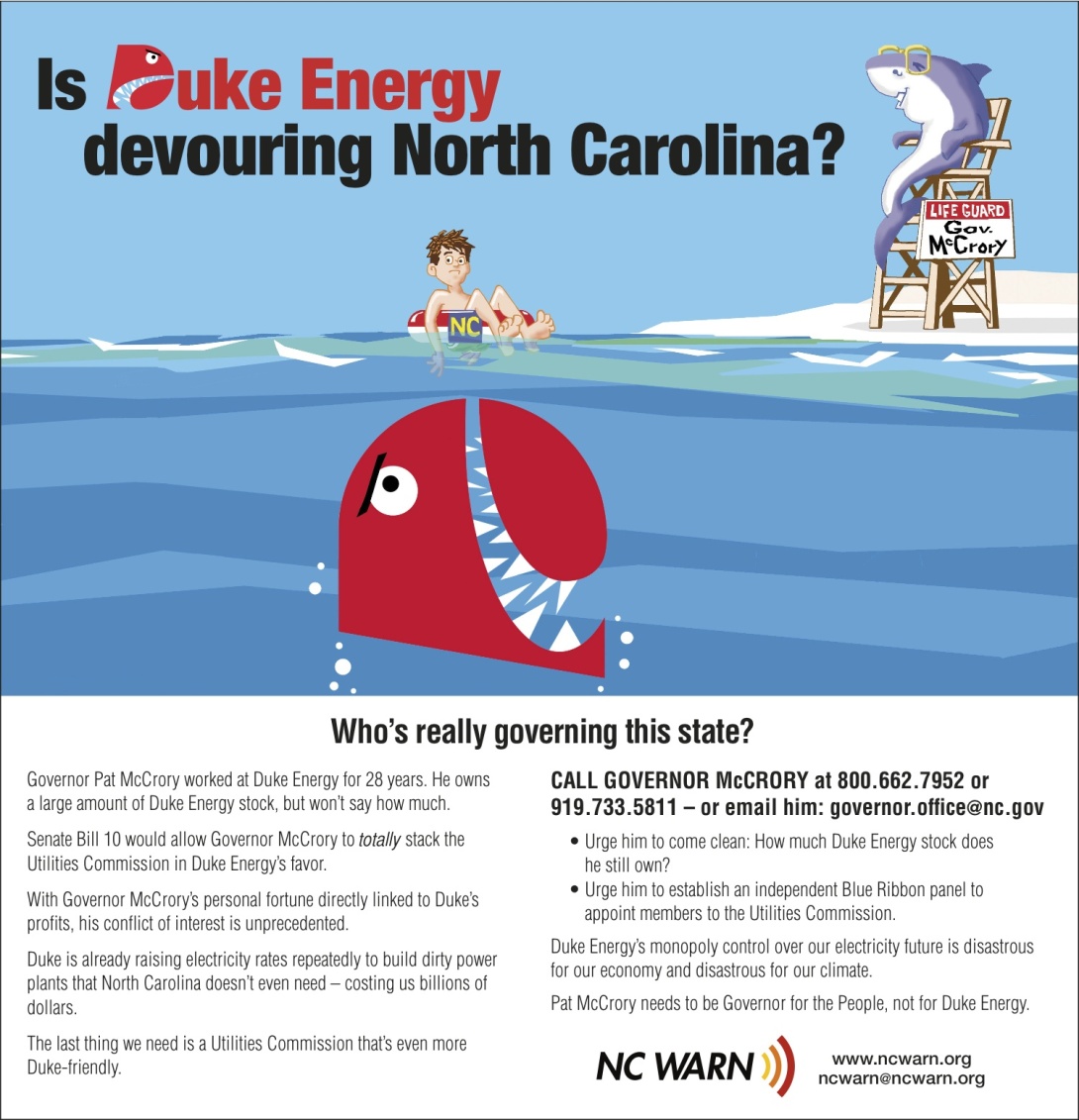 With North Carolina Gov. Pat McCrory (R) refusing to respond to a request to disclose the exact amount of Duke Energy stock he holds, a watchdog group is running a full-page ad in the state's newspapers questioning whether it's ethical for him to make appointments to the N.C. Utilities Commission (NCUC) that regulates the energy giant.

The ads sponsored by NC WARN feature a drawing of McCrory as a shark sitting in a lifeguard's chair, while another shark representing Duke Energy is about to attack a swimmer representing North Carolina. "Is Duke Energy devouring North Carolina?" the text asks.

The ad points out that McCrory worked at Charlotte, N.C.-based Duke Energy for 28 years and holds a large amount of the company's stock, though he hasn't publicly said exactly how much. As Facing South reported last month, McCrory's latest statement of economic interest filed with the N.C. Ethics Commission discloses that the governor holds at least $10,000 in Duke stock. North Carolina ethics rules do not require reporting the exact value of stock holdings.

The ad also notes that a bill now making its way through the state legislature would allow the governor to stack the NCUC, which is currently considering whether to approve Duke's plans to build costly new power plants and raise customer rates. Senate Bill 10 would fire all of the members of a host of state regulatory boards and commissions, including the NCUC, whose new members would be appointed by the governor.

"We know of no precedent where a corporate energy executive moves into the governor's mansion, hangs on to a large block of stock, then appoints his long-time boss's regulators -- especially when that corporation has tens of billions of dollars in rate hikes on the drawing board," says NC WARN Executive Director Jim Warren.

NC WARN and the AARP state chapter first called on McCrory to recuse himself from making NCUC appointments in a Jan. 4 letter. On Feb. 11, NC WARN sent another letter to McCrory expressing concern about Senate Bill 10 and the appearance if it passed that "Duke Energy has captured its regulator, and had done so with the Governor's assistance."

The newspaper ads encourage concerned citizens to call or email the governor and ask him to "come clean" about how much Duke Energy stock he holds. It also calls on McCrory to establish an independent panel to make NCUC appointments.

"Duke Energy's monopoly control over our electricity future is disastrous for our economy and disastrous for our climate," the ad concludes. "Pat McCrory needs to be Governor for the People, not for Duke Energy."

So far, though, McCrory has given no indication he will recuse himself from NCUC appointments. In fact, last week he made an appointment to fill a vacancy on the commission, selecting Don Bailey, an energy engineer with ATI Allvac, which makes specialty materials for industries including oil and gas.

A member of the board of directors of the Carolina Utility Customers Association, which represents industrial utility customers, Bailey has been a minor contributor to McCrory's campaign, according to the National Institute on Money in State Politics.
Tags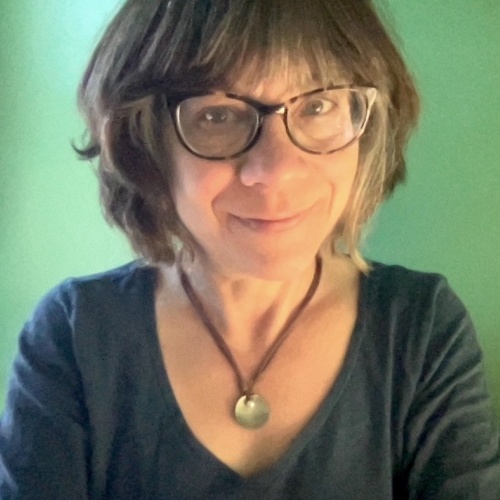 Sue is the editorial director of Facing South and the Institute for Southern Studies.