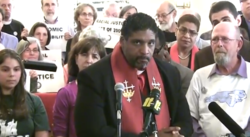 Moral Monday is a series of ongoing, nonviolent protests at the North Carolina General Assembly that has been happening every Monday since April 29 (not including Memorial Day) led by the NC NAACP. The protests are meant to demonstrate a push back against an "extreme" agenda that "includes cuts to education, social programs and unemployment benefits; rejecting Medicaid expansion; new restrictions on voting and labor rights; and restarting the death penalty."
Why is it important?
The actions of the General Assembly are hurting the citizens of North Carolina, and we need to ask our legislators to care for all our citizens and not just a select few.
"We're running out of options to get our voices heard," said Chris Kromm, executive director of the Institute for Southern Studies and publisher of Facing South. "If the legislature gets its way, June will bring North Carolina unnecessary voter ID restrictions, fewer early voting days, and the end of our popular judicial public financing program. The impact of these decisions on our democracy cannot be overstated."
Why is Chris Kromm of ISS getting arrested?
Sometimes the only way to have our voices heard is to sacrifice one's own liberty. At the last event, 600 protesters were at the legislature and 49 were arrested. So far 153 have been arrested, and we estimate today's "Mega Moral Monday" will have the biggest turnout yet. The organizers don't know what to expect today, but well over 1,000 people are expected to be there.
"The voice of ordinary voters is under attack in North Carolina," says Kromm. "N.C. leaders are pushing for new restrictions on voting access while opening the door to more Big Money influence in our elections. We have no choice but to stand up for democracy."
What can you do?
Come out and support your fellow citizens. Moral Monday is held every Monday. 

This Moral Monday will be at the Halifax Mall in Raleigh at 5 p.m. at 301 N. Wilmington St. Go to the NC NAACP for more information. 

http://www.naacpnc.org/
Learn more about how your Representative is voting by viewing the Democracy North Carolina Report Card.