Shortly after midnight on Nov. 8, 2013, a train carrying crude oil from North Dakota's Bakken shale formation derailed and caught fire in western Alabama, spilling nearly 750,000 gallons of its 2 million gallon load of crude in wetlands a half-mile south of the town of Aliceville. The wetlands drain into a tributary of the Lubbub Creek, which empties into the Tombigbee River.

Scroll below to listen or read along with this article.
The amount of crude spilled near Aliceville was almost as much oil as was spilled by U.S. railroads from 1975 to 2012, according to
an analysis
by the McClatchy news organization -- a total of 800,000 gallons over the 37-year period.
The Aliceville spill was by far the largest rail-related U.S. oil spill in 2013, accounting for almost three-quarters of the more than 1.15 million gallons of crude spilled from rail cars last year. The other major U.S. incident involved a train derailment in Casselton, N.D. on Dec. 30, 2013, which spilled an estimated 400,000 gallons of Bakken crude.
Not included in the accounting of 2013 oil train spills was the
July disaster in Lac-Mégantic
, Quebec, which Canadian authorities estimate spilled more than 1.5 million gallons of crude that also came from North Dakota's Bakken fields. That incident involved an unattended runaway train that derailed and exploded, killing 47 people and destroying about half of the town's center.
And there was a
near-disaster this week in Philadelphia
, where a train carrying crude oil derailed on a bridge over the Schuylkill River early Monday. So far officials are saying that there's no evidence any of the oil spilled into the Schuylkill, which flows into the Delaware before emptying into the Atlantic.
With North America's energy boom underway, trains are carrying more of the output, increasing the chance for rail disasters, as Bloomberg News
reported
earlier this month:
Train shipments of crude pumped in Western Canada and the U.S. Midwest are projected to double to 2 million barrels a day in the next year, up from 1 million a day in the first nine months of 2013. U.S. government data show that as oil output has surged, so have crude-related train incidents, which were up 12-fold from 2010 to 2013.
With the spike in oil shipments by train, concern is growing over accidents -- especially those involving Bakken crude, which may be more flammable than traditional heavy crude. Last week, federal regulators met with railroad and oil industry representatives to discuss how to reduce hazards presented by oil trains.

U.S. Transportation Secretary Anthony Foxx said the changes would be announced within the next month.

Success of Aliceville cleanup exaggerated

What has transpired in the wake of the Alabama spill shows there also needs to be official attention paid to what happens on the ground following such a disaster. Two months after the Aliceville spill, the wetlands at the site remain oiled, and the effort to clean them up so far appears inadequate.

The lack of effective cleanup action comes amid scant national media attention to what's been unfolding in Aliceville. Part of the reason may be because the disaster site is in rural Alabama -- hardly a mainstream media magnet.

It's also a poor community with a large African-American population. According to the latest Census data, Aliceville itself is 66 percent black with 44.7 percent of residents in poverty, while surrounding Pickens County is over 42 percent black with 24 percent of the population living below the poverty line. In comparison, Alabama is just over 26 percent black with 18 percent of its residents in poverty.

That the public has any information about the aftermath of the Aliceville spill is due in large part to the work of John Wathen, the Hurricane Creekkeeper based in Tuscaloosa, about 50 miles east of Aliceville.

A few days after the spill, Wathen attempted to visit the spill site with a scientist friend. As they drove toward the site on a public road, they were blocked by a railroad security officer who told them that if they continued he would call the sheriff, FBI, and Federal Railroad Administration officials who were at the site. The officer said the "mess was mostly cleaned up."

To see for himself, Wathen flew over the site the next day with the help of Tom Hutchings of SouthWings, a North Carolina-based nonprofit that connects volunteer pilots with conservation groups. They were joined by amateur videographer. This is what they saw, a still from the video below: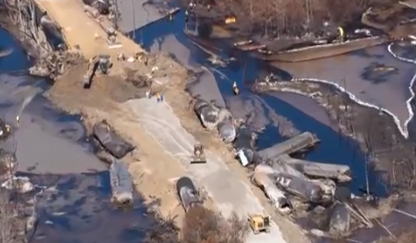 Wathen returned to the spill site on Dec. 27 after reading a story in the Tuscaloosa News in which the Alabama Department of Environmental Management proclaimed success in the containment and cleanup. Contrary to what the press was reporting, Wathen found oil outside the containment booms and in the marshland. There was a heavy rainbow sheen on the water and a heavy smell of oil in the air, and the oil appeared to be oozing from the soil at the water's edge. At the same time, the absorbent products deployed as part of the cleanup didn't appear to be working properly.

Wathen returned on Jan. 4, 2014 only to see that the conditions, as he put it, had "gotten worse." The oil was seeping out of the ground in places. He went back again on Jan. 11 and found large pools of black crude floating atop the water.

"The little booms were absorbing nothing," he said in a video he made documenting his visits to the spill site. "It looked like nobody had been here in weeks. As far as maintenance on the site, I couldn't see where anything had been done."

Wathen points out that, as at the Casselton, N.D. site, the railroad tracks near Aliceville were rebuilt before the oil was cleaned up from the environment. As a result, the crude oil appears to be seeping into the ground and out into the wetlands.

Lance LeFleur, director of the Alabama Department of Environmental Management, assured the state's environmental management commission in early December that "oil containment was achieved timely, and no oil was released into the wetland." He also said that "aggressive recovery operations" were ongoing.

The evidence Wathen has collected challenge those claims.

"Their ongoing success at the Aliceville cleanup is not quite as successful as they want you to believe," he said.

You can watch Wathen's video here: