Communities resist as tar sands flow through KXL South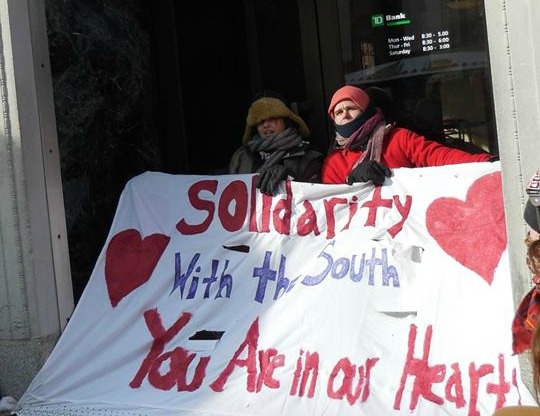 By Lauren McCauley, Common Dreams
Tar sands oil began flowing through the the southern leg of the Keystone XL pipeline Wednesday as operations commenced delivering the "the dirtiest fuel on Earth" to refineries on the Gulf of Mexico.
The southern leg -- the lesser known half of Transcanada's pipeline -- originates in Cushing, Okla. and passes through countless communities in Oklahoma and East Texas before arriving at refineries and shipping ports along the coast.
"We are the story that isn't often told," East Texas resident Maya Lemon said in a statement circulated by the group NacSTOP (Nacogdoches County Stop Tar Sands Oil Permanently), "the story where Obama's decision to delay on KXL north was paired with an endorsement to fast track KXL south."
While opposition to the project has lacked the national attention given to protests against the northern section, local activists and community members on the front lines of the pipeline have long fought the project and the eminent domain laws that bullied it through.
"We are dissatisfied with the process that allows this pipeline to begin operation, we are frustrated that landowner rights and issues related to eminent domain have never been fully resolved, and we are concerned that our communiies are not prepared to respond safely from this pipeline," NacSTOP writes in a letter calling for solidarity action nationwide.
Answering that call, two activists in Portland, Maine were arrested for protesting in solidarity with the communities along the pipeline route Wednesday by locking themselves to the front door of a TD Bank, one of the biggest investors in the pipeline.
The activists, both with the group Maine Trans and/or Women's Action Team, braved 15 degree weather hoping to draw attention to the 590,000 additional barrels of oil that will now flow to refineries located in largely minority communities in Manchester, Texas.
"Climate change's origin is deeply rooted in this practice of sacrificing of communities that are deemed dispensable," Betsy Catlin, one of the protesters locked to TD Bank, told Common Dreams. 
"It comes as no surprise that these are mostly low-income, communities of color: majority Latina/o on the East End of Houston and majority African-American in Port Arthur," said life-long Houston resident and community activist, María Jiménez, who added that these communities "are living examples of environmental racism."
According to a recent comparative health study, children raised amid refineries in Houston's Manchester neighborhood are already 56% more likely to contract childhood leukemia, says Yudith Nieto, an organizer with Texas Environmental Justice Advocacy Services (TEJAS).
"[R]efining tar sands will only increase that percentage while the refineries keep up their blatant disregard for the lives of those of us forced by circumstance to breathe their dangerous emissions on a daily basis," she added.
Fully operational, the 486-mile southern pipeline will transport 830,000 barrels of crude per day between vast underground storage tanks in Cushing, Okla., and the Gulf Coast, the Dallas Morning News reports. Other pipelines and rail services feed into it from the north.
National environmental groups responded to the news with despair, both for the communities along the pipeline route as well as for what the moment spells for the priorities of American politicians and their approval of the northern half.
"Expediting KXL south was not the mark of a president who really 'gets' climate change," said leading climate activist and founder of 350.org Bill McKibben, who later tweeted: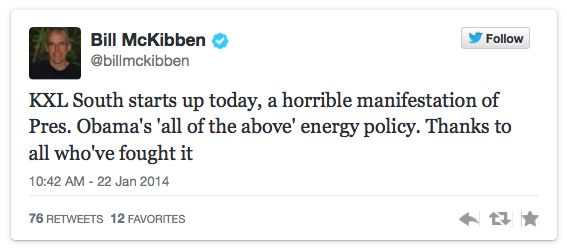 "Tar sands is more corrosive, more toxic, and more difficult to clean up than conventional crude. Coupled with lax oversight and TransCanada's dismal safety record, this pipeline spells bad news for farmers and families whose land, health, and safety were forfeited so that oil companies can reach export markets with their deadly product," said Sierra Club executive director Michael Brune in a statement.
"We hope from this point on that unity is the clarion call for the climate movement," lamented Juan Parras, founder of TEJAS.
"Environmental Justice communities, private property owners, residents living in proximity to the pipeline, and all those up and downstream -- we're are all affected here in the same struggle: to permanently stop the most ecologically devastating mining operations in the world and address the ongoing injustices of petrochemical refining," he added.
Speaking with residents along the pipeline route, Al Jazeera produced this report on the impact of the southern leg:
Activists posted video of this solidarity protest in Maine:
(This Common Dreams story is licensed under a Creative Commons Attribution-Share Alike 3.0 License.)
Tags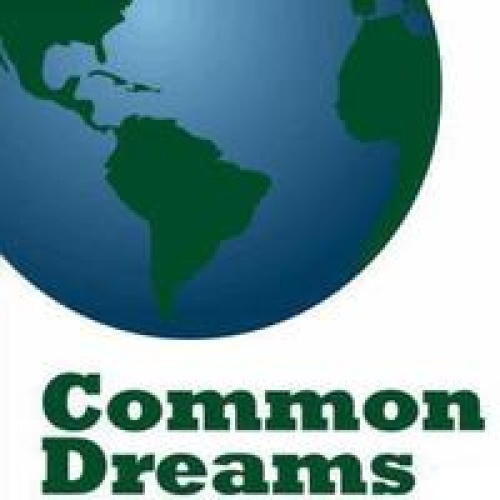 Common Dreams is a nonprofit independent newscenter that has been providing breaking news and views for the progressive community since 1997.