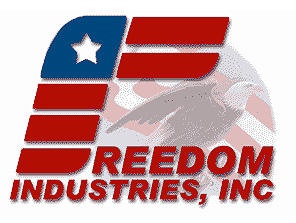 By Phil Mattera, Dirt Diggers Digest
Recent news reports out of West Virginia sound like they were written as part of a parody of modern business: the company responsible for a chemical leak that contaminated the water supply of hundreds of thousands of people is named Freedom Industries and was cofounded by a two-time convicted felon.
The situation, however, is far from a joke. Freedom Industries spilled a substantial quantity of a substance called 4, methylcyclohexane methanol (MCHM) into the Elk River near the intake valve for a water treatment plant serving the Charleston area, sending more than 150 people to the hospital and forcing residents to use bottled water for drinking, cooking and bathing. The plume is now heading toward Cincinnati.
As is all too common in such incidents, it turns out that the 75-year-old facility where the rupture took place had not been visited by government inspectors for more than 20 years. In fact, as a storage rather than a production facility, it was subject to little in the way of federal or state oversight. So much for the idea of regulatory excess.
Given that MCHM is used to process coal, this accident adds to the heavy toll that mining has taken on West Virginia -- from the Buffalo Creek flood in 1972 to the Upper Big Branch disaster in 2010 in which 29 miners were killed. It is also significant that Freedom Industries purchases MCHM, for which it serves as a distributor, from a subsidiary of Georgia-Pacific, which in turn is controlled by the rabidly anti-regulation Koch Brothers.
To all this can be added the fact that Freedom Industries was cofounded by an individual named Carl Lemley Kennedy II. As the Charleston Gazette has reported, Kennedy filed for personal bankruptcy in 2005 after he was hit with federal charges of tax evasion and failure to remit employee withholding taxes. He is reported to have admitted to diverting more than $1 million that should have gone to the Internal Revenue Service.
Kennedy's involvement in Freedom Industries, the Gazette notes, does not seem to have been affected by the fact that he had once pleaded guilty to selling cocaine in connection with a scandal that involved the mayor of Charleston. The paper quotes the current mayor, who is said to have known Kennedy since the 1980s, as an "edgy guy."
Another remarkable aspect of the story reported by the Gazette is that Freedom Industries was struggling in 2009, and its Elk River facility was able to go on functioning only after the Army Corps of Engineers dredged that portion of the river using federal stimulus funds.
To summarize: a tax evader and drug dealer helped to establish a largely unregulated chemical company that benefitted from the federal stimulus but apparently did little in the way of preventive maintenance and set the stage for large-scale drinking water contamination.
Large corporations such as Dow Chemical and Exxon Mobil have caused vast amounts of environmental damage, but it shouldn't be forgotten that small-time operators such as Freedom Industries can also do substantial harm. And it is not just producers of hazardous materials but also distributors that can be the culprits. It was another small distributor, West Fertilizer, that was involved in the ammonium nitrate explosion in Texas last April that killed 15 people. Much of the reporting in the wake of that event, particularly with respect to holes in the regulatory system, could have been recycled for the new West Virginia accident.
As long as the illusion of regulation is perpetuated in place of the real thing, these accidents will continue to happen, and the right to pollute will trump the right to be safe from pollution.