Moral Monday movement spreads through the South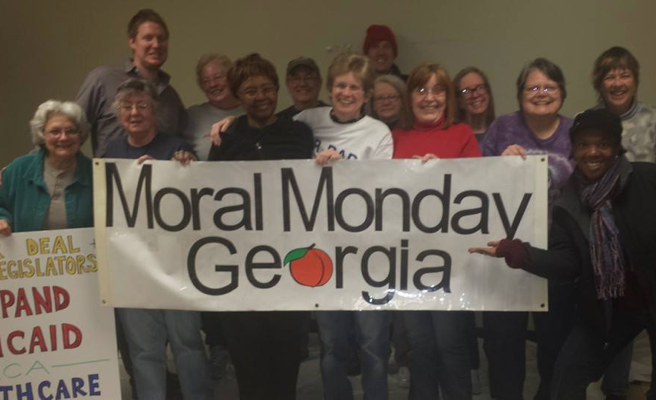 After drawing thousands of protesters to the state legislature and inspiring the arrests of more than 900 people for nonviolent civil disobedience, North Carolina's Moral Monday movement challenging the extreme conservative agenda of the state's Republican-controlled legislature and administration is gearing up for more actions in 2014.

It's also spreading to other states in the South where Republicans hold overwhelming power -- and where legislators face re-election this year.
Scroll below to listen or read along with this article.
When the Georgia General Assembly convenes on Monday, Jan. 13, members will be met by progressive activists holding their state's first Moral Monday protest. Among the issues the protesters are focusing on are Georgia's refusal to expand Medicaid under the Affordable Care Act, efforts to restrict voting rights, and policies that divert education funds from public to private schools. The Georgia NAACP is leading the coalition organizing the protest.

Before gathering for a rally on the steps of the Georgia state capitol at 4 p.m., Moral Monday Georgia participants are invited to visit their representatives from 10 a.m. to noon, attend a "Hunger Lunch" focusing on food security issues, and participate in workshops led by the N.C. NAACP's Rev. Dr. William Barber, architect of North Carolina's Moral Monday movement.

"For too long, many elected officials in Georgia have ignored the moral implications of their actions and inactions with respect to the neediest among us," MMGA says in a statement on its website. "Our coalition stands against all forms of discrimination and amplifies the voices and ideas of folks in marginalized circumstances."

The South Carolina legislature convenes the following day, Tuesday, Jan 14, and progressive activists from across the state will gather at the State House in Columbia for what's being billed as "Truthful Tuesday." The action is being organized by the state chapter of the National Association of Social Workers, the S.C. AFL-CIO, S.C. Christian Action Council, S.C. NAACP, S.C. Progressive Network, S.C. Alliance for Retired Americans, and the S.C. Education Association.

Protesters are being asked to wear black as a symbol of mourning for the estimated 1,300 people who will likely die in South Carolina this year if the state continues to refuse Medicaid expansion. The organizers are also calling for better funding of education and the protection of voting rights.

"It's to really put lawmakers on notice regarding the need to expand Medicaid and protect voting rights and to fully fund public education," George Hopkins, a College of Charleston history professor and Charleston chapter president of the S.C. Progressive Network, told the Charleston City Paper. "Hopefully on Wednesday the 15th the headlines across the state will read 'Citizens Descend on Columbia' to demand legislators take action on these issues."

Momentum builds in North Carolina

At the same time North Carolina's Moral Monday movement is inspiring progressive activists in other states, its leaders have announced plans to continue the fight at home.

At a press conference held this week, Rev. Barber announced plans for a Moral March on Raleigh to be held on Feb. 8. The action continues a tradition that began in February 2007 with the annual Historic Thousands on Jones Street marches named for the street where the legislature is located.

Organized by the N.C. NAACP and supported by a coalition that has grown to include 160 organizations, the mass marches are held near the start of each legislative session to promote a 14-point People's Agenda that includes adequate funding for public schools, livable wages, and health care for all. The marchers assemble at Raleigh's Shaw University, a historically black school where the Student Nonviolent Coordinating Committee was formed in 1960 and went on to help lead the fight for civil rights in the South.

"This crowd is a crowd of extremists," Barber said, referring to the legislature, "and we're calling on all people of good will to stand against these extremists who are attacking poor, and women, and labor, and unemployed people, and the sick, and, most horribly, what's fundamental to our democracy, which are our voting rights."

Starting next week, Barber will kick off a Moral March on Raleigh Statewide Tour to build support for the Feb. 8 event, with stops planned for Scotland County, Washington County, Goldsboro, Charlotte, Asheville, Brevard, Hickory, Winston-Salem, Greensboro, Burlington, Rocky Mount, Wilmington and Elizabeth City. The NAACP is also planning a weekend of religious services involving 50 churches, mosques, synagogues that will preach about the Moral March on Raleigh, and there will be an ecumenical service in Raleigh the night before the march.

In addition, Barber said the state NAACP and its allies would continue the fight against the legislature's actions through litigation. This week, the NAACP and other plaintiffs suing the state over its restrictive new voting law filed an amended lawsuit that claims the law discriminates not only against African Americans but also against Latinos and young people. The law imposes strict voter ID requirements, cuts early voting, and ends same-day registration and teen pre-registration.

"We are saying to our friends near and far, if you believe that an injustice anywhere is a threat to justice everywhere, join us for the Moral March on Raleigh," Barber said.
Tags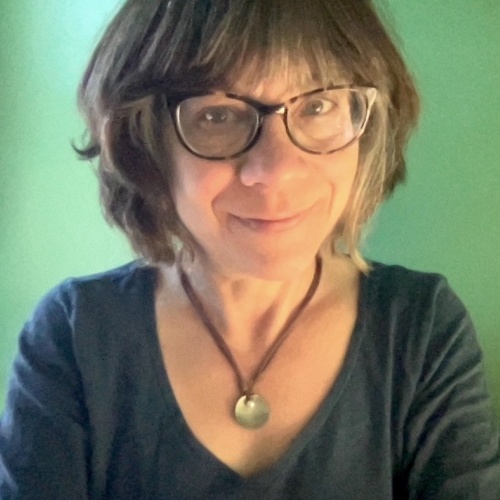 Sue is the editorial director of Facing South and the Institute for Southern Studies.