After initial hysteria, back-pedaling over NC voter fraud claims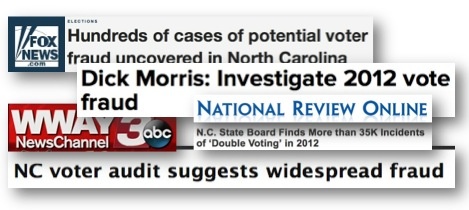 Last week, top staff of the N.C. State Board of Elections made a presentation to legislators about the state of voter registration in North Carolina. Out of the board's 58-page PowerPoint presentation [pdf], only two of the slides (34 and 35) related to the Interstate Crosscheck, a project run by the Kansas secretary of state to root out suspected voter fraud.
But the findings of North Carolina's involvement in Crosscheck quickly ignited a media firestorm, especially in the conservative media: "N.C. State Board Finds More than 35K Incidents of 'Double Voting' in 2012" trumpeted National Review. "Oh My: Audit Finds Evidence of Widespread Voter Fraud in North Carolina" blared Townhall.com.
Dick Morris, the conservative comentator and former political operative, made even more wild claims, claiming in an editorial for The Hill that North Carolina's findings offered "concrete proof that massive voter fraud might have taken place in the 2012 election, sufficiently widespread to have tainted more than 1 million votes nationwide."
CROSS-CHECK'S CHECKERED HISTORY
As Facing South was one of the first to report, however, the North Carolina election board's data offered little proof of rampant fraud. The 35,750 figure represented people who, when plugged into Crosscheck's database of voter files from 28 states, had the same first name, last name and date as birth of people who had voted in other states in 2012. But many of those can be explain by clerical errors and the fact that a surprisingly large number of people in different states share the same names and birthday.
The seemingly more troubling figure was 765: That was the number Crosscheck flagged as people whose names, birth date and the last four digits of their Social Security matched as having voted in North Carolina and another state in 2012. Hans von Spakovsky, a voting fraud crusader who used to work for the Federal Elections Commission and is now based at the conservative Heritage Foundation, said that was proof North Carolina "had the goods."
Yet the history of the Crosscheck program offers little evidence to suggest such "goods" -- in the form of verifiable, prosecuted cases of voting fraud -- will ever emerge. The fact-checking group PunditFact, in a report drawing on Facing South's analysis, rated Morris' claims as "false," noting that Kobach himself admits few of the potential fraud cases have resulted in proof of criminal wrongdoing.
In a September 2013 presentation about the program, Crosscheck founder Kris Kobach, the Kansas Secretary of State, readily acknowledges that out of 84 million records analyzed, only 14 had even been referred for prosecution. Kobach's presentation doesn't list any cases of a voter actually being convicted of fraud. Furthermore, in Crosscheck's 2014 participation guide for states, they admit that "a significant number of apparent double votes are false positives and not double votes. Many are the result of errors -- voters sign the wrong line in the poll book, election clerks scan the wrong line with a barcode scanner."
PunditFact interviewed Michael McDonald, a political scientist at George Mason University, who described other clerical mistakes that can lead to false claims of double-voting:
You find missing data, or worse, a missing data code. They might plug in '9999' when they don't have a Social Security number and people are getting matched on that missing data code.
WALKING BACK THE HYSTERIA
A week after the initial news reports had declared the board's cross-check "suggests widespread fraud," editorials in North Carolina newspapers urged caution.
Writers for the Capitol Press Association, The News & Record of Greensboro and The News & Observer of Raleigh decried the rush of Republican lawmakers to declare the board's preliminary report as as proof of fraud and argued for patience as the state board further investigates each case.
Many pointed out that N.C. State Board of Elections Director Kim Strach herself rushed to no such conclusions. When state lawmakers like Rep. Tim Moore (R-Cleveland County) claimed Strach's April 2 presentation "documented ... that voter fraud occurred, Strach was cautious:
Could it be voter fraud? Sure, it could be voter fraud. Could it be error on the part of precinct officials choosing the wrong person? It could be. We are looking at each individual case to determine what in fact it is ... [I]f we have evidence that in fact a person did vote for someone else, then that is a criminal violation, and we will absolutely refer that (to the district attorney). But we have to make sure that's what happened, and that it wasn't an error on someone's part.
REAL SOLUTIONS FOR VOTER REGISTRATION PROBLEMS
While state Republicans seized on Strach's presentation as justification for a raft of voter restrictions passed in 2013 -- including a strict voter ID measure that would do nothing to prevent double-voting in multiple states -- there was little discussion of measures to modernize the state's voting systems.
As The Voter Update of the N.C. Center for Voter Education was one of the few to report, during the same April 2 elections hearing state board staffer Marc Burris discussed proposals to bring electronic poll-book software to all 100 of the state's counties. Currently, only 38 use it; 53 counties still use paper. According to The Voter Update, Burris argued that bringing the system statewide would improve efficiency and integrity in maintaining voter rolls.
Nationally, voting rights advocates at the Brennan Center and Lawyer's Committee for Civil Rights have called for a federal investment in a Voter Registration Modernization plan. Stopping short of national universal voter registration, which has been fiercely opposed by Republicans, the proposal would allow voters to register any time they interact with a variety of state agencies, not just the DMV, ensuring more eligible voters are registered. It would make registration portable when a voter moves, easing the process for voters and minimizing duplication. It would streamline the registration process, eliminating duplication and saving states and localities tens of millions of dollars. (A full outline of the Brennan Center's proposal is available here.)
The plan also builds on efforts already underway in states like North Carolina to upgrade registration systems, as well as proposals offered by groups like the bipartisan Presidential Commission on Election Administration [pdf] in January 2014.
But so far, leaders in the North Carolina General Assembly haven't announced any broad plans to modernize the state's registration systems. In 2012, the General Assembly moved to cut the election board's budget.
The Brennan Center argues the time is now to upgrade our antiquated voter registration infrastructure:
Voter registration in 21st century America is a 19th century relic. At a time when smart phones and online banking are commonplace, a paper-based system just does not make sense for voters, and creates headaches for election officials. Perhaps no other government system is so antiquated, so bureaucratic, and so rife with error. Fortunately, there is a better way.
Tags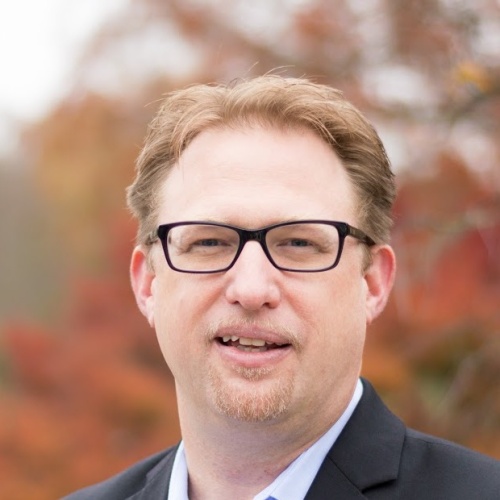 Chris Kromm is executive director of the Institute for Southern Studies and publisher of the Institute's online magazine, Facing South.