Protester handed cookies by Gov. McCrory strikes back with 'coal ash cupcakes'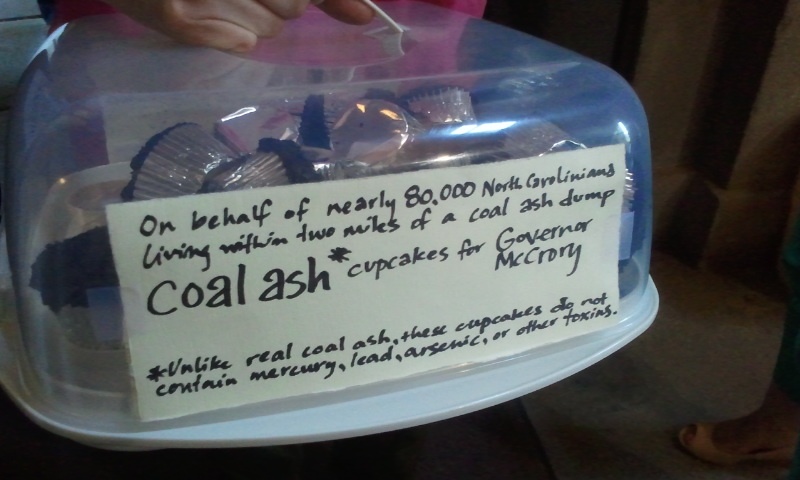 Before last week's Moral Monday rally kicked off outside the North Carolina legislature, a group of protesters led by state NAACP President Rev. Dr. William Barber stopped by the office of Gov. Pat McCrory to deliver a letter calling on him to repeal harmful policies -- including those that allow coal ash to continue to threaten communities across the state.

Among the protesters who lined up to pass through security and enter the old Capitol building that houses the governor's office was Jamie Sohn of Carrboro, North Carolina. Last year, a photo of a flabbergasted Sohn being handed a plate of cookies by McCrory during an abortion rights protest outside the governor's mansion went viral. The protesters returned the cookies to the mansion gates with a note that said, "We want women's health care, not cookies."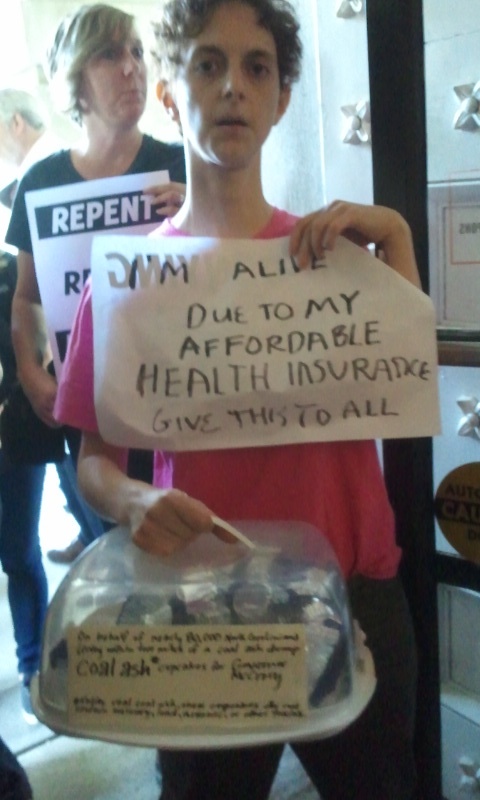 Last week Sohn struck back by delivering some pastries of her own to the governor: what she billed as "coal ash cupcakes." The label on the tray holding the pastries, which were actually chocolate, said:
On behalf of nearly 80,000 North Carolinians living within two miles of a coal ash dump coal ash* cupcakes for Governor McCrory

* Unlike real coal ash, these cupcakes do not contain mercury, lead, arsenic, or other toxins.
"I was so outraged by what he had done at the Planned Parenthood event, handing us cookies," Sohn told Facing South. "He left me standing in the middle of the street."

Sohn, an organizer who suffers from chronic health problems, had been singled out from the crowd to take the cookies by McCrory, who then immediately turned and walked back to the mansion. Sohn needed help getting out of the busy street.

Through her personal experience with the health care system, Sohn draws a connection between health-damaging coal ash pollution and the governor's and Republican-controlled legislature's decision to reject Medicaid expansion, a leading concern for Moral Monday protesters. Sohn says she is fortunate to have private health insurance that makes it possible for her to pay only about $100 a month out of pocket for her medications. Without insurance, the same medication would cost her $1,367 per month, she has calculated.

"Obviously I couldn't be alive," she says. "How could someone who says they believe in life do this to their fellow man? I don't get it."

The baked goods theme continued the following day at the legislature, when about 80 people from various groups -- some of them also holding trays of "coal ash cupcakes" -- took part in Coal Ash Lobby Day to support strong action to close and clean up the unlined coal ash pits around the state. Duke has 33 such unlined pits at its 14 power plants across North Carolina, and all of them are leaking toxins to the environment.

The Moral Monday protest and coal ash lobbying effort were responses to the massive spill of coal ash into the Dan River from an unlined pit at a Duke Energy power plant in February. Last month the Environmental Protection Agency reached a deal with the company under the federal Superfund law to clean up that spill, which has contaminated 70 miles of the river in North Carolina and Virginia.

McCrory has proposed a plan for addressing coal ash pollution, which has been introduced as legislation in the state Senate. The Governor's Coal Ash Action Plan (Senate Bill 729) would require utilities to submit plans for monitoring groundwater and surface water contamination for all coal ash dumps and for correcting any problems found, develop emergency action plans for hazardous dams at coal ash impoundments, and step up in-house inspections for coal ash dumps. The bill also requires state regulators to determine which coal ash pits are a priority for closure, imposes a temporary moratorium on the use of coal ash as construction fill for anything other than roads and airport runways, and toughens reporting requirements for coal ash spills.

State officials have defended the governor's plan, saying that it would require Duke Energy to submit closure plans for four of its ash dumps -- Riverbend near Charlotte, Sutton near Wilmington, the Asheville plant, and the Dan River plant near Eden -- within three months of the bill's passage,

But environmental advocates have criticized the proposal for going too easy on Duke. McCrory worked for the Charlotte-based company for 28 years, and it has been a major funder of his campaigns. Environmentalists want the state to require Duke Energy to empty out all of its wet coal ash pits and store the ash in dry form away from rivers and lakes.

Democratic lawmakers have offered an alternative to the governor's plan called the Coal Ash Management Act, which would set firm deadlines for Duke to close its ash dumps. However, it's unlikely to go anywhere given Republican super-majority control of both the state House and Senate.

Meanwhile, the state Senate is expected to introduce its own version of coal ash cleanup legislation as soon as this week.
Tags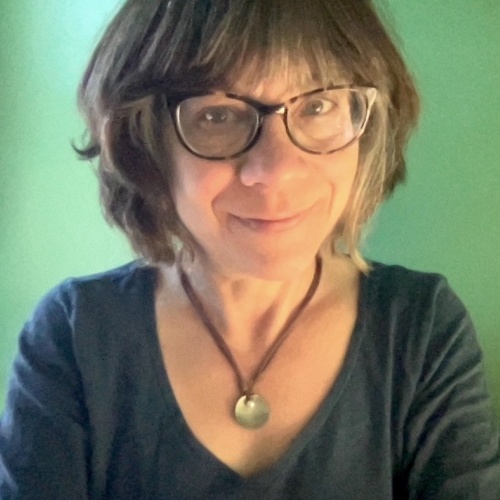 Sue is the editorial director of Facing South and the Institute for Southern Studies.