After Supreme Court setback, NC advocates press on to protect voting rights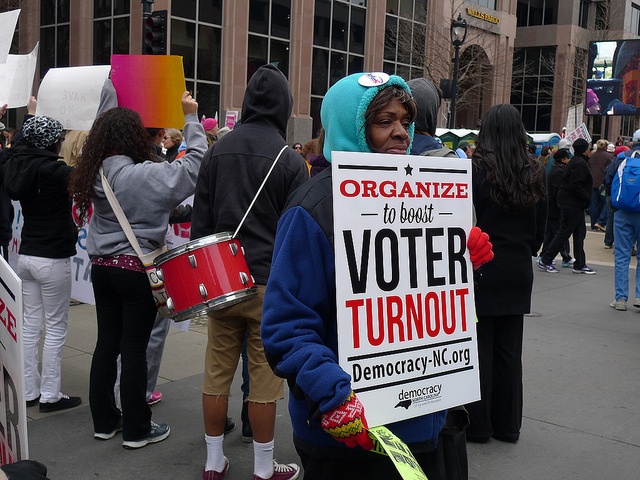 With voting in North Carolina set to begin on Oct. 23, the U.S. Supreme Court this week decided to reverse a federal appeals court ruling and implement the state's restrictive new election law this year. The decision means North Carolina voters will no longer be able to register to vote on the same day they cast ballots during early voting or to vote outside their home precinct.

Voting rights advocates say they are disappointed in the decision -- though not surprised -- and will press ahead with registering, educating, and turning out voters.

"The Forward Together Moral Movement will continue our fight for voting rights, making sure that, county by county, as many votes as possible are counted despite the barriers posed by the Supreme Court's ruling," said Rev. Dr. William Barber, president of the North Carolina NAACP, one of the groups challenging the law's constitutionality and seeking a delay in its implementation.

The majority of the Supreme Court in the 7-2 decision did not explain its reasoning in overturning the Fourth Circuit Court of Appeals' grant of a preliminary injunction blocking the 2013 law for this election. In their dissent, Justices Ruth Bader Ginsburg and Sonia Sotomayor argued that the law would likely suppress minority voters and would have been prevented by the Voting Rights Act's preclearance requirement that the Court struck down last summer in Shelby County v. Holder.

The two provisions that the Fourth Circuit blocked, same-day registration and out-of-precinct provisional ballots, disproportionately affect African-American voters, the law's challengers say. In its decision to grant the injunction last week, the Fourth Circuit panel cited statistics showing African Americans used same-day registration at almost twice the rate of white voters since its introduction for the 2006 elections, and argued that ending the practice likely violated the Voting Rights Act.

"With the Supreme Court's decision blocking the injunction ordered by the Fourth Circuit Court of Appeals, voters of color, who used these measures at significantly higher rates than white voters, will face higher barriers to the ballot box this November," said Penda D. Hair, co-director of the Advancement Project, one of the groups representing North Carolina voters in the lawsuit.

Its recent decision preventing Ohio's early voting from being extended so close to the election led many observers to believe that the Supreme Court was likely to turn back the Fourth Circuit court ruling. Since a 2006 case, Purcell v. Gonzalez, in which the Supreme Court allowed a restrictive state voting law to go into effect, the justices have been reluctant to change election law too close to the election out of fear of confusing voters.

"It was a predictable ruling," said Bob Hall, executive director of Democracy North Carolina. "So we are not really missing much of a beat at all."

Hall said his group would continue its voter registration, education, and protection efforts, including training about 400 poll watchers to ensure election officials respect voters' rights. With the elimination of same-day registration as a result of the ruling, North Carolina voters must be registered to vote or have their registrations postmarked by Oct. 10.

Democracy North Carolina is also running phone banks to inform voters of how the changes to the state's voting laws will affect them this November. Its message to  voting rights supporters is "Don't mourn -- organize!"

Attorney Allison Riggs with the Southern Coalition for Social Justice said she and others challenging the constitutionality of the state's restrictive election law would now focus their energy on next summer's trial.
"On behalf of our clients and voters of North Carolina we're certainly not giving up," Riggs said, "and we think we'll prevail in the full trial next July."
    
This week's Supreme Court's decision did not rule on whether the Fourth Circuit got the case right. North Carolina could ask the court to review last week's decision, but its strategy may depend on the outcome of a case in Wisconsin, Riggs said. A district court judge in that state found that around 10 percent of voters there do not possess valid ID and likely will not be able to get one before the election, but that decision was overturned.

North Carolina's law has a provision requiring voters to present a photo ID, but it does not take effect until the 2016 election. Besides the end to same-day registration and out-of-precinct voting, another change to North Carolina election procedures that does take effect this year is an end to straight-party voting.
 
The changes will put a greater burden on voters to make sure they get to the right place. And since there's no straight-ticket voting any more, voting may take a bit longer.

"This means we're going to have to step up our education efforts, our monitoring efforts, and our efforts to help our allies on the ground," said Denise Lieberman, a senior attorney with the Advancement Project. "It also means we're going to continue to fight more vigilantly than ever."