Georgia residents are battling just to get on the bus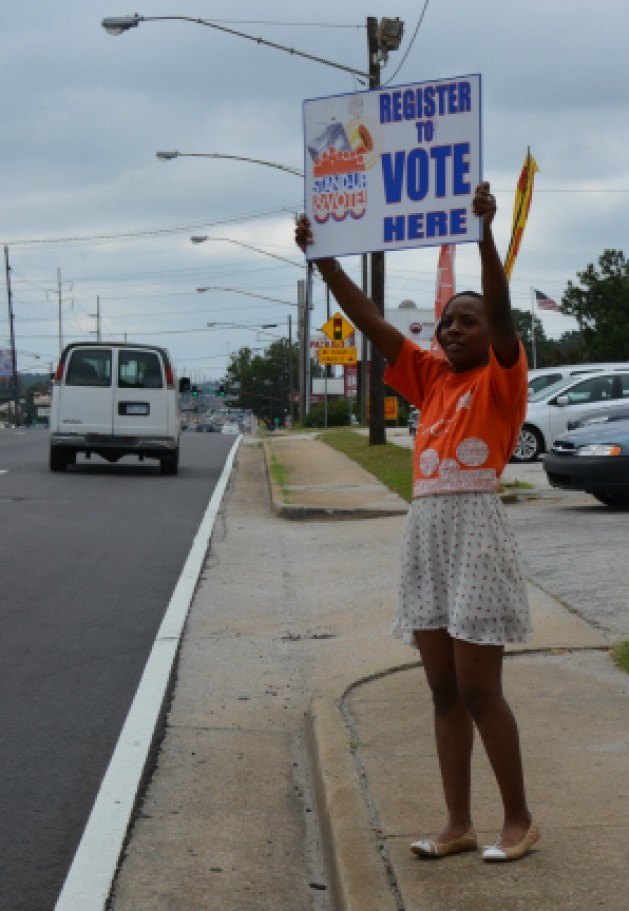 By Brad Wong, Equal Voice News

RIVERDALE, Ga. -- Standing off state Route 85, Jessica Jarrett waves a huge placard above her head to draw attention to a voter registration drive for the November elections.

Cars, vans and trucks speed by on this Saturday morning last month. At this moment, no motorist stops at this office which houses Friends of Clayton Transit, a pro-bus group, and community organizations.

Noticeably absent along this busy highway with a low skyline of auto dealers, restaurants and shops: Public buses and transit stops with signs showing route numbers and pick-up times.

There is a good reason why: They don't exist in Clayton County, which includes this bedroom community about 15 miles south of Atlanta.

Since 2010, residents in this predominantly African American community have lacked public buses to get around in the county or go to jobs in Atlanta or at nearby Hartsfield-Jackson Atlanta International Airport, which as one of the busiest in the world can take people nearly everywhere.

"Yet, we're limited with our options," said Jarrett, an office coordinator with Georgia STAND-UP, an alliance of labor, faith, education and community groups that works on social justice issues.

Public transit supporters are turning to the Nov. 4 elections to ask voters to back a 1-cent sales which could bring buses from the Metropolitan Atlanta Rapid Transit Authority (MARTA) to the area as early as March 2015.

If approved, the plan would raise $49 million each year and buses would also roll through the county's other cities, including Forest Park, Lake City, Morrow, Jonesboro and Lovejoy.

The county is home to more than 264,000 residents with African Americans making up more than 67 percent of the population. Non-Hispanic Whites are 24 percent of the population and Latinos comprise 13 percent of all residents.

The county's household median income is $42,569. But the income per each person in the county was $18,445 in 2012, according to the Census Bureau. Two out of every 10 residents in the county live in poverty.

While the county has businesses, many residents head to Atlanta or the airport for work. Supporters say the county is home to 25,000 residents who work within the county and 70,000 people who live within the boundaries but leave for jobs. They report that more than 108,000 people from outside Clayton County arrive for employment inside its boundaries.

The county once operated its own public buses, known as C-Tran, but that service stopped in 2010. Since then, residents said, there have been some private shuttles but they run on limited routes.

Across the street from where Jarrett, 29, was encouraging people to register to vote on this day sat rows of cars in an auto sales lot.

"People can't afford those. You're stuck," she said, adding that babies, moms, the elderly and people released from incarceration need public buses.

Portions of the county also lack sidewalks, which public transit supporters say is dangerous for people who walk because they do not own a car.

"When there's no viable transportation, there's no viable way to make money," said Josh Peltier, a 38-year-old Georgia STAND-UP volunteer.

The county has its transit opponents, who have voiced concern that crime would increase should public transit reappear on the streets or that more taxes will hurt people's pocketbooks. Supporters note that opposition has come from residents in some of the more affluent cities in the county.

Organized opponents were not easily found. Equal Voice News contacted county election officials and the chamber of commerce to get the names of organized groups that oppose the transit measure. Representatives from those offices said they did not know the names of organized groups that oppose it.

But in July, some Clayton County commissioners said the sales tax could hurt businesses, according to the Atlanta Journal-Constitution. Just getting the County Commission to put the measure on the ballot in July seemed like a procedural victory, supporters said.

Just off Roy Huie Road in this city, L.J. Nixon, 26, hops out of a white van on this day with the temperature hovering around 70 degrees. The neighborhood is a few minutes drive from state Route 85.

Modest homes are set back from the neighborhood streets. Manicured lawns fill the space between the street and houses. A layer of cotton ball-like white clouds fills parts of the sky.

Nixon, who grew up in Clayton County, is armed with a clipboard with addresses of registered voters, informational handouts and credentials saying that he is with Friends of Clayton Transit. He's ready to knock on the doors of voters.

"I try and let people know that some people might not have cars and that buses can help them have jobs," he said.

By around noon, Nixon approaches Ronnie Randalson, a 56-year-old resident who works at a warehouse. He's a registered voter.

Randalson backs public buses making a return to the county, saying they would be particularly convenient for apartment dwellers in the area.

"It would be less expensive than owning a car. It would be convenient. Traffic can get backed up," he said. "People say it will bring crime. I don't see that."

Nixon leaves a handout with Randalson and is back walking on the neighborhood streets, looking for the next voter. He reflects on how Atlanta has grown over the years. Together with the suburbs, they have become a metropolitan area.

"When I was growing up, we weren't considered Atlanta," Nixon said. "We were the country. Now, Clayton has turned into the city."

When Charlotte Priddy, 49, opens her door, Nixon talks with her about transportation in the county, getting to and from Atlanta and the 1-cent sales tax that would support more buses.

"That's not really a problem," she said, referring to the cost.

Priddy, a state of Georgia employee, explained that the city of Atlanta once had its own public housing.

"When they closed those projects in Atlanta, people moved out here," she said. "Transit is really needed. It's sad that people aren't worried about other people,"

By the afternoon on this day, back at the office building used by the pro-transit group, motorists continue to zip by. A few people stop to register and vote.

Deborah Scott, executive director of Georgia STAND-UP, is outside, chatting with volunteers.

Scott, who is African American, steps inside the office building, and takes a moment to rest on a couch. She gives more details about transit and the county.

Finally, she gestures toward campaign literature with a black-and-white photograph featuring Rosa Parks, the African American woman who in 1955 helped defeat segregation by declining to give up her bus seat to a White person.

Parks became a civil rights role model for generations of people.

With the thought of the upcoming election on her mind, Scott glances at the image of Parks and said: "We're still trying to get on the bus."
Tags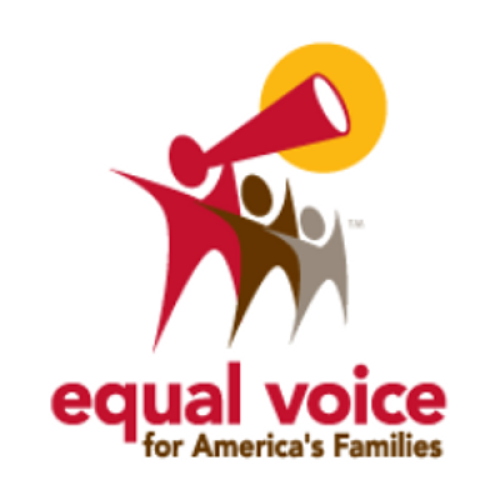 Equal Voice News covers news about America's working families, poverty and policy.