New voters, people of color will be critical in close Georgia races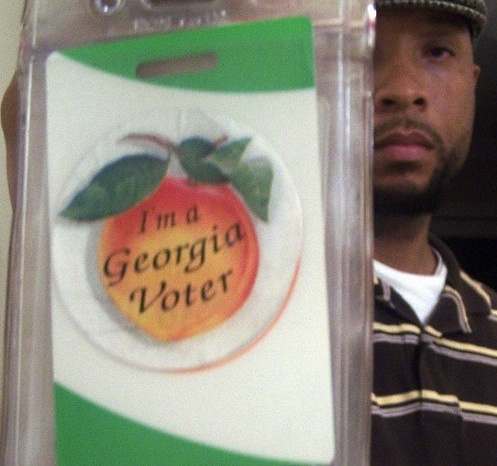 In the last couple weeks, polls on Georgia's races for U.S. Senate and governor have become closer and closer -- so close, in fact, that a court decision on Oct. 28 over allegedly missing voter registrations may affect the races' outcome.

Michelle Nunn, the Democratic candidate for Senate, has begun to break even or lead in polls against Republican David Perdue. And Democratic gubernatorial candidate Jason Carter, grandson of President Jimmy Carter, trails Republican incumbent Nathan Deal by just two percentage points.

Turnout of voters of color -- and members of other demographic groups that vote in midterm elections at lower rates than average -- may determine the outcome of the election, which in turn is critical to continued Democratic control or a Republican takeover of the U.S. Senate.

Data from Georgia's early voting so far suggests that turnout of black voters has been increasing since early voting began on Oct. 13, likely a good sign for Democratic candidates. Overall turnout may be affected by a judge's decision this week that Georgia properly processed over 40,000 new voter registrations a non-partisan group claims are still missing from voter rolls.

With the Senate race within a single percentage point and the gubernatorial race within two, many are pointing to the possibility of a runoff if a candidate does not receive a majority of all votes. Candidates must get over 50 percent of the vote to win the election and avoid a runoff. Because both the Senate and gubernatorial races have Libertarian Party candidates, it is possible that no candidate will receive over 50 percent of all votes cast. The runoff would be held Jan. 6.

According to Nate Cohn at the New York Times, Nunn's standing in polls may have much to do with pollsters more accurately factoring in the likely number of voters of color. But comments by Perdue saying he'd outsourced jobs his entire career and was proud of it may have harmed him and seem to be making national Republicans nervous.

Georgia has the highest unemployment rate in the country at 7.9 percent, hurting Deal's standing. The governor also refused to expand Medicaid under the Affordable Care Act, a highly criticized move that has led to a protest movement.

Disputed registrations could affect close races

Georgia's demographics are changing faster than in most states. If non-whites continue to vote for Democratic candidates at similar rates as in the past, they could make Georgia a swing state like Virginia and North Carolina.
In 2008, President Obama lost Georgia by only 200,000 votes, about 5 percent of votes cast, in large part due to high African American and Hispanic turnout. This year's Senate and gubernatorial races are well within that margin, meaning that the number of voters of color who go to the polls may decide who wins Georgia's close races.

That has heightened the urgency of an ongoing legal fight over the voter registration work of the New Georgia Project, an effort led by Democratic state House Minority Leader Stacey Abrams that says it's focused on the state's "rising electorate." NGP reports that it and its partner groups registered as many as 120,000 voters this year. However, it claims that 40,000 of those voters have not had their registrations processed, leading it to sue the Georgia Secretary of State and several county election boards.

Georgia Secretary of State Brian Kemp, a Republican, has said the charges are baseless and that over 30,000 of the supposedly unprocessed forms belonged to people who had already registered to vote. The county boards sued by NGP responded that they had addressed all the registrations the organization had turned in.

On Monday, eight protesters were arrested at Kemp's office in an act of civil disobedience meant to increase pressure on the secretary of state to process the registrations. But the next day, an Atlanta-based judge ruled that Kemp and the election boards had acted properly and NGP had failed to prove the state had not processed the registration forms.

"Not only is there no proof that the respondents have failed to fulfill their duties, but there is also affirmative proof to the contrary," Judge Christopher Brasher wrote. "The secretary of state and the county registrars have supplied evidence… that they have fulfilled, and that they are continuing to fulfill, their mandatory statutory duties regarding newly registered voters."

Whether the outcome of the NGP court case alone could affect the election is unclear, especially if, as Kemp charged, over 30,000 of the allegedly missing forms were filled by already-registered voters. But motivation to turn out to protect voting rights could also drive more people to the polls, as it did in 2012.

Meanwhile, Georgia Democratic Party officials have targeted African-American voters with the message that Republicans are trying to suppress voters. One recent mailer urged black voters to cast ballots for Democratic candidates "to prevent another Ferguson."