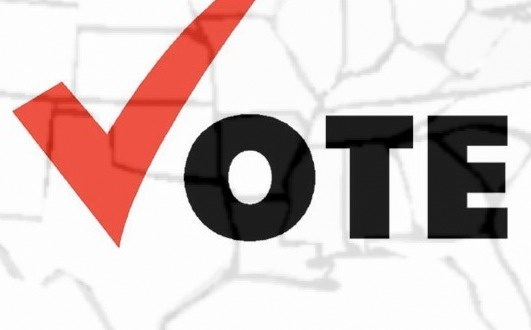 Welcome! The Facing South/Institute for Southern Studies team will be blogging today about key issues and themes in the 2014 elections across the South. Visit during the day and feel free to send us a tip at news@southernstudies.org.
* * *
Tillis defeat of Hagan in NC gives Senate to the GOP in Democratic "bloodbath." The Associated Press has called the U.S. Senate race in North Carolina for Thom Tillis, Republican speaker of the state House, over incumbent Democrat Kay Hagan. This means that Republicans have secured control of the U.S. Senate. Election law expert Rick Hasen called tonight a "bloodbath" for Democrats nationally.

-- Sue Sturgis, 11:28 p.m.
* * *
Hudson likely to win in the NC race with the most outside money. In a hotly contested North Supreme Court race, incumbent Robin Hudson is leading challenger Eric Levinson by four percentage points with 96 percent of North Carolina precincts reporting, WRAL reports. The race for Hudson's court seat is North Carolina's most costly race in terms of outside spending at nearly $1.3 million, most of it in the primary. The DC-based Republican State Leadership Committee spent $900,000 attacking Hudson, a registered Democrat, while the pro-business NC Chamber IE spent $345,000 supporting Levinson, a registered Republican, and her other primary challenger, Jeannette Doran, also a Republican. Hudson won the primary, but Levinson and Doran combined won a higher percentage of the vote than she earned.

Other costly races in North Carolina include Senate District 12 ($725,000 in outside money) and Senate District 1 ($617,000). The Cheri Beasley-Mike Robinson Supreme Court race has involved the ninth highest outside money total, with over $200,000.
-- Alex Kotch, 11:20 p.m.
* * *
Tennessee ratifies abortion restrictions, other amendments. Tennessee voters have ratified the controversial Amendment 1 giving state lawmakers power to restrict abortion and -- if Roe v. Wade is ever overturned at the national level -- to ban abortions in the state. In fact, Tennessee voters ratified all four constitutional amendments on the ballot, the Knoxville News Sentinel reports. The others replace elections of the five Tennessee Supreme Court justices and 24 state appeals courts judges with a system in which the judges will be appointed by the governor and confirmed by the legislature, ban the enactment of personal income taxes and payroll taxes measured by income by the state and by all city and county governments, and allow the legislature to authorize an annual lottery to benefit nonprofit veterans organizations.
-- Sue Sturgis, 11:07 p.m.
* * *
Southern U.S. Senate tally: GOP wins 9 races; Louisiana to runoff; NC and VA still too close to call.
-- Chris Kromm, 10:49 p.m.
* * *
Scott defeats Crist in Florida. Incumbent Florida Gov. Rick Scott, a Republican, has defeated Democrat Charlie Crist, who served as governor from 2007 to 2011 as a Republican. Crist documented his decision to leave the GOP in his book released earlier this year titled, "The Party's Over: How the Extreme Right Hijacked the GOP and I Became a Democrat."
-- Sue Sturgis, 10:32 p.m.
* * *
Medical marijuana fails in Florida. A majority of Florida voters approved Amendment 2, which would have legalized cannabis for medicinal purposes -- but that wasn't enough to pass it. The amendment required at least 60 percent of the vote, and it got only 57 percent.
-- Sue Sturgis, 10:24 p.m.
* * *
U.S. Senate race in Louisiana heading to runoff: CNN and the Associated Press are projecting that the U.S. Senate race in Louisiana between incumbent Democrat Mary Landrieu and her Republican challenger, U.S. Rep. Bill Cassidy, is headed to a Dec. 6 runoff. Neither managed to capture the required majority of the vote. Landrieu was the last Democrat to win a statewide election in Louisiana.

-- Sue Sturgis, 10:01 p.m.
* * *
Democrats unseat Republicans in some big-money NC House races: In House District 41 in Wake County, Democratic challenger Gale Adcock has defeated incumbent Republican Tom Murry. The race was the eighth most expensive race in terms of independent spending, drawing $251,000 of outside money. The NC Republican Party, NC Chamber IE, and Mainstreet Merchants for a Better NC spent in Murry's favor, while NC Citizens for Protecting Our Schools bought ads opposing him.

Incumbent Republican Mike Stone has lost to Democrat Brad Salmon in House District 51, which represents parts of Harnett and Lee counties. The race had the 10th most outside spending in North Carolina, at $189,000.

In Buncombe County's House District 115, Nathan Ramsey has narrowly lost to Democrat John Ager. The race involved the fifth highest outside money total at $365,000. The League of Conservation Voters spent close to $170,000 on ads against Ramsey.

In House District 116, also in Buncombe County, Tim Moffitt has lost to Democrat Brian Turner, in a race with the state's fifth highest outside money total -- $417,000. Real Jobs NC stepped into this race in recent days, spending $21,800 opposing Turner. Moffitt received support from groups including the NC Republican Party, NC Chamber IE, and the American Petroleum Institute.
-- Alex Kotch, 9:49 p.m.
* * *
Greg Abbott defeats Wendy Davis in Texas. The Texas Tribune has called that state's governor's race for Greg Abbott, the Republican Attorney General. Though only 4 percent of precincts have reported as of this hour, with over 2 million votes cast Abbott is up by 58.2 percent compared to 40.3 percent for Davis, a Democratic state senator who gained national attention for her 11-hour filibuster to block abortion restrictions.
-- Sue Sturgis, 9:29 p.m.
* * *
Arkansas voters approve minimum-wage hike. The Associated Press is projecting that the Arkansas ballot initiative to increase the state's minimum wage has passed, the Arkansas Democrat-Gazette reports:
Arkansas' current minimum hourly wage is $6.25, compared with the federal level of $7.25. The passage of the measure will gradually raise the state's minimum wage to $8.50 by 2017, with the first increase to $7.50 becoming effective in January. The state's last increase occurred in 2006, when the Legislature raised the hourly rate from $5.15 to $6.25.
-- Sue Sturgis, 9:19 p.m.
* * *
Florida passes conservation amendment. The Associated Press reports:
Florida voters have passed a measure that designates billions of dollars to conservation efforts over the next 20 years.

The Associated Press declared Amendment 1 passed on Tuesday. With about half the expected votes counted, the amendment had 75 percent "yes" votes to 25 percent no. It needed 60 percent of the vote to pass.

Amendment 1 will draw its funding from an existing real estate tax, and would dedicate 33 percent of it annually to conservation. That would be about a billion a year.
Read the full story.
-- Sue Sturgis, 9:13 p.m.
NC to send 100th woman to Congress? Democrat Alma Adams is the projected winner of North Carolina's vacant 12th Congressional District seat over Republican Vince Coakley. (Mel Watt resigned earlier this year to head the Federal Housing Finance Agency.) USA Today reports that if Adams is seated for the lame-duck session later this month, she would be the 100th woman serving in the 113th Congress.

-- Sue Sturgis, 9:05 p.m.
* * *
For Asian voters, language barriers pose voting challenge: Poll watchers for the Asian American Legal Defense and Education Fund report on instances across the country where Asian voters faced obstacles in voting. Chief among them were language barriers. These included polling sites in New York and New Jersey that did not offer translated ballots, and sites -- including one in Annandale, Virginia -- that didn't offer interpreters to assist limited English proficient voters. These language accommodations that give voters with limited English proficiency the opportunity to become informed and participate in elections are required by the Voting Rights Act.
-- Allie Yee, 8:52 p.m.
* * *
GOP now 7-0 in the South. @ChrisKromm just tweeted: "GOP now 7-0 in Southern U.S. Senate races, winning in AL, AR, KY, MS, SC, TN and WV. Waiting in the wings: GA, NC and VA."
-- Sue Sturgis, 8:48 p.m.
* * *
Florida Dems lose bid to extend Broward voting: In an update on a news item we brought you earlier, a judge rejected the Florida Democratic Party's emergency request to extend voting by two hours in Broward County. The request came amid reports of problems including machine malfunctions and poll workers giving voters incorrect information.
-- Sue Sturgis, 8:45 p.m.
* * *
Republican Cotton wins Senate race in Arkansas: NBC News has called the U.S. Senate race in Arkansas for Republican Tom Cotton, who appears to have defeated incumbent Democrat Mark Pryor with over 57 percent of the vote. The GOP has picked up at least two of the six seats it needs to take control of the Senate.
-- Sue Sturgis, 8:38 p.m.
* * *
Guess who ends up standing in line on Election Day? In "Being white on Election Day means you probably didn't stand in a crazy line to vote," Vox reports that in 2012 the average wait time to vote for black Americans was 23 minutes -- almost double the 12-minute average for whites. The average Hispanic voter waited 19 minutes.
-- Sue Sturgis, 8:31 p.m.
* * *
West Virginia elects its first woman to the U.S. Senate: Huffington Post reports:
Republican Shelley Moore Capito defeated Democrat Natalie Tennant in the U.S. Senate race in West Virginia, according to The Associated Press.
Capito, who has served in Congress since being elected to the House of Representatives in 2001, is the first woman to be elected to the U.S. Senate from the Mountain State. She is the daughter of former West Virginia Gov. Arch Moore.
Read the full story here.
-- Sue Sturgis, 7:55 p.m.
* * *
Nikki Haley wins re-election in South Carolina: From The State:
South Carolina Gov. Nikki Haley has handily beat Democratic state Sen. Vincent Sheheen to win a second term.

The 42-year-old daughter of Indian immigrants needed a convincing victory to further boost her image nationally. South Carolina's first minority and first female governor already is a familiar figure on the national stage.

Roughly half of the $8 million raised by her campaign came from out-of-state donors.
Read the full story here.
-- Sue Sturgis, 7:40 p.m.
* * *
McConnell wins re-election in Kentucky: From the Lexington Herald-Leader:
U.S. Senate Minority Leader Mitch McConnell held off Democratic challenger Alison Lundergan Grimes in Tuesday's election to win a sixth term and quite possibly a promotion to majority leader of the United States Senate.

McConnell, 72, emerged victorious despite facing his first real primary challenge of his career and a well-funded and excited national Democratic base that was eager to knock off the man who once said "the single most important thing we want to achieve is for President Obama to be a one-term president."
Read the full story here.
-- Sue Sturgis, 7:15 p.m.
* * *
Florida Dems file emergency motion to extend Broward County voting hours: Alleging various voting problems including equipment failures and inaccurate information being provided by poll workers, the Florida Democratic Party has filed an emergency request to extend voting hours in Broward County from 7 to 9 p.m. Read the filing here.
-- Sue Sturgis, 6:48 p.m.
* * *
Tennessee constitutional amendment measure would allow state to restrict abortion rights: Voters in Tennessee are weighing in on a ballot measure that would allow state legislators to impose new restrictions on abortions. The amendment would overturn a 2000 state Supreme Court ruling that the Tennessee Constitution's right to privacy protected the right to terminate a pregnancy. The amendment would allow the state legislature to pass laws restricting access to abortions even in the case of incest, sexual assault, or when the life of the mother is threatened by the pregnancy.
--- Evan Walker-Wells, 6:35 p.m.
* * *
Southern Senate Cash: Voters in Arkansas, Georgia, Kentucky, Louisiana and North Carolina were inundated with TV ads due to having five key U.S. Senate races. According to the latest numbers from the Center for Responsive Politics, more than $330 million has flooded into the races when you combine money raised by candidates and spending by super PACs and other outside groups. Here's a list of the races, the total price tag, and their national rank among the country's costliest U.S. Senate contests:
North Carolina: $111,028,217 (most expensive U.S. Senate race)
Kentucky: $73,112,092 (4th-most expensive)
Arkansas: $59,811,878 (5th)
Georgia: $44,311,777 (9th)
Louisiana $43,017,534 (10th)
-- Chris Kromm, 5:28 p.m.
* * *
For Latino voters, immigration is a top issue – but not the only one: Polling recently conducted by Latino Decisions finds that two-thirds of Latinos rank immigration as the top or one of the most important issues to them, and 58 percent of those polled reported knowing someone personally who was undocumented. In the Southern battleground states of North Carolina and Georgia, even more respondents reported knowing someone undocumented, at 66 percent and 65 percent, respectively.
But immigration isn't the only issue important to Latino voters. The economy, education, and health care were raised as major priorities among those polled, and an earlier Latino Decisions poll found that Latino voters in North Carolina, Colorado, and Florida favored candidates that supported the environment. At a time when immigration-related issues aren't moving forward at the federal level, groups are also  emphasizing local ballot initiatives like minimum wage increases that would benefit the Latino community.
-- Allie Yee, 5:03 p.m.
* * *
Outside spending in North Carolina at a glance: Check out our new infographic on outside spending in North Carolina elections this year. You can also read our latest report on spending by outside groups unaffiliated with individual campaigns or parties here.
-- Alex Kotch, 4:46 p.m.
* * *
Southern state legislatures projected to get redder: Republicans control the legislatures of every state in the South except two: Kentucky, where Democrats have 54 of 100 seats in the state House, and West Virginia, where Democrats control both chambers. But in 2014, Democrats are expected to lose even that meager ground.

In Kentucky, where the Democrats' House edge was crucial to implementation of the state's KyNect health care exchange, Republicans are poised to take over. At the Washington Post's Monkey Cage blog, Carl Klarner estimates a nine-seat loss for Dems in the state House, putting the GOP in legislative control.

In West Virginia, Klarner also predicts Democrats will lose their 53-47 edge in the House. More shockingly, he sees 14-seat shift in the WV Senate putting Republicans on top, although others see the Dem's 24-10 Senate advantage as safe.

Republicans are expected to hold on to their majorities In two battlegrounds -- Arkansas and North Carolina -- but the final margins are being closely watched.
-- Chris Kromm, 4:36 p.m.
* * *
The return of Real Jobs NC: After two years of silence, the North Carolina committee that spent nearly $900,000 supporting conservative candidates in 2012 has emerged again. Reports from super PAC Real Jobs NC appeared on the NC State Board of Elections website today, detailing $51,808 in TV ad buys attacking Sarah Crawford, who is challenging incumbent Republican Chad Barefoot in Senate District 18, and Brian Turner, who is running to unseat GOP representative Tim Moffitt in House District 116. (Electioneering reports do not include an indication of "support" or "oppose," but based on Real Jobs NC's history of strongly supporting conservatives, it is safe to say that these are ads attacking the Democratic candidates.) These are two of the most competitive and expensive legislative races in 2014, with the Senate 18 race seeing nearly $520,000 of outside spending, and the House 16 race costing $417,000 in outside money so far.

Funding the ads were a $50,000 donation from North Carolina textile company Glen Raven, Inc. and a $25,000 donation from the DC-based Republican State Leadership Committee, which has given $1.3 million this year to another NC-based 527 group, Justice for All NC. That group has run an attack ad against liberal Supreme Court Justice Robin Hudson and an ad in support of conservative Supreme Court candidate Mike Robinson this year.
-- Alex Kotch, 4:25 p.m.
* * *
African Americans not the only racial group to increase early voting turnout in North Carolina: Headlines have noted the major increase this year in early voting turnout among African Americans in North Carolina, but that isn't the only racial group to see increases this year. The number of early voters who are neither white nor black -- captured in the "Other" category -- increased by 13,000 between 2010 and 2014, a 48.8 percent increase.

The increase reflects the overall growth of this group among North Carolina's registered voters -- but not to its full extent. Non-black/non-white voters now make up 8.7 percent of registered voters, up from 3.8 percent in 2010, but they made up only 3.4 percent of early voters this year. We'll find out soon if they make up those numbers in Election Day turnout.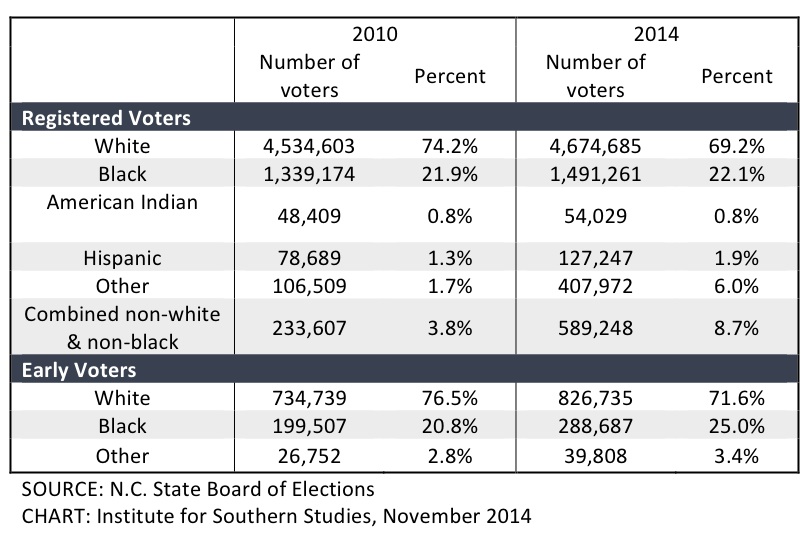 -- Allie Yee, 4:20 p.m.
* * *
Income tax ballot initiatives in Georgia, Tennessee: Georgia and Tennessee voters are considering amendments to their state constitutions that would limit legislators' ability to create new income taxes. The Georgia amendment, which would prohibit the state from raising the income tax but not from decreasing it, is meant to make the state competitive with neighbors, say the amendment's Republican sponsors. Critics such as the nonpartisan Georgia Budget and Policy Institute worry the law would constrain future efforts to ensure the state's finances. Because the state currently has an income tax rate that's higher on higher earners and lower for those who make less, the cap might mean Georgia's budget will have to be balanced on the backs of the states poor and middle-class residents, the Institute warns.
The Tennessee amendment would protect all forms of income tax as they existed at the beginning of 2011 and prevent the introduction of new taxes. Proponents
argue
the amendment would be a "bright neon 'Open' sign that will attract families and businesses" to the state. Opponents
charge
the amendment would mean the state would raise income or business taxes to make up for future budget problems and that third-party research suggests tax rates have little to do with individuals moving state to state. Support in the state legislature is divided almost entirely along partisan lines, accord to
Ballotpedia.org
, with Republicans supporting the amendment and Democrats opposed. 
-- Evan Walker-Wells, 3:54 p.m.
* * *

Voter registration system went down in Texas: The statewide voter registration system in Texas went down this morning before it began working intermittently, MSNBC reports. The failure meant that poll workers were unable to access information about voters' registration status, likely leading many voters to have to cast provisional ballots.

-- Sue Sturgis, 3:42 p.m.
* * *
Will Arkansas increase its minimum wage? Arkansas is one of four states today with ballot measures to increase its minimum wage. With strong national support for a minimum wage boost but Congress stalled on the issue, states have taken matters into their own hands: This year, 10 states (including West Virginia) enacted increases.
The push for the Arkansas measure, which gradually increases the state minimum up to $8.50 by 2017, has been led by Give Arkansas a Raise Now, a coalition of faith, community and progressive groups. Also supporting the initiative: Republican Congressman Tom Cotton, who opposed a minimum wage increase in the U.S. House but who in his bid for a U.S. Senate seat says he supports the measure "as a citizen."
-- Chris Kromm, 3:00 p.m.
* * *
Common Cause urges Georgia voters to not be deterred by reported problems at the polls: Common Cause has put out a press release about the situation unfolding in Georgia:
Georgians are getting a painful lesson in what happens when state leaders fall down on the job of running a free and fair election. Common Cause said today.

"The problems besetting Georgia voters, from registrations that have been left off the voter rolls to a website breakdown that is keeping voters from verifying their eligibility and their voting locations, were foreseeable and preventable," said Common Cause President Miles Rapoport. "The state's failure to anticipate and head them off is inexcusable.

"The good news is that most Georgians are pressing ahead with voting despite these problems. Volunteers answering the phones on Election Protection's 866-OUR-VOTE hotline are hearing from people across the state who want help in finding their precincts and verifying their eligibility. We encourage any Georgian with these questions or other concerns about the voting process to call the hotline and get help."

Today's problems in Georgia highlight the need for every state to act on the recommendations of President Obama's Commission on Election Administration. "Did We Fix That," a Common Cause study released last week, found that while some states have made progress toward eliminating the long lines and other problems that plagued the 2012 election, much more remains to be done.

Georgia's election administration got mixed marks in the Common Cause study. The state was praised for implementing online voter registration, though today's experience highlights the importance of ensuring that registrations are processed and names added to the voter rolls quickly. But Georgia has failed to establish voting centers where voters from multiple precincts can cast their ballots at a single, central location. Such centers would have facilitated voting today by citizens unable to verify their precinct location.

"We urge Georgia officials to move ahead on all the improvements recommended by the President's Commission," Rapoport said, "and to take other voter-friendly steps including permitting voters to register at the polls on Election Day and during early voting periods."
-- Sue Sturgis, 2:40 p.m.
* * *
Voting problems reported in Georgia: The Lawyers' Committee for Civil Rights Under Law is reporting problems at the polls today in Georgia, where high-profile races are underway for U.S. Senate and governor. Eligible voters who submitted registration applications months ago have been unable to determine whether or not they can cast a regular ballot and may have to cast provisional ballots, most of which are unlikely to be counted. In addition, the Secretary of State website that voters use to verify registration status and find their polling place was down for most of the morning, while some counties' phone lines have been overwhelmed.
"This is completely unacceptable, especially in light of the unprocessed registrations in major counties and voter concerns about participating in this critical election," said Lawyers' Committee President and Executive Director Barbara Arnwine. "The state of Georgia had a responsibility to ensure that their website and phone resources were operational and available to voters at all times, yet the website continues to have ongoing problems."
-- Sue Sturgis, 2:20 p.m.