As climate talks open, human rights issues take the spotlight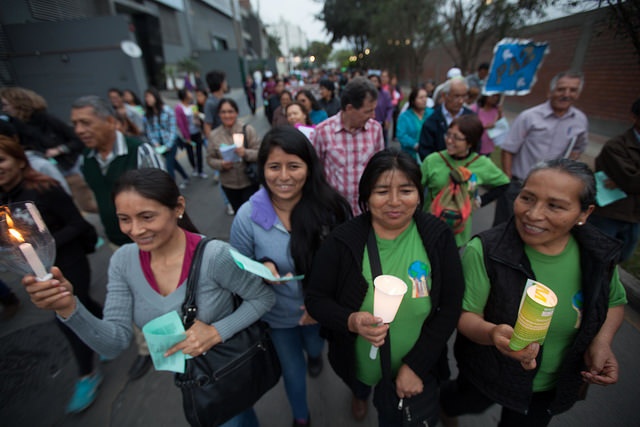 By Marianne Lavelle, The Daily Climate
For all the flack the U.N. climate talks have taken over the past 20 years, one major achievement will be on display as the next round of negotiations opens in Peru this week.
Climate change has been inextricably linked to social justice.
The key questions that face the delegates as they meet in Lima are no longer simply about carbon emissions targets and timetables, but also about people and human rights.
One mark of that shift is the $9.6 billion committed so far by rich nations to the U.N.'s Green Climate Fund to help poor countries. 
But it's not just about money. 
Nations will consider a pledge not only to "respect, " but also to "protect, promote, and fulfill" human rights -- and to integrate those protections into all climate action.
On deforestation -- a huge issue in host country Peru -- negotiators are being asked for stronger safeguards to protect human and indigenous rights, traditional knowledge and biodiversity.
The financing by rich companies of clean energy projects in poor countries faces a reform effort to protect human rights. Exhibit A: Hydroelectric projects in Panama and elsewhere that are displacing native residents have been stalled by protest.
The social justice movement has come to such a head that some activists are calling the Lima talks "the Human Rights COP," or Conference of the Parties, said Alyssa Johl, senior attorney at the Center for International Environmental Law.
"Human rights is at the core of what is being negotiated and decided here," Johl said.
Rich vs. poor
Questions about injustice have come to the fore in the climate change discussion as small island states cope with sea-level rise, forest people watch palm oil plantations encroach, and the lives of Arctic natives change profoundly. 
Division between rich and poor nations has always marred the talks; it has been their "singular fault line," in the words of the Obama administration's chief U.S. climate negotiator Todd Stern.
More than once, a coalition of lesser-developed countries has walked out of the two-week negotiating session. But they have always come back. And the talks, despite 20 years of division and discord, have always held together.
A human rights-centered treaty
Advocates of a more human rights-centered treaty say such a focus can energize and accelerate action. Pushing that view is former Irish President Mary Robinson, appointed this summer by U.N. Secretary-General Ban Ki-moon as his special envoy for climate change. Robinson served five years as U.N. High Commissioner for Human Rights after the end of her presidency in 1997 and for the past four years has led a foundation dedicated to climate justice. 
She is expected to bring social justice concerns to front and center at Lima.
"When we started off talking about climate change, it was climate scientists talking about tons of carbon, and degrees of warming, and inches of sea level rise," said Tara Shine, head of research and development for the Mary Robinson Foundation – Climate Justice. "That is all perfectly correct, but people have more empathy and are more concerned when you talk about climate in terms of people right from the start."
Already arduous
But there are risks in the effort to inject social justice and human rights into the already arduous treaty talks. The Obama administration hinted at this last summer at a U.N. Human Rights Council meeting when it raised what it said were "serious concerns" with a resolution linking climate change and human rights. The U.S. State Department ultimately supported the resolution, but said it should not have bearing on the climate treaty talks, in part because its language "addresses the issue in polarized terms of north versus south opposition."
That conflict between developed and developing nations -- the "global North" versus the "global South" -- marred the previous climate treaty, the Kyoto Protocol. Kyoto imposed obligations to cut carbon emissions only on industrialized nations, exempting countries like China, India and Mexico still building their economies. 
This was, in its way, an effort at social justice, since rich countries have built their wealth with the help of fossil fuels and poor countries had millions of people who deserved a similar chance. As early as the Earth Summit in Rio de Janeiro in 1992, negotiators recognized this stumbling block. The climate change framework convention adopted there didn't specify how to address it, saying only that nations had "common but differentiated responsibilities" to act on greenhouse gases.
Negotiators have struggled ever since to share that burden equitably among nations. Before Kyoto was even finalized in 1997, the U.S. Senate declared unanimously that the United States -- at that point, the world's top emitter of carbon dioxide -- should not sign a treaty that imposed no duties on fast-growing nations like China and India. President Bill Clinton never attempted to bring the treaty back to the Senate for a ratification vote, and President George W. Bush formally withdrew from the protocol.
Today, the parties agree that a Kyoto-style approach would be toxic to the talks. But the fundamental inequities remain, and social justice is seen by many as a way to get around that logjam. 
"The concept of equity has become de-energizing and divisive, rather than inspiring and unifying," said Andrew Steer, president and CEO of the nonprofit World Resources Institute. 
"What Mary Robinson is trying to do -- and we are too -- is to sort of really help change that and in a modest way, rescue the notion of equity."
Stumbling block removed
Most observers believe last week's climate change deal between the United States and China, the world's top two carbon emitters, removes a huge stumbling block in the treaty talks and shows that the developed and developing world can find common ground. 
"It's the most important thing that's happened since Rio," said Timothy Wirth, executive vice president of the nonprofit U.N. Foundation, who served during the Clinton administration as the lead U.S. climate negotiator. Critics call for stronger provisions, but the deal is widely seen as a pivotal start at tackling 45 percent of the world's current emissions.
Another reason experts see potential in Lima to heal old rifts is the new requirement for every country -- rich or poor -- to submit a plan for addressing climate change (an "Intended Nationally Determined Contribution"). Much debate will center on how ambitious those efforts need to be, but for the first time the talks will move away from exempting developing nations from obligations. Instead, poorer countries will spell out their needs for both carbon mitigation and climate change adaptation, with the Green Climate Fund helping them pay for it.
"It's not about equity, it's not even about justice," said Saleemul Huq, a senior fellow with the London-based International Institute for Environment and Development. "It's about manifest injustice."
'Victims everywhere'
"Climate change will adversely impact people in poor countries and poor people in rich countries," he added, noting that minorities and the impoverished suffered the most from Hurricane Katrina in New Orleans in 2005. "There are victims everywhere." 
Huq believes the call for social justice and human rights ultimately will galvanize people across borders on the need for climate change action; he points to the success of the People's Climate March in New York in September.
But human rights and social justice battles have the potential to complicate a climate treaty facing more than enough complexity, controversy and delay. "Historically, the international treaties that have been the most successful have been those focused most specifically on a problem, and most specifically on the parties that can do the most to solve the problem, " said James Connaughton, a leading White House environmental adviser during President George W. Bush's administration. 
Staying focused
The Montreal Protocol, focused solely on cutting ozone-depleting substances, succeeded in part because of this, said Connaughton, now executive vice president of smart grid tech company C3.
"It is very important that these social and economic issues always be kept in mind, as the framework convention tells us to do, " he said. "But the people working on next round of discussions should stay focused on the matter at hand, which is successful and reasonable mitigation of greenhouse gases and land-use practices. "
But for better or worse, social justice is now part of the climate talks.
John Knox, a professor of law at Wake Forest University in North Carolina who serves as a U.N. independent expert on human rights and the environment, is optimistic that a social justice imperative can spur more productive negotiations. 
"As countries bring human rights to bear on climate change, they will find they have more in common than they think," he said. "There's no magic wand. These are difficult talks."
"But I do hope human rights will help provide an additional sense of urgency and will make sure that the efforts themselves don't create new problems for vulnerable communities."
(Marianne Lavelle is a staff writer for The Daily Climate. Follow her on Twitter @mlavelles. The Daily Climate is an independent, foundation-funded news service covering energy, the environment and climate change. Find us on Twitter @TheDailyClimate or email editor Douglas Fischer at dfischer [at] DailyClimate.org.)