Earth Day: What are we fighting for?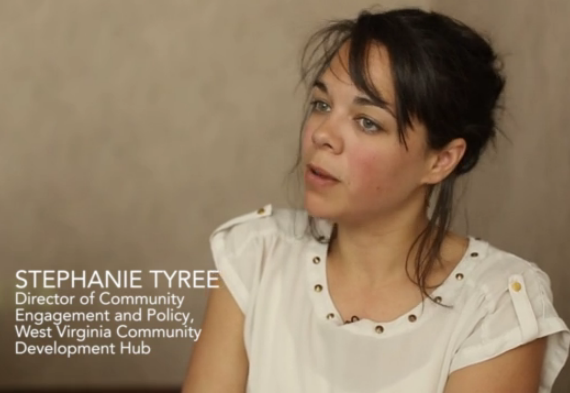 The Mary Reynolds Babcock Foundation funds organizations in the South working to move people and places out of poverty. The foundation recently launched a "Southern Voices" oral history project to capture the stories of Southern leaders working for social and economic justice. The project previously focused on elders of the movement who continue to work for the cause today and voting rights; this installment features stories about environmental justice. For more stories from the project, click here. (Disclosure: The Mary Reynolds Babcock Foundation is a funder of the Institute for Southern Studies.)
* * *
Today is the 45th Earth Day, an annual reminder of our solemn responsibility to protect the environment and an opportunity to examine the ways in which we interact with the planet. Rapid changes, however, are threatening the lives of millions of Americans who rely on the land for their livelihoods, and the South is bearing the brunt. The region experiences more intense hurricanes, drought, flooding and other climate disasters than the rest of the United States by a nearly four-to-one ratio, according to the American Meteorological Society. Warmer oceans churn up stronger, more frequent hurricanes, which flood low-lying areas, erode beaches and strain aging infrastructures. These phenomena have disproportionate effects on low-wealth communities; research shows people living in poverty are more vulnerable to food scarcity, water restrictions and pollution-related health problems.
Longer droughts and wildfire seasons are decimating crops and crippling the South's agricultural communities, which are especially sensitive to environmental disruptions. Not only is land a source of income in rural areas; it's a way for families to climb out of poverty, says Cheryl Peterson, Project Manager for McIntosh SEED. "Land is an asset. You can grow produce on it, you can grow trees on it, but it is still an asset that can be passed down from generation to generation, and this is actually your wealth creator."

McIntosh SEED helps families in rural Georgia retain land and build assets, fosters community development and protects natural resources. Executive Director John Littles says those inextricable issues brought a diverse community together: "As this organization was formed, it started a dialogue among black and white people. And I think it was the focus of, 'We want to see changes in this community around the environment, around education, economic development and the nature-based businesses which we exist on.' Historically it's a fishing community, so that plays a lot hand-in-hand with the environmentalists."

In Appalachia, where mining is on the decline and coal-fired power plants are closing down, advocates are working to transition from extractive industries to more a sustainable, diverse economy. Maureen O'Connell says it's the battle that launched Statewide Organizing for Community Empowerment, an organization she helmed for decades. "There was a horrible situation in the coalfields of Tennessee with unregulated strip mining. People were living in a war zone. I mean, you blast off a mountain, you throw it down the hill, it ends up in the water -- tremendous flooding, landslides, blasting damage."

Another organization that's helping to shepherd Appalachian coal communities toward more sustainable economic initiatives is the West Virginia Community Development Hub. Director of Community Engagement and Policy Stephanie Tyree puts it this way: "We're talking about Appalachian transition in West Virginia ... and it means creating a vibrant, diversified future for Appalachia. It means looking at new creative and different economies that we can bring to the state without changing the geography or the social layout of the state."

It's a process the entire planet should be watching, says Justin Maxson, former president of the Mountain Association for Community and Economic Development in Kentucky. "If we can grow an economy that works better for people in the region, if we can grow a politics that is more participatory and gives folks a voice in a place that has been dependent on the coal industry, where our politics and our economy have been shaped by the same extraction that is threatening the planet, it is an example that will resonate across the country and potentially the globe," Maxson said.

[Disclosure: Maxson is now the executive director of the Mary Reynolds Babcock Foundation. At the time of this interview, he was President of MACED.] 
Indeed, there are reasons to be hopeful. Many experts think the South is the ideal setting for cutting-edge renewable technologies. Former Southwest Georgia Project Assistant Director Daa'iyiah Salaam says all it takes is a shift in perspective. "There's just so much the South has to offer that people don't look at. There's just so many sustainable, green opportunities that are being missed because we're in the South or we're considered rural or we're not the hotspot right now," Salaam said. "I believe people are our greatest asset, and so just tapping into some of that ingenuity and that innovation, we definitely have an opportunity to do that."

Tyree shares that optimism. "People on the whole like to engage in work from a 'what can we build' and 'what are we fighting for' versus a 'what are we fighting against' angle," she said. "For a broader engagement and long-term sustainability, 'what are we fighting for' is what brings people to the table."