Organizing for affordable housing in the South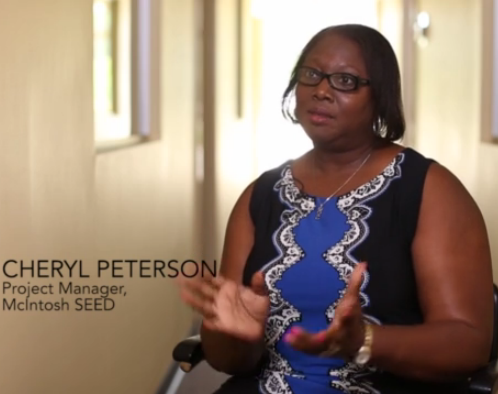 The Mary Reynolds Babcock Foundation funds organizations in the South working to move people and places out of poverty. The foundation recently launched a "Southern Voices" oral history project to capture the stories of Southern leaders working for social and economic justice. The latest installment features stories about organizing for affordable housing. For more stories from the project, click here. (Disclosure: The Mary Reynolds Babcock Foundation is a funder of the Institute for Southern Studies.)
* * *
Stagnant wages, ballooning rental costs and the shrinking supply of affordable housing are heaping an ever-growing burden on low-income families. "Out of Reach," a new study by the National Low Income Housing Coalition, found minimum-wage workers can no longer afford an average one-bedroom apartment in any state in America. Since 2009, the federal baseline wage has remained stagnant, but rents have jumped 15.2 percent.

Nationally, a renter needs to make $15.50 per hour to afford a one-bedroom unit and $19.35 for two bedrooms. In the South, where most states' minimum wage is the federally mandated $7.25 an hour, that lopsided equation is forcing difficult budget decisions. Many families must share space with other renters in crowded homes, seek substandard, below-market housing or turn to shelters. Some breadwinners take on second jobs or cut back on other necessities like food, healthcare and clothing to spend more than the recommended 30 percent of income on housing. In West Virginia and Kentucky, for example, 70 percent of residents considered extremely low-income (less than $20,357 a year) pay more than half that income in rent. In Georgia, a minimum-wage worker would need to work 87 hours per week – more than two full-time jobs – to rent a two-bedroom home.



These conditions come as no surprise to people who help working families find safe, decent homes. The Southwest Georgia Project for Community Education has watched industries leave the area, and as the economic conditions worsened, so did the housing options. "It's almost become a ghost town, especially in those rural counties," said former Business Development Specialist Daa'iyah Salaam. "You will not see any shopping centers; you will see a lot of public housing; you will see a lot of dilapidated housing."



For low-income families, homeownership is just as elusive as affordable rentals. According to a recent analysis from RealtyTrac, home price appreciation has outpaced wage growth by a 13-to-1 ratio over the past two years. Smaller cities and rural areas grapple with lack of access to capital. That's where organizations like North Carolina-based Self Help Credit Union come in. "If your goal is to create middle-class opportunities by owning a home, and you can't have a down payment if you have no cash for a down payment, it becomes self-fulfilling," says CEO Martin Eakes. "We can't really solve the housing problem … if families on the bottom 40 percent or 50 percent simply do not have enough income, even if they're working 50- and 60-hour jobs, to be able to survive."



After Hurricane Katrina, the Jeremiah Group saw an opportunity to work with the public sector to bring displaced residents back to New Orleans – not just as renters, but as homeowners with bigger stakes in their communities. "A building, a house that may have cost you $500 or $600 to live in pre-Katrina, post-Katrina, you paid $2,200, $2,300, $24 – there was just no cap on what people were charging on rent," said lead organizer Jackie Jones. "So then there was … an affordable rental program that would give money to landlords and they would agree to rent those units or houses for so much for a certain period of time. … And we realized this was not the way to bring people back because you still were not giving people an opportunity to come back and rebuild their lives. And more importantly, a lot of money came into this city, and none of the residents were benefiting from it. … We began to meet with the LRA, the Louisiana Recovery Authority, to talk about what it would look like to have funding made available for homeownership, affordable homeownership versus affordable rental. … We fought long and hard for it, and we were able to win a unanimous vote by the LRA for $75 million for an affordable homeownership program. We created it, we put the policies together, we set the criteria for it, we identified the potential buyers, they had mentors, we gave them mentors to walk them through the process. And the long and short of all of this, the Jeremiah Group created the largest homeownership program in the history of the city of New Orleans."



Access to safe, affordable housing was one of the founding missions of McIntosh SEED, an organization that works to address persistent poverty in McIntosh County, Georgia. For Senior Managing Director Cheryl Peterson, it's a critical component of an economically equitable South – and her vision for the future of Georgia. "When I go to these places and I see how people are living in substandard housing, it's heartbreaking," Peterson said. "I'd like to see thriving communities where there's green space, where children are playing, where there are parks, where there's safe housing – just the ideal."