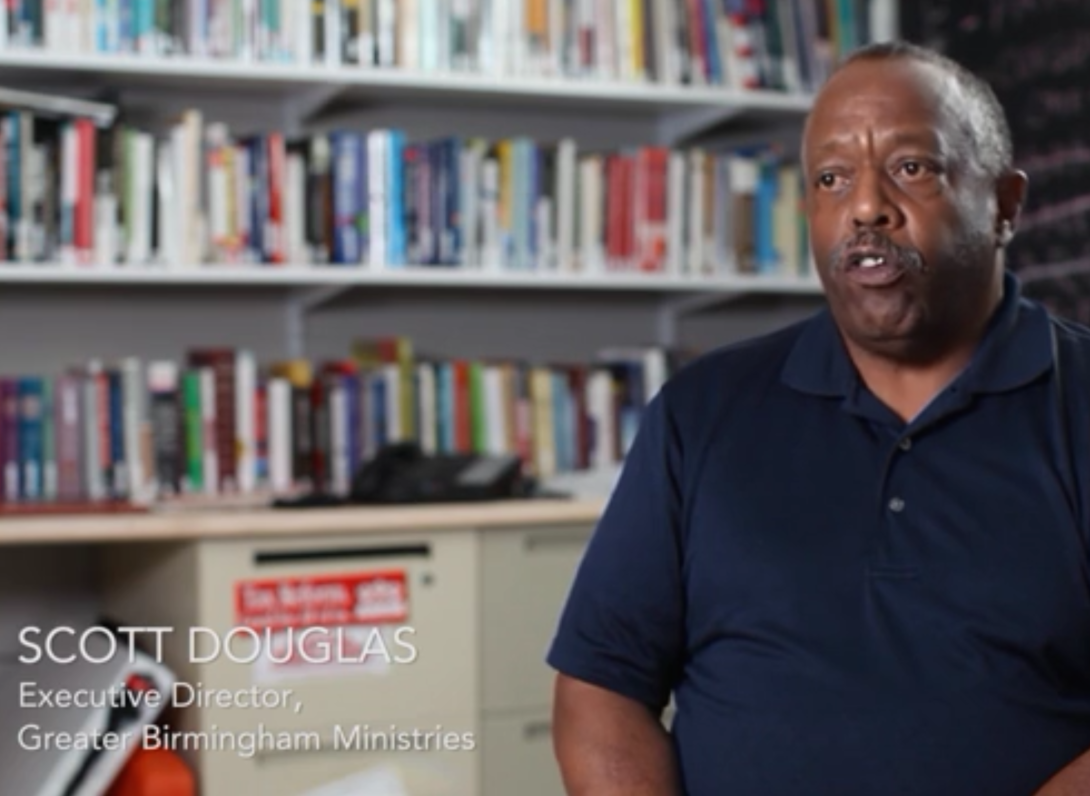 The Mary Reynolds Babcock Foundation funds organizations in the South working to move people and places out of poverty. The foundation has launched a "Southern Voices" oral history project to capture the stories of Southern leaders working for social and economic justice. The latest installment features stories about the ways religion has influenced Southern social justice leaders and their organizations. For more stories from the project, click here. (Disclosure: The Mary Reynolds Babcock Foundation is a funder of the Institute for Southern Studies.)
* * *
Pope Francis is making his first-ever visit to the United States this week, greeted by screaming crowds in Washington, New York City and Philadelphia. Unlike most dignitaries, he's not only visiting the White House, Capitol Hill and the United Nations, but also a mostly immigrant school in a low-wealth neighborhood, a homeless shelter and a prison.

Dubbed "the People's Pope," Francis shuns decadence and consumerism, championing socioeconomic systems change and the elimination of the structural causes of poverty. On his visit to America, the wildly popular pontiff is pushing for immigration reforms, stronger environmental protections and economic equality. Clearly, the leader of the Catholic Church sees religion not only as a system of beliefs, but as a mandate for social justice.



He's not the first leader to make the connection between faith and works. Many organizations in the South trace their geneses to faith-based collaborations to solve community problems. "Most churches see spiritual life as separated from community improvement life, and it took a Fred Shuttlesworth to break through that in the black church — and a Martin Luther King," said Greater Birmingham Ministries Executive Director Scott Douglas. "GBM was founded in 1969 … by the North Alabama Conference of the United Methodist Church following the peak of the civil rights movement. Some people of faith, black and white, in the Methodist Church said, 'Dr. King has come and gone, the peak has come and gone. What are we gonna do now?'… It was quickly joined by the Episcopal Diocese and the Presbyterian Church to make three. And within a few years, it grew to include over 12 Protestant denominations, plus the Roman Catholic Church. Today it's 18 faith communities, including two synagogues, Jewish faith communities, and the Birmingham Islamic Society. So we are Christians, Jews and Muslims working together today."



The Jeremiah Group has similar origins in New Orleans. "It grew out a group of pastors being concerned about what was happening to their members in this city and what was happening to the surrounding communities where their churches were located," said lead organizer Jackie Jones. "A dialogue began to take place on how and what can we do to address the many needs of the people. And from there, 10 to 15 pastors began to meet to think about building something that would be, number one, diverse, number two, have a broad group of people. … Our congregations are Catholics, Baptists, Episcopalians, non-denominational, Methodist. We have most faith denominations connected to the work of the organization."



The Arkansas Public Policy Panel started as an interfaith coalition of women looking to build bridges, says Executive Director Bill Kopsky. "They formed the Panel of American Women, and they were panels — literal panels — of moms of school-aged kids and they'd have an African-American, a white, a Catholic, Protestant, a Jew and sometimes an Asian-American when she was available, and they would go hold panel discussions all over the state with PTAs or Kiwanis Clubs or anybody who would visit with them. They had a philosophy of telling their own stories about what it was like to grow up with their particular cultural background and why diversity was important to them and kind of avoided the political, this preaching to you about why your beliefs are wrong or anything like that. But they just told their stories and really believed in developing relationships and listening to communities. … And that eventually led into them helping the state develop the first multicultural curriculum used in the public schools."



In North Carolina, the founders of Self Help Credit Union borrowed a basic principle of Christianity to grow both the organization and the larger movement. "For those of us who came from the South and were raised in Baptist or Protestant churches, tithing was a natural concept that we understood, so the first was, we're gonna tithe to the future and take 10 percent of whatever revenues we have and put them into reserves," explained CEO Martin Eakes. "The second principle was that we tithe to the movement, and this was a recognition that no organization can accomplish anything by itself, that it takes a movement, a whole network of voices and activists and business community and faith leaders to really effect social change."



On a personal level, many of these leaders feel their faith compels them to improve their world. The son of a Baptist pastor, Industrial Areas Foundation supervisory organizer Perry Perkins says theological debates with his parents sparked his dedication to structural change. "They taught me that when scripture says that we're created in the likeness and image of God, that that meant that everybody was equal. It actually meant that everybody was kin," Perkins said. "That meant segregation was wrong, and it also meant segregation was going away. … And then they told me something that just did not fit with the rest of their theology. They said that we weren't gonna have anything to do with the change, God was gonna do it. Well, and everything else they told me was we were the hands and feet of God, that God used people. … And I just remember saying, 'I don't want to live this way.'"



Kopsky also credits his religious upbringing for his life of advocacy. "My parents were very Catholic and I grew up in Catholic schools and the nuns got me involved in working on feeding the hungry and homeless issues when I was in grade school. And I've just always had a pretty strong social justice bent since then."

For Jones, it's more than a bent; it's a calling. "As a person of faith, it's a part of what I see as a ministry. It's not just a job or a profession for me. It's doing the work that we are asked to do."