McCrory campaign cashes in on anti-refugee animus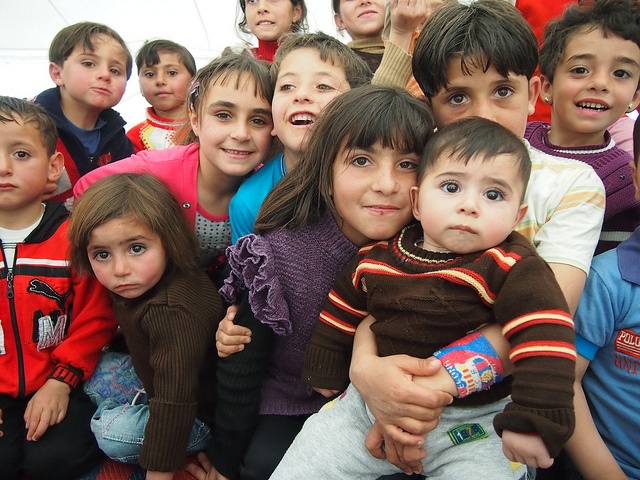 Since the Nov. 13 terrorist attacks in Paris by Islamic State operatives, at least 31 governors across the U.S. have said they don't want to allow any more refugees fleeing the war in the Syria into their states, including most governors in the South.

These state leaders, almost all of them Republicans, claim the Obama administration's plan to accept at least 10,000 refugees from the Islamic State stronghold of Syria over the next year presents an unacceptable security risk for their citizens — despite the fact that there is an intensive vetting process for refugees, that no refugees who've come to the U.S. since 9/11 have been arrested on domestic terrorism charges, and that governors don't have the authority to block refugees from their states.

Gov. Pat McCrory (R) of North Carolina joined their ranks on Monday afternoon, when he held a press conference where he said he was "requesting that the president and the federal government cease sending refugees from Syria to North Carolina" and until he is "satisfied" with the effectiveness of federal vetting of refugees coming to the United States.

"My primary duty as governor is to protect the citizens of North Carolina, which is why I am taking the steps I have outlined today," McCrory said.

McCrory apparently also believes the issue makes for winning politics. The same day the governor called for a halt to Syrian refugees being resettled in his state, his re-election committee posted an appeal to its Facebook page calling for "NO SYRIAN REFUGEES IN NC" and linking to the campaign's contribution page: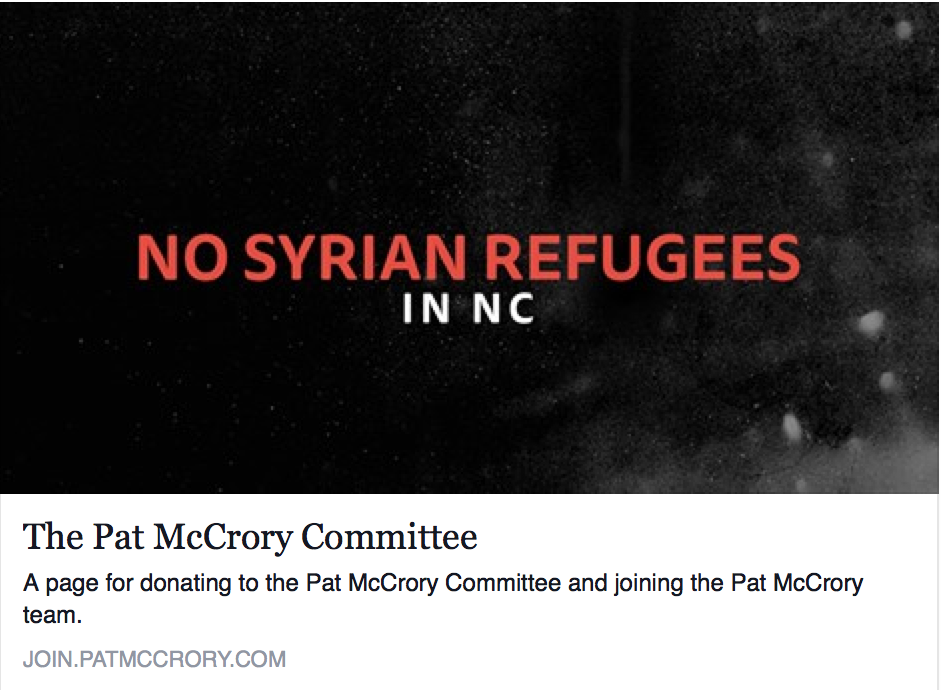 Lagging in polls and fundraising against his leading Democratic challenger, Attorney General Roy Cooper, the McCrory campaign appears eager to tap what the head of Public Religion Research Institute (PRRI) called an "increased xenophobic streak" among the U.S. public.

A recent survey by the group found that 46 percent of Americans say immigrants are a burden on the country while 56 percent believe the values of Islam are at odds with American values. Republicans in particular have issues with the foreign-born, PRRI found, with 66 percent of GOP respondents saying immigrants are a burden.

The PRRI poll also found that Americans' perceptions of Islam have grown more negative over the past few years — and it was conducted before the Paris attacks, which have sparked an outpouring of anti-refugee sentiment.

In Florida, for example, two mosques received bomb threats over the weekend and a Muslim family found bullet holes in their garage door, while in Texas someone splattered feces in front of a mosque along with pages torn from the Quran. In North Carolina, an Uber driver reports being beaten and threatened by a passenger who used anti-Muslim slurs. The driver is an Ethiopian immigrant and a Christian.

Of the estimated 3.8 million Syrians who have fled their country's civil war, 1,854 Syrian refugees have been admitted to the U.S. since 2012. Of those, 59 have settled in North Carolina. They include people like the Al Haj Kasem family, who fled Syria after the bakery where Hussein, the father, worked was ransacked in the fighting. The family settled in Greensboro, and Hussein got a job in a nearby Ralph Lauren packaging plant.

McCrory may think that closing his state to people like the Al Haj Kasems will help him win an election, but it's drawing condemnation from human rights advocates. The N.C. Justice Center said McCrory's move "sends all the wrong signals — both to refugees here, and to people overseas who may perceive this move as hostility toward helping Muslims, even those in the most desperate of situations."
The Southeast Immigrant Rights Network said that, given that only the federal government has the power to admit refugees, "it is clear that these governors are exploiting the horrible tragedy in Paris to instill fear and hatred at a time when we most need to welcome and reach out to our sisters and brothers from Syria who are seeking refuge and risking everything in order to save their loved ones."
Human Rights Watch also issued a statement condemning the governors' anti-refugee reaction. "Resettled refugees from Syria have fled persecution and violence, and undergone rigorous security screening by the U.S. government," said Alison Parker, co-director of the group's U.S. Program. "The governors' announcements amount to fear-mongering attempts to block Syrians from joining the generous religious groups and communities who step forward to welcome them."

Another voice speaking out against the governors' anti-refugee reactions is that of Farris Barakat, whose brother Deah was shot to death in Chapel Hill earlier this year in what appeared to be an anti-Muslim hate crime. Barakat is the son of Syrian immigrants who came to the U.S. in the 1980s, and his family is currently helping relatives who are refugees settle in Europe.

"I think it's really important that they understand that the reason these people are seeking refuge in this country is because ISIS destroyed theirs," Farris Barakat told Buzzfeed. "We're fighting the same enemy."
France, meanwhile, has announced that it would honor its commitment to take in more refugees, with President Francois Hollande saying it is his country's "humanitarian duty."
Tags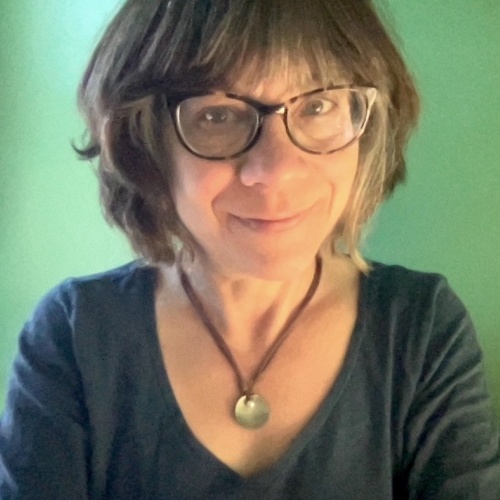 Sue is the editorial director of Facing South and the Institute for Southern Studies.