What went wrong with the South?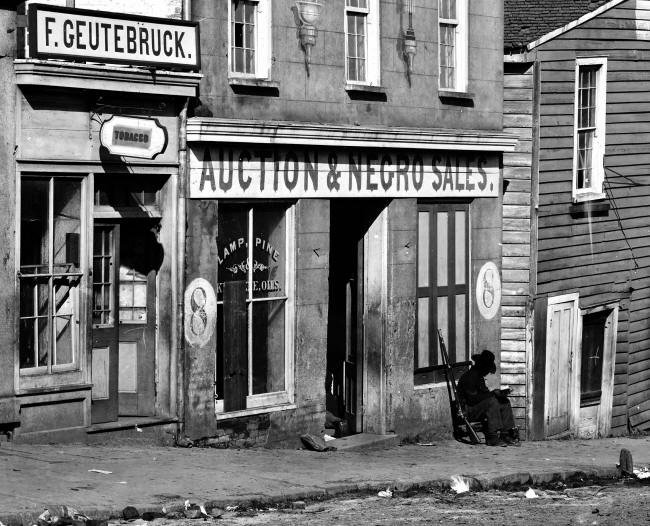 By Alyson Zandt, MDC
In an article last month for the Washington Post, Chico Harlan describes the difficulties facing young people growing up in some of the nation's lowest wealth communities. "The Deep South's paralyzing intergenerational poverty is the devastating sum of problems both historical and emergent — ones that, in the life of a young man, can build in childhood and then erupt in early adulthood," says Harlan. These young people "deal with traumas at home and dysfunction at school — only to find themselves, as graduates, searching for low-paying jobs in states that have been reluctant to fund programs that help the poor."
An accompanying infographic, which maps life expectancy, children living with one parent, unbanked households, median household income, and income mobility, poses a solemn question: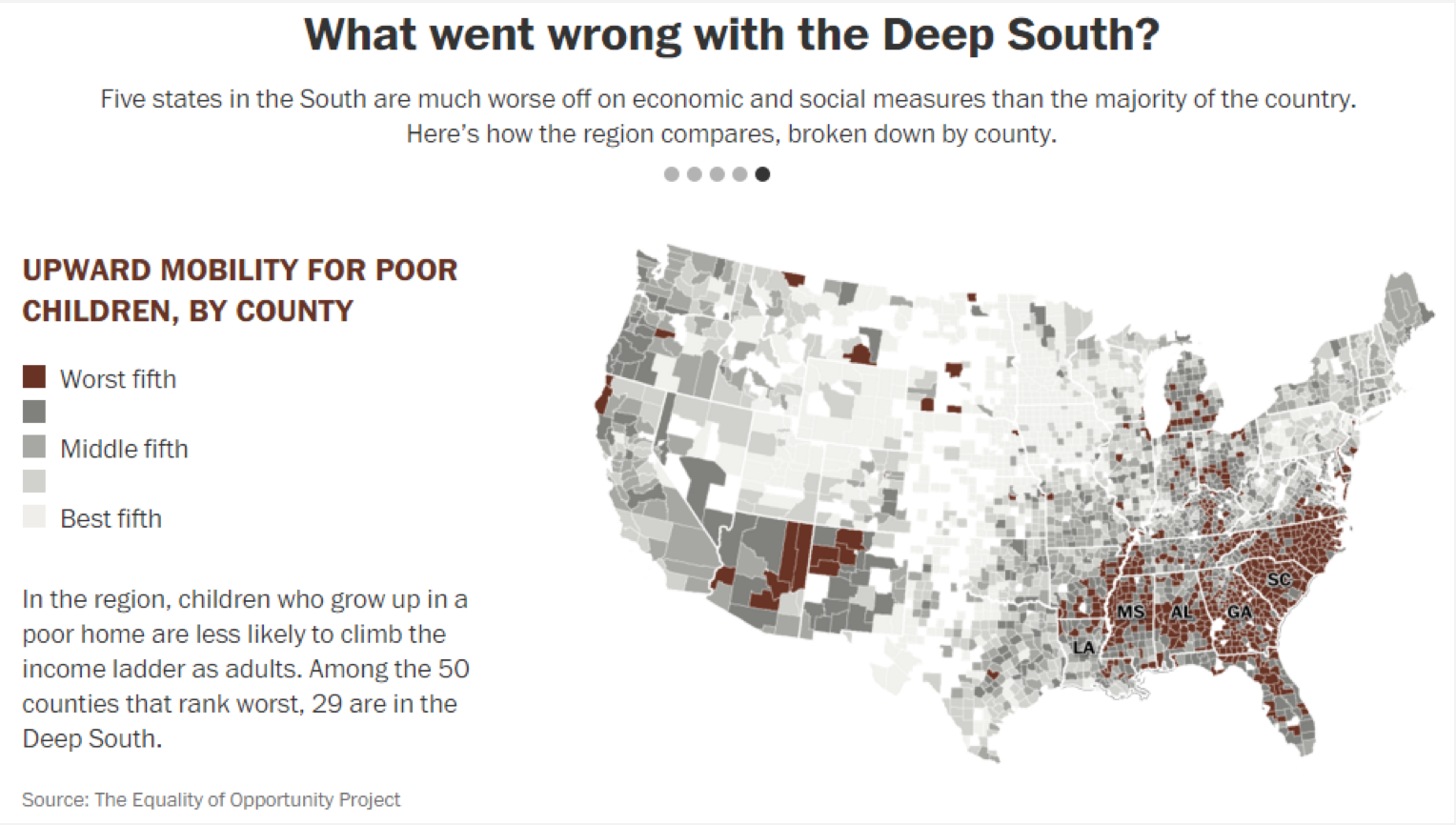 (Image source: Washington Post.)
What went wrong is centuries of enslavement and systemic discrimination that resulted in the immense disparities we see today — but most news stories don't capture that context. What went wrong with the Deep South is, in many ways, what went wrong with America. In the South, the effects of our nation's enduring racism are most apparent, and it's hard to overstate the continued legacy of slavery. The American economy was built on the wealth created by a violent system of free labor. The economic motivation for that system was most apparent in the agricultural South, and so people in this region went to increasingly great lengths over time to preserve it in spite of contradictions with American ideals of equality. The narrative of racial difference that was created to justify that system is still with us.
Our region's history of economic dependence on free, forced labor, and then later on cheap, exploitative labor, meant there were minimal opportunities for wealth creation for those outside the economic elite, and particularly for people of color, and there has been unequal investment in community resources that are beneficial to the entire population, like schools, transportation, and health care. Centuries of slavery ended only to usher in an era of racial terrorism and legal segregation. With restricted economic opportunity and nonexistent political power, black Southerners had limited capacity to invest in community institutions like schools to ensure their children received quality education (although there are many notable exceptions). Even as the policies and systems that overtly and legally segregated communities were dismantled, the emergence of new ways of drawing lines has concentrated affluence in some places and poverty in others. These policies and behaviors are often developed without consciously racist intentions, but they have served to reinforce the importance of place in determining opportunity.
So, what went wrong in the South? A long history of social and economic inequity, which is most apparent in the places that pop out on the Washington Post's interactive map. The historical roots of this swath of concentrated poverty and low mobility can easily be traced back to the 17th century (or even to the Cretaceous era, as the places with the largest populations of enslaved people were where the soil was the best for growing cotton, which follows the pattern of ancient coastlines). In 1860, 78 percent of people in Sunflower County, Mississippi, the setting of Harlan's article, were enslaved. A map showing the percentage of the total population that was enslaved in 1860 by county bears remarkable similarity to the pattern of those Washington Post maps: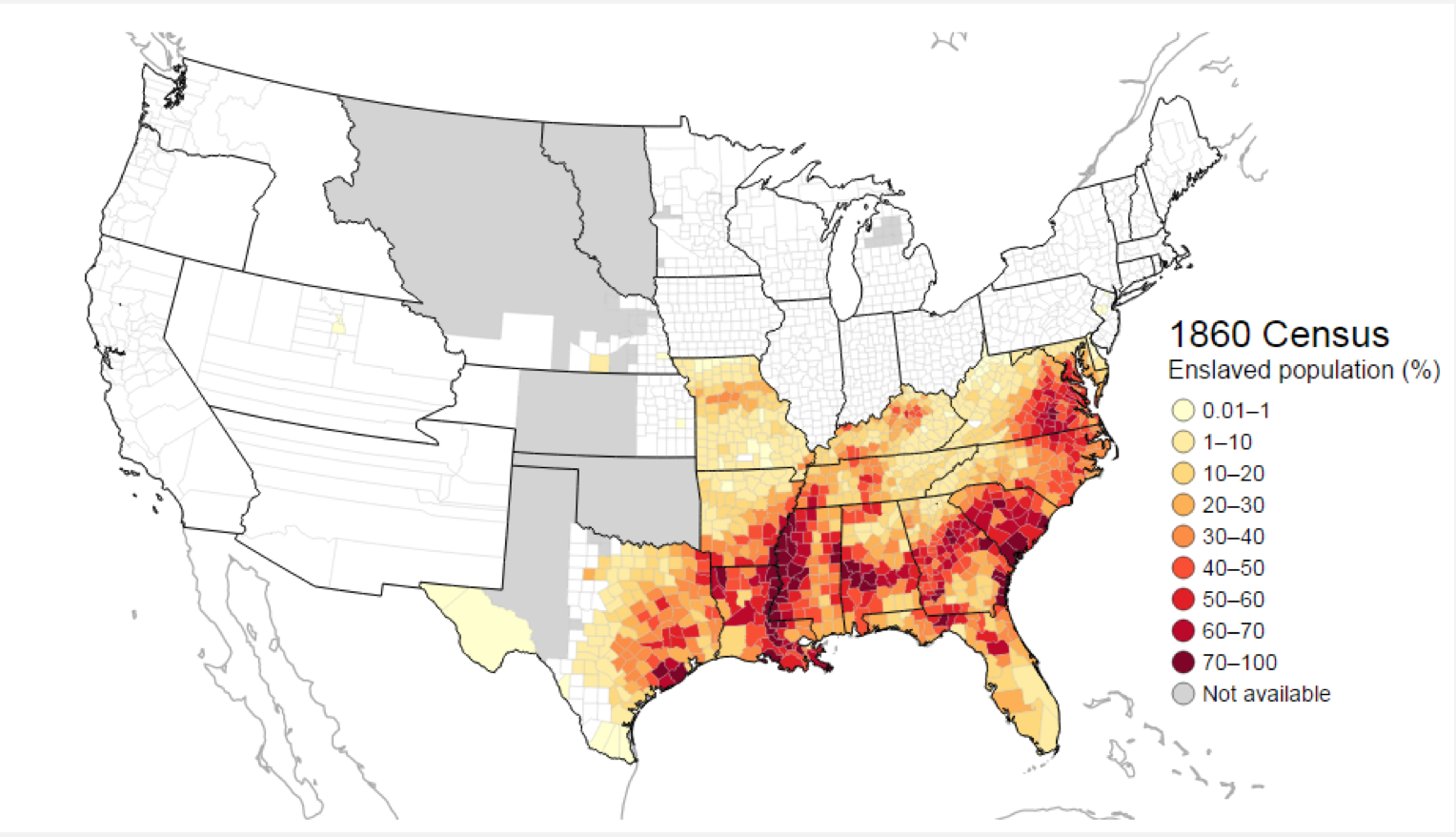 (Source: Lincoln Mullen.)
Slavery, and the racist beliefs that were constructed to support slavery's endurance until the Emancipation Proclamation, was not an inevitable economic system. And, even though we understand its roots, the structural racism and segregation that followed were not inescapable. When we understand the history of racism in the U.S. — how the design of our economy and our policies created these current conditions, rather than seeing them as accidents of fate or unknowable mysteries — then we understand that poverty, a lack of opportunity, and inequality are not intractable. Because we do not know that history, we are perplexed by the situation we have found ourselves in ("What went wrong in the South? No one really knows!").
We need to stop reacting to dramatic regional or group differences in outcomes as baffling idiosyncrasies and start digging into them for information about how well our society as a whole is functioning. We should focus our efforts on the people and communities that appear to be outliers, because those are the places where the failures of our system are most apparent, according to Rosanne Haggerty. "What would work for those outliers is actually something that would work for anyone," says Haggerty. A community's Infrastructure of Opportunity must be designed to provide reliable options for all young people, regardless of family wealth and background. The places that have better outcomes for low- and middle-income young people also tend to have better outcomes for high-income young people, too (see Equality of Opportunity Project), indicating that the types of resources, systems, and investments that matter for the economic and educational success of young people are beneficial across the board.
Breakdowns in educational and economic opportunity like those Harlan describes in the Deep South may appear unique to a small number of communities, but they are indicative of broader systemic failures. Harlan mostly focuses on the issues facing economically isolated rural communities, but the accompanying map of low mobility shows that low-income young people are struggling even in some of the South's most prosperous and dynamic metros. If we want to make national progress on equity, opportunity, and mobility, then we have to figure out how to reduce disparities in the South and in those communities where economic insecurity is greatest. The Infrastructure of Opportunity varies noticeably in quality, consistency, and accessibility across the U.S.; that doesn't have to continue to be the case.