In the South's two presidential primaries held on March 15 — Florida and North Carolina — a greater share of Democrats turned out to vote than in any other Southern primary so far in the 2016 election season.
Following Bernie Sanders' upset win over Hillary Clinton in Michigan the previous week, which sparked new interest in the race, 16 percent of Florida voters and 17 percent in North Carolina cast ballots for the Democratic candidates on "Mega Tuesday." That was an increase from the 10 previous Southern states, where Democrats had managed only a meager 11 percent turnout of the state's total voters, compared to 21 percent of Republican voters.
After March 15, North Carolina is the only state in the South where Democrats have reached near-parity in turnout with their GOP counterparts: Votes for Democratic presidential candidates accounted for 17.4 percent of North Carolina's primary voters, compared to 17.5 percent for GOP hopefuls.
But these modest gains didn't erase the large voter turnout advantage that Republicans have enjoyed in the 2016 primaries. After contests in 12 states, voter turnout for Republicans stands at 20 percent, more than 50 percent higher than the 13 percent turnout figure for Democrats.
And it also doesn't change the reality that, compared to past presidential primaries in 2008 and 2012, Democratic enthusiasm is down across the South, and Republican voters are more engaged. The 17 percent turnout registered for Democrats in North Carolina this year is a steep drop from the 27 percent turnout seen in the party's last competitive primary in 2008. Conversely, for North Carolina Republicans, 2016 primary turnout is twice the 9 percent rate the GOP mustered eight years ago.
With just the West Virginia and Kentucky Democratic primaries remaining (Republicans already caucused on March 5), 12.5 million voters have cast ballots for Republican presidential hopefuls, compared to 7.7 million for Democratic candidates. (Click on the chart to enlarge.)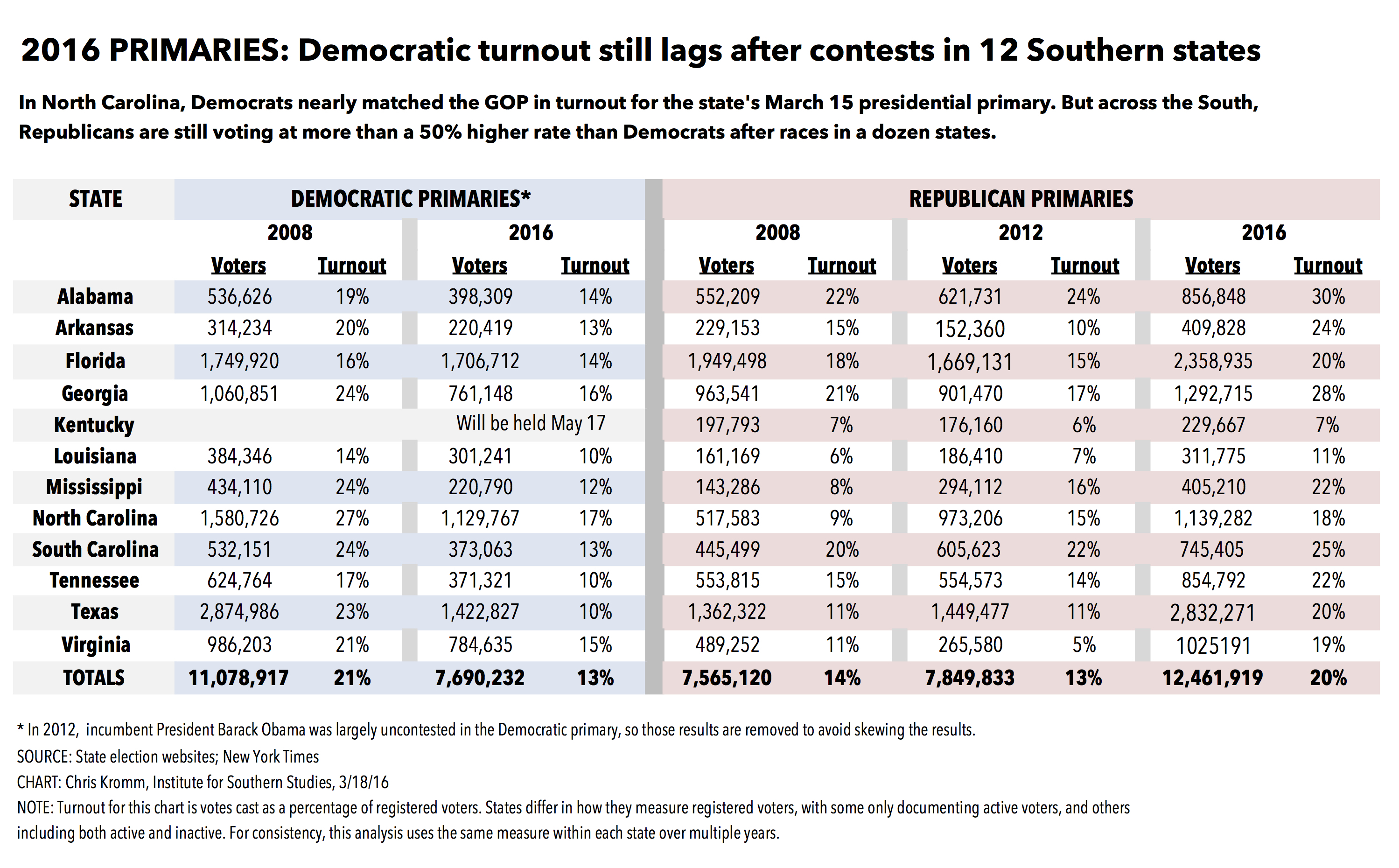 Chaos in Carolina
The modest surge in Democratic turnout in North Carolina happened amid reports of widespread troubles at the polls due to confusion over the state's new voting laws.
The problems first surfaced during the state's early voting period, when more than 2,500 voters cast provisional ballots. According to N.C. State Board of Elections internal data, more than 800 of those were a result of the state's new photo voter ID requirement; more than 380 made use of a measure that allows voters to cast a provisional ballot if they can show there was a "reasonable impediment" that prevented them from obtaining valid identification.
Also during early voting, more than 180 North Carolina voters cast provisional ballots because they weren't registered to vote, although the state allows for same-day registration during early voting. The state's same-day registration law was nixed by North Carolina's Republican leadership in a far-ranging election overhaul in 2013, but due to litigation the law remains on the books.
On Election Day, the troubles continued. A team of 700 volunteer poll monitors from Common Cause, Democracy North Carolina, Ignite NC and the state chapter of the NAACP found "mass confusion" at polling sites. An election hotline staffed by attorneys and students at the University of North Carolina Law School was flooded with more than 1,000 calls, forcing them to open a new line.
According to a press release from the election watchdog group Democracy North Carolina, problems included understaffing and poorly trained poll workers, "incorrect and inconsistent application" of the new voter ID law, a failure to provide provisional ballots to eligible voters, and last-minute polling place changes at high-traffic sites like N.C. Central University in Durham.
As a result of these and other problems, there were also long lines with wait times of three hours or more to vote. One polling site in Durham didn't work through its line of voters until 10:30 p.m.
"We were encouraged that so many people persisted in making sure their voice was heard, but it was painful to hear about voters harmed by the new voting rules and by the same poor polling-place administration that we documented during the 2014 election cycle, often in the same places," said Bob Hall, executive director of Democracy North Carolina.
According to Hall, these problems could be even worse in the 2016 general election if courts uphold the 2013 law that eliminated same-day registration and out-of-precinct voting.
"All the problems from this primary will be far worse in the general election, when we'll have more voters, more ID confusion, and the possible loss of those two back-up safety provisions," he said.