Trump rhetoric motivates new Latino voters in Arkansas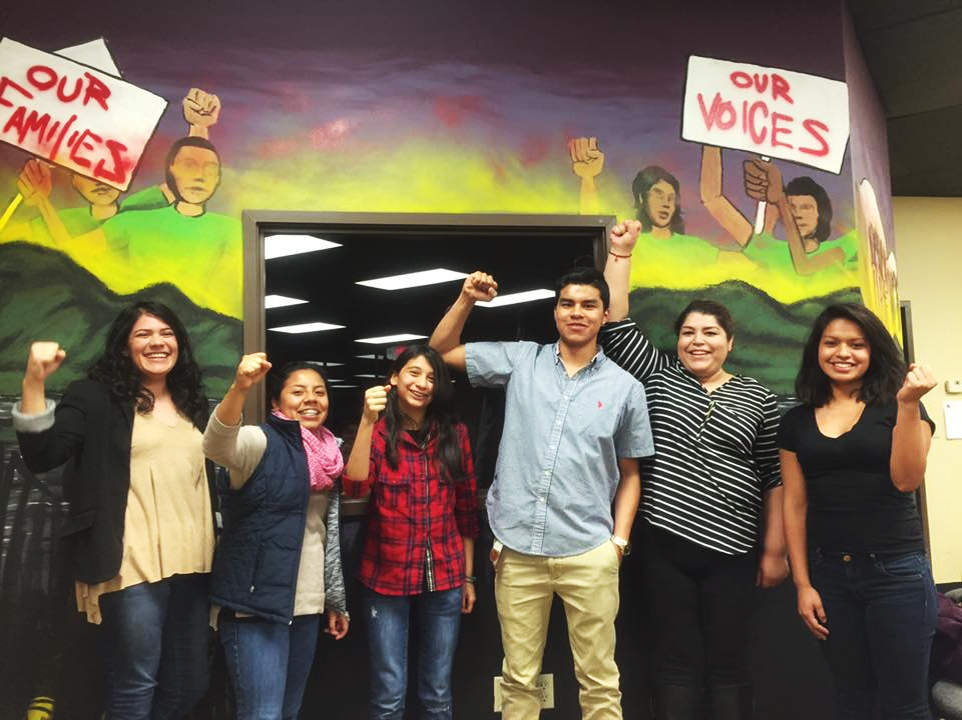 Latinos in Arkansas haven't traditionally been a large voting bloc. Their numbers, though growing, are small. Their voting rates tend to lag behind other groups.
But this year, things could be different. 
As in other parts of the country, Latinos and other immigrants in Arkansas are paying close attention to the election, immigrant organizers in the state report. That's largely because of the anti-immigrant rhetoric that has dominated the Republican presidential race, including frontrunner Donald Trump's proposals to build a wall along the southern U.S. border and deport 11 million undocumented immigrants. People are concerned and looking to get involved. 
"Our communities are hearing it and they're coming to us," said Mireya Reith, executive director of Arkansas United Community Coalition (AUCC), an immigrant rights organization. 
This year, Reith's group is running a statewide voter campaign. She said that people are coming to the organization looking for help with the naturalization process and voter registration. 
"There's renewed interest that our vote will matter because it will matter nationwide," Reith said.
A growing community with a limited voice
Between 2000 and 2012, the Latino population in Arkansas grew 114 percent, the fifth fastest rate in the country. Their arrival has provided a critical boost to the Arkansas economy, particularly in the northwest region, as the state's predominantly white workforce has aged. According to a 2013 report commissioned by the Winthrop Rockefeller Foundation, immigrants generate $7 in business revenue and tax contributions for every $1 of state spending on services to immigrant households. 
But while Latinos' presence has been growing in Arkansas' population and workforce, they are among the most underrepresented groups in the state's electorate. Latinos make up 7 percent of the state's overall population and 6.2 percent of its workforce but only 3 percent of eligible voters. 
That underrepresentation is due in large part to eligibility. Because so many in the community are recent arrivals, over half of voting-age Latinos are not U.S. citizens. Youth under 18 also make up nearly 40 percent of the Latino population. As a result, fewer than one in three Latino residents in the state are eligible to vote. 
But things are changing. According to a recent Facing South/Institute for Southern Studies report, Arkansas' Latino electorate is experiencing significant growth as Latino youth — 94 percent of whom are U.S. citizens — age into the electorate. By 2032, 75,000 young Latinos in the state will become eligible to vote, more than doubling the current Latino eligible voter population of 60,000.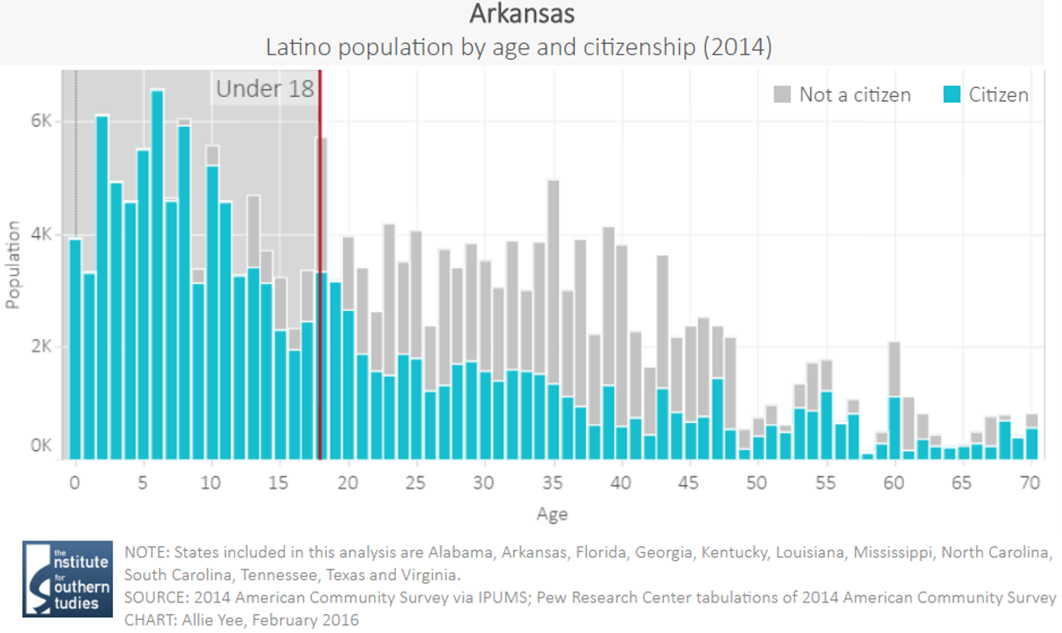 Click on chart for larger version.
Driving voter engagement
Groups like AUCC are working to boost the voice of Latinos and other immigrant and underrepresented voters at the ballot box.
This year marks AUCC's third voter engagement campaign. It is focusing on Latino, Asian, Middle Eastern and Native American voters across the state but particularly in the northwest region where immigrant communities are concentrated. 
"We focus on [helping] immigrants become citizens, citizens to become voters," said Reith. 
In early 2016, AUCC ran a citizenship campaign to support lawful permanent residents — of whom there are approximately 40,000 in the state — through the naturalization process. It is also planning to reach out directly to voters, host candidate forums, provide information about state and local elections and help address language and other barriers voters face. 
The group is conducting special outreach to the growing number of young, first-time Asian and Latino voters. Already, young people between the ages of 18 and 29 make up 40 percent of eligible Latino voters, and the Facing South/Institute for Southern Studies report estimates that 4,000 Latino youth will turn 18 each year between 2014 and 2032. 
Michel Rangel, AUCC's lead organizer for its 2016 civic engagement campaign and a student graduating from the University of Arkansas in Fayetteville this month, has been involved in voter registration efforts on college campuses. She reports seeing a lot of excitement about voting this year among young Latinos like herself, largely because of the Trump campaign's rhetoric. 
"A lot of them have taken to heart that they'll be voting for their families," Rangel said. 
Tags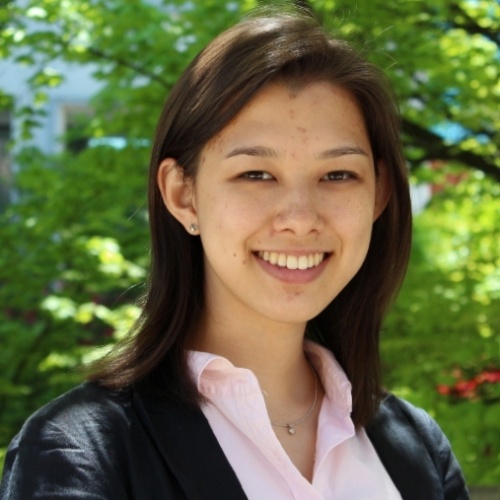 Allie is a research fellow at the Institute for Southern Studies and is currently studying at the Yale School of Management. Her research focuses on demographic change, immigration, voting and civic engagement.