Fueled by corporate cash, GOP attorneys general group spends millions in N.C.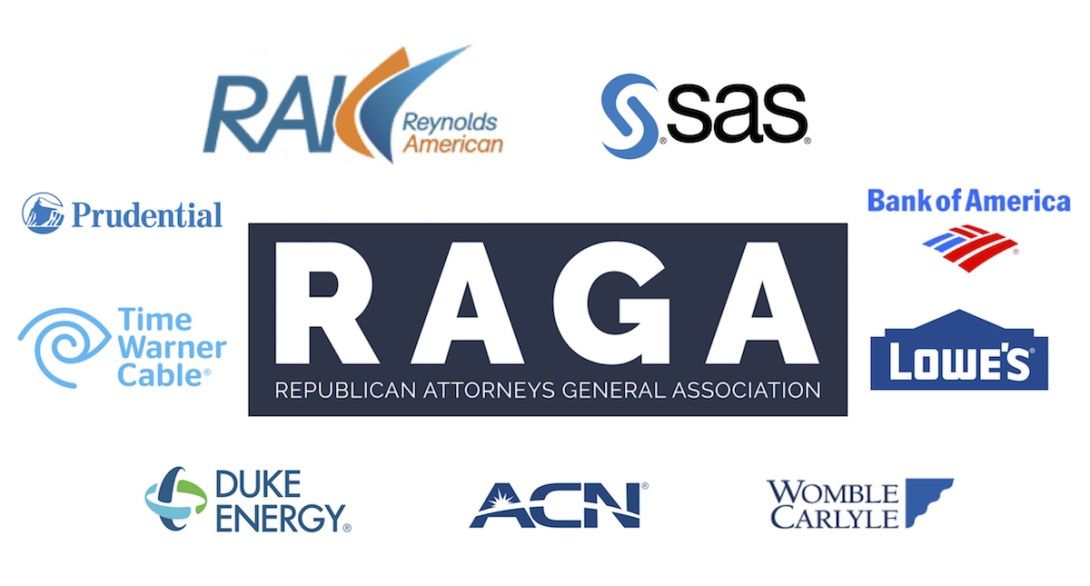 North Carolina hasn't elected a Republican attorney general in 100 years. This year the Republican Attorneys General Association (RAGA) is spending unprecedented sums to change that.
In its largest single-race ad buy ever, the 527 political nonprofit that describes its purpose as "promoting free markets" purchased $3.8 million in TV ads on broadcast and cable networks to air during the final five weeks of North Carolina's attorney general contest. RAGA is supporting Republican candidate Buck Newton, a state senator and private-practice attorney from Wilson, against former state Sen. Josh Stein, a Raleigh Democrat who spent eight years as the state's deputy attorney general for consumer protection. The race is considered a toss-up by GOVERNING magazine. The current attorney general, Roy Cooper, is in a tight race for governor against incumbent Pat McCrory.
Founded in 1999, RAGA previously worked in collaboration with the Republican State Leadership Committee (RSLC), a super PAC that spends to elect Republican state-level officials. Both groups raise money mostly from corporations. In early 2014, RAGA broke away from the RSLC to have more control over its day-to-day operations. Later that year, RAGA spent nearly $16 million on races around the country, flipping three posts from Democrat to Republican.
Attorneys general are responsible for defending state laws and prosecuting wrongdoers, including corporations. A 2014 New York Times investigation documented how companies that donate to RAGA and its counterpart on the left, the Democratic Attorneys General Association (DAGA), invest in these races because they are either targets of state investigations or want support from attorneys general in battling federal regulations.
North Carolina companies have donated to both RAGA and DAGA, which was formed in 2002. But in recent years, they've given far more to RAGA. From the beginning of 2015 through the first quarter of this year, nine North Carolina-based businesses have donated over $487,000 to RAGA. Over the same time period, five N.C. companies donated a total of $140,000 to DAGA; all of them also gave to RAGA.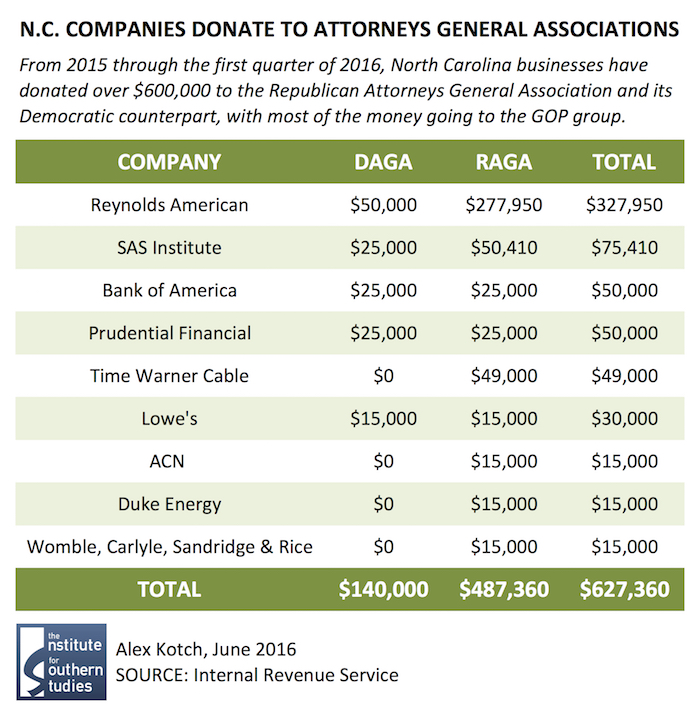 The money behind RAGA
RAGA's current fundraising dominates DAGA's. So far this election cycle, RAGA has raised $15.7 million and spent $9.1 million while DAGA has raised $5.7 million and spent $3.6 million.
According to the Center for Responsive Politics's OpenSecrets.org database, the Judicial Crisis Network is the top donor to RAGA in the current cycle, contributing over $1.4 million so far. A "social welfare" nonprofit founded in 2005 to support President Bush's Supreme Court nominees, the Judicial Crisis Network now focuses on opposing President Obama's Supreme Court nominees and backing Republicans in state judicial and attorneys general elections. Funded heavily by the Wellspring Committee, another secret-money group that finances numerous conservative political groups linked to the Koch brothers, the Judicial Crisis Network has already spent $200,000 in North Carolina this cycle supporting the reelection of conservative state Supreme Court Justice Bob Edmunds.
The second- and third-biggest contributors to RAGA this cycle are the Las Vegas Sands, a Nevada-based casino and resort operating company, at $500,000, and insurance giant Blue Cross/Blue Shield at over $451,000, according to OpenSecrets.org.
Energy interests are also major contributors to RAGA. The group's fourth-biggest donor this cycle is the Ariel Corporation, an Ohio-based company that builds natural gas compressors. The Kansas-based Koch Industries oil and chemical conglomerate comes in sixth; American Coalition for Clean Coal Electricity, a group representing coal companies, coal-burning utilities and railroads, is eighth; and Ohio-based coal-mining giant Murray Energy comes in at number 11.
Seventh on the list of top RAGA donors is North Carolina-based tobacco giant Reynolds American, also a prolific donor to other national Republican political spending groups. Reynolds has sponsored multiple RAGA meetings. The North Carolina-based law firm Carlyle, Sandridge and Rice, another major RAGA donor, counts among its clients Reynolds American subsidiary R.J. Reynolds Tobacco Co.
Spending in other states
RAGA is also spending in West Virginia's attorney general contest, supporting incumbent Republican Patrick Morrisey, who the group called "a true friend of the coal industry" in an online petition. Major RAGA donor Murray Energy operates coal mines in the state, as do many members of the American Coalition for Clean Coal Electricity.
Mountaineers are Always Free PAC, RAGA's West Virginia affiliate, has reported receiving nearly $250,000 from the national group, spending all of it on radio and digital ads supporting Morrisey, according to campaign finance reports. His Democratic opponent, Doug Reynolds, a state representative since 2006, has not benefited from any reported outside expenditures so far, and his campaign has raised just over half of the $700,000 Morrisey's has. GOVERNING magazine considers this race a likely Republican victory.
With competitive attorneys general races in Indiana, Missouri and Pennsylvania, RAGA could spend even more during this record-breaking year.
Tags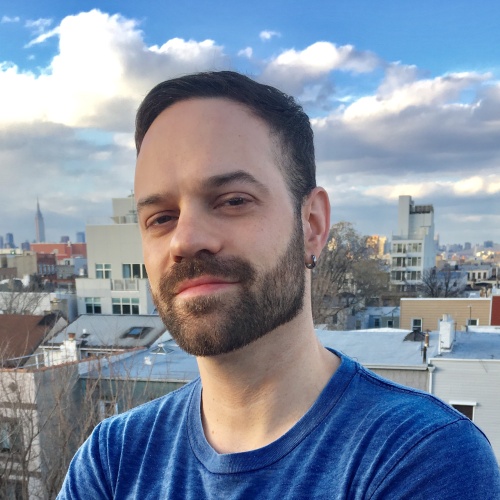 Alex is an investigative journalist based in Brooklyn, New York, and a reporter for the money-in-politics website Sludge. He was on staff at the Institute for Southern Studies from 2014 to 2016. Additional stories of Alex's have appeared in the International Business Times, The Nation and Vice.com.