The North Carolina governor's race is one of 2016's most hotly-contested state-level elections, and outside political spending groups are devoting millions of dollars to influence its outcome. One of the biggest threats to Republican Gov. Pat McCrory's re-election bid against his Democratic challenger, Attorney General Roy Cooper, has been the national backlash to his signing and ongoing defense of House Bill 2, which among other things requires transgender people to use public restrooms that correspond to the gender on their birth certificate. 
More than 200 businesses and corporate leaders have come out against the law, and some are even participating in an ongoing boycott of the state in response to it. For example, PayPal canceled plans for a global operations center in Charlotte, and the NBA pulled its 2017 All-Star Game from the city, an estimated $100 million economic blow to the region. The controversy has become a potentially serious political liability for McCrory, with polls showing large numbers of North Carolina voters worried that HB2 is hurting the state overall as well as its image and economy.
An earlier Facing South investigation found that companies opposed to HB2 contributed to political spending groups that helped elect the bill's sponsors, other legislators who voted for it and the governor who signed it. Those groups included the Washington, D.C.-based Republican Governors Association (RGA), a super PAC that spent millions to help elect McCrory in 2012 and plans to spend millions more this year to support his re-election.
Our latest analysis finds that some anti-HB2 companies gave to the RGA even after HB2 became law: Of the businesses that have publicly opposed HB2, 21 donated a total of more than $1.1 million to the RGA since McCrory signed the bill on March 23. Microsoft gave the most at $125,000, while Coca-Cola, General Electric, MassMutual, Merck and Oracle each added $100,000. Prominent tech businesses including Google, Facebook and Lyft also contributed tens of thousands of dollars, as did financial companies Bank of America and Visa.
The RGA supports governors around the country, including Mississippi's Phil Bryant, who in April signed an anti-gay marriage bill in his state. However, some GOP governors have signed transgender rights bills, as in Massachusetts, or vetoed anti-LGBT legislation, as in Georgia and South Dakota.
This year, some companies opposed to HB2 gave to both the RGA and its counterpart on the left, the Democratic Governors Association (DGA), a common tactic employed by businesses to curry favor on both sides of the aisle; they include Coca-Cola, General Electric, Intel, Microsoft and Northrup Grumman. However, the combined $625,000 they gave to the DGA after HB2 became law is considerably less than the total they gave to the RGA. A few companies including PepsiCo and Visa gave more to the DGA than to the RGA.
Click the table below for a larger version.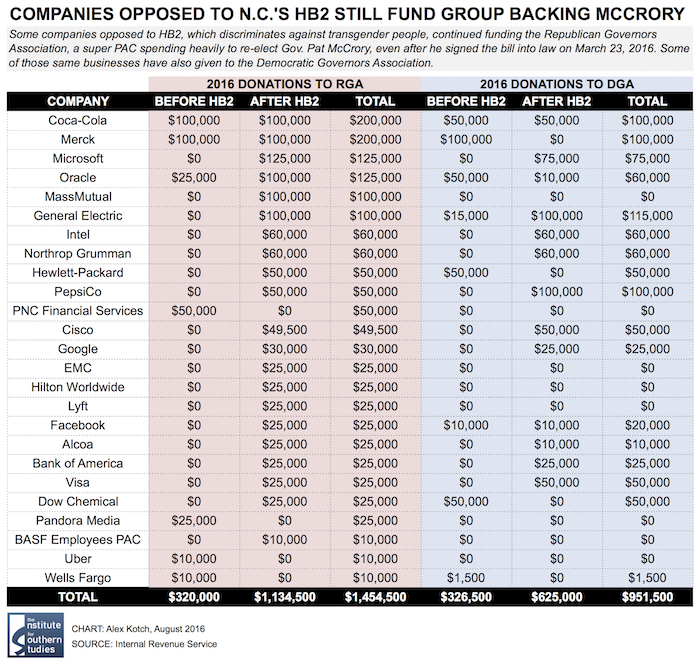 None of these companies' political action committees contributed directly to the McCrory or Cooper campaigns after HB2 became law.
Facing South sought comment from all 21 of the companies and heard back from several. 
A spokesperson for Microsoft, which gave $125,000 to the RGA and $75,000 to the DGA post-HB2, said, "We weigh a number of factors in making political contribution decisions, and will consider [HB2] and other issues in making future contribution decisions."
But others did not indicate any potential change in their donation practices, including Cisco, Northrup Grumman and Visa. Said Jeff Caywood, a spokesperson for General Electric, which gave $100,000 to both governors groups after HB2 became law:
GE, like others in the business community, supports the RGA for a number of reasons, including the efforts of the RGA to support Republican governors in developing comprehensive solutions to pro-business issues like tax and legal reform, promoting higher educational standards and enacting transformative energy policy. In this instance, Gov. McCrory is one of 30 incumbents who belong to the RGA. Moreover, as we have demonstrated with our opposition to North Carolina's HB2, we do not hesitate to speak out when we disagree with Gov. McCrory or other incumbents and candidates on important public policy issues.
McCrory has stood by HB2, calling it "common sense." His administration has also sued the U.S. Department of Justice over what it calls a "radical interpretation" of the Civil Rights Act for requiring the state to allow transgender people to use restrooms that match their gender identity.
Meanwhile, oral arguments in a federal lawsuit filed against HB2 by civil rights advocates took place last week in Winston-Salem, and U.S. District Court Judge Thomas Schroeder seemed skeptical of the state's defense.