Embraced by the public, Miami-Dade campaign finance reform initiative meets official resistance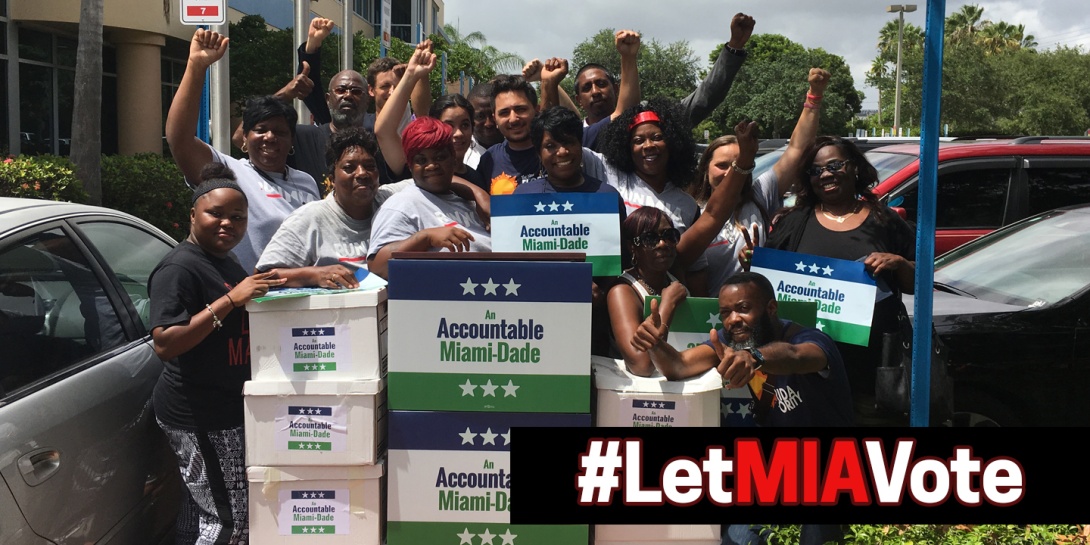 The role of money in politics has been a major theme in this year's presidential election. Democratic nominee Hillary Clinton has pledged to reduce the influence of Big Money and support small-donor matching systems, and, though he hasn't offered concrete reform proposals, Republican nominee Donald Trump has frequently commented on the corrupting effect of political donations. 
With the current Congress unlikely to pass any meaningful reforms, a growing number of cities, counties and states are taking matters into the their own hands, proposing and sometimes even passing measures that curb the power of big donors.
One place where voters are attempting to change campaign finance laws is Florida's Miami-Dade County, the nation's seventh-most populous county. A coalition of groups and grassroots activists there is promoting a ballot measure that would prevent big county contractors and their representatives from donating to county candidates, eliminate lobbyists' gifts to officials and their staff, lower the cap on campaign donations from $1,000 to $250, increase campaign finance reporting requirements and create a small-donor matching system in which the county would increase by sixfold donations up to $100.
An Accountable Miami-Dade is a diverse, bipartisan coalition run by Service Employees International Union leader Monica Russo and Bettina Rodriguez-Aguilar, the Republican former vice-mayor of Doral, Florida. Launched in May, the group's advisory board includes current and former mayors of both major parties, grassroots leaders, and even the chair of the Trump for Miami-Dade Campaign Committee.
Their efforts have received broad support from county residents yet have faced obstruction from elected officials.
The coalition submitted 127,000 signatures — far more than the number required to get the measure on the ballot — to the Board of County Commissioners on Aug. 2. But the county still has not begun counting and verifying them. And on Aug. 9, a special county commission meeting to address the initiative failed to draw enough commissioners to make a quorum and was canceled. 
When Juan Cuba, executive director of the Miami-Dade Democratic Party and an adviser to the coalition, filed a request with the county for emails sent by officials regarding the petition over a nine-day period, the county records office said he would need to pay $21,600. After public outcry, the county mayor's office backtracked and said it will not charge Cuba for the records.
However, as of Aug. 18, the commission had not called another special session to address the initiative. So on Aug. 16, Accountable Miami-Dade filed a lawsuit against the county, requesting that the commissioners or mayor order the Elections Department to count the petitions. The following day, activists descended on the offices of the mayor and commissioners, delivering letters calling on them to act immediately. 
"Democracy delayed is democracy denied, and this is obstruction of the will of the people, pure and simple," Russo said in a statement.
The county has until Sept. 1 to count the petitions, according to its charter. County officials have said there is not enough time to put the initiative on the November ballot, and Mayor Carlos Gimenez has contended he lacks the authority to call a special session before the deadline.
On Aug. 18, the clerk of the commission circulated a petition for another special meeting to be held on Aug. 22. The next day, enough commissioners agreed to meet, so they'll vote on moving the ballot initiative forward.
Restoring trust in government
Real estate interests have outsize influence in Miami-Dade politics. For example, Gimenez has raised over $1.6 million for his re-election campaign, much of it coming from real estate developers and builders. His challenger, Raquel Regalado, has raised less than a quarter of that amount. 
The real estate industry's influence is what led Accountable Miami-Dade advisory board member Gihan Perera to begin thinking about local campaign finance reform. A longtime community organizer and executive director of the social justice organization The New Florida Majority, he focused on issues related to public housing and gentrification. He started registering and mobilizing voters, but, try as they might, he and the community leaders he worked with failed to get a response from Miami-Dade officials.
"We couldn't move the dime on our core issues because commissioners wouldn't move on them," Perera told Facing South.
At the time, the county's poorest district, which is mostly African-American, had a black commissioner, Dorrin Rolle. But according to Perera, Rolle didn't vote in his community's interest despite pressure from organized constituents. So Perera and his colleagues looked into why Rolle voted as he did.
"We realized all of his campaign money came from outside the community, from [real estate] developers and lobbyists," Perera said. "The system was essentially rigged. The deck was stacked against us."
Perera has also noticed in his work registering and mobilizing voters that people are apathetic about politics in part because they don't think their vote leads to their interests being represented, damaging their trust in the system. Perera believes the Accountable Miami-Dade initiative could rebuild citizens' confidence in the government.
"When our members want to start running for office, the biggest thing they come up against is fundraising," Perera says. "If any of our people want a shot and they're not getting bankrolled by big donors, this way is the only way we'll be able to magnify their ability to run."
Numerous studies have shown that public financing allows those without access to wealthy donors a real chance at running for office. Public financing also diversifies the donor pool. For example, a recent Demos study by Sean McElwee found that Miami-Dade's black residents are dramatically underrepresented among overall donors to mayoral and county commission campaigns but are better represented among small donors.
County officials out of step with public
The Miami-Dade County officials who tried to slow the ballot initiative are going against the will of the majority of voters.
Accountable Miami-Dade teamed up with the campaign-finance reform group Every Voice to release a poll that showed 60 percent of Miami-Dade voters support the initiative, including 68 percent of Hispanic voters and 71 percent of young voters. Perera says the commissioners' and mayor's inaction will ultimately hurt them. 
"They're dragging their feet at the cost of democracy against the will of the voters," said Perera. "This incites the ire of voters and it feeds into people's perception that the commission and the mayor are totally unresponsive to voters."
If the measure does not make the ballot this year, organizers say they will push for a special election to take up the issue in 2017.
In the meantime, the coalition is drawing inspiration from a growing number of local campaign finance reform efforts around the country.
For example, Perera said the coalition consulted with organizers in Seattle about their strategy for approving the city's first-in-the-nation "democracy vouchers" initiative last year. The program allots four $25 vouchers to each voter who can then donate them to city candidates of their choice.
Closer to home in Florida, Miami Beach already bans donations by government contractors, Tallahassee limits campaign contributions and provides its citizens with a $25 tax rebate to give to campaigns of their choice, and Fort Lauderdale bans all corporate contributions and caps donations at $250.
Another Florida city is also considering campaign finance reforms: The St. Petersburg City Council resolved last month to consider an ordinance to limit the amount contributors can give to outside committees spending in elections, which would effectively rid the city of super PACs.
A successful Accountable Miami-Dade campaign could open doors to additional reforms, including in the city of Miami. In the meantime, the New Florida Majority has a long-term campaign called RunMIA to encourage community members to seek elected office and leadership positions in housing and education — an effort that would benefit from changes to the campaign finance system.
Said Perera, "It's amazing how many people want to run."
Tags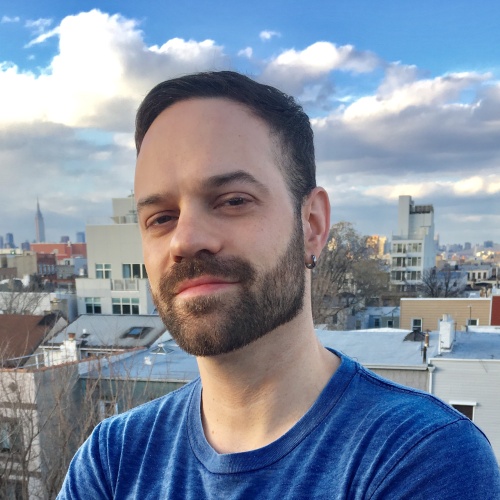 Alex is an investigative journalist based in Brooklyn, New York, and a reporter for the money-in-politics website Sludge. He was on staff at the Institute for Southern Studies from 2014 to 2016. Additional stories of Alex's have appeared in the International Business Times, The Nation and Vice.com.