Women missing from North Carolina's county commissions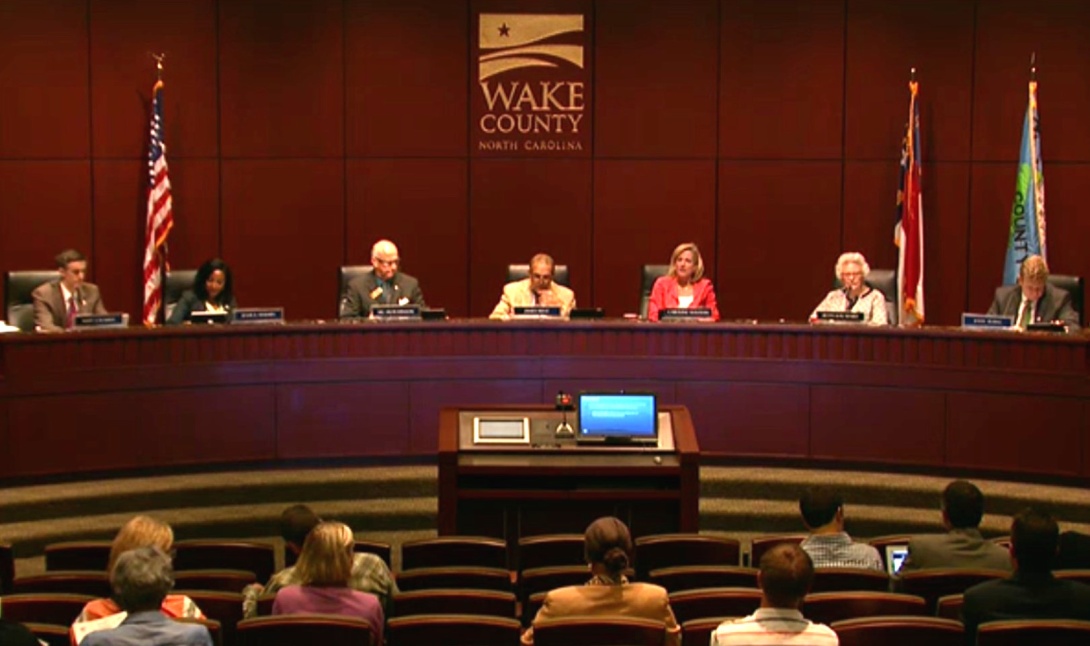 This story has been updated to include a corrected chart of entirely white male county commissions.
Democratic presidential hopeful Hillary Clinton made history this year when she became the nation's first woman presidential nominee of a major political party. But for women in North Carolina, there's still a long way to go in terms of political leadership at the county level.
Of the state's 582 county commissioners, only 97 are women. That's just 17 percent of commissioners in a state that is 51 percent female. In 42 of North Carolina's 100 counties, there are no women commissioners at all.
Those numbers are drawn from a Facing South analysis of data on the racial and gender makeup of North Carolina county commissions from the Reflective Democracy Campaign, an initiative of the Women's Donor Network, and the state voter file. The analysis previously identified stark gaps in racial representation.
 

"Women have always been underrepresented at every level," said David McLennan, a visiting professor of political science at Meredith College in Raleigh, North Carolina, and the author of the 2015 report "The Status of Women in North Politics."
"Really, it hasn't changed a whole lot in the past 20 years," he said. 
As McLennan noted in his report, the state saw some gains in the number of women serving elected and appointed offices in the 1980s and 1990s, but that progress has stalled in more recent years. Statewide, women make up less than 25 percent of all elected and appointed offices, according to the report.
In terms of gender representation among county commissioners, North Carolina has gone backwards in the past decade. In 2005, women made up about 20 percent of county commissioners, a number that has since dropped three percentage points.  
This lack of representation means that for many years, in many counties across North Carolina, women have not been involved in deciding critical local issues like setting property tax rates, allocating funds to build and maintain schools and determining county budget priorities. 
"These elected officials make decisions that have consequences over people's everyday lives in ways large and small," said Brenda Carter, director of the Reflective Democracy Campaign.
"By not having this political decision making power distributed more equitably, certain life experiences are not represented."
Even fewer women of color
Women of color are even more dramatically underrepresented on North Carolina's county commissions. While they account for nearly 20 percent of the state's population, they make up only 6 percent of its county commissioners. That number closely tracks the national rate of representation of women of color among all elected officials at 4 percent.
By comparison, white men make up 31 percent of North Carolina's population but hold two-thirds of its county commission seats — a number that also mirrors the national rate. In 24 of North Carolina's 100 counties, primarily in the western half of the state, white men hold all of the commission seats.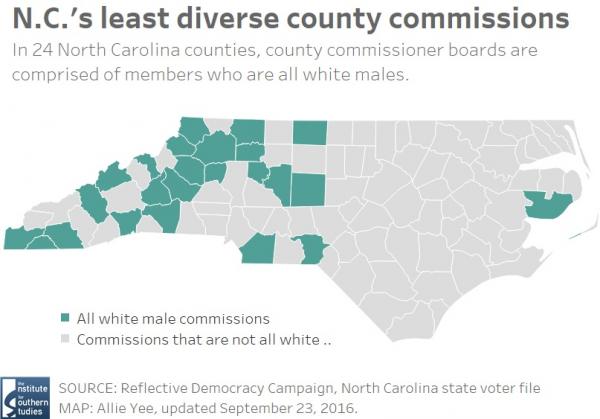 While white women make up 25 percent of elected officials nationwide, they represent only 10 percent of North Carolina's county commissioners, with men of color making up a larger share of the state's non-white-male commissioners. 
The state has no Asian American, Hispanic or Native American women commissioners.
In addition, the racial diversity of North Carolina's women commissioners is limited, as the state has no Asian American, Hispanic or Native American women commissioners. Of the 97 women commissioners in the state, 63 percent are white and 35 percent are black. There is one woman commissioner who indicated her race as "other."
Women are better represented on county commissions in urbanized areas of the state. In urban counties, defined by the North Carolina Rural Center as those with an average of 750 people or more per square mile, 33 percent of commissioners are women and 14 percent are women of color. In those counties identified as rural, 14 percent of commissioners are women and just 6 percent are women of color. 
Counties that are home to regional cities or suburban communities, defined as counties with an average population density between 250 and 750 people per square mile, fall in the middle in terms of women's representation with 23 percent women commissioners. However, these counties have the lowest representation of women of color at just 4 percent. 
Breaking through barriers
Despite the dismal representation numbers for women on county commissions across North Carolina, there are areas where progress is being made. In five counties in the state, for example, women actually make up a majority of the board of commissioners. Those are Avery, Cabarrus, Catawba, Durham and Orange counties.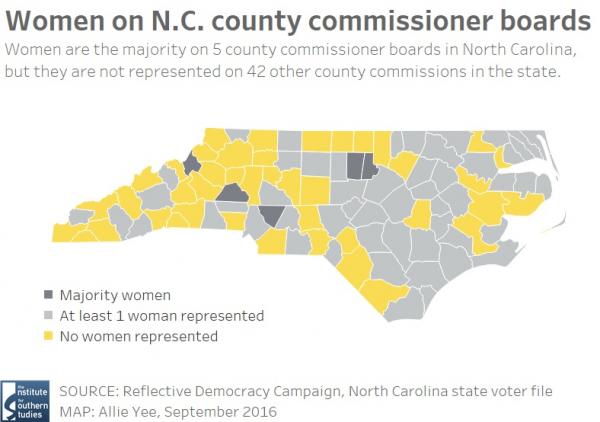 Carter and McLennan emphasize that when qualified women run for office, they win. Reflective Democracy Campaign's research on representation among candidates seeking office nationally has confirmed that women and people of color, once on the ballot, are elected at the same rates as white men. 
Women and people of color, once on the ballot, are elected at the same rates as white men. 
McLennan, who formerly led the N.C. Center for Women in Public Service (now merged with the N.C. Institute of Political Leadership) and helped women across the state run for office, pointed out that women need to be asked more often to run for office. He also said leaders of both parties must prioritize identifying women candidates.
Carter added that community-based organizations and advocacy groups, which often have more diverse leadership and members, should play a greater role lifting up female leaders for elected office. 
"There are qualified women and qualified women of color in all 100 counties," said McLennan. "It's just identifying them and giving them the resources and confidence to help them be successful."
Aidan Coleman and Rossie Izlar assisted with research for this story.
Tags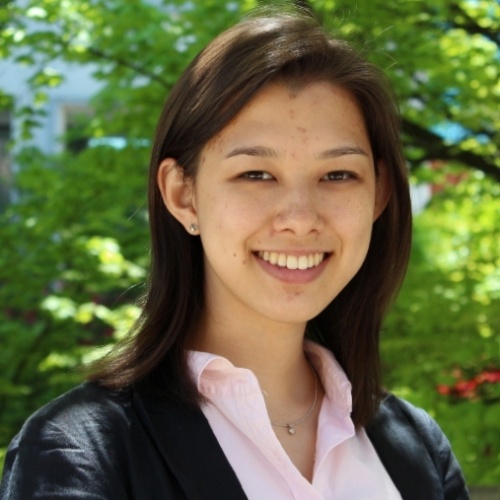 Allie is a research fellow at the Institute for Southern Studies and is currently studying at the Yale School of Management. Her research focuses on demographic change, immigration, voting and civic engagement.