How blocking North Carolina's restrictive voting law helped Asian American voters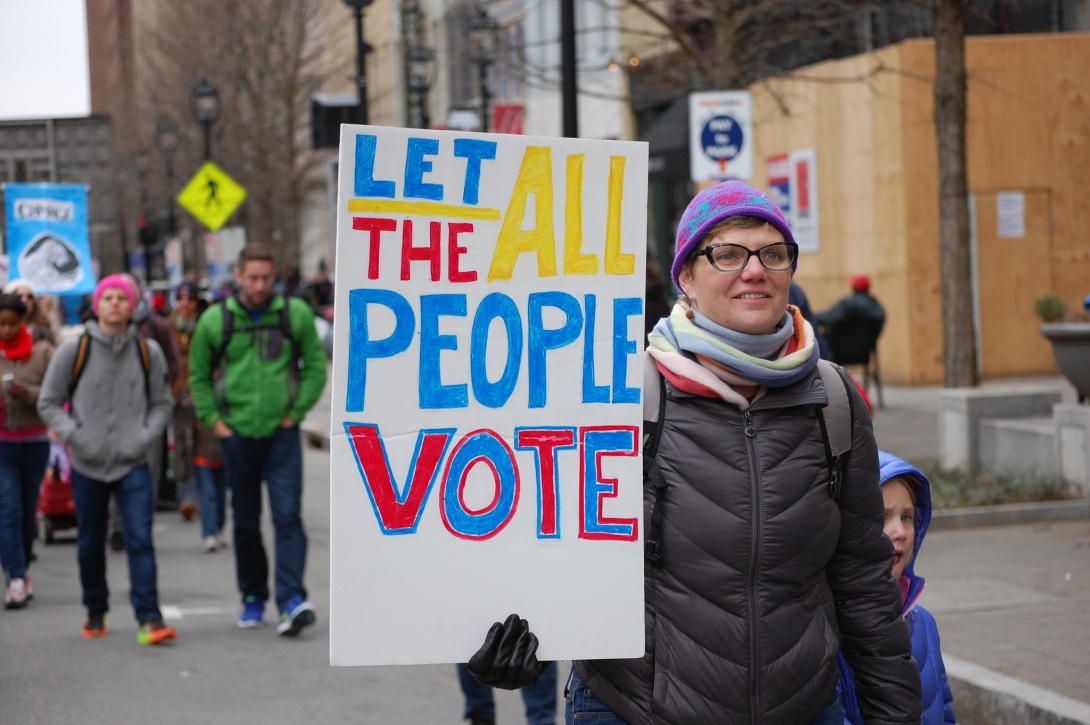 When the federal appeals court struck down North Carolina's 2013 voting law in July, it said the law discriminated against black voters, targeting them with "almost surgical precision."
The law, HB 589, made sweeping changes to voting rules and eliminated several voting measures disproportionately used by black voters like early voting and same-day voter registration. It also introduced a new voter ID requirement that accepted only a limited number of ID types, which also disproportionately impacted black voters.
The federal appeals court's decision to block the law means these measures are not in effect for the 2016 general election, making voting more accessible not only for African Americans but for other groups who have been historically disenfranchised or face barriers to voting.
Among the groups benefiting from the blocking of HB 589 is Asian Americans. As North Carolina's fastest-growing racial demographic and a largely independent voting base, Asian Americans have emerged as a critical swing voting bloc to watch in this battleground state.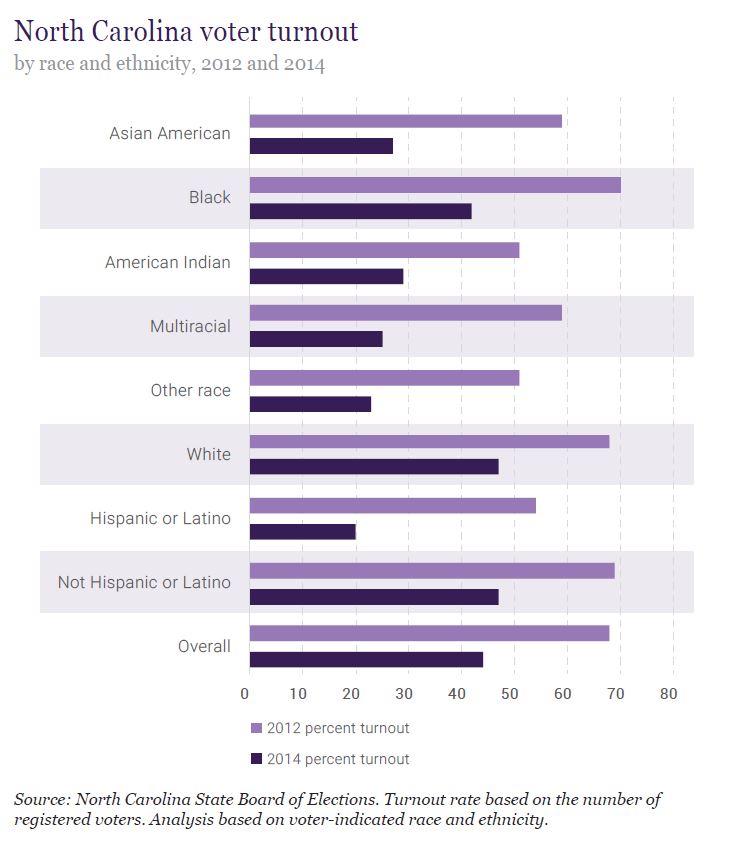 But a recent report called "A Growing Voice: Asian American Voters in North Carolina" released by the Institute for Southern Studies, publisher of Facing South, and other partners found that in recent elections their voter turnout rates have lagged behind that of white and black voters.
The report also found that HB 589 negatively impacts Asian American voters and could have further dampened turnout this fall if it had been enforced.
Not only do language barriers make understanding the ongoing rule changes even more difficult for Asian American voters who are not native English speakers, an analysis of voting trends from the March 2016 primary election shows that Asian American voters could be disproportionately impacted by certain provisions of the law, including the voter ID requirement and elimination of same-day voter registration.
Same-day registration
Same-day registration (SDR) allows North Carolina citizens to register and vote at the same time during the early voting period, giving those who missed the regular registration deadline a chance to vote. HB 589 eliminated the program, but a court decision re-instated it for North Carolina's March 2016 primary, in which nearly 23,000 voters used SDR.
Data from that election shows that Asian American voters used SDR at disproportionately high rates: Despite making up only 1.1 percent of registered voters, Asian Americans represented 2.5 percent of same-day registrants during that election.
Young Asian American voters had particularly high rates of using SDR, which could reflect the program's popularity among the state's Asian American university students. Two-thirds of Asian American voters who used SDR were under the age of 30, an age group that makes up only 28 percent of registered Asian American voters. By comparison, 53.2 percent of white same-day registrants and 56.4 percent of black same-day registrants were under 30.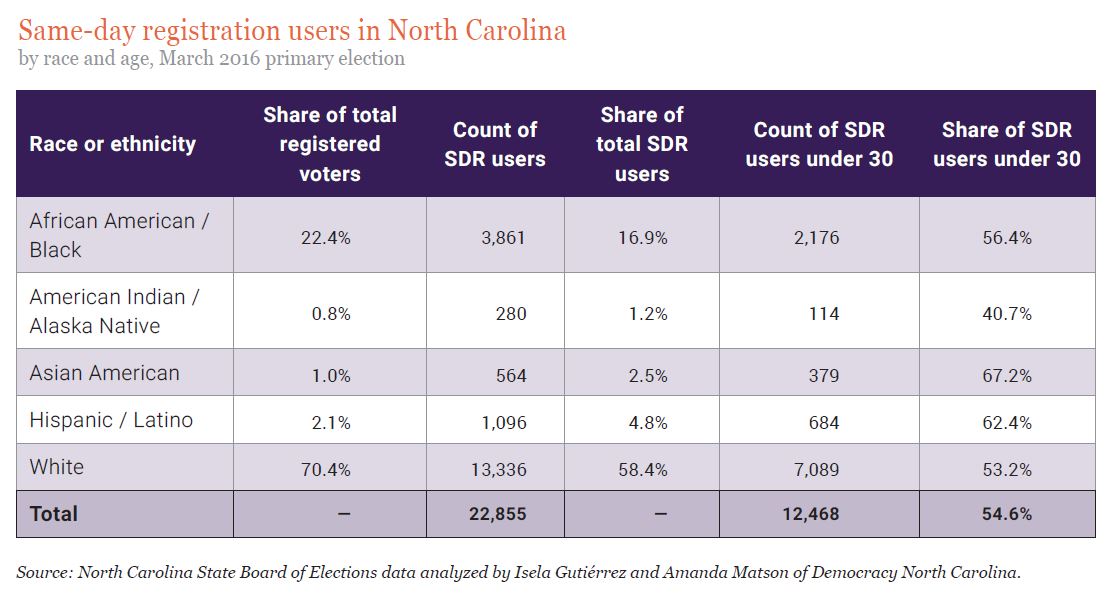 Voter ID
HB 589's voter ID requirement initially offered few options for voters who didn't have an approved form of ID but was amended in 2015 to allow those without ID to declare a "reasonable impediment" to obtaining one and to cast a provisional ballot.
The state's March 2016 primary election was the first in which the photo ID requirement and "reasonable impediment" declaration were implemented, and voting trends from that election suggest Asian Americans were disproportionately caught in the confusion around voter ID.
For example, 20.3 percent of provisional ballots cast by North Carolina's Asian American voters in the March primary were for the reason of having "no acceptable ID." By comparison, only 5.9 percent of all provisional ballots were cast for that reason.
If voters had ID at home, they could later present it to election officials and their provisional ballot would be counted. However, it's unclear how many of those Asian American provisional voters had ID to present and how many had no ID at all.
Voting trends suggest Asian Americans were disproportionately caught in the confusion around voter ID.
Asian Americans were also disproportionately represented among those voters who filed a reasonable impediment stating they had no valid ID. In all, 2.4 percent of reasonable impediment claims were filed by Asian American voters, although those voters make up just 1.1 percent of all registered voters in the state.
These numbers suggest that North Carolina's contested voting law changes could impact Asian American voters in the state. Along with factors like language access, they are important voting rights concerns for Asian Americans that advocates and voters should pay attention to.
This story was adapted from "A Growing Voice: Asian American Voters in North Carolina," a collaborative report released by the Institute for Southern Studies, North Carolina Asian Americans Together, the Southeast Asian Coalition, and Asian Americans Advancing Justice - Los Angeles.
Isela Gutiérrez and Amanda Matson of Democracy North Carolina provided content and analysis for this section of the report.
Learn more and read the full report at www.ncasian.org.
Tags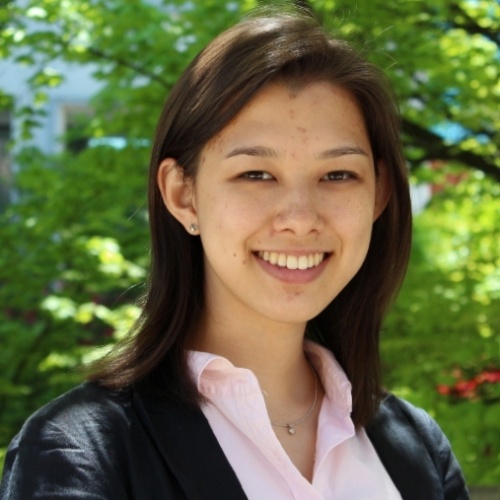 Allie is a research fellow at the Institute for Southern Studies and is currently studying at the Yale School of Management. Her research focuses on demographic change, immigration, voting and civic engagement.