Nissan Workers in Mississippi build Southern support for union drive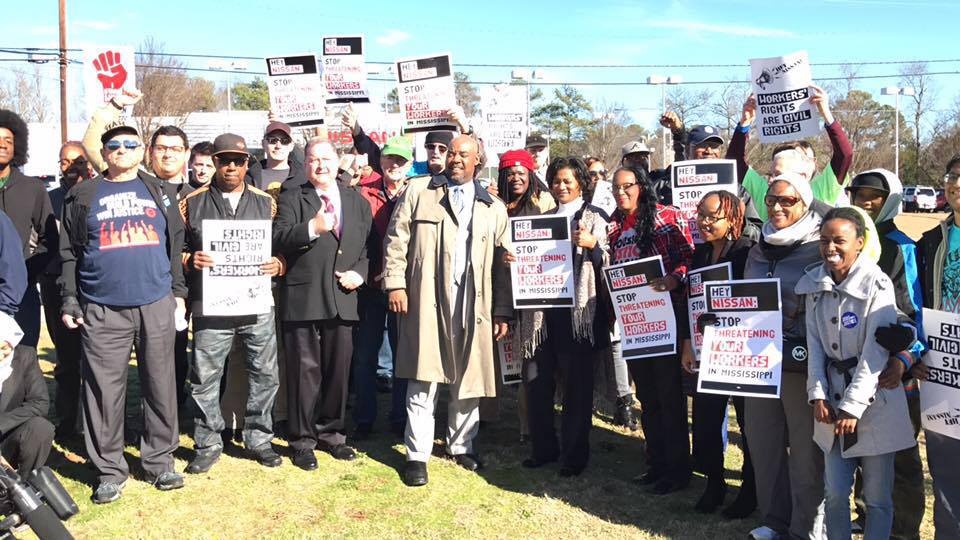 Canton, Mississippi — located in Madison County, just north of the capital city of Jackson — was a historic epicenter of the civil rights movement. It was where the Congress of Racial Equality (CORE) focused a key voter registration campaign in 1963, and where Freedom Summer organizers launched successful voter engagement initiatives, known as Freedom Days.  
But as in other areas of the South, when people have organized for greater say and power in Canton, they have often been met with backlash. During Freedom Summer, for instance, there were 32 incidents of assault against civil rights workers in Madison County, nine churches were burned, and ordinances that prohibited picketing and leafleting were passed to discourage further organizing.
Today, workers at the city's Nissan plant are facing a familiar backlash in their 12-year struggle for the right to organize a union. On Saturday, Jan. 28, Nissan workers will continue this struggle with a National Day of Action. In a show of solidarity, this week cities across the South also steeped in civil rights history — Atlanta, Birmingham, Charlotte, Greensboro and Nashville — are organizing local actions to support the Canton workers and build regional pressure on Nissan to allow free union elections.
Everlyn Cage is one of the protesters who will be joining in the Day of Action. Cage began working at the vehicle assembly plant when it first opened in 2003, after Mississippi gave Nissan a $363 million tax incentive to locate in Canton. At first, Cage liked the job at Nissan, but as time passed, her concerns grew. According to Cage, workers were only given four hours a month of personal time, leaving them unable to take vacation and sick leave. Cage told Facing South, "If we're allowed to vote for a union, it will have an effect."
"Most people work there with a fear over their heads," says one Nissan worker.
Of the Canton Nissan's 5,000 workers, 80 percent are African American and an estimated 40 percent are relegated to lower-wage and temporary positions, according to data compiled by the United Auto Workers. The vast majority of temporary workers are African American. Temporary workers earn on average $12 per hour with few opportunities for wage increases, compared to top-level Nissan direct workers, who earn more than $23 an hour.
Workers also point to safety problems at the plant. In 2007, Cage suffered a spine injury which led to her having to undergo surgery. Once she was able to return to the job, she was sent back to work in the same position that had triggered her injury. For five more years, Cage, an African-American woman, continued to work at Nissan until she was terminated after she suffered a second injury — this time of her lower back.
Ernest Whitfield, a current Nissan employee who also began working at the plant in 2003, decided to fight for a union mainly because of safety concerns and seeing how workers like Cage are terminated after an injury.
"Most people work there with a fear over their heads," Whitfield told Facing South. He said a union would be important for many workers who are afraid to report injuries for fear of termination.
Many workers have gone on record stating they believe a union would give them more protection and job security, but organizers say the company has vigorously opposed their efforts. Workers at the plant and the United Auto Workers say the company has harassed and intimidated those who have expressed support for union representation.
According to Cage and Whitfield, when workers tried to organize a union, they were shown videos that suggested the Canton plant would close if they unionized, and union advocates were also forced to work more strenuous hours.
Union leaders see building support in Mississippi, the South and even internationally as key to victory. Last year, the union brought a member of France's National Assembly, Christian Hutin, to speak with employees about conditions at Nissan and urged him to use his influence to convince Nissan to allow a free election for union representation. The French government owns 20 percent of the shares of the auto company Renault, which in turn owns more than 43 percent of Nissan.
Last December, the union filed grievances in The Netherlands, Japan and France with the Organization for Economic Cooperation and Development calling for "an end to the systematic, prolonged and serious violations of labor rights that have been taking place at Nissan North America Inc.'s plant in Canton, Mississippi."
Though Cage is no longer working at the Canton plant, she will be supporting workers at the solidarity rally in Atlanta on Saturday. There, workers will rally outside a dealership and present elected officials with a letter of support for Nissan workers in Canton.
As for Whitfield, he attended a solidarity rally in Tennessee on Thursday. Whitfield says he is humbled by the amount of support workers have been shown by their community and glad to see his coworkers waking up. As Whitfield said, "A union is a basic right."
Tags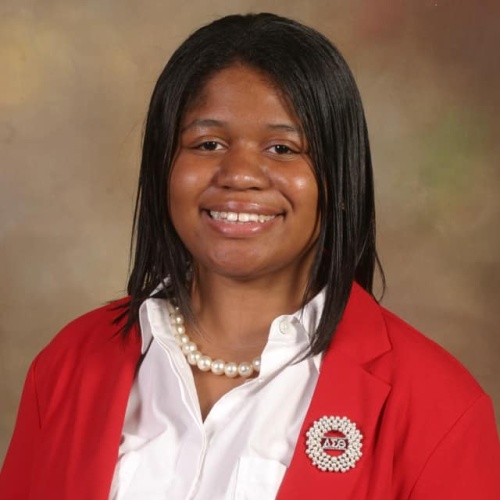 Rebekah is a research associate at the Institute for Southern Studies and writer for Facing South.