SOUTH RISING: Region's political clout growing under Trump
In the 2016 elections, Southern states delivered 160 Electoral College votes to Donald Trump, more than half of the 306 total that propelled him to the White House.
Now, nearly 100 days into Trump's presidency, Southern Republicans have emerged as key figures in the new administration and the GOP-controlled Congress, giving Southern states growing influence in shaping the nation's political agenda.
The South provided a strong base of support for Trump in 2016. Of 13 Southern states, only Virginia voted for Hillary Clinton last November, and several Southern politicians became key supporters of Trump's insurgent campaign.
The South was also important to ensuring that Republicans maintained control of the U.S. House and Senate: GOP candidates won 73 percent of the South's 147 House races in 2016 and all of the region's eight Senate races, even as Democrats achieved modest gains in both chambers elsewhere in the country.
After helping fuel the nation's rightward shift in last year's elections, Southern conservatives find themselves in key positions of influence in both the executive and legislative branches in Washington.
Southerners in Trump's cabinet
President Trump's cabinet features several key Southern Republicans, including a handful of conservatives who became important endorsers of Trump's run for the White House. So far, 19 of Trump's 23 cabinet picks have received confirmation by the U.S. Senate, with Southerners taking leadership of influential posts including attorney general, secretary of state and Trump's top budget official at the Office of Management and Budget.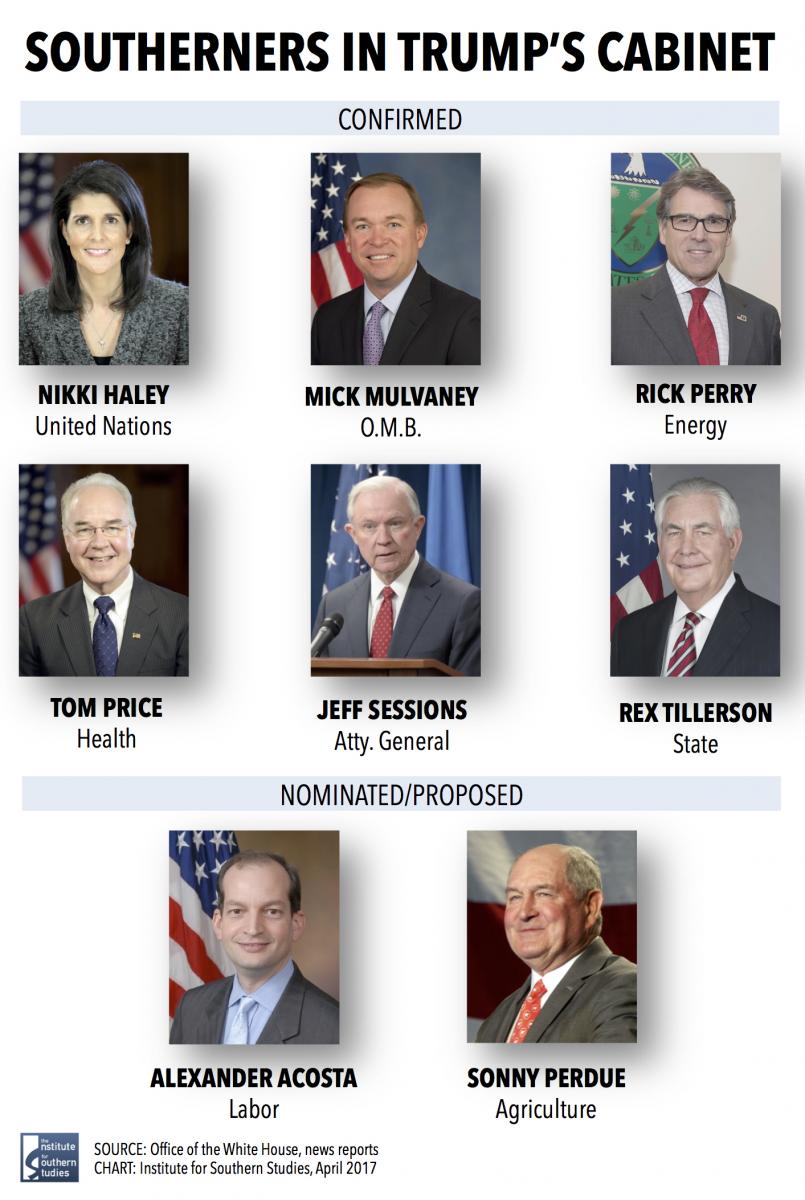 NIKKI HALEY, Ambassador to the United Nations
In a cabinet that The New York Times describes as "more white and male than any cabinet since Ronald Reagan's," former South Carolina Gov. Nikki Haley is the exception: The daughter of Indian immigrants, Haley is one of only four women and three non-white members of Trump's 19 confirmed cabinet officials.
Haley is also unique among the cabinet officials in the level of criticism she directed at Trump during the 2016 presidential campaign, where she initially backed U.S. Sen. Marco Rubio. In February of last year, Haley called Trump "everything a governor doesn't want in a president." Before the critical South Carolina presidential primary in March, Haley blasted the eventual GOP nominee for not distancing himself enough from white supremacists and his proposal to ban Muslims from entering the country, which she called "un-American."
But Haley hasn't been entirely at odds with Trump and his agenda. Haley embraced the Tea Party wing of the GOP in her first gubernatorial run in 2010, and in 2015 announced she didn't want Syrian refugees resettled in South Carolina, in line with Trump's position. Before the 2016 elections, Haley said she would be voting for Trump.
Despite a thin foreign policy resume, Haley was confirmed by the U.S. Senate by a 96-4 vote. In a statement announcing Haley's nomination for the position of ambassador to the United Nations, Trump downplayed their past disagreements, saying:
Governor Haley has a proven track record of bringing people together regardless of background or party affiliation to move critical policies forward for the betterment of her state and our country. She is also a proven dealmaker, and we look to be making plenty of deals.
MICK MULVANEY, Office of Management and Budget
Another South Carolinia Republican with Tea Party roots, former U.S. Rep. Mick Mulvaney was one of the most conservative members of Congress after being elected in 2010 and a founder in 2015 of the right-wing House Freedom Caucus. Although an initial backer of U.S. Sen. Rand Paul of Kentucky for president, Mulvaney later swung behind the Trump campaign.
Mulvaney's nomination to Trump's top budget position was deeply contested; the three-term congressman squeaked by on a 51-49 confirmation vote, in part due to revelations that he failed to pay $15,000 in payroll taxes from 2000 to 2004 for an in-house nanny.
Mulvaney's two-month tenure in the Office of Management and Budget has also been embattled. In March, Mulvaney accused the Obama administration of "manipulating the numbers" about unemployment and declared the Congressional Budget Office was "way, way off" in estimating the impact of Obamacare, both claims that fact-checkers demonstrated were false.
Controversy only increased when Mulvaney's office released the outlines of the president's budget, which was declared "dead on arrival" by both Democrats and Republicans and attacked for slashing or eliminating entirely funding for the Corporation for Public Broadcasting, National Endowment for the Arts and the National Institutes of Health, as well as funding for school lunch programs, climate research and humanitarian aid.
Mulvaney has avoided one anticipated source of conflict during his brief tenure: a battle between Congress and the White House over military spending. As a congressman, Mulvaney advocated deep cuts to the military budget, including a vote in 2013 with Democrats to trim $3.5 billion from a defense appropriations bill. But in Trump's cabinet, Mulvaney appears to have made peace with generous military spending: The budget proposal Mulvaney unveiled in March included a $54 billion increase in the defense budget.
RICK PERRY, Secretary of Energy
Early in the 2016 campaign, former Texas governor and "Dancing with the Stars" competitor Rick Perry called Donald Trump a "cancer on conservatism," and the president-to-be's politics a "toxic mix of demagoguery and mean-spiritedness and nonsense." But by May, Perry had decided Trump was "one of the most talented people who has ever run for the president I have ever seen," and became a vocal Trump supporter throughout the rest of the campaign.
Such about-faces were also a hallmark of Perry's confirmation hearings, which began with the two-time presidential candidate apologizing for his 2011 statement that the Department of Energy, along with other federal agencies, should be eliminated entirely. Perry stated early in his testimony that "[a]fter being briefed on so many of the vital functions of the Department of Energy, I regret recommending its elimination." Perry also walked back earlier claims dismissing the threat of climate change, which he told the Senate is a "crisis," although he declined to say how much of it is due to human activity.
As Perry advisor and energy lobbyist Michael McKenna told the New York Times, Perry's understanding of the agency has also involved a "learning curve." Early in the confirmation process, Perry's statements focused on energy policy, while about two-thirds of the agency's $30 billion budget is devoted to overseeing the nation's nuclear weapons arsenal.
In terms of energy policy, Perry brings a mixed record. On one hand, the longtime Texas governor was a fierce proponent of expanding oil and natural gas drilling, and as a 2011 report noted, "Under Mr. Perry, Texas has moved eagerly to build coal-fired power plants, even as other states have stopped issuing permits for the plants because of pollution concerns." But under Perry, Texas was also the first state to adopt utility energy efficiency requirements, and he used generous incentives to back the growth of wind power, which now accounts for nearly half of the state's electricity generating capacity.
TOM PRICE, Secretary of Health and Human Services
An orthopedic surgeon and six-term congressman from Georgia, Price endorsed President Trump's campaign in May 2016. Like Trump, Price has been a vociferous critic of the Affordable Care Act. Price was also a member of the right-wing Association of American Physicians and Surgeons, a group founded in 1943 that opposed Medicaid and Medicare and that continues to "fight socialized medicine and to fight the government takeover of medicine."
Price has been dogged by questions about his cozy relationship with the health industry before and after his cabinet nomination, which Democrats boycotted in committee and which only narrowly succeeded on a 52-47 vote in the full Senate.
As a congressman, Price received generous backing from the health and pharmaceutical industries, and he wasn't shy about going to bat for his backers. As the investigative website ProPublica documented, Price urged a government agency to remove a damaging drug study on behalf of a pharmaceutical company whose CEO donated to Price's campaign.
As a U.S. representative, Price repeatedly attacked the U.S. Preventative Services Task Force, a group of physicians and academics who evaluate which medical procedures are backed by good science and provide advice to insurers under the Affordable Care Act. After the Task Force judged that certain cancer screenings weren't necessary — a move that could cause health practitioners to lose patients — Price and other Republicans lashed out at the Task Force's "bureaucrats."
Last December, the Wall Street Journal reported that Price "traded more than $300,000 in shares of health-related companies over the past four years while sponsoring and advocating legislation that potentially could affect those companies' stocks." Reports by CNN, ProPublica and Time all found cases where Price took legislative action to help companies in which he was invested.
According to a source identified by ProPublica, former U.S. Attorney Preet Bharara, who was removed from his post by the Trump administration, was overseeing an investigation into Price's stock trades at the time of his dismissal.
JEFF SESSIONS, Attorney General
By far one of the most bitterly-contested of the new administration's cabinet picks, former U.S. Sen. Jeff Sessions of Alabama was an early endorser of Trumps' candidacy, famously donning a "Make America Great Again" hat at an August 2015 rally. Sessions' long-time communications director Stephen Miller was an early hire of the Trump campaign.
Trump's November 2016 announcement that Sessions would be his pick for attorney general revived controversy that had scuttled his nomination in 1986 to be a U.S. District Court judge for the Southern District of Alabama. During those nomination hearings, lawyers who worked with Sessions and others testified to comments he had made including allegedly saying the NAACP was "un-American" and that he thought the Ku Klux Klan was "OK until I found out they smoked pot."
In a letter to Congress at the time, civil rights widow Coretta Scott King famously attacked Sessions for his aggressive and failed prosecution of African-American leaders for alleged voter fraud while a U.S. attorney, concluding that "Mr. Sessions has used the awesome powers of his office in a shabby attempt to intimidate and frighten elderly black voters. For this reprehensible conduct, he should not be rewarded with a federal judgeship."
But Sessions' views on civil and voting rights weren't just matters of historical interest. In 2013, when the U.S. Supreme Court gutted a key enforcement provision of the Voting Rights Act, Sessions praised it as "good news … for the South," claiming that "[i]f you go to Alabama, Georgia, North Carolina, people aren't being denied the vote because of the color of their skin." Sessions has also taken far-right positions opposing climate science and immigration that align him with many of Trump's controversial statements; the Southern Poverty Law Center called Sessions a "champion of anti-Muslim and anti-immigrant extremists."
Sessions has also found himself ensnared in the scandal over ties to Russia that have plagued the Trump administration. During his nomination hearing, Sessions was asked if "anyone affiliated with the Trump campaign communicated with the Russian government in the course of this campaign," to which Sessions replied, "I'm not aware of any of those activities." It was later found that Sessions himself had met twice with a Russian envoy during his time as a representative of the Trump campaign, a fact he didn't disclose to Congress.
REX TILLERSON, Secretary of State
In a cabinet marked by unusual choices, Texas native and oil executive Rex Tillerson has had one of the most unique routes to a key post in Trump's administration.
Tillerson hasn't worked in any role in government, or any other company besides what is now energy giant Exxon Mobil, which he joined in 1975 as an engineer. Tillerson steadily rose through the ranks, with a portfolio that centered on the company's dealings with Russia and the Middle Eastern nations of Iran, Saudi Arabia, Sudan and Syria. He served as CEO from 2006 to 2016.
As a leader at Exxon, Tillerson often operated at cross purposes with the very State Department he now leads. In his dealings with Russia, Tillerson developed a close relationship with the state-run oil company Rosneft, but the joint projects ended when the U.S. imposed sanctions after the Russian annexation of Crimea in 2014. As Steve Coll noted in the New Yorker, Exxon Mobil also joined an oil-production agreement with the authoritarian president of Chad worth more than $500 million dollars, and later defied the State Department in cutting an oil deal with the Kurdish Regional Government. According to Coll, Tillerson justified the latter arrangement by saying, "I had to do what was best for my shareholders."
Also notable have been Tillerson's changing views on climate change. While in 2005 Tillerson claimed that "science isn't there to make [a] determination" about changing climate, by 2012 Tillerson stated in another forum that "I'm not disputing that increasing CO2 emissions in the atmosphere is going to have an impact. It'll have a warming impact." But even while admitting the role that fossil fuels will play in changing climate, Tillerson has appeared to advocate a hands-off approach when it comes to policy and regulation, instead implying that humans will find ways to adapt to new climate realities. As the Washington Post reports, in 2012 Tillerson said at an event:
And as human beings as a — as a — as a species, that's why we're all still here. We have spent our entire existence adapting, OK? So we will adapt to this. Changes to weather patterns that move crop production areas around — we'll adapt to that. It's an engineering problem, and it has engineering solutions. And so I don't — the fear factor that people want to throw out there to say we just have to stop this, I do not accept.
Southerners' congressional clout
As Southerners have taken important leadership positions in Trump's White House leadership, Southern states have also seen their influence grow in Congress.
Since 1990, the publication Roll Call has produced a Congressional Clout Index to measure the influence of each state's delegation using a formula that looks at leadership on powerful committees, seniority and other factors.
The sheer size of Florida and Texas puts them in the top five of Roll Call's rankings. The report notes that while Texas has only about two-thirds of California's population, the Lone Star state is threatening to overtake its West Coast rival for the top spot. This is due largely to powerful Texas leaders like Senate Majority Whip John Cornyn and 21 committee chairs in the House, including the leaders of the influential Armed Services, Financial Services, Rules, and Ways and Means committees, as well as Agriculture, Homeland Security, and Science, Space and Technology.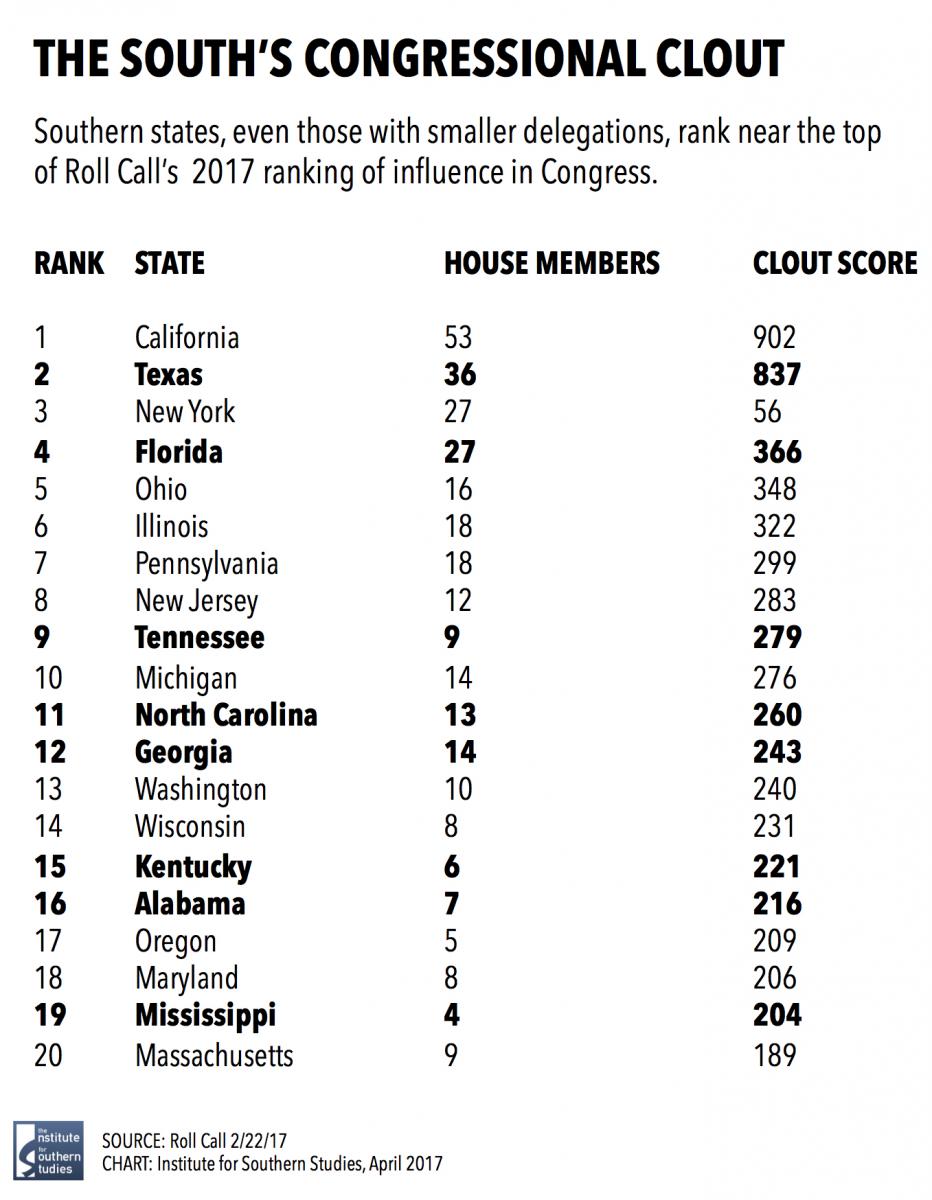 One of the notable states that has seen its clout skyrocket in the new political landscape, despite its modest size, is Tennessee. One of the reasons is seniority. As Roll Call notes, "[A]ll but one of the Volunteer State's lawmakers have been in office longer than six years." That longevity has given them access to key leadership roles: The state's two senators in their third years of leading premier panels — Bob Corker at Foreign Relations and Lamar Alexander at Health, Education, Labor and Pensions — and Reps. Diane Black (Budget) and Phil Roe (Veterans Affairs) also chair key committees.
Rounding out the top 20 rankings, the fast-growing states of North Carolina and Georgia rank as having the 11th- and 12th-most influential congressional delegations by Roll Call's analysis. Alabama, Kentucky and Mississippi, despite each having seven or less House members, all rank in the top 20 as well, a reflection of the long-term Republican leadership coming from these smaller Southern states.
Tags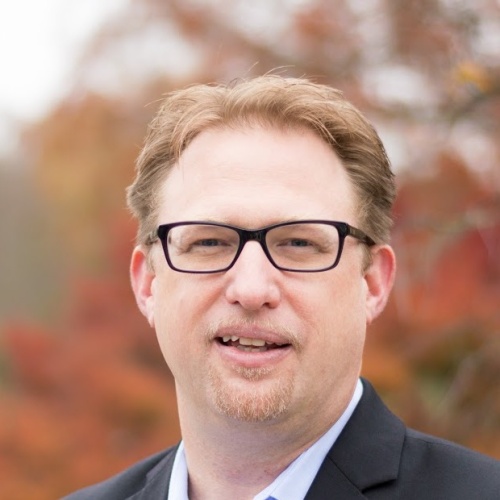 Chris Kromm is executive director of the Institute for Southern Studies and publisher of the Institute's online magazine, Facing South.