Facing South's Chris Kromm looks at the South in the Trump era on Democracy Now!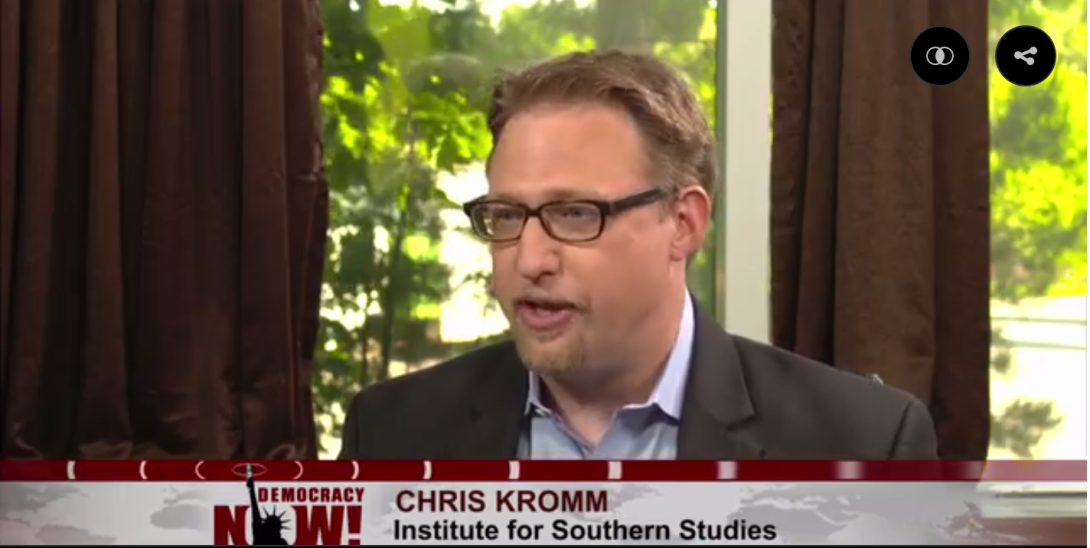 This week, Chris Kromm — executive director of the Institute for Southern Studies and publisher of Facing South — was a guest on Democracy Now! to talk about the growing influence of the South in national politics.
Speaking with host Amy Goodman, who broadcast the award-winning investigative TV and radio show live from North Carolina as part of a nationwide book tour, Kromm pointed to the South's growing national political power and the region's critical role in driving the current conservative wave:
The South is rising again, for sure, in national politics. One-third of the Electoral College votes that it takes to be elected president in this country are in 13 Southern states. And that's only going to grow. After the 2020 census, there's going to be another five Electoral College votes or so. They're going to come from Southern states. So, what it is is a shifting of the gravity of political power in this country going to the South.
More than half of the Electoral College votes that propelled Trump to the White House came from the 13 Southern states. Kromm observed that the influence of Southern conservatism can be seen in the Trump administration's cabinet picks, which have included Southern Republicans in powerful positions such as attorney general (U.S. Sen. Jeff Sessions from Alabama), director of the Office of Management and Budget (U.S. Rep. Mick Mulvaney from South Carolina) and secretary of State (Texas oil executive Rex Tillerson).
Kromm also pointed out that the 2016 elections revealed how deeply contested the South will be in the coming years: While changing demographics have the potential to turn the South more blue, Trump's success in winning every Southern state except for Virginia reveals a deep well of regional conservatism, especially among Southern whites, which progressives will need to confront if they wish to make gains in the region:
[W]hat it adds up to is that ... the South has to become contested territory, that it can't be ceded to conservative Republicans, or they're just going to be able to really up their game in using the South as a platform to drive a conservative agenda.
Kromm also talked about ongoing political battles in North Carolina, especially over voting rights and democratic access. After a hard-fought 2016 election brought Democrat Roy Cooper to the governor's mansion and left Republicans with veto-proof majorities in the General Assembly, GOP lawmakers have sought to strip away many of Gov. Cooper's powers over state elections.
In the immediate aftermath of the 2016 elections, state Republicans — with the aid of a GOP law firm headed by Virginia state Sen. Jill Holtzman Vogel — accused more than 600 voters of commiting fraud or casting suspect absentee ballots. As documented in a report by Democracy North Carolina, almost all of the accusations turned out to be false. The elections watchdog group is calling for officials to investigate whether the allegations violated federal and state laws against against harassing and intimidating innocent voters, corrupting the election process and obstructing an election canvass.
The Democracy Now! segment also looked at the ongoing battles over North Carolina's legislative districts, which will have a big impact on control over state politics in the coming years. In August 2016, a three-judge panel ruled that Republicans unconstitutionally used race in drawing up 28 of the state's House and Senate boundaries. In all, up to 50 districts could be affected as the lines are redrawn, making them more competitive.
"I think that's going to make North Carolina a very interesting state to watch in 2018," Kromm said.
He also noted that North Carolina's experience in recent years can offer important lessons for the country:
[N]orth Carolina definitely is ground zero. It's a cautionary tale about what can happen with unfettered conservative rule, but also about the possibilities of resistance.
Watch Kromm's appearance on Democracy Now! in the videos below:
Tags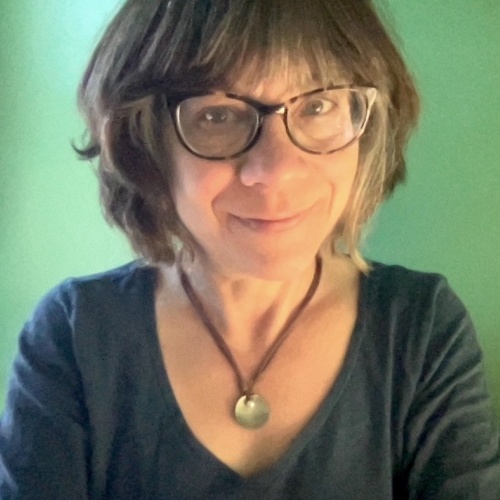 Sue is the editorial director of Facing South and the Institute for Southern Studies.