Meet the N.C. legislator who invested in the alt-right's social media platform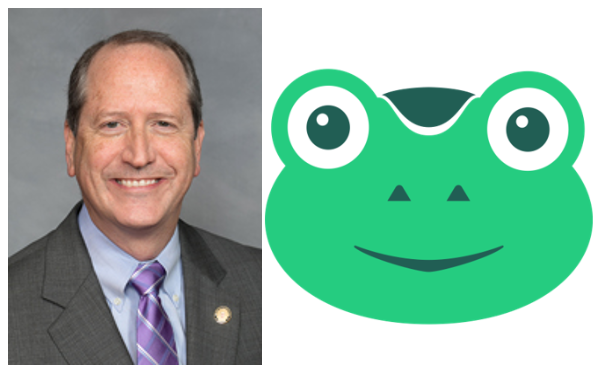 Until this week, North Carolina state Sen. Dan Bishop (R-Mecklenburg County) was most widely known as the author of House Bill 2, the 2016 state law that banned local civil rights ordinances and regulated which bathrooms transgender people can use. But on Wednesday, Bishop was revealed as one of the few publicly known investors in Gab, the social media platform used by white supremacists, including the anti-Semitic terrorist who killed 11 worshipers at a Pittsburgh synagogue on Oct. 27. 
Bishop, who launched his political career as a county commissioner, has a history of Trump-like attacks on the media and protestors who oppose his legislative agenda. His $500 investment in Gab came just days after he equated Black Lives Matter and the violent white supremacists who murdered a counter-protestor at the 2017 "Unite the Right" rally in Charlottesville, Virginia. Bishop's comment was a mirror image of President Trump's notorious "good people on both sides" remark. When prominent Democrats and news outlets were recently mailed pipe bombs, Bishop condemned the violence and said it wasn't justified by "the Antifa mobs, the attacks on order." 
The senator tweeted about his investment in Gab on Aug. 17, 2017, saying he had just read about the company in a Washington Post article. The headline? "Silicon Valley escalates its war on white supremacy despite free speech concerns." The "war" described in the story consists entirely of a company refusing to host a neo-Nazi website, platforms like Paypal canceling accounts used to fund the Charlottesville rally, and Facebook banning organizers of the violent gathering, as well as a "Nazi-obsessed social media personality." 
After reading this, Bishop said that he's "about done with [San Francisco] tech giants' Big Brother routine" and implied that the companies' banning of white supremacists was a form of "tyranny." The Washington Post quoted a spokesperson for Gab responding to the companies' actions by arguing that their platform would be "another type of Internet" run by "politically incorrect, populist, and conservative" people. 
Bishop recently said that if Gab "allows its users to promote violence, anti-Semitism, and racism on the platform, they have certainly misled investors." In an editorial, the Charlotte Observer said that to believe Bishop's defense, "you also would need to believe he wasn't aware in 2017 of Gab's links to hate groups — despite common knowledge and the article he cited — and that he did he not investigate or even explore the site before giving it $500 of his money."
Bishop's love of free speech and hatred of censorship doesn't seem to extend to anyone he perceives as critical of his far-right agenda. Like the president, Bishop has used reckless, provocative rhetoric to attack the news media on Twitter. In June 2017, he used the phrase "jihad media" in a series of tweets, one of them a response to a Raleigh News & Observer report on severe budget cuts to the state Department of Justice. Before that, Bishop called the Associated Press "idiotic or corrupt," and he said corporations' opposition to HB2 was "the result of false media reports." 
When conservative conspiracy theorist Dinesh D'Souza attacked Republican U.S. Sen. John McCain in February 2017 for criticizing Trump's authoritarian attacks on journalists, Bishop retweeted him.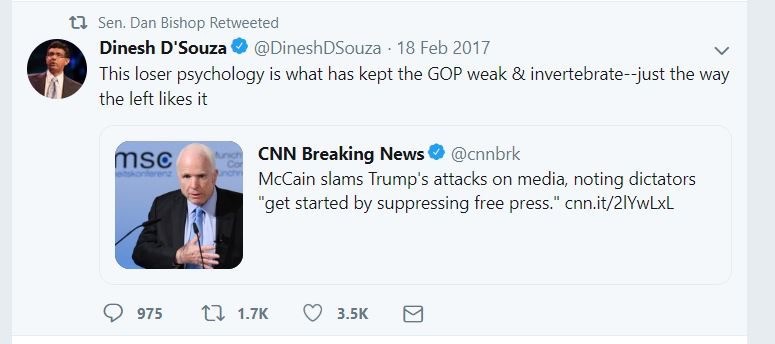 Bishop once told a constituent that he "loved" the phrase "politically correct Taliban" to describe opponents of HB2. Though he sponsored a "campus free speech" bill targeted at public universities, Bishop also wrote a bill to protect former elected officials from protestors after former Republican Gov. Pat McCrory was confronted by activists during the president's inauguration. 
Udai Basavaraj, the activist who posted a video of the protestors and McCrory, said Bishop's law would have limited "the freedom of expression of individuals and attack[ed] the First Amendment." Bishop referred to the protestors as "ubiquitous leftist rioters." 
Though he shared some tweets critical of Trump in 2016, Bishop seems to have come around to supporting the president. Just weeks after Trump won, Bishop retweeted someone who said, "I've gone from reluctantly voting Trump to being willing to stand shoulder-to-shoulder with him. Screw politics. It's war with corrupt media." Bishop commented that "this logic is hard to resist but also disturbing." By June 2017, though, Bishop was describing the president as "the tonic for a brazenly corrupt corporate media/administrative state." Last week, he encouraged his Twitter followers to "come on out" for a Trump rally.
Just before the 2016 election, Bishop retweeted another message from D'Souza linking HB2 and Trump's history of barging into women's dressing rooms at the Miss Universe pageant. The tweet stated, "I guess it is now fine for men to use women's bathrooms but not for the CEO of Miss Universe to walk into a woman's dressing room."
Tags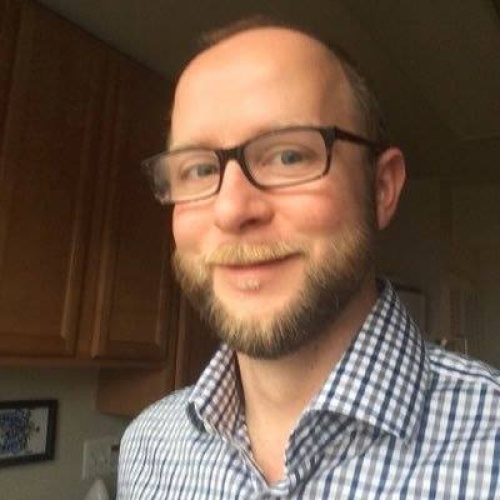 Billy is a contributing writer with Facing South who specializes in judicial selection, voting rights, and the courts in North Carolina.