Protesters demand closure of Arkansas' COVID-19-affected poultry plants
Fifty demonstrators who gathered in front of two poultry factories in Arkansas last Friday afternoon had a very specific audience in mind: the executives of George's and Tyson, two meatpacking companies headquartered in Springdale, Arkansas. The protesters, whose demonstration began in front of the George's hatchery and caravanned across town to a Tyson plant, say the companies are still neglecting to adequately protect their workers from COVID-19.
Venceremos, a poultry workers' rights organization based in Arkansas, began calling for increased protections for workers at Tyson and George's plants more than a month ago. At that point, the state had not confirmed any cases of COVID-19 at poultry plants, but organizers warned that working conditions were ripe for an outbreak — and that companies weren't doing enough to protect meatpacking workers crammed onto assembly lines. Just a few weeks later, the state government announced that hundreds of cases had been discovered in poultry plants in Benton and Washington counties, contributing to a trend that made Northwest Arkansas the state's new COVID-19 hotspot. Poultry workers make up nearly one-third of the confirmed COVID-19 cases in Benton County, state health officials said Monday.
Now, Venceremos is calling for the plants to be temporarily shut down.
"If they don't act immediately, we're going to see the impact in the communities as well," Venceremos organizer Magaly Licolli told Facing South. She's demanding that the plants where cases of the virus have been confirmed in high numbers be closed for a deep clean, and workers placed on paid quarantine.
That is no small request: As COVID-19 began spreading through meatpacking plants in April, President Donald Trump signed an executive order classifying the plants as critical infrastructure that cannot be closed by local or state governments. Nationwide, there are now more than 20,000 confirmed cases of the virus in meatpacking plants, and at least 70 workers have died, according to the Food and Environment Reporting Network's running count.
In April, Venceremos attempted to deliver a workers' petition to Tyson managers asking for greater transparency and benefits for workers. They were rebuffed at the gate. And George's workers told Facing South in April that even as the pandemic was ravaging meatpacking plants in other parts of the country, the company was not requiring workers to wear face masks, or even providing them. That's since changed, but a George's plant in Rogers, Arkansas, has at least 86 confirmed cases of the virus, the highest of any plant in the state.
The spread of coronavirus through Arkansas' poultry plants has had a disparate impact on the state's Hispanic population, which accounts for more than 70 percent of the confirmed COVID-19 cases among poultry workers statewide. As of Monday, 571 cases in the state had been linked to the poultry industry, 392 of them active.
Poultry companies in Arkansas rely on thousands of immigrant workers, many of whom had to continue working through the pandemic and did not qualify for the federal stimulus check or other coronavirus government relief packages, said Rev. Sara Milford, an Episcopal priest whose bilingual parish includes several poultry workers, some of whom have been directly impacted by the virus.
"If I'm going to preach the gospel of Jesus Christ, you know, Jesus didn't stand back from saying 'This is what's an injustice, this is what's hypocritical,'" Milford told Facing South at the protest. "The corporations — they have a responsibility to care for the workers. I mean, that's just a Christian stance."
Speakers at the demonstration included an anonymous worker who, wearing a face mask, sunglasses, and a head covering to protect her identity, told the crowd in Spanish that workers need more extensive benefits when they're concerned about the virus. "One month without pay is one month without being able to pay rent," she said.
A teacher whose mother works in a poultry factory also spoke to the crowd, calling for better protections for the workers — and for workers' children and communities to speak out about conditions in the plants. She asked to be identified only by her middle name, Talia.
"Most of the younger generations are going to be working a different job right now. They're working from home, like I am right now," Talia told Facing South after the demonstration. "So we don't have that worry. But our parents do. I mean, that's what I'm here for."
The protest began in front of George's hatchery and headquarters. A car caravan of demonstrators then passed by a Cargill slaughterhouse where 43 cases of the virus have been confirmed; the protesters honked in support of workers heading into and out of the plant.
Demonstrators then stopped outside a Tyson plant in Springdale which has been a public face of the world's second-largest poultry company during the pandemic, serving as the stage for a public relations video showing health officials touring the plant in late April. At both plants, workers coming outside for their breaks or turning into the parking lot to begin their shifts honked in appreciation of the protests.
"We are tired of your pretending. We are tired of your videos that show everything is clean," Licolli said on the sidewalk outside the plant, her comments aimed at management. "We know the truth because we are the community."
Tags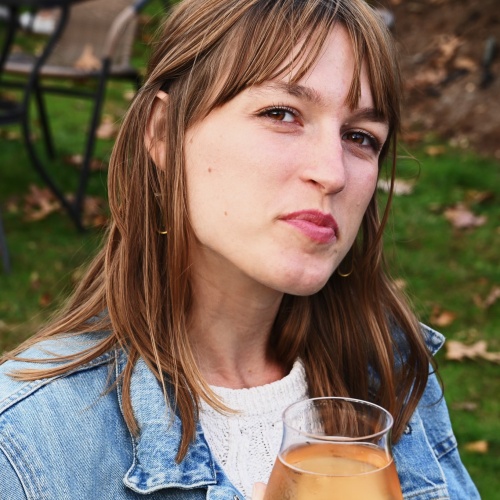 Olivia Paschal is the archives editor with Facing South and a doctoral student in history at the University of Virginia. She was a staff reporter with Facing South for two years and spearheaded Poultry and Pandemic, Facing South's year-long investigation into conditions for Southern poultry workers during the COVID-19 pandemic. Her reporting has appeared in The Atlantic, the Huffington Post, Southerly, Scalawag, the Arkansas Times, and Civil Eats, among other publications.