Black farmers markets bring greater equity to the South's food system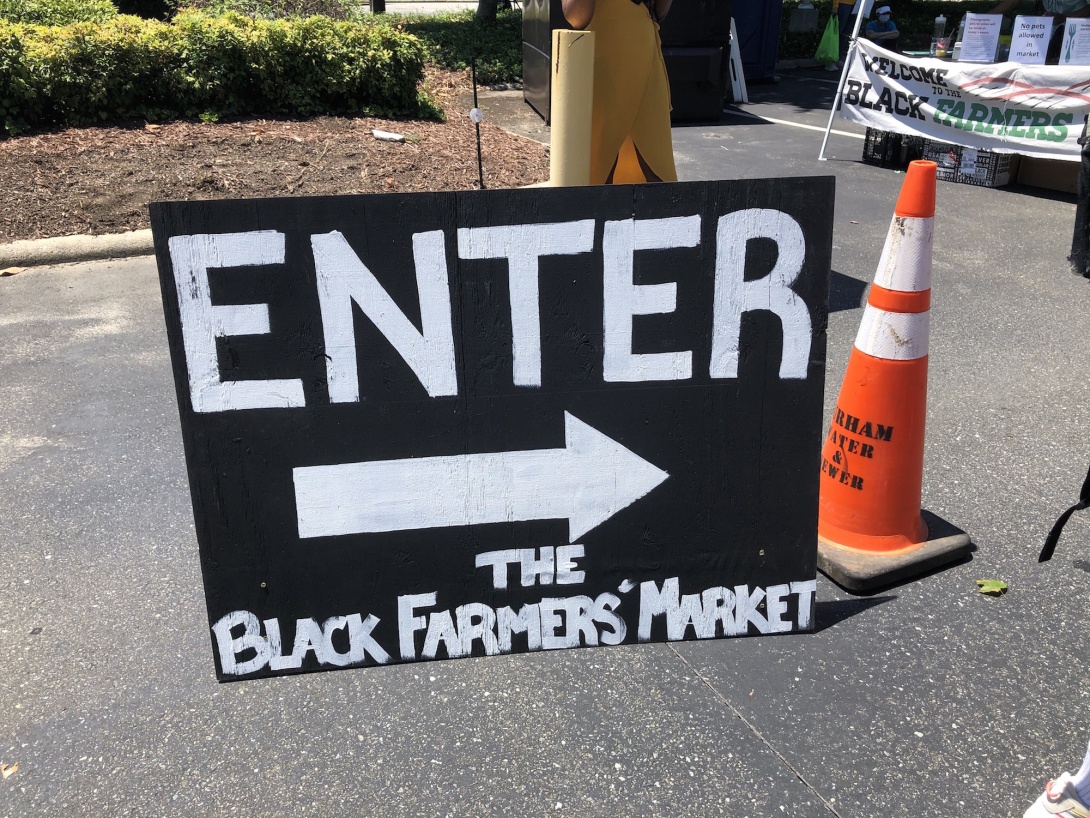 On a recent Sunday in July, a line of over 100 people social distancing and wearing masks in the muggy North Carolina heat stretched around the block waiting to get into the downtown Durham Black Farmers Market. Families with toddlers, grandparents, huddles of teens, and young adults showed up to buy fresh food and explore a new kind of farmers market. The event promoting Black farmers and Black-owned businesses in North Carolina was organized by Black August in the Park, a local group that connects people of African descent to engage in social and cultural change.
Back in 2015, Black August in the Park began hosting a family reunion-style event of the same name to build community in Durham. The organizers — Moses Ochola, Crystal Taylor, and JaNell Henry — heard from Black business owners looking for a place to sell their goods, so that same year they launched the Black Market. The Black farmers who got involved became that event's biggest fans, and the organizers soon realized how much farmers in particular needed help.
So in 2018, Black August in the Park organized the first Black Farmers Market in Durham as an annual event —  one of the first of its kind in the South. This June they expanded to twice-monthly one-day events alternating between Durham and nearby Raleigh that have attracted up to 1,500 customers a day.
The Black Farmers Markets are working to "redesign the food system," says co-organizer Moses Ochola, who helps his parents, Caren and Maurice Ochola, run their popular Palace International African restaurant in downtown Durham. Through community and commerce, he and the other organizers hope to give Black farmers — dramatically underrepresented in traditional farmers markets — a space that celebrates them.
While Black farmers have been selling their produce directly to customers as long as they've been farming, farmers markets explicitly devoted to Black farmers and vendors under the title "Black Farmers Market" first appeared in news reports in the early 1990s in Chicago, according to an archive search by Facing South. The first was organized in July 1990 by Rev. Al Sampson, who worked with Black farmers in North Carolina and other Southern states to bring what he called "soul food" to be sold in the city, according to the Chicago Tribune. A similar model was established in Baltimore in 1996, also importing produce from the South, and others sprouted up in Indianapolis and Oakland, California. The first Black farmers market in the South was held in Atlanta in 1997. Since then, there have been a handful of others in Arkansas, Mississippi, North Carolina, and Virginia.
"Black farmers have systematically been left out of a lot of programs and initiatives to help them, and have been losing their land at a tremendous and alarming rate," says Ochola. The Black Farmers Market is an attempt to "bring them back into the fold … so that we can not only help the farmers but help rethink food sovereignty in our Black communities."
Resisting dispossession
In 1920, Black farmers in the U.S. owned 41.4 million acres of land. But since then, white-supremacist terrorism and systematic racism by banks and government institutions like the Farm Security Administration and USDA have worked together to dispossess Black families of their land. Over the past century, Black people in the U.S. have collectively experienced a loss of 90% of the farmland they once owned.
"We need to understand that the entire agricultural system in the U.S. is built on the exploitation of Black and brown people," says Erin White of the Community Food Lab, a group based in Raleigh, North Carolina, that works to design a more equitable food system. Due to consumers' disengagement from the food system, he adds, "we are allowing other interests to build the food system that works for them, and we end up with a food system that doesn't support human health, doesn't support racial equity, doesn't support sustainable land use, or climate responsibility."
Black organizers in the South have long focused on the food system as a path to economic freedom for the Black community. In 1969, for example, the Mississippi voting rights activist Fannie Lou Hamer started the Freedom Farm Cooperative that purchased prime Delta land and grew cash crops like soybeans and cotton to pay taxes and administrative expenses, and vegetables that were distributed back to co-op members who included Black agricultural workers fired from other jobs because of their civil rights activism. Around the same time, the Federation of Southern Cooperatives/Land Assistance Fund based in Georgia began working to keep Black farmers on their land through collective ownership. And in 1995, the National Black Farmers Association was formed in Virginia to advocate for the rights of Black farmers; it played a key role in winning a $2 billion settlement in the class action lawsuit Pigford v. Glickman that alleged racial discrimination by the USDA in providing loans and other assistance.
But as White observes, the recent movement in the U.S. to promote healthier and more sustainable eating by supporting local farmers markets among other things was overwhelmingly white. So though there has been a boom in farmers markets in recent years — they grew by 76% from 2008 to 2014, and another 6% since then, according to the USDA — they typically serve affluent white populations and too often have erected barriers that discourage farmers and other vendors of color.
The Community Food Lab is conducting a comprehensive survey to dig deeper into issues around racial equity in North Carolina farmers markets. But based on initial responses, at least a quarter of the state's markets report having no vendors of color at all, White says. Getting into a farmers market can be a competitive and expensive process, and once someone is accepted there are often rules that make it hard to stay.
"When they have restrictions on what they can sell, what they can't sell, and things of that nature, it makes it hard for farmers that don't have all the resources and opportunities that white farmers have," says co-organizer Crystal Taylor of Black August in the Park and the Black Farmers Market.
White-dominated markets can also be a flat-out unwelcoming space for black vendors. "I mean, it's a traditional setting, you know, is a nice way to put it," says Samantha Foxx of Mother's Finest Urban Farms in Winston-Salem, North Carolina. "I've had people who come by me, and I'm like, 'Hey, how are you doing?' And they don't even look my way. Even if we have the best things to offer, they don't even want to consider what we have." Foxx now tries to use her presence to change these markets, but showing up was not always easy. "I felt like they pushed us out," she says.
One prominent farmers market recently faced public criticism for its treatment of Black farmers. Freshfarm, the farmers market system in Washington, D.C., came under fire after promoting Black vendors in their network in response to the police killing of George Floyd and the Black Lives Matter protests that followed. One of those vendors, Toyin Alli of the food booth Puddin', spoke up about how her experiences did not align with the organization's claims of being anti-racist. She told Forbes she had been repeatedly denied a spot in its most profitable market at Dupont Circle with no justification, and she said Black vendors account for just a tiny fraction of all vendors within Freshfarm's network. In response to Alli's advocacy, the organization added more Black vendors.
The organizers of the Durham Black Farmers Market say their work is all about building networks and connections to Black farmers — especially since the intentional outreach needed to create true equity in traditional farmers markets isn't happening.
"We've realized that Black farmers are not being tapped," says Ochola. "So, much of our work is communicating and trying to get farmers to be a part of it."
'Something I could call my own'
The Durham Black Farmers Market is just the latest innovation in a rich and growing ecosystem of food-justice organizations and projects in North Carolina's Triangle region, long a center of cutting-edge scholarship around agriculture given that N.C. State, the public land-grant research university known for its agriculture programs, is located in the capital city of Raleigh.
The Center for Environmental Farming Systems (CEFS) — a partnership of N.C. State; N.C. A&T, a historically Black university in Greensboro; and the state Department of Agriculture and Consumer Services — is one of the South's most important centers for research and education in sustainable agriculture and community-based food systems. CEFS has worked with the Community Food Lab and other local groups on an initiative to connect downtown neighborhoods through food.
Raleigh is home to the vast North Carolina State Farmers Market, which is open seven days a week. But even before the Black Farmers Market began serving the city, there were other smaller farmers markets taking place there. One is operated by the Fertile Ground Food Cooperative, which is planning to open a brick-and-mortar store in the historically Black community of Southeast Raleigh, where some neighborhoods have been designated so-called "food deserts" where quality food is hard to come by. In the meantime, the co-op launched a regular farmers market in 2016.
Janet Howard, Fertile Ground's project manager, sees a benefit to farmers markets beyond being a place to buy fresh, local food. "It reinforces to our community and to young people that this is an opportunity for you to not only see and purchase, but consider agriculture," she says.
Such efforts appear to be paying off. After a century of decline, the number of Black farmers in the U.S. is growing again. The 2017 Census of Agriculture reported just over 32,000 Black farmers representing 1.6 percent of the nation's agricultural producers — double the share in 1997. Black-owned acreage was also up to 3.9 million acres compared to the low point of 2.3 million in 1992.
This new group of Black farmers include people like Kamal Bell. The former public school teacher founded Sankofa Farms in Orange County, North Carolina, not far from Durham, to help people affected by food deserts. The farm also provides educational opportunities for Durham youth. Bell said he had many visions for what the farm would be, but what ultimately led him to buy the land was simple.
"The first thing was just so I could have something I could call my own," Bell says. "Because if I want to eat food, I'm not going to sit back and always go to white people for resources."
Tags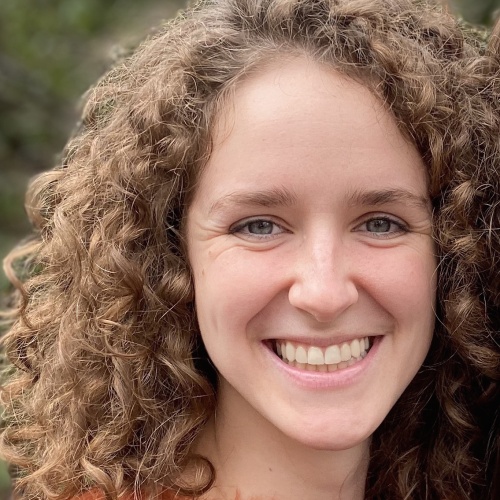 Grace is a 2020 summer intern at the Institute for Southern Studies. She is a rising junior at Duke University studying history and journalism. She enjoys digging through the Southern Exposure archives and writing about social movements.