Black Voters Matter holds Freedom Ride across the South to promote voting rights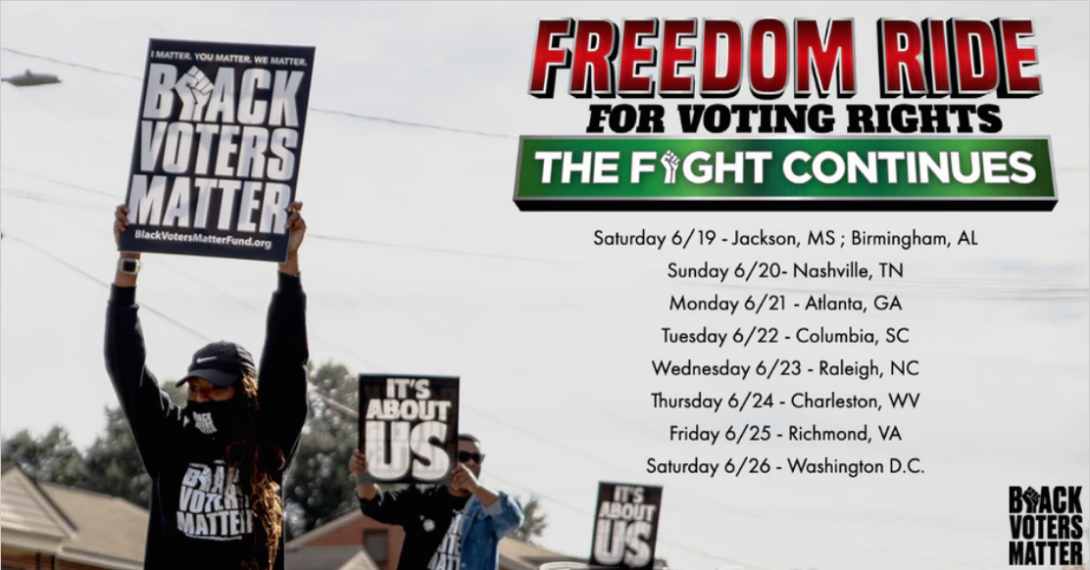 Sixty years ago, an interracial group of student activists from the Congress of Racial Equality (CORE) boarded buses to challenge segregation in public transportation. Although the U.S. Supreme Court had ruled in 1960 that segregated public buses were unconstitutional, Southern states ignored the ruling — and the federal government had not enforced the court's decision.
The original group of 13 Freedom Riders, which included seven African Americans and six white allies, left Washington, D.C., on a Greyhound bus on May 4, 1961. More than 400 people would eventually participate in the movement.
Traveling from Washington, D.C., through the Deep South to Jackson, Mississippi, the Freedom Riders were met with violent opposition along the way. White mobs repeatedly attacked them, and local police arrested them for trespassing, unlawful assembly, violating state and local Jim Crow segregation laws, and other alleged crimes.
"We knew our lives could be threatened, but we had made up our minds not to turn back," said the late civil rights icon Rep. John Lewis of Georgia, who was a part of the original group of riders.
The violence — and national media attention it drew — forced politicians to confront Jim Crow. On May 29, 1961, U.S. Attorney General Robert Kennedy petitioned the Interstate Commerce Commission to ban segregation. By Nov. 1 of that year, the interstate buses and terminals were forced to integrate. The Freedom Rides helped set the stage for the nonviolent student activism that would become a central part of the struggle for civil and voting rights for Black Americans.
Now, with voting rights once again under attack, organizers are borrowing a page from that storied chapter in American history to raise awareness and promote policy solutions — including a voting rights bill named for Lewis.
On June 19, the people's holiday known as Juneteenth — as of this week also a federal holiday marking the end of American slavery — Black Voters Matter will launch its Freedom Ride for Voting Rights to protest state actions to restrict ballot access, which would have a disproportionate effect on Black voters, and to build support for federal voting rights legislation.
So far this year, state lawmakers have introduced 361 bills that would limit voting, many of them in Southern states, according to the Brennan Center for Justice.
"With state legislatures actively working to undermine our rights and strip us of our most basic freedoms, the parallels to Juneteenth are uncanny," Cliff Albright and LaTosha Brown, co-founders of Black Voters Matter, said in a statement. "Every bill to suppress votes, criminalize protests, and weaken Black power is a reminder of the enduring history of slavery in this country."
The initiative was announced last month on the 60th anniversary of the original Freedom Rides "to show voters, communities, and elected officials of how far we've come and remind them what Black power can do," as Brown and Albright said. Also involving local and national partners, the bus tour seeks to raise public awareness about voter suppression and to pressure lawmakers to support the two pieces of federal legislation: the For the People Act, which has been called the "the next great civil rights bill," and the John R. Lewis Voting Rights Act.
The For the People Act, which has the approval of two-thirds of voters including a majority of Republicans, has already passed the House and awaits action in the closely divided Senate, where it's opposed by conservative Democrat Joe Manchin of West Virginia. The bill named for Lewis, which would restore the Voting Rights Act of 1965 after its 2013 gutting by the U.S. Supreme Court, passed the House in the last Congress but went nowhere in the Senate under control of former Majority Leader Mitch McConnell of Kentucky. It still has not been formally reintroduced this session.
The Freedom Ride for Voting Rights will kick off with a Juneteenth celebration in Jackson, Mississippi, and make stops in Birmingham, Alabama; Nashville, Tennessee; Atlanta; Columbia, South Carolina; Raleigh, North Carolina; Charleston, West Virginia; and Richmond, Virginia. The tour concludes with a June 26 rally in Washington, D.C., to deliver its message straight to Washington.
"Our communities cannot wait for voting rights reform," said Brown. "We need federal leadership and the immediate passage of H.R. 1 and H.R. 4 to protect voting rights now."
Tags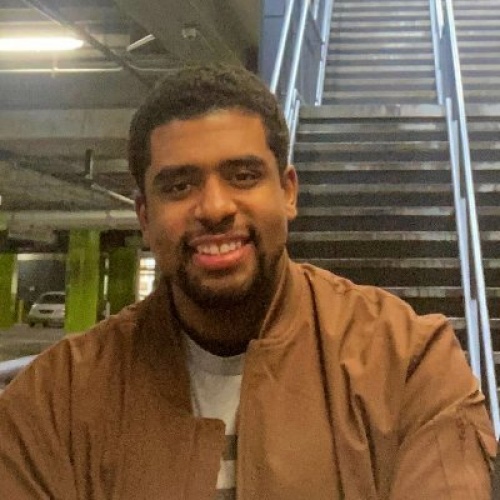 Benjamin Barber is the democracy program coordinator at the Institute for Southern Studies.