From the Archives: Deluge Without End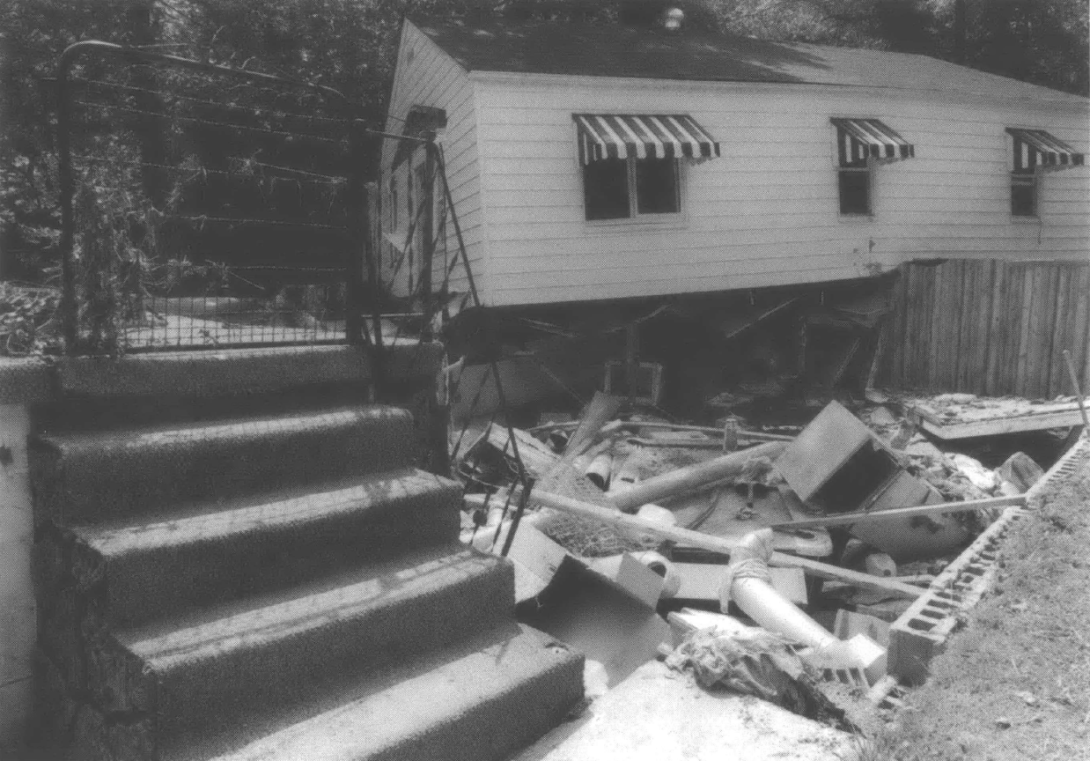 This story by investigative journalist Penny Loeb, with photographs by Bob Gates, first appeared in "Acts of God?", the Volume XXXII, 2004 issue of Southern Exposure, the print forerunner to Facing South. Read the publisher's introduction to that issue here.
* * *
On a sunny Thursday afternoon in early July 2001, Mary Coleman stood in her backyard at Scrabble Creek in southern West Virginia, gazing at treasured knick-knacks drying in the sun. A few feet away, church volunteers ripped flood-soaked carpeting out of her living room. When asked whether mountaintop removal mining had made the flooding worse, she looked straight into the camera. "You had better believe it," she said. "They took the whole mountaintop off. We've never ever had nothing like that." She started to cry.
The floods of July 8, 2001 devastated a huge swath of the coalfields. The sky had darkened just after dawn on Sunday. Rain came hard—as much as 5.32 inches in a few hours. The storm's fury stretched 70 miles north to south and 30 miles wide, from Fayette County east of Charleston to McDowell County at the bottom tip of the state. The final damage tally was huge. Losses totaled more than $700 million. At least one-fifth of the 100,000 residents were hit hard, losing homes, businesses, and water for weeks.
Many flood victims told reporters that logging and surface mining had worsened the floods. People who live near mines seem unable to escape the brooding nightmare of the 1972 flood at Buffalo Creek. On the morning of Feb. 26, millions of gallons of black water surged 17 miles down the creek, sweeping away hundreds of homes and killing 125 people. A shoddily built dam had broken at a coal impoundment that stored grimy water left behind after cleaning coal.
I had seen flooding from mine operations while reporting an investigative article on mountaintop removal mining for U. S. News & World Report in 1997. Runoff from one of these gargantuan mountaintop mines had washed out White Oak Creek hollow at Artie and killed a woman and teenage boy. So in July 2001, I was drawn back to the coalfields to investigate the claims of flood victims. Over the next few months, Charleston documentary filmmaker Bob Gates and I drove more than 3,000 miles, visiting two dozen flooded communities. Bob also examined paths of runoff in helicopter flyovers. At virtually every badly washed out area, we found some sort of natural resources extraction—mountaintop removal mining, logging, or remnants of old mining—had worsened the flooding below.
What we could not imagine was that we would return to the coalfields for three more years as storms repeated in unprecedented frequency. Like Charley, Frances, Ivan and Jeanne, they hammered the vulnerable hollows that supply at least 7 percent of the nation's energy. And each time, we would find where logging and mining had exacerbated storm runoff. Damages and clean-up for the four years approached $1.5 billion.
Many West Virginia public officials view flooding as unstoppable. The narrow hollows just can't contain the heavy rains, they say. In fact between 1960 and 1996, the state had by far the highest number of deaths per capita from flooding, with 252 people drowning. Only far larger Texas (619) and California (258) had more total deaths. Now climate change appears to be causing more unpredictable, heavier rains.
Yet most officials in this independently-minded state are afraid to order extractive industries to curtail storm runoff—or to require vulnerable residents to protect themselves. After the 2001 floods, public officials and environmental activists missed an opportunity to use public outrage to push through strong flood protections that could have saved tens of millions of dollars in damages and cleanup in subsequent years. A far-reaching study of how to protect West Virginia citizens from floods had actually been funded in 1998—but wasn't begun until the fall of 2001. As 2004 draws to a close, few of the study's dozens of well-considered proposals have been enacted.
So as Bob Gates and I wound through the coalfields these four years, we actually watched parallel stories unfold. In front of us were lives in disarray, houses and mementos of lives swept away. Back in the conference rooms, we heard flood victims put their hopes in the hands of government officials. A few officials fought hard for change, with limited success. Most shrugged off concerns, assuming each big flood was the last. Every time it rained, we prayed it wouldn't be hard and wished better flood controls were in place—instead of on paper.
* * *
Four days after the flood—as soon as some roads were cleared—Bob and I set out on our investigation. Our first trip was to Scrabble Creek, southeast of Charleston in Fayette County. This sunny Thursday, we crawled along Route 60 as road crews cleared away mounds of dirt. Gullies had been ripped out of the hill jutting steeply up the north side of the road, and piles of logs had washed down to edge of the road. We passed half a dozen towns walloped by the flood. Toys, clothes, furniture were heaped in yards, drying in the sunshine. Bridges over creeks were swept away or splintered. National Guardsmen lugged boxes of bottled water up porch steps.
These floods bore no comparison to the 1997 Red River flood in North Dakota or the 1993 Missouri River floods, where the rivers surged over their banks and spread into nearby towns. In the coalfields, the onslaught came down the mountains in the form of lava-like flows of mud and rocks. The millions of tons of gunk filled tiny streams and sent them surging out over homes crowded along the narrow strips of flat land along the banks.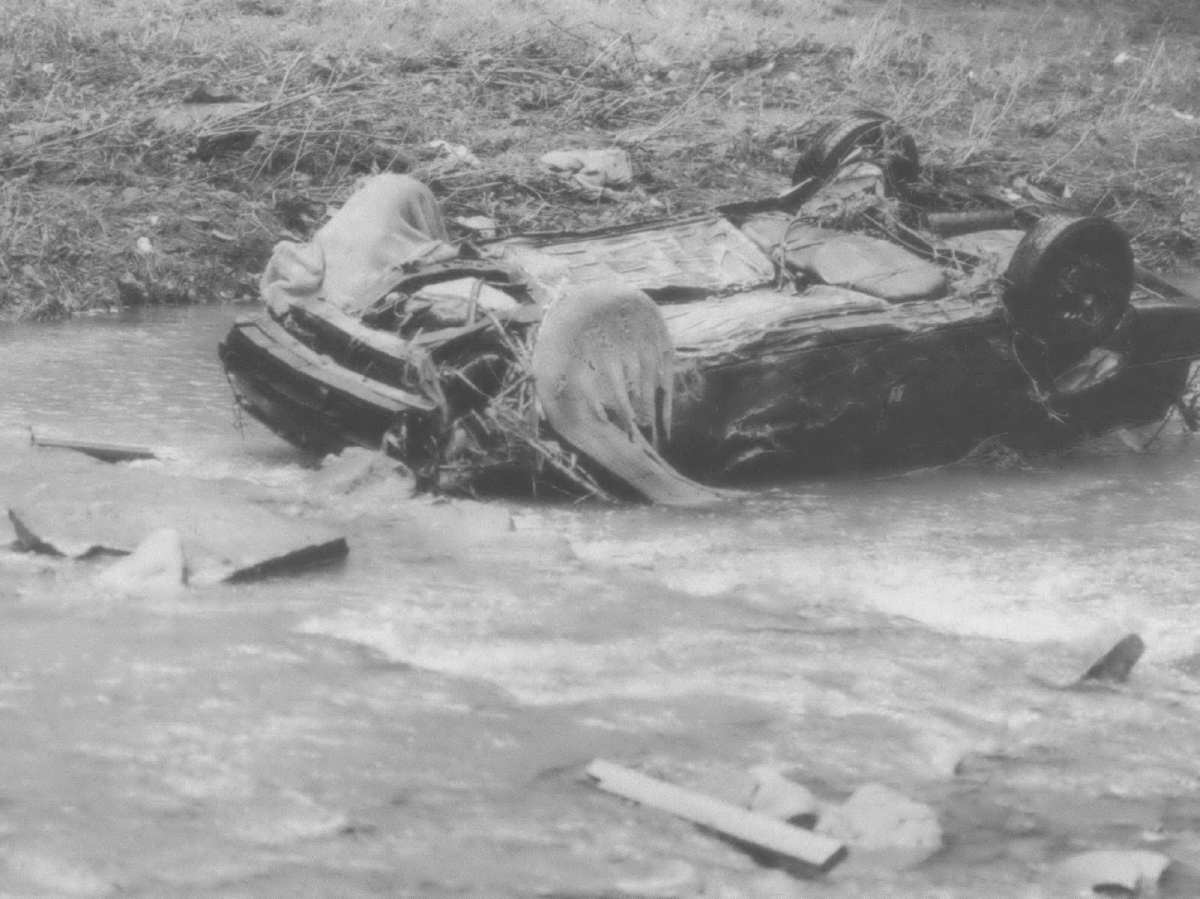 As we started up Scrabble Creek, we saw the bald knob signaling a mountaintop removal mine. In search of thin, horizontal seams of coal, huge shovels and bulldozers cut off the mountains and push that rock and dirt into the valleys, filling hollows for up to two miles. This valley fill was farther back than usual—and had two sediment ponds to contain storm runoff at the bottom. But its condition was remarkably similar to the one at White Oak four years earlier. Mud and rocks filled the sediment pond nearest the fill. The hillside above the second pond had been timbered, probably in preparation for more mining. For some reason, the road to the logging had been built across the spillway from the lower pond. It wouldn't be the only time we would see how drainage from various sources could work at odds and exacerbate runoff.
Many flood victims told reporters that logging and surface mining had worsened the floods.
As we drove back down the creek, we saw a small house near a church where damage seemed especially bad. Mary Coleman and her companion, Donnie Laing, had recently finished redecorating the home she had inherited after her husband died. They were still in bed Sunday morning when a neighbor knocked on their door at about 9 a.m. Water rushed in. They escaped out the back door and climbed the hill, where they sat for six hours. The water came up three feet in the living room.
* * *
The flooded area contains some of the poorest counties in the nation. Personal income rates vary from 48 percent of the national average of $24,819 in Fayette, to 38 percent in Wyoming and 30 percent—$7,482—in McDowell, the poorest county. Population has been dwindling and aging in these counties as mines close or become more mechanized. About a third of the residents are over 50. The top jobs are mining and working for the government, mostly the schools or county. In McDowell County, 20 percent of working age residents are on disability, while about 10 percent are in the other counties.
Despite the bleak statistics, most of the homes are tidy, though small, often decorated in country themes, with ample vegetable and flower gardens. Accustomed to hard times, coalfield residents are endowed with an ability to endure—a trait their descendants sometimes carry away to success. The grandparents of New York Jets star quarterback Chad Pennington were among the flood victims in Oceana. "We are cleaning up," Maude Pennington told a minister. "Better days are coming."
* * *
We would visit valley fills at six more mines in the flooded areas. Bob Gates decided the worst devastation was at Buger Hollow, in Dorothy in Raleigh County. Above the community lies the Princess Beverly mine, owned at the time by AEI Resources. Everywhere Bob pointed his camera he found a horror story. A new, well-built Colonial, worth $250,000, was torn apart, and the owner had spray painted: "Allstate here we are." The owner told Bob that the flood waters were actually sucking him upstream while he hung onto a fence to keep from drowning. One woman was standing on her deck at about 9:30 that morning when she turned around and saw a tidal wave. The water came from the valley fill and had swept the closest house down the hill, into the creek, where it formed a dam. High water pooled behind the house—now dam—and spread over the community of two dozen homes.
Just as we were nearing the end of our explorations of the flooded areas, rains came again on Thursday, July 26. They hit White Oak Creek, which had been spared July 8. Fortunately, there had not been any deaths this time. Amazingly, the pattern of the flood mirrored 1997, the same lawns covered with rocks, the same parts of the road washed away. Someone had put out a white toilet with a cardboard sign reading "White Oak," with an arrow pointing to the toilet bowl. The valley fill was an amazing sight—totally collapsed and slithered into the sediment pond, now a pool of black goo.
Over the next few months, Bob was able to photograph the flooded valley fills from a helicopter. He saw Scrabble Creek, Seng Creek, Buger Hollow, Armstrong Creek, Jim's Branch at Oceana, and White Oak Creek. In each case, the photos show the path of the heavy rain and where the erosions and collapses occurred. At Seng Creek near Whitesville in Boone County, the Catenary Coal mine, a subsidiary of Arch Coal, had filled the head of the hollow with a valley fill. A moat-like, horizontal ditch near the top was supposed to divert water from the face of the fill. Instead, the middle of the ditch had collapsed, and sent water ripping down the side of the fill with such force it swept away trees and cut a ditch five feet deep and 15 feet wide.
* * *
How could massive collapses happen at virtually every unfinished valley fill in the flooded areas? State and federal mining regulations requiring extensive drainage controls of ditches and ponds are intended to prevent such collapses, but they weren't always broad enough, or enforced. When the federal surface mining law was enacted in 1977, fills were much smaller. No one expected the huge shovels now used to remove mountaintops to appear in West Virginia, since they wouldn't fit on the narrow roads. Most importantly, fills were in those days carefully built from the bottom up, with each layer stabilized before the next was added on top.
Over the next two decades, roads widened, thanks to funding from the Appalachian Regional Commission's plan to open up the coalfields. The large shovels arrived, partially financed with tax credits intended to stimulate business development in the 1980s. The state environmental agency quietly relaxed fill standards and allowed the rubble to be just pushed over into the hollows. Fills are now not so much built as simply piled up, often haphazardly.
Two important state regulations governing sediment ponds were only laxly enforced under the Republican administration of Cecil Underwood in the late 1990s. The ponds at the ends of valley fills were supposed to control runoff from a 2 5-year-storm. But the state Department of Environmental Protection (DEP) had been letting mines get by with ponds that only controlled for 10-year storms, despite repeated admonitions by the federal Office of Surface Mining. In addition, the ponds were supposed to be only 60 percent full of sediment, leaving room for severe runoff. In looking at mine inspection reports, I found numerous notations that the ponds were more than 60 percent full.
At the time of the flooding, state and federal agencies were studying storm runoff from valley fills. In 1998, attorney Joe Lovett had gone to federal court and charged that valley fills were illegal because the Clean Water Act prohibited land disturbances within 100 feet of any but the tiniest ephemeral streams. Though the district court ruling upheld Lovett's argument, the decision was overturned upon appeal. An early settlement of portions of the case did require an Environmental Impact Statement, which included an examination of flooding. However, no recommendations had appeared before the July 2001 floods.
* * *
Mountaintop mines and valley fills affected only part of the flooded area. In sections of Fayette County and much of Wyoming and McDowell Counties, there was far more logging than mining. We would also find old deep mines, hillsides of loose bits of leftover coal, and roads to gas wells. In fact, there is little virgin land left on the scores of squat, cone-shaped mountains, squeezed ever tighter as you travel south.
Anawalt, in McDowell County near the Virginia border, is a quaint crossroads with a handful of old brick and frame store buildings accented by a trapezoidal three-story, yellow-brick town hall at the edge of Tug Fork. Mayor Eva Sue Rash, with a disposition as sunny as her froth of blond hair, held hot dog sales to buy the building. The Sunday morning of the flood, the mayor watched a mobile home float down the river and then explode. Quickly, she set up a command center at the town hall. Her car was jammed with watermelon, cantaloupe, and strawberries intended for a baby shower for her clerk. With roads into town blocked, the fruit became breakfast for hundreds the next morning. Ironically, she had just applied for a grant for three flood walls a week earlier.
On the road from Anawalt to nearby Leckie was a small, but certainly flood-prone, logging operation. In total violation of the state's best management practices, loggers had cut the haul road straight up from the edge of County Route 84. The hard rain had washed out tons of loose earth, blocking the road. A week after the flood, a yellow bulldozer, green logging tractor, and winch sat on the hill, mired in dried mud.
A little farther toward Leckie, one hollow seemed to be particularly hard hit. A rundown white house was closest to the road. John Wilson was sitting on the front porch. He had worked in the deep mines of McDowell County when he was young in the 1950s, and also had experience in metal mines out west. Wilson spent many hours prowling the hills of southern McDowell County searching for ginseng, black cohosh, yellow root, and other herbs. He often encountered logging that couldn't be seen from the roads. Sometimes, Wilson told me, he thought the herbs were more valuable than the logs. Wilson believed both logging and old mines contributed to the flooding and offered to take us into the mountains. With Wilson as guide, we observed how a variety of land disturbances—old and new—intensified runoff. We drove along a road built to provide access to gas wells, more and more of which have been drilled in recent years in the coalfields. Gas roads and timber roads can cause landslides, experts have found, because water can pool there and weaken the hillside below. Roads can also funnel water faster down the hills.
Wilson pointed out wet spots on the hillsides about every 1,000 feet. Seepage from abandoned mines, he explained. Wilson also noted something we had not considered. In the 1960s and early 1970s, surface mining had been done by scraping earth off the sides of mountains to expose coal seams that then could be drilled horizontally. The earth taken off was dumped on the down sides of the mountains, making them even steeper—thus accelerating runoff. Finally, we found the timbering: A new haul road had been cut down the mountain. Again, the loose tan earth had eroded and washed down the hill. Further on, we found four or five roads on one hill. Not necessary, Wilson said, just laziness.
* * *
About 75 percent of West Virginia, over 12 million acres, is forest. Of that, 1.2 million acres form part of state or federal parks or forests, and 2.6 million acres are owned by wood product corporations like Georgia Pacific. The rest is in the hands of private landowners and family trusts. In the coalfields, the rights to timber and minerals are leased to extractive coporations, such as Arch Coal, Georgia Pacific, Gilbert-PLC Lumber, and Cranberry Hardwoods. Forest fires destroy about 50,000 acres a year, while 300,000 acres a year are logged, frequently by small, local contractors who operate on narrow profit margins.
Research by the U.S. Department of Agriculture's Forest Service at three eastern hydrology laboratories has determined how forests absorb rainfall. About 10 percent is caught by trees, another 3 percent by dead leaves on the ground. The forest floor, with its network of roots, animal burrows, and holes left by toppled trees, takes the rest, as much as 50 inches of water an hour. Logging and fires, however, greatly reduce absorption. In the first few years after a fire severe enough to destroy humus ground cover, forests floors take in only one quarter of the rain. A forest area logged of 25 percent of its trees will see increased runoff for about five years. Roads, it turns out, are the worst enemy of absorption, compacting the soil and channeling water downhill.
But flood-plain maps were mostly two decades old and didn't cover the outlying hollows, so many victims didn't even know they were in danger.
Timbering in West Virginia is not regulated as tightly as mining. For example, loggers are not legally obligated to issue advance notice of new operations to residents—the Division of Forestry asks only that loggers notify authorities within three days after beginning work. Loggers are given a set of best management practices to control sediment runoff into streams. Streams should be un¬ touched for 100 feet on either side so the brush can filter runoff from the logging site. Roads should not be too steep, and should turn often because long straight stretches increase the velocity of runoff. Water-bars— horizontal ditches across roads—should be used to slow and divert runoff. Within seven days after logging ends, roads and landings must be reseeded. Importantly, Forestry guidelines recommend the fewest roads possible.
Compliance is mostly voluntary, however, and the guidelines are frequently ignored, as I found visiting dozens of logging sites. Plans for logging and roads do not have to be submitted to Forestry. Inspectors can only write violations if they personally witness runoff from improperly designed operations. With 3,200 logging operations a year in the state and only about 90 inspectors, actually catching logging erosion is unlikely. That is not to say all miscreant loggers have escaped. Forestry has taken several blatant bad operators to civil court. One other, rarely used enforcement tool is provided by DEP water regulations: A landowner is legally responsible for logging or other land disturbances that increase stream sedimentation.
* * *
Over the next few months, we saw a dozen other communities where logging appeared to have contributed to the flooding. From a helicopter, Bob photographed timbered areas, especially in Wyoming County. Above Glen Fork, the hillside was honeycombed by logging roads. The superintendent at the 4-H Camp showed us photos of cut logs that had washed down the hillside into the swimming pool and onto the lawns. In Glen Jean, a historic community near the entrance to the New River Gorge in Fayette County, both sides of a hill had been clear cut—one of the few places we found complete removal of timber. Bob Evans lived highest on the hill, yet he got the worst flooding as water cascaded down the road from the logging site.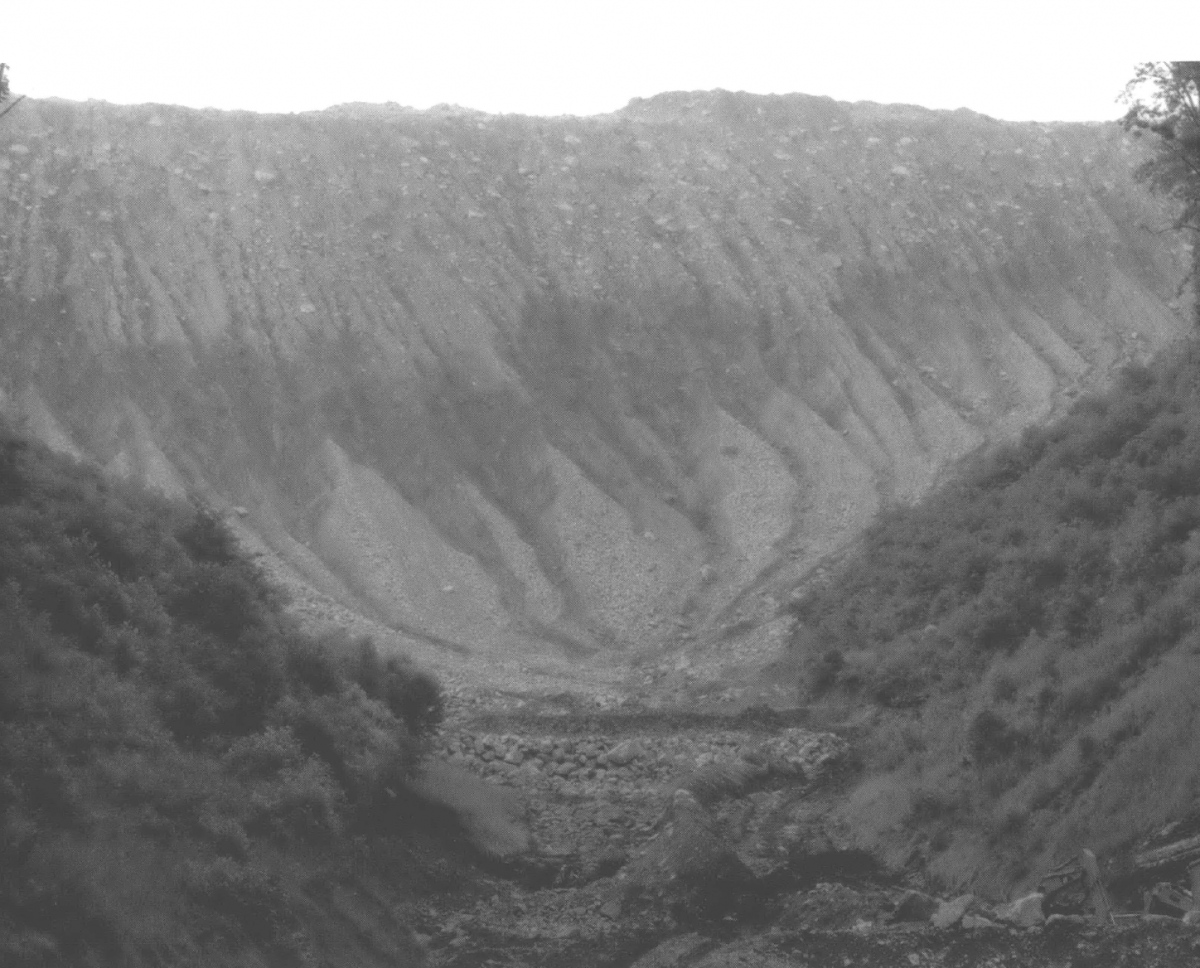 The hillsides above Shumate Hollow in McGraws, near the northeast border of Wyoming County, had been extensively logged. Here the flood took a life. Until July 8, about 15 families had lived along the creek, anchored by the small Pentecostal Church and its pastor, Lincoln Shumate, and his wife Elsie. Their home and all their belongings washed away.
The first person I came upon was Lawrence Tilley, who had lost his home and was living in a blue tent attached to his car. His description of chaos and death sounded like the diagram of a traffic accident. He recounted how a log came rolling down in the high water and struck the home of Bonnie Shumate, Lincoln's sister, knocking it off the foundation. Her house floated down the river until it collided with the bridge. A mobile home slid down the hillside while another house on the flatland washed into the river, and the two structures slammed into Bonnie's home, squeezing it between them. Bonnie, 58, stood on a bed, frozen with terror. Several neighbors attempted to stretch ladders from the two homes on the sides. Before the men could reach Bonnie, the force from the squeezing structures on either side caused the floor to buckle, and she fell into the violent water below and was swept away. They found her body nearby a few hours later, the hair caught on a wire fence.
* * *
Reimbursement for losses varied widely. Some people ended up with better homes and belongings than they had. On Seng Creek, Baptist volunteers built a new home for one family for just the $13,000 they got from the Federal Emergency Management Agency (FEMA). People with little income were given mobile homes by FEMA with only minimal payments required. However, some people with moderate incomes or disability pensions from mining accidents were refused aid from FEMA. Some took out low-interest loans of over $100,000 from the Small Business Administration, requiring many years of payments. Many flood-victims had no flood insurance. Only homeowners in flood plains with mortgages were required to have insurance. But flood-plain maps were mostly two decades old and didn't cover the outlying hollows, so many victims didn't even know they were in danger.
Lawyers jumped in within a week of the flood. First to file was Stuart Calwell of Charleston who brought a case against eight coal companies and two land companies, a group of defendants that would later expand to nearly 100. Calwell's suit alleged that the companies should have known that mining and timbering would divert water onto the properties of flood victims. This case, and others like it, were still pending in late summer 2004. Lawyers for both sides awaited a state Supreme Court of Appeals ruling on whether plaintiffs' lawyers could argue coal and logging companies had caused damage by failing to control runoff—or whether they must prove the industries were negligent. More than 3,500 flood victims are counting on the lawsuits for reimbursement of uncovered losses.
* * *
Soon after the flood, government officials took on another task. They would try to answer two questions: 1) How can we prevent damage from future floods? and 2) What was the role of logging and mining in causing or exacerbating the damage? Actually, a study of flood protection had been launched more than a year earlier with a 1998 federal grant obtained by Sen. Robert C. Byrd. Headed by the U.S. Army Corps of Engineers and the state Conservation Agency, 26 state and federal agencies were to offer input on far-reaching questions of improving storm warnings, how much development should be allowed in flood plains, and whether to dredge streams and build dams. Prompted by the July disaster, the study group got down to business with a series of seminars in the Fall of 2001. In conjunction, a disaster recovery board was established and hired a consultant to study whether to move much of Wyoming and McDowell Counties out of the hollows and onto mountaintops.
The task of examining mining and timbering fell to DEP's Matt Crum, who had been director of mining and reclamation for just 18 days when the floods hit, and John Ailes, former mining director and now special assistant to the DEP secretary. As a National Guard member, Ailes had spent weeks helping clean up after the flood. Crum had been an attorney for environmental issues in the justice department under President Bill Clinton. His wave of dark blond hair and youthful, movie-star looks belied his quick grasp of issues with a sensitivity and integrity rare among mining officials. He spent two weeks flying over the flooded areas and crawling up hollows in DEP Jeeps. When he got home and watched the television footage and saw the newspaper photos, they didn't touch the depth of desperation he had just left.
* * *
In the wake of Sept. 11, 2001, the coalfield floods were all but forgotten. DEP missed the Dec. 31 deadline for its study. The majority leader of the state House of Delegates, whose law office in Mullens had been destroyed, submitted a bill to require sediment control measures on logging operations. It never got out of committee. The coalfields did get noted in late October in a Wall Street Journal article as Jonathan Eig sought tragedies to match 9/11, writing of Man, W. Va., that "this poor coal-mining town has become a leading laboratory for the study of posttraumatic stress disorder...A conclusion common to all those reports sounds as if it were torn from today's headlines: along Buffalo Creek, nothing will ever be the same."
* * *
On May 2, 2002, the rain started in the afternoon, a brief shower followed by another—and then a deluge of more than five inches in less than 24 hours. The band of the storm was smaller than in 2001, hovering mainly over McDowell County and parts of Virginia and Kentucky. Northfork was hit hard again, as were Kimball and the other towns along Route 52. Anawalt was spared. The storm stretched through Welch to lager, and swept down into Caretta and Coalwood, which was made famous by native Homer Hickam in his memoir Rocket Boys, the basis for the film October Sky. Six people died, 197 homes were destroyed, and 2,925 were damaged. Clean up and repairs cost at least $47 million in public money. But losses were much greater, at least $200 million, which made for close to $1 billion in losses for the two years of floods combined.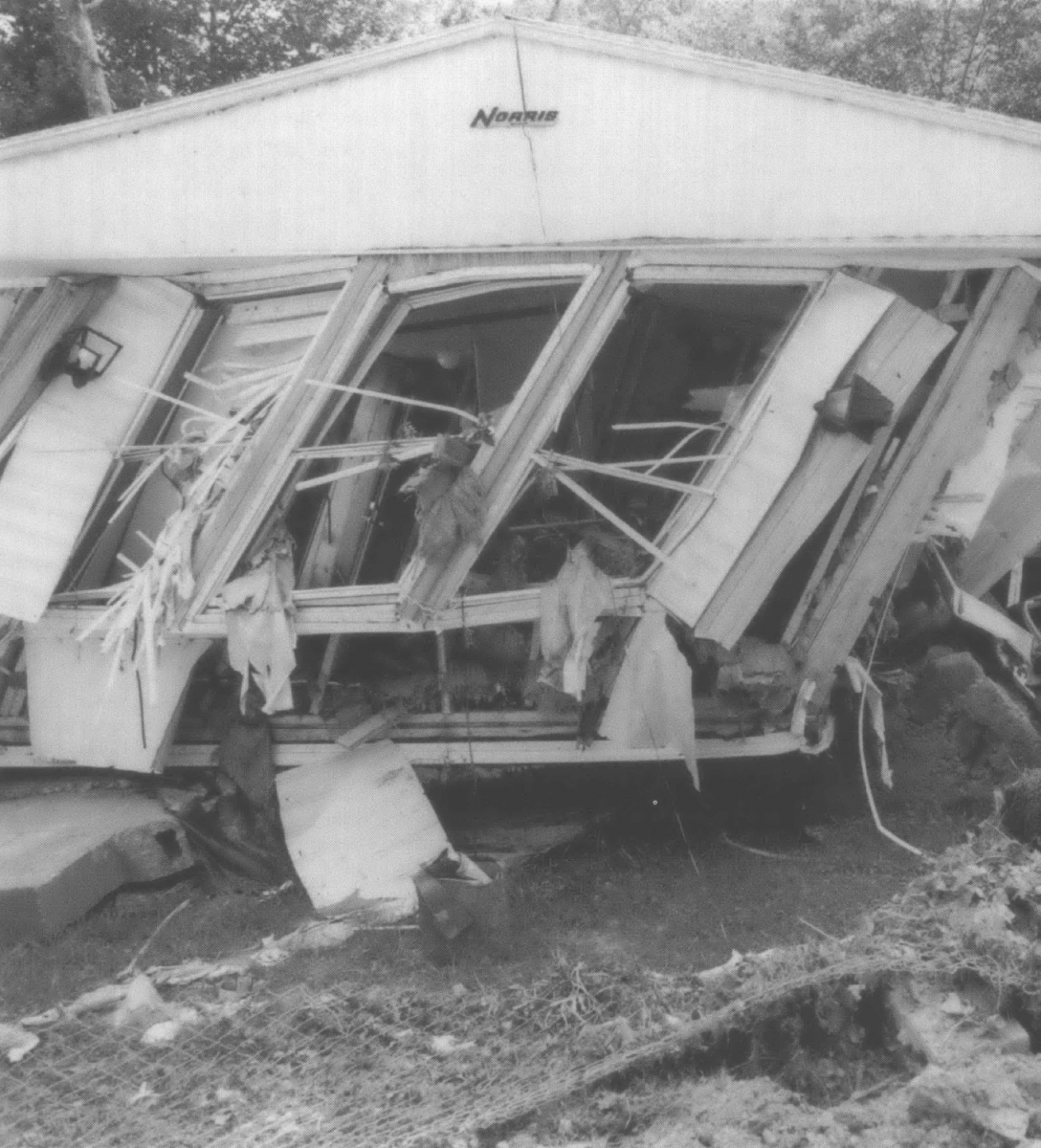 One of the first places Bob and I went was Northfork. The scene was like the rerun of a bad movie. Again, National Guard members were clearing debris and rebuilding bridges across the creek. Piles of coal had washed down in the same yards as the previous July. I knocked at a brown clapboard house at a bend in the road. Lucinda Robertson, a doll-like 72-year-old woman, hadn't believed what she saw on May 2. Here came a river of water, mud, and coal swirling by her front porch—for a second time. Robertson's neighbor had carried her to safety. Friends wanted her to move, but she refused to leave the house, which was an inheritance from her husband, one of the local enclave of African-American miners.
The coal came from the numerous old slate dumps in the hollows along the river. Much of McDowell County is riddled with hills of old coal, which are slowly being reclaimed under the federal Abandoned Mine Lands program. When DEP had held a hearing in McDowell County during the flood study, a local man warned that the slate dump up Carswell Hollow east of Kimball would collapse in the next big storm. He was right. We found Alice and David Rotenberry outside their large yellow house below that slate hill, attempting to clean mud out of what had been a yard resplendent with flowers. The worst spill of all was the collapse of a slurry impoundment near Gary. Tens of millions of gallons of black coal slurry had cascaded out, destroying a nearby house and spilling black goo into the Tug Fork as fast as 5,000 gallons a minute. A conscientious DEP inspector had actually warned of impending problems in March. The next day, mining director Matt Crum had ordered a thorough evaluation—but fixes did not come in time.
We arrived at Ritter Hollow above Avondale as sunset's golden light spread over broken lives: waves of rocks covered lawns, cars were mangled and tossed at the edge of the creek, half the earth was washed out from under a house. A mile up on the right side, white paint on a new grey mobile home, raised on concrete blocks on a hill out of flood range, read: "NYC got theirs on 9-11-01. We got ours on 5-02-02. May God Bless You." On the other end of the house were the orange numbers signifying impending demolition. The deluge came down the hill, not up from the creek. Freddie Steele, a miner who walked with a limp after crushing his leg and back in a mine collapse, watched as his home filled up with five feet of rocks and mud in 17 minutes. Like many others, he knew where the water had come from: the gas company had cleared a 100-foot-wide path for a new gas pipeline. The cut trees were tossed into a ravine, forming a crude dam, behind which water pooled. During the storm, the force of the water behind the ruptured dam had ripped the narrow stream into a ravine and rained rocks on Steele's home.
* * *
This time, more people quoted in newspaper stories were blaming timbering for the flooding. There are no large valley fills in this flooded area, but 87,087 acres had been logged between 1993 and 2001. When Sen. Jay Rockefeller, who had been governor when floods nearly wiped out Williamson in 1977 in neighboring Mingo County, visited Coalwood, he said timbering may have worsened the flooding. Before the storm, Coalwood, population about 280, could have been considered the Scarsdale of McDowell County. A half-mile of neat clapboard homes lined the road to the machine shop, clubhouse, and other massive brick buildings that had once housed Olga Coal Company. The flood damaged or destroyed at least three-quarters of the homes.
Ernest "Red" Carroll, father of one of the "Rocket Boys" in Hickham's memoir, was our guide. "I've been here 84 years, and never saw anything like this," he said. "It's all the timbering." He directed us up a hill a little ways from his house, past the field where the historic flights had begun. Soon we saw two logging roads. A large leftover stump had washed down, blocking one road. The other road went nearly straight up the mountain, and bore much of the blame for the washouts below. Piles of cut branches and tree tops had sluiced down the road, landed in heaps in the creek, with bunches washed out into Clear Fork in Coalwood, where they blocked culverts and caused the water to spread out over banks and into homes.
This time, Forestry officials did check all the timbered areas near flooded areas. However, they placed more blame on the forest fires that wiped out trees and undergrowth on 20,728 acres in 2001.
* * *
Officials had begun to realize the enormous toll of multiple floods. By mid-June 2002, findings of the long-delayed studies started appearing, with DEP first. Did mining and timbering worsen the flooding? The simple answer was yes, by as much as 21 percent at one place in the three watersheds studied.
The percentage didn't matter to mining director Matt Crum or special assistant John Ailes, who wrote most of the recommended rule changes. Absolutely no increase in runoff from mining or timbering should be allowed. DEP called for valley fills to be built from the bottom up so they would not meltdown in heavy rain. Even more importantly, new mining could not increase runoff in a watershed. In what DEP calls Storm Water Runoff Analysis, the condition of the entire watershed would be reviewed before creating a new valley fill. Timbering should be limited by the steepness and soil conditions of a watershed. Previous forest fires could also limit the amount of logging activity. Cut tree tops and branches would be removed from roadways so as not to be washed out in storms. Proposed logging sites would be reviewed by inspectors before cutting began.
Overwhelmed by timbering lobbyists, legislators had no interest in flood controls on timbering.
DEP's computer study of Scrabble Creek and Seng Creek produced groundbreaking insights into how flooding happens in the southern West Virginia coalfields. Storms that start at the top of a mountain and move down, as happened on July 8, increase flows in the hollows. Shape is important. The higher the mountains and the steeper the slope, the more runoff. Short and narrow watersheds have less room to slow down the runoff. The impact of a logging operation will depend on where it is in a watershed. North-facing slopes get less sun and have less vegetation that can slow runoff. The depth and type of soil is very important because that determines how much water can be absorbed and not run off.
The DEP study of mining was supported by findings from the environmental impact statement on mountaintop mining. Examination of three valley fills showed that one fill could increase flooding as much as 13 percent. A USGS study of two years of storm runoff in two watersheds, one mined and one unmined, concurred: during heavy storms, runoff increased from the fills, while the fills actually absorbed water and slowed runoff in lighter rains.
The flood protection studies focused on other ways to prevent flood damage, with more emphasis on removing people from flooded areas than on controlling runoff. The statewide Flood Protection Plan, the one funded by Sen. Byrd, produced dozens of strong recommendations—from more rain gauges to flood proofing all buildings remaining in flood plains. The plan also confirmed the problems we had seen with bridges and culverts. Often these were too small, or too low, and debris piled against them, pooling water into nearby homes.
The consultant to the Disaster Recovery Board recommended widespread buyouts and relocating much of the remaining population. In Wyoming and McDowell County, resources would be focused on the four viable towns. Small communities, including Anawalt, Northfork, and Kimball, would gradually die out, with residents given incentives to move to new developments atop former mountaintop removal mines and near the two new four-lane highways, King Coal Highway and Coalfields Expressway, neither expected to be completed for at least a decade.
* * *
JULY 19, 2002: It had been a month since the DEP report and still no word from Gov. Bob Wise, who needed to accept the findings. Once again, it appeared the push for better flood controls had died as the floods of 2002 faded from memory.
I was driving to McDowell County to talk with people about recovering from the floods. The news talk show on my car radio was interrupted by a field report from Logan County about a flood. Again, said the reporter who had been up the hollow, a valley fill has collapsed. How different from a year before, when the press challenged residents' allegations about timbering and mining. The valley fill at Lyburn, in Logan County, is in your face: the largest valley fill visible from a populated area. It looms over Route 10, seeming a mile wide, as you drive from Logan to Man, at the bottom of Buffalo Creek. I had watched it grow for five years, and had only recently seen small areas of green ground cover. Pittson Coal had built the fill, but sold the mine to Massey Energy's Bandmill Coal Corp. in 1998. A long list of violations showed Massey's attempts at reclamation had fallen far short. The storm had dropped several inches of rain on the unstable fill, which had collapsed into the sediment pond—much like the washout of the fill at White Oak Creek. Fortunately, only about a dozen homes lay in the hollow between the fill and Route 10. Two were completely destroyed, the rest damaged. Several cars and trucks were washed away or mangled. To avoid a lawsuit, Massey replaced homes and bought residents new cars and trucks, then celebrated with a picnic.
* * *
Lyburn made flooding from valley fills impossible to ignore any longer. Matt Crum persevered with the flood study recommendations, though he only had jurisdiction over mining. Understanding that support of the coal industry is usually a prerequisite for legislative approval, Crum hosted a presentation of an alternative valley fill design by Arch Coal five days before Christmas 2002. Arguing that bottom-up fills would be too costly and sometimes pose dangers to workers driving trucks of rocks down to the bottom, Arch officials asked for fills built with long level areas after the sediment ponds so storm water would slow and be contained at the bottom of the fill. After a couple of weeks of study, DEP finalized an alternative to bottom-up: an erosion protection zone, essentially that long flat area, would have to be built and vegetated before the fill could begin, thus appeasing the industry.
Still, the next two months were nail biters for Crum, whose heart was clearly invested in the improved flood controls. They passed two days before the session ended, and Crum was so thrilled he called me at home. The fill design was the focus of news stories. However, Crum considered the storm water runoff analysis far more important. This plan to prevent any additional runoff is required of all operating mines, regardless of their start date. All mines with fills larger than 400 acres must have a plan to prevent increased runoff by mid-2004; smaller fills will have to comply in subsequent years.
Logging was a different story. The logging industry had harshly criticized the DEP study, submitting critical letters from at least 40 loggers, foresters, and corporations, including Georgia-Pacific and Weyerhaeuser. It had countered the DEP study with a paper concluding that "normal forest management activities do not seriously increase flood flows in major streams." Overwhelmed by timbering lobbyists, legislators had no interest in the flood controls on timbering proposed by DEP.
* * *
JUNE 15-17, 2003. This storm made selective strikes. Charleston got the national media attention with video of a Federal Express truck floating away. But my interest was in the coalfield communities of Dingess in Mingo County and along Route 85 in Boone County. On June 24, Bob and I set off, wondering why government hadn't moved faster with better flood protections. Again we found flooded areas below hills bared by forest fires, stripped in preparation for valley fills, and logged.
About eight miles east, past Van in Boone County, we saw a wave of rocks behind a grey mobile home that reminded us of Freddie Steele in Ritter Hollow. John and Christine Gunnoe had moved out of a flood plain near Van to what they thought was higher ground. John estimated it took two hours to submerge the hollow in a quarter mile of rocks. The swath nudged a small shed behind the trailer, but fell short of the home. Yes, he told us, they had logged up the hollow. And cut logs lodged in the rocks were the evidence.
Maria Pitzer's one-story rambling ranch with sky-blue siding is tucked into the hillside above Bob White, at least 20 feet above Pond Fork—surely safe from floods, one might think. Not so. The evidence was a 7 5-foot-wide, 12-foot deep crater in her yard, where Big Branch Creek had changed course temporarily. The ground in front of her garage was crumbling away each day, with less than 10 feet to the edge of the hole. The 20 acres up the hillside had belonged to her grandfather, a Cherokee, and then her father. In recent years she has watched the valley fill creeping down the hollow, the logging nearby, and a few slides resulting from old mining. She and a DEP inspector walked up to the ponds. They had overflowed, she said, but the inspector did not blame the mines since the slips were below the ponds. A year later, the crater remained in her yard.
Floods came again in November 2003. At year's end, West Virginia had more federally declared disasters than any other state. As the state climbed atop disaster statistics, rainfall, too, approached record levels. Much of the southern coalfields had record rains in 2003. The town of Wayne, about 30 miles northwest of Dingess, had 75 inches, compared to an average of 44.71 inches of rain. And measurements back to 1948 in Pineville in the center of the flooded areas, showed its four wettest years had come between 1999 and 2003, with 16 days with more than 1.5 inches or rain.
* * *
MAY 30-JUNE 13, 2004. The rain started in Mingo and Logan Counties around midnight Memorial Day 2004—and never seemed to end.
The worst came Friday night, June 4, when a storm stalled out over the head of Pigeon Creek, between Pie and Varney, dumping about three inches in a few hours. Then a short, heavy storm hit Mingo County late in the afternoon of June 13, and walloped historic Matewan during the Hatfield-McCoy reunion festival, a national tourist attraction. The three floods swept a couple dozen houses off foundations and damaged nearly 7,000 others. With extensive road and bridge damage, 80 percent of Mingo County was affected by the floods. By July 4, FEMA had received 2,122 applications for assistance from Mingo County and 944 from Logan County. Federal and state aid totaled nearly $50 million—more disaster spending than any state through the end of July.
I made three trips to the flooded areas. Again I clearly saw how many of the worst landslides could be traced to specific mining or logging disturbances up on the hills. However, I also saw the first glimmer of hope that flood damage might not be inevitable.
Her body was found a few hours later, the hair caught on a wire fence.
Much of the mountaintop mining damage came from Massey Energy's Alex Energy permits, which stretch from Whitman in southern Logan County to Holden about 10 miles west and over the mountain to Riffe Branch in northeastern Mingo County. Residents and inspectors found serious erosion below several valley fills, and a lawsuit is already being considered in Whitman. On the Kentucky side of the Tug River, below Matewan, new mountaintop mines dumped tons of silt into the Tug.
Residents' fears of blowouts from old deep mines came true—twice. The worst was at North Matewan on June 13, when water burst out of a deep mine high above the community. Rocks and water rushed down a steep hillside, flooding 17 of the 35 townhouses at the bottom. Logging, though, was the bigger culprit. I found seven hollows that had been logged in the past few years. Four were along Pigeon Creek, which had about the worst flooding. Residents of Shady Woods described a wave of water coming all of a sudden June 4. I found more than 30 acres logged on both sides of the head of that hollow. About a mile west along Route 52, Ronnie Smith's house, which he had bought just four months earlier, was inundated by a river of rock that piled on the backside, then spilled down to the front yard. Across the street, an acre of rocks disgorged from a small ravine and covered Mallard Lester's garden along Pigeon Creek.
Smith, who has worked for the railroad for nearly three decades, went up his hill expecting to find a valley fill. Instead he found a network of logging roads. Smith was curious what was on the opposite hill, above the Lesters' house. So up we went, Smith dubious about my running shoes and lack of a walking stick. "These mountains don't give up their secrets easily," Smith commented as I struggled upward.
We found new logging, old logging roads, old deep mines, a half a dozen land slides—possibly below old logging—all draining towards the ravine that had vomited rocks. At the very top, a steady stream of water from an old surface mine spilled over boulders left after mining. A former DEP inspector told me the mine had produced a smaller flood at the Lesters' in 1996—before the hill had been logged. Now the mine has been released from DEP authority, so the agency can't make the coal company correct the drainage.
* * *
Amid the despair, I found a few signs of hope. While DEP's storm water runoff controls for larger mines did not go into effect until June 30, DEP officials said they had already seen improvements in valley fill drainage controls. Jim Pierce, who helped lead the DEP study, said coal companies were actually eager to implement the plans—which prevent any additional runoff from mining—as protection against lawsuits. In June, I did see a valley fill at a medium-sized mine that went un¬ damaged in the storms—and a nearby resident credited it for controlling runoff.
Residents along Pigeon Creek thought storm warnings came much earlier, and they were able to flee to emergency shelters and up hills before waters rose. This was one of many well-considered recommendations of the Flood Protection Plan in late 2002.
Still, much remains to be done. "Damage from flooding can be reduced," the Flood Protection Plan stated, "by taking several common sense steps that will divert flood waters away from existing communities, remove man and his creations from the path of the flood water, eliminate new structures in the path of future floods and/or reduce the elevation of the flood water."
Yet after four years of devastating floods, the state still lacks the political will—and the funds—to fight flooding aggressively. Even officials who wrote the Protection Plan foresee several years of wrangling with the Legislature. Emblematic of the influence of extractive industries was the August 2003 firing of Matt Crum, the mining director who so passionately fought for reform. Though he was never given a reason, he believes he was too aggressive an enforcer.
Money has also been an obstacle. Residents of flood plains whose homes are prone to flooding can ask FEMA to buy their homes—but have at best a one in three chance of approval. FEMA gives about 15 percent of the total cost of a disaster for mitigation, and the state adds a smaller amount. Over the four years, there have been $178 million in buy out requests—and only $42 million in funds, according to Barry Maccioca, the hazard mitigation officer.
Even when government does act—and provide money, the state has failed to follow through. In 1986, Congress authorized funds to flood-proof parts of Island Creek in Logan County. Work never began, and the area was severely damaged in the floods of 1996, 2003, and 2004.
Perhaps the best hope are those who live in the coalfields. This summer a group formed along Island Creek south of Logan. They want the creeks dredged, the bridges raised, and money paid to flood-proof their homes.
But residents need to do more than petition government. They need to find what land disturbances lie up the mountains behind their communities? and upstream from their creeks. Then they need to protect their homes from uncontrollable runoff, whether with berms and diversion ditches, or simply by moving their treasured possessions above flood level. And they need to get flood insurance, which costs only a few hundred dollars—unless they have been flooded before or are in a flood plain. Finally, they need to remember that the condition of the hills is not static: new mining, logging, and gas roads appear regularly. Constant vigilance is necessary.
Destructive floods are not inevitable in the coalfields. Flood protection should be viewed as opportunity: a chance for coalfield residents to learn about watersheds and water flow. A chance for them to work with public officials and mining and logging corporations to protect and rebuild their communities, whether in the hollows or on the hilltops. A chance to entice new industries into helping build safer communities. A chance to become a model of success, rather than desperation.
Mary Coleman has moved away from flood-prone Scrabble Creek. Hopefully, someday soon all coalfield residents will be as safe.
Tags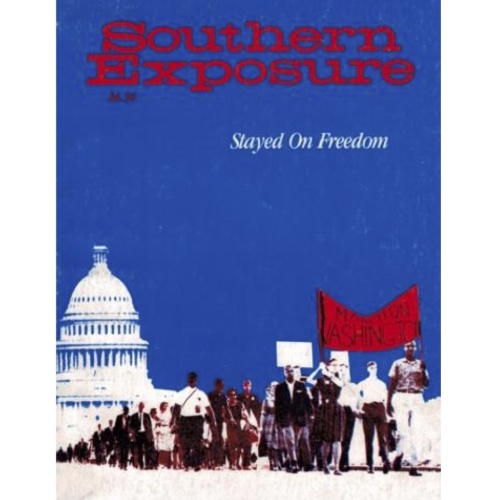 Southern Exposure is a journal that was produced by the Institute for Southern Studies, publisher of Facing South, from 1973 until 2011. It covered a broad range of political and cultural issues in the region, with a special emphasis on investigative journalism and oral history.