From the Archives: Fear and Flooding in North Carolina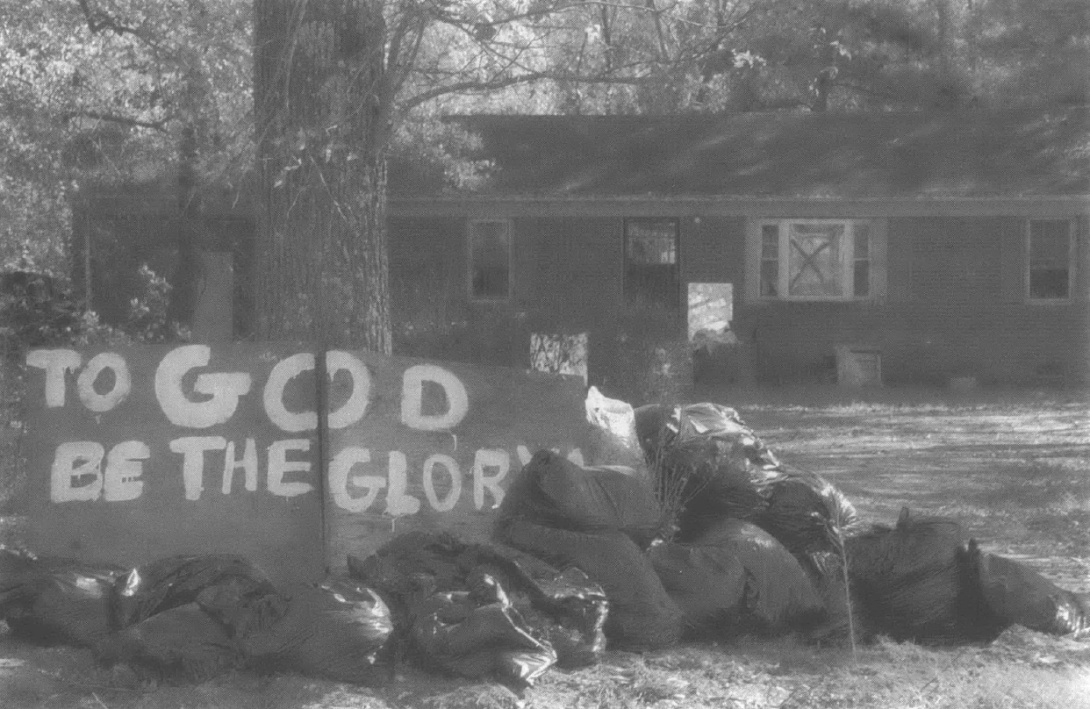 This story by Sue Sturgis was first published in "Acts of God?", the Volume XXXII 2004 issue of Southern Exposure, the print forerunner to Facing South. Read the publisher's note from that issue here.
* * *
Summer morning dawns after a rainy night in Princeville, a small town on the banks of eastern North Carolina's Tar River, and thick fog drifts like ghosts across the swampy landscape, obscuring a sign at the crossroads of Main Street and Mutual Boulevard telling visitors they've arrived in the oldest community chartered by blacks in America. Storms and floods have long haunted this part of Edgecombe County, a former capital of the state's cotton economy where today the majority of residents are African-American and almost one in five live in poverty. A peal of thunder here has power to strike fear in people's hearts—and their worry is not unfounded, according to those who divine the river's mysteries.
Scientists warn that flood-prone U.S. communities, which like Princeville tend also to be poor and minority communities1, face an increased risk of disaster due to a dangerous combination of global warming and ongoing human alteration of land for profit. And they say future flooding has the potential to be just as or even more devastating than what happened five years ago this September following Hurricane Floyd, which killed 35 people, destroyed 8,000 homes and caused some $1.9 billion in damage in North Carolina alone. The storm hit eastern North Carolina, the state's most impoverished region, especially hard.
"That was a very socioeconomic flood that disproportionately impacted the poor," says Dr. Stanley Riggs, an East Carolina University geology professor and Floyd expert who blames the disaster's magnitude on human recklessness. "It's inexcusable, in my opinion. We're supposed to be an educated society, but we're just too greedy."
Despite the havoc it wreaked, Floyd was actually not that severe a hurricane. When it made landfall on Sept. 16, 1999, near North Carolina's Cape Fear, it was a Category 2 storm on the Saffir-Simpson Scale of 1 to 5, with winds of about 100 miles an hour. The system dumped 15 to 20 inches of rain on eastern North Carolina, hardly a record rainfall for a hurricane. However, the region was already saturated from earlier storms including Hurricane Dennis, which hit the North Carolina coast as a tropical storm a week earlier. Furthermore, tampering with the land—including sprawling development in upstream communities—resulted in a tremendous amount of stormwater running off hardened surfaces, turning the normally placid Tar and its tributaries into raging monsters.
Though fortunately none of Princeville's 2,000 residents lost their lives in the flood, they lost almost everything else —homes, churches, cars, pets, family treasures. The deluge submerged the town for weeks under water and mud stinking of human waste, rotting animal carcasses, oil, gas, and pesticides. It even disturbed Princeville's dead, uprooting hundreds of caskets from local cemeteries and sending them floating through town.
Princeville's plight captured the nation's attention, in part because of its devastation and also because of its special place in U.S. history. When Floyd's floodwaters finally receded, government agencies, private organizations, and thousands of volunteers poured into town to help residents, who ultimately opted to rebuild rather than accept the offer of a federal buyout and relocation. The Federal Emergency Management Agency set up temporary trailer parks in the nearby town of Tarboro and the upstream city of Rocky Mount while new homes were built. Church groups showed up by the busload to help, and then-President Clinton established a council to coordinate reconstruction efforts.
So far, more than $30 million has been spent to rebuild Princeville alone. New factory-built houses line the mostly one-lane streets, and all but a few dozen preflood residents have permanent homes. FEMA officials have said it was one of the quickest disaster recoveries they had ever seen, given the extent of the destruction.
But Floyd's specter still casts a shadow over the town. Abandoned businesses and boarded-up homes stand empty, warped by water damage. On Mutual Boulevard, a chain link fence encircles the old town hall, with missing windowpanes, a rusting tin roof, and peeling white paint. Local leaders plan to turn the structure—which was built as part of the early 20th century Rosenwald School movement to educate Southern blacks—into a welcome center and museum, with construction set to begin this fall.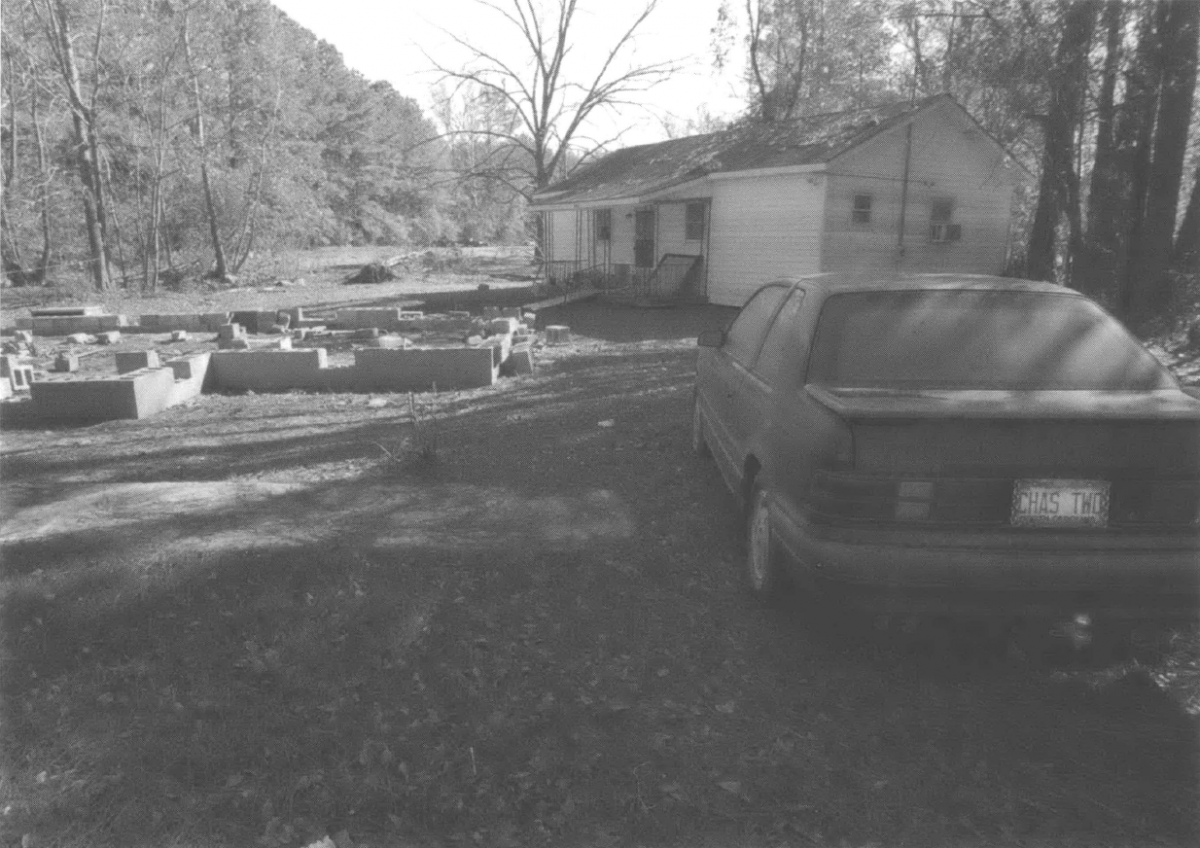 Meanwhile, around the corner on Main Street, in Princeville's modern new municipal building, Town Manager Samuel Knight promotes a decidedly cheerful view of Floyd. "Personally, I think the flood was a blessing to the town," says Knight, a retired military man who had to be rescued by helicopter from the Princeville truck stop he owns when the water began rising. Since the disaster, the town's housing stock has improved markedly: All residents now have central heat and cooling, he says, and the average value of a home has climbed from $50,000 to $80,000. Pleased with the changes Floyd brought, Knight waves off the concerns of those who say the town remains at risk or severe flooding in the future. He places his faith in a higher power.
"Floods happen," says Knight. "If another comes, we'll do what he have to do. And we just pray to God there won't be another one."
A Man-Made Catastrophe
In the five years since Floyd, Riggs has attended conferences and other gatherings of policymakers, urging people to stop blaming God and Mother Nature for disastrous floods and face their own role in creating them. A resident of Greenville, a city that lies 25 miles downstream from Princeville along the Tar, he has spent decades studying the river system, an ecological treasure and habitat for 14 federal and state rare and endangered species including Elliptio steinstansana—the Tar River spinymussel, a mollusk that can be found nowhere else on earth and is one of just three spiny freshwater mussels on the planet.
Riggs examines geologically recent rocks to understand the relationship between rivers and human civilization, and he has concluded that it is a deeply troubled one. In a plenary address delivered to an East Carolina conference on Floyd in May 20002, he challenged the notion that there was anything natural about the scope of the disaster.
"The rivers were doing exactly what they were supposed to do—carrying the surface water off the land," Riggs told the gathering. "This was a human catastrophe."
In the case of Princeville, the original problem was locating a permanent settlement there at all. The town was established after the Civil War by freed slaves who fled surrounding farms and plantations and sought refuge at the Union Army encampment across the river from the county seat of Tarboro. They first called their home Freedom Hill—ironic considering there's no hill to befound there. Carved out of two plantations, the community lies on the river's southeast lowland side, a floodplain that extends for miles. To make matters worse, the Tar makes two 90-degree bends just northeast and then west of the town, creating a bottleneck. And Fishing Creek, the Tar's largest tributary, empties into the river immediately upstream of Princeville. Consequently, the area where the town is now located has flooded repeatedly since records have been kept: in 1775, 1791, 1800, 1863, 1887, 1908, 1924, 1928, and 1940. In the big flood of 1919, the worst before Floyd, the water rose as high as the Seaboard Coast rail line that crosses the Tar at Princeville.
Though the floods followed storms that were beyond earthly control, human tampering with the land has exacerbated the damage storms cause. Soon after the white settlers drove the Tuscarora people from eastern North Carolina in the early 1700s, they began ditching and draining the region's extensive swamps and upland coastal dismals known as "pocosins," an Indian word for "swamp on a hill." By the 1980s, North Carolina had lost half of its original wetlands, which act like sponges to absorb rain into the earth. Also in the mid-20th century, the U.S. Soil Conservation Service and Army Corps of Engineers began artificially channeling streams with the intention of improving marginal agricultural land and controlling upland flooding. But as a result, stormwater now pours off the earth and jeopardizes downstream communities like Princeville.
Road building has also intensified flooding by contributing to stormwater runoff and impeding the natural flow of rivers and streams. Nicknamed the "Good Roads State," North Carolina in the 1920s launched an ambitious economic-development effort to connect every sizeable community to a state highway with four-lane roads wherever possible. As a result, absorbent land was transformed into surfaces that shed stormwater. Meanwhile, the state built bridges to carry roads across rivers, and during heavy rains the structures—which were typically erected in the floodplain—acted like dams. According to Riggs' count, the river has about 50 such road dams between its headwaters and the town of Washington, N.C., where the freshwater Tar joins the Pamlico River estuary. One of those dams carries Highway 64 across the river immediately west and downstream of Princeville.
Land development also contributes to flooding by removing trees and increasing hard surfaces. American Forests, a Washington-based nonprofit, has documented a worrisome trend of urban areas throughout the Southeast losing trees at an alarming rate while impervious surfaces expand dramatically.3 Over the past 30 years, tree canopy cover in the region has declined about 30 percent, worsening the stormwater runoff problem, according to Cheryl Kollin of the group's Urban Forestry project.
During the 1990s alone, North Carolina's forests and other open spaces were developed at a rate of more than 156,000 acres a year—a 67 percent increase over the previous decade. The state lost more than a million acres of forests over the last 12 years, largely due to urban sprawl.4 Development is occurring at an especially fast pace in the state's rapidly urbanizing Piedmont region, where the Tar originates. Because of the runoff from this expanding civilization, the Upper Tar today has one of the highest rates of sediment pollution of any river in the state, putting the Tar spiny mussel as well as other species at risk of extinction.
And mollusks are not the only things imperiled. All of these risk factors—natural geology, wetlands loss, stream channeling, road building, urban sprawl—combined forces to create serious flood problems for Princeville. By the mid-1960s, the town was experiencing high water almost every year and major flooding every five or six. Families that could leave the area did, and local leaders worried about a dwindling tax base pressed for help from above. That's when the Corps came up with a plan to build a levee around Princeville—a plan that Riggs says was so flawed it actually aggravated the impact of Hurricane Floyd.
"They didn't take into consideration the area's flooding characteristics," Riggs says. "They just didn't understand how water moves."
The Solution Becomes the Problem
It was 1967 when the Army Corps of Engineers completed its 2.5-mile, $370,000 levee between the Tar River and the west and north sides of Princeville, part of the 8,500 miles of levees and floodwalls built by the agency since its founding in 1802. Some 30 feet tall at its highest point, Princeville's grass-topped earthen structure gradually slopes down to meet Mutual Boulevard at the northwest end of town. At the time it was built, local leaders expressed hope that the levee would finally allow the community to flourish.
"Everything should fall into place then," Mayor Roy Matthewson told the Raleigh News & Observer at the time. "It's fear of that river that has held us back."
Indeed, the levee transformed Princeville, giving it greater confidence in its future. Residents built houses and opened small businesses—garages, grocery stores, a car dealership, beauty parlors. The town constructed a water and sewer system. And at a time when the population of many places in eastern North Carolina was shrinking, Princeville actually grew, from 900 residents in 1960 to about 2,000 by the time Floyd hit. As decades passed without a severe flood, residents' fears began to fade.
Unbeknownst to most of the townspeople, however, flaws in the levee's design not only left them vulnerable to future floods but would actually worsen the damage when such disasters occurred. Such serious problems with Corps projects are not unusual: the Army Inspector General, the National Academy of Sciences, the General Accounting Office and other federal and state agencies have uncovered flaws in a "shocking number" of the agency's undertakings, according to a report released earlier this year by the National Wildlife Federation and Taxpayers for Common Sense.5
The report argues that the agency's flood control efforts have complicated the very problem they set out to fix. "The Corps' traditional approach to reducing flooding largely relies on straight-jacketing rivers with levees and floodwalls, and quickly funneling floodwaters to downstream areas," it states. "These approaches sever hydrologic connections with wetlands and floodplains, and destroy their natural ability to store floodwater."
That's precisely what happened at Princeville, where the levee altered the Tar's flow to disastrous effect. As the storm's floodwaters began inundating the river, the levee did protect the town for a time. But when the Corps built the structure, it left a 4.5-foot-deep opening for the railroad along its north side, a cut as deep as the peak of the 1919 flood, the worst on record at that time. Its calculations did not protect against the possibility of even worse flooding in the future. The agency also left the town vulnerable to flooding by sloping the structure down to Mutual Boulevard at a spot that's just several hundred yards from the river's edge.
The levee plan was so flawed it actually aggravated the hurricane's impact. "They didn't take into consideration the area's flooding characteristics. They just didn't understand how water moves."
"The Corps says the structure is anchored in high ground at that end," says Doug Rader, a biologist and former state environmental regulator who now works as an attorney with the North Carolina office of Environmental Defense. "That's just baloney."
Floyd's rains began falling on eastern North Carolina on Tuesday, Sept. 14, and continued for two days. By noon on Sept. 16, the sun was out and Princeville residents breathed easier, believing they had escaped the storm unscathed. But as the hours passed, the Tar began rising frighteningly fast—six to eight inches an hour. By 9 p.m., it looked like the floodwaters might spill through the railroad cut, and about 100 townspeople launched a desperate sandbagging effort. Around 1:30 a.m., then-Mayor Delia Perkins sent everyone home to get their families out, as authorities expected the river to crest three feet over the levee.
Later that morning Floyd's floodwaters began pouring into town—but they did not spill over the top of the levee, according to Rader. "The dike did eventually fail," he says, "but that wasn't the cause of the flooding."
Walking along the structure after the flood, Rader found sediment patterns showing Princeville was already underwater when the Tar topped the levee—a finding Riggs confirms. What happened instead was that the river spilled through the railroad cut and poured around the levee's low end, flowing down Mutual Boulevard into town. And once the town was submerged, the levee did the opposite of what it was supposed to do: rather than keeping water out, it held it in with help from the Highway 64 road dam. So altered was the Tar's natural flow that the water had to be artificially pumped back into the river.
"I think the lesson of Princeville is that there should be fewer of these structural solutions, not more of them," says Rader. "We need to be looking at making flows more natural and less subject to human intervention."
Rising Flood Risks
While Princeville has been largely resurrected since Hurricane Floyd, little has been done to protect the town from future floods. Meanwhile, the likelihood of flooding is increasing due to manmade climate change that's expected to heat up annual temperatures in the Southeast by four to ten degrees over the next century and raise sea levels by as much as a foot by 2030, according to a recent report from Environmental Defense.6 And as sea levels rise, storms can move further inland, exposing more of the population to potential disaster.
Since Floyd, the Corps has repaired damage to Princeville's levee and built a stoplog structure to be placed at the railroad cut should high water threaten the town again. It also discussed extending the levee to encircle the town, but Knight, the town manager, says residents rejected that proposal. "It scares the average citizen half to death," he says. "If the drains stop up, the town would become a cesspool when it rains."
If Knight had his druthers, the Corps would dredge the Tar to deepen its channel, but the agency refuses to do that because of the damage it would cause the river's ecosystem. The Corps is currently studying other protective actions such as shoring up the levee's low end, but it is not considering big new structural solutions. It is also in the early stages of conducting a broader study of the entire Tar-Pamlico basin that will look at restoring natural upstream environments as well as building flood control structures.
"The Corps has moved away from thinking that if there has been a flood, there must be a dam," says Penny Schmidt, a spokesperson with the agency's office in Wilmington, N.C. "We're also considering nonstructural solutions such as habitat restoration for better filtering and runoff control."
But while the Corps is looking at ways to restore land to prevent floods or at least lessen their severity, other forces continue to alter the earth in a way that continues to put Princeville and other flood-prone communities at heightened risk—and state officials have been slow to address the mounting threat.
Though North Carolina imposed tough rules against wetlands draining before Floyd, swampland in the Tar- Pamlico watershed again faces the threat of development, this time from the federal government. The U.S. Navy wants to build a landing field for fighter jets near the Pocosin Lakes Wildlife Refuge in eastern North Carolina's Washington and Beaufort counties, about 80 miles east of Princeville—a plan that involves filling hundreds of acres of ecologically sensitive wetlands in the river basin. A federal judge earlier this year issued a temporary injunction to halt the project after the Southern Environmental Law Center (SELC) filed a lawsuit on behalf of the National Audubon Society, N.C. Wildlife Federation and Defenders of Wildlife; the lawsuit cites the government's failure to document impacts on wetlands, among other things. But while project opponents have asked Democratic Gov. Mike Easley and state lawmakers to call on the Navy to halt the project, they have declined to do so.
"Of all the places to put this kind of facility, the government has chosen one of the worst," says SELC attorney Derb Carter.
And it's not only wetlands in North Carolina that are under threat from the federal government: a recent report by four leading environmental groups describes how a January 2003 Bush administration policy directive ordered the Corps and Environmental Protection Agency to withhold protection from tens of millions of acres of wetlands, streams, and other waters unless they first get permission from their national headquarters in Washington.7 As a result, wetlands and streams throughout the South—including Florida, Georgia, Kentucky, Tennessee, Texas, and West Virginia—are at risk of serious impairment, to the detriment of downstream communities.
"It is ironic that while the President is touting his goal of a net gain of wetlands, his administration's policy is exposing millions of acres of wetlands, rivers, lakes and streams to destruction," says Julie Sibbing of the National Wildlife Federation, one of the groups behind the report.
Meanwhile, North Carolina continues to lose natural forests and other open space to urban sprawl at a fast rate, and the state's land conservation efforts are chronically underfunded. In its latest session, the legislature did give the state's public land trust funds financing authority to purchase parkland and to create open-space buffers around military installations. However, it declined to provide the Clean Water Management Trust Fund with the $38 million boost it requested to help meet its land protection goals. In all, the fund estimates that it needs about $10.5 billion to carry out its mission, but its latest appropriation was only $62 million.
Also in the recent legislative session, state lawmakers failed to adopt tough stormwater rules that would have provided strict flood protections for downstream communities, instead catering to wealthy pro-development interests8 by adopting a compromise measure that will not regulate runoff in many of the fastest-growing parts of the state. The stormwater rules ended up on the legislative agenda after the state's Environmental Management Commission (EMC) crafted regulations that were rejected by the Rules Review Commission (RRC), an obscure body granted veto power over administrative rules by lawmakers pursuing an anti-regulatory agenda. The SELC and the EMC have both filed lawsuits over the RRC's decision that are still pending.
Todd Miller, executive director of the N.C. Coastal Federation, helped craft the rejected stormwater rules. "The rules commission's action ignores years of hard work and dedication by local governments, state agencies, university scientists, and interested citizens to create stormwater rules based on sound science and practical solutions," he says. "It looks like the rules commission doesn't listen to anyone but the developers."
But at least North Carolina has a rule in place protecting its wetlands. Some of the states with the largest at-risk wetland acreages offer little or no state protection, including Georgia, Louisiana, Mississippi, South Carolina, and Texas.
At the same time North Carolina is failing to do all it can to ease stormwater runoff, the state is taking other actions that could further impede the Tar's flow. The N.C. Department of Transportation is pursuing plans to build yet another highway bridge across the river just upstream of Princeville in Tarboro. Officials with the Pamlico-Tar River Foundation in Washington, N.C., oppose the project but have called on highway officials to at least completely bridge the 100-year floodplain to keep from worsening the flood risks. While state transportation officials have said they would consider that more costly option, they have not yet made a final decision.
Pamlico-Tar Riverkeeper Heather Jacobs says she hoped Floyd would open officials' eyes to the risks of such projects, but that's not the case. "It's amazing how quickly people forget," she laments.
But the people of Princeville have not forgotten what happened five years ago, and they live in dread of the next big storm. As summer morning gives way to afternoon, the fog obscuring the town's welcome sign lifts and the sun shines briefly. But as evening approaches, storm clouds once again begin to gather overhead, and children dash to the safety of home across gravel streets still pocked with deep puddles from last night's downpour.
Inside her new white trailer on Tyson Street, Louise Latham—a senior citizen like almost half of the town's residents—recalls what happened that day five years ago when she woke to find the river pouring into the trailer she had bought just a month earlier. Struggling through fetid, waist-deep water, she made her way to a nearby rooftop where she was rescued by boat, only to face living in temporary housing for months on end, until she was able to purchase a new home with insurance money.
As Latham tells her story, thunder rumbles in the distance. She leans back on her sofa, pushes aside the curtain and nervously peers out the window. "It was devastating," she says in a quiet voice. "Now every time it rains, you start thinking."
Notes
1 See African Americans and Climate Change: An Unequal Burden, Congressional Black Caucus Foundation, July 2004.
2 Riggs' talk, titled "Anatomy of a Flood," was published in the book Facing Our Future: Hurricane Floyd and Recovery in the Coastal Plain, edited by J.R. Maiolo, J.C. Whitehead, M. McGee, L. King, J. Johnson, and H. Stone. Coastal Carolina Press, Wilmington, N.C., 2001.
3 For summaries of American Forests' urban ecosystem analyses for Montgomery, Ala.; Mecklenburg County, N.C.; Knox County, Tenn.; Adanta; and other Southern communities, visit www.americanforests.org/resources/urbanforests/analysis.php
4 North Carolina Forests at a Crossroads, Environmental Defense, March 2004.
5 Crossroads: Congress, the Corps of Engineers and the Future of America's Water Resources, National Wildlife Federation and Taxpayers for Common Sense, March 2004.
6 See Understanding Climate Change for North Carolina: Our Choices, Our Children's Future, Amber Munger and Michael Shore, Environmental Defense, October 2003.
7 See Reckless Abandon: How the Bush Administration Is Exposing America's Waters to Harm, Earthjustice, National Wildlife Federation, Natural Resources Defense Council and Sierra Club, August 2004.
8 See "N.C. Home Builders Association & the Sprawl Lobby," Democracy North Carolina, October 2003. Made up of the N.C. Realtors and the N.C. Home Builders Association, the "sprawl lobby" contributed about $478,000 to state lawmakers in the 2002 election cycle. That's more than any other interest group and far more than environmental political action committees, which contributed a total of only $23,500 to legislative candidates in the 2000 and 2002 election cycles combined.
Tags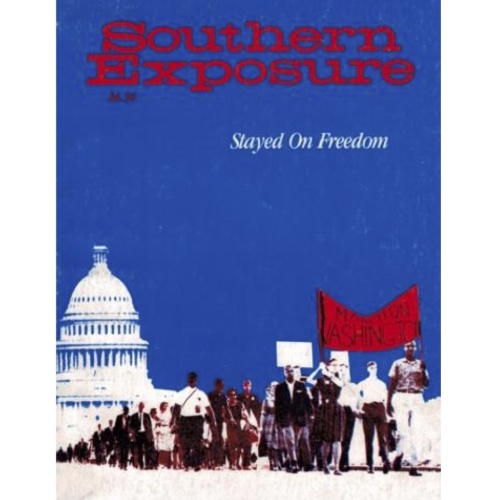 Southern Exposure is a journal that was produced by the Institute for Southern Studies, publisher of Facing South, from 1973 until 2011. It covered a broad range of political and cultural issues in the region, with a special emphasis on investigative journalism and oral history.