Wood pellet plant expansion targets N.C. environmental justice community
The small town of Ahoskie sits on the edge of Hertford County, in the rural northeastern corner of North Carolina. The mostly Black county is among a cluster of the poorest in the state and is part of the South's Black Belt, a region that before the Civil War was shaped by the plantation system and now by poverty, disparities in education, and poor health outcomes. Hertford has been ranked one of the state's unhealthiest counties, at 89th out of 100, with heart disease and cancer posing the greatest risks for residents.
For the past 18 years, Ahoskie residents have faced another health challenge from the local operations of Enviva, the world's largest producer of industrial wood pellets. The process of manufacturing wood pellets — from cutting down trees to transporting logs to be dried, compressed into pellets, then shipped overseas — releases massive amounts of carbon dioxide, volatile organic compounds, and other air pollutants. The emissions have been linked to health problems including cancer, respiratory illness, birth defects, and organ damage. 
The state Department of Environmental Quality is now considering whether to issue an air quality permit allowing Enviva to increase pellet production at its Ahoskie facility from 481,800 tons to 630,000 tons per year. Fighting the plan is a coalition called Impacted Communities Against Wood Pellets that includes affected local residents as well as Dogwood Alliance, a Southern forest advocacy group based in Asheville, North Carolina.
In its permit application, Enviva promises to upgrade equipment to cut dangerous air emissions by burning them. But the increased capacity would result in 47% greater greenhouse gas emissions from the plant, which is already emitting 163,000 tons of greenhouse gas emissions annually. It would also require more of North Carolina's trees to be cut down to produce the wood pellets, which are burned to produce electricity primarily in Europe. Recent data from the U.S. Forest Service shows that in the local region where Enviva operates the Ahoskie plant and two other wood pellet mills, the amount of harvesting for fuelwood exploded from just over 500,000 green tons in 2011 to 4.8 million green tons in 2019. 
Besides asking the state to deny the Ahoskie expansion and all permits for the wood pellet industry, the environmental coalition is calling on the state to study the climate, economic, and community impacts of the industry and to consider a mechanism for calculating just how much carbon a permit holder emits. 
"This is not a solution or an improvement over other carbon emitting burning industries," Dogwood Alliance Director of Community Engagement Emily Zucchino told Facing South. "If I could say anything to Gov. Cooper right now, it would be, 'Be the climate champion that you have claimed to be.'"
Enviva is a publicly traded company founded in 2004 and headquartered in Bethesda, Maryland. Though it's not currently profitable, its revenue has grown 17% a year over the last five years, and its stock value has climbed 133% in the same period. The company now has corporate offices in Raleigh, North Carolina, and internationally in Berlin, Tokyo, and York in the United Kingdom. But all of its wood pellet production plants are in the U.S. South: one each in Alabama, Florida, Georgia, and Virginia, two in Mississippi, and four in North Carolina. 
The four North Carolina counties where the company operates plants received Tier 1 designations from the state Department of Commerce, meaning they are the most economically distressed, with the highest rates of unemployment and lowest median household incomes. Each county has a higher Black population than the state of North Carolina's, which is just over 22%: 60.7% in Hertford County, 56.7% in Northampton County, 32.2% in Richmond County, and 26.1% in Sampson County.
Ruby Bell is an educator at Mount Olive College who sees clouds of pollution coming from the Ahoskie plant on the commute to her home in nearby Sampson County. She was among the North Carolina residents who testified against the permit request at an August hearing, describing how when she visited a friend who lives near the plant she woke up the next morning with a cough, burning eyes, and a runny nose. She doesn't think it's mere coincidence that companies like Enviva are operating in communities like hers.
"We're undervalued. The poor communities are always shafted or crapped on," Bell told Facing South. "And they don't care."
Tags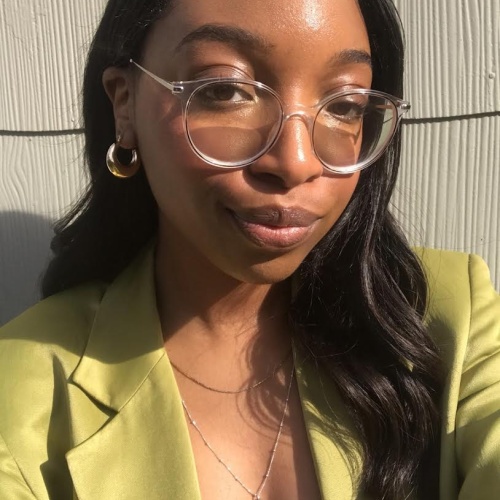 Makaelah is the 2022 Julian Bond Fellow. She previously worked as a reporter for the Watauga Democrat and interned as an editorial assistant for the nonprofit advocacy group Appalachian Voices.