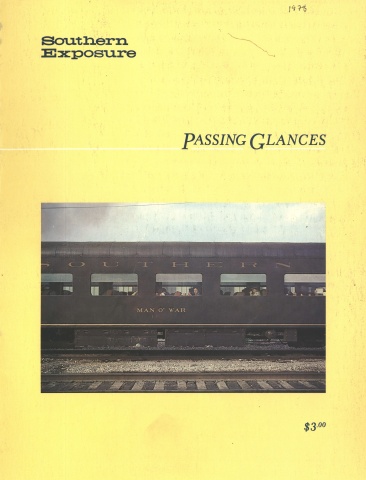 This article originally appeared in Southern Exposure Vol. 6 No. 3, "Passing Glances." Find more from that issue here.
Who exactly — them or me — first came up with the idea, I'm not certain. No matter. The institute for Southern Studies staff asked if I would take out six months to travel the South as a reporter for the Institute's then-new syndicated weekly column, Facing South. Captive to Southern fondness for poking about the region and to that larger American myth about freedom deriving from travel, I claimed the job before any list of applicants could be gotten up. 
A new van was purchased and fitted out with a bed, typing stand, CB and regular AM-FM radio, specially cut mosquito netting, and a fan. The Institute's charge dictated that I'd see the rural South, not too much of the Interstate/urbanized South. Places like Ville Platte, Louisiana; Ink, Arkansas; Ripley, Mississippi; Pickens, South Carolina; and Fincastle, Virginia. The blessings of this constraint came vividly to mind when my path intersected an Interstate cloverleaf in Georgia — typically crammed with service stations, motels and fast food franchises. Over the door of one eatery hung a banner proclaiming "Join the Fun — Eat and Run. " All told, I logged nearly 28,000 miles between May and October, 1977. 
I kept an eye out for the little things. Graffiti, for example. In the rest room of a Charlottesville, Virginia, vegetarian restaurant I found: "Mother made me a homosexual." Below, in another's writing, "Frantastic! If I bought her the yarn, would she make me one?" Or signs, like one on a New Orleans building: Straight Business College. And listened for larger themes, not at all certain I could hear them — but knowing that these, too, were a Southern tradition going back at least to the days of Fannie Kemble's Journal of a Residence on a Georgia Plantation in 1838-1839, the powerful attach on slavery, and William Byrd's History of the Dividing Line Betwixt Virginia and North Carolina, the travelog some assert first described "the good ol' boy. " 
At the truck stops or cafeterias, in the state or national parks where I usually slept, or in the fetid motels, I encountered a diverse people trying to get along, trying to make some sense out of the political and economic forces buffeting their lives, and trying to be other than the gussied up impersonations of themselves portrayed on prime-time TV. 
Some were angry, some hurting, others feeling good about themselves. Many were distressed. And no one seemed terribly excited that Jimmy Carter, a Southerner, was in the White House. But then, no one seemed to expect much from Washington except costly trouble. Often there were surface contradictions to think on. 
Verlie Foskey — a barrel-chested man who has been making asphalt for the roads around McRae, Georgia, since 1947 — is at heart as ardent an environmentalist as you'd find in the Sierra Club. Most evenings, after overseeing the mixing of asphalt all day, he and his wife walk in the woods or to a nearby lake to quietly meditate on the beauty surrounding them. Asphalt, he said, is the best roadbuilding material available. "It can be pulverized, and things will grow there again. But not concrete. Concrete buries everything. Nothing will grow after it's been poured. Every road should be made of asphalt. '' 
In Stearns, Kentucky, I found myself amidst over a hundred angry striking coal miners, sticks and dubs in hand waiting for state police to try to break their picket line. They had shut down Blue Diamond Company mine eighteen months earlier, protesting dangerous working conditions. Democrats, you'd assume, in the tradition of John L. Lewis and all the advocates of equality for the working man. As we talked, I learned most of them voted Republican. They paid lip service to the need for a revival of the Ku Klux Klan. Shortly after, they were set upon by nearly two hundred helmeted, well-protected state police. After a swift and bloody fight, eighty miners were arrested, the largest number of United Mine Workers ever jailed at a single picket line confrontation. 
At Gulf State Park, east of Mobile, I talked with an engaging young dancer. On stage, his gift for ballet was obvious. He had balance and grace, and a practiced sureness of movement during each of a variety of complex roles, modern and classical. His easy confidence offstage belied his origins in a tiny Alabama cotton mill village, a community, he said, still uncertain if it should be delightedly proud or mutely ashamed to have spawned a male dancer. 
Obviously, the images of the South during the mid-Seventies were skewed by the region's past. There may be a Sunbelt, but unlike Kemble or Byrd I found no typical Sunbelter for easy stereotyping. Still, race relations, or recollections linked inextricably with how blacks and whites have worked out ways to live with one another, intersected the trip as surely and frequently as the ever-present Interstate. 
I Did It For the Law 
Ever since police in Scottsboro, Alabama, arrested nine young black men in the 1930s on charges of raping two white women, writers have been coming to this north Alabama town. Hard news, speculative pieces, lofty comment, propaganda, countless books and magazine articles, several plays and a television show have been written about the Scottsboro boys. So, fancying myself a writer, / arrived at Scottsboro aiming to take my turn at the story. 
At the cafe where the eiders gather daily, I was greeted with the suspiciously curious looks reserved for strangers in small Southern towns. I learned nothing. At the post office, where I stood in line waiting to mail letters and hoping to hear even a smidgen of a lead, I again learned nothing. At the newspaper office, they immediately sensed my purpose. Their eyes clouded over and they politely offered non-information. Scottsboro had had enough of Scottsboro stories. No one ever said that, but you could feel it in the air of the uncharacteristically quiet newsroom. I left town figuring I'd never write my Scottsboro yarn. 
I was wrong. At Tuskegee Institute, way to the south, I met Dr. Lewis Jones, a sociologist and legendary raconteur. Near retirement now, Dr. Jones has been at Tuskegee since the days when, as he said, "two responsible persons, meaning whites, of course, had to vouch for a black man before he could vote. " During an evening of exciting conversation, Dr. Jones got to talking about Southerners who, in his judgement, ought to be remembered for principled positions they took in spite of popular sentiment or reaction. Judge James Edwin Horton was one of those persons, according to Dr. Jones. 
"You know, after the trial, Judge Horton was not re-elected. People were determined he'd have no peace. He had to leave Athens where his family had lived 1 50 years. He tore his father's house down piece by piece and moved it to a farm in a community called Greenbriar, and there he rebuilt his family home. 
"I was in Greenbriar in the Fifties. I forget the year. But we were doing a study of the changes in farm production in Alabama. And so one day I was up there interviewing people in this county — tenants mostly — what they were doing, how they were getting along — the whole thing. There was this big white house in the middle of grazing land with Black Angus all around it. As I talked with the tenants on the place, I asked them, was judge Horton's place. 
"Well, they told me stories about Judge Horton. An Alabama legislator lived across the road and when he changed from mules to tractors, he sold his mules to his sharecroppers to make them tenants. The legislator charged $450 a pair for the mules. Judge Horton sold his mules to the glue people and made arrangements with tenants who could drive the tractors to use them for cultivating their own crops. The older ones, or ones who couldn't drive tractors, would pay the wages of the tractor drivers to do their cultivating. Another story they told me was how, as the crops would be harvested, Judge Horton would come by and say, 'Let's not be greedy. Prices are good. You'd better sell now.' He would even talk with them about selling. He was a Christian gentleman. 
"One of my old friends who used to teach at Tuskegee was up there in Scottsboro at the time of the trial. He said that when they were going to the case, he went by to see Judge Horton. His wife said, 'The Judge is praying.' My friend said, 'Well, I know he'll do right by them.' And she said, 'Well, the Judge is praying and he's going to do what his conscience tells him.' 
"So I was sitting there one day on one of his tenant's porches and I see this tall Lincolnesque man in suntans out there fiddling around with some machinery in a shed. The tenant said, 'That's Judge Horton.' Well, I'm going to meet Judge Horton. So I go over there and introduce myself to Judge Horton and tell him I'm doing this survey. He wasn't concerned. I'd talked with many tenants where their landlords were very concerned. 'You all right?' he asked. 'Nothing happening?' 'No,' I told him, everything was all right. He was curious as to what I was finding out. So I told him my tentative findings and I started to congratulate him on his role in the Scottsboro case. He told me, 'Well, you know, they tried to invite me to dinners and give me some awards or medals or something. But, you know, I didn't do it for the niggras. I did it for the law. You've got to respect the law.' 
"I didn't know what to say. I didn't have anything else to say. Well, he's a man who should be remembered." 
We Had No Choice 
In Mississippi, I found a forgotten side of Southern history. For two men whom history had decided against, recollection of their actions was still painful. Under duress, they had taken part in a haunting episode that forever changed the way many people felt about the South and catapulted one woman into deserved and enduring recognition. Late one steamy, rain-showered August afternoon I pulled off a jolting road, Highway 51, into Winona, Mississippi. By luck, when I stopped beside a gas pump for refueling, I found a Winona police car beside the van. Inside was a black policeman, a surprise in itself. Before he could drive off, I asked if he might have known the late Mrs. Fannie Lou Hamer. Yes, he said, cautiously, not knowing what a white stranger might be wanting. Did he know she had been jailed in Winona during the Sixties? Yes, he said, again with caution. As easily as possible — and blurring the word beating rapidly — I asked if he knew how I might find the men who had beaten her in the jail. His eyes hesitated for only a moment. The former sheriff lived directly across the street. He was retired. The highway patrolman lived less than a mile off. He was still on the force. Two others, the men I had come to search out if possible but whose names and feelings had never been recorded — William Poe and Roosevelt Knox — still lived in town. He directed me to their houses. A third man, he said, known only as Acorn, had moved away to the Delta years before. 
That night, after I'd found a campground and had eaten, I returned to Winona to find Poe and Knox. This was the history I wanted to learn more about: 
On June 9, 1963, a bus destined for Greenwood, Mississippi, stopped at the Trailways bus station in Winona for a short layover. On it were five Mississippians returning home from a Community Development and Voter Education Workshop in South Carolina. A sixth member of the group, a civil rights worker from Atlanta, travelled with them. At the time, the notion of blacks voting in Mississippi was both outside the law and beyond the emotional reason of most of the state's white citizens. 
All but one of the group got off the bus either to go to the rest rooms or the lunch counter, both supposedly open to them by federal law — but only recently. They had barely set foot inside the station building when Winona's chief of police and a highway patrolman, the warning lights on their patrol cars flashing, drove up beside the parked bus. The travelers were pushed into the police cars, and when their companion, Mrs. Hamer, got off the bus to see if she could help her friends, she, too, was pushed and kicked into the police car. 
They were taken to the Montgomery County jail, maybe three country blocks from the bus station, charged with failing to move on and with resisting arrest. Then, individually, they were savagely beaten, first by police until they were exhausted, and then by three inmates ordered to do so at pistol point. Poe, now thirty-nine, and Knox, now thirty-seven, were two of those men. 
FA: What were you in jail for at the time? 
Poe: They had me for peepin' tom at the time. I'd come in that Saturday night from work. I had been pulling corn. Headed home. And, ah, I got at the house and started in the yard, and he called me back to the car, the sheriff did. He asked me where I was going. I told him I was going to the house. He opened the door and told me to get in the car. He got me in the car and then he went on 'round to another street and told the other cop, "I got him." He took me up there to the jail, and I couch and went to sleep. I hadn't done nothing. 
Knox: I was in for bad checks. 
FA: What were you both doing that Sunday, the next day? 
Knox: I was laying 'round. It was hot. 
Poe: I had been laying 'round. I had been in the back washing out clothes. 
FA: Can you tell me what happened when the prisoners arrived at the jail? 
Knox: We heard a commotion up front. We went to the door and peeped. They was beating those peoples with a tractor tire. I wouldn't beat a mule the way they was beating on 'em. 
FA: Who was beating who? 
Poe: The police was beating on those women and that young man. 
FA: Who were the police? Do you remember their names? 
Poe: Was John Basinger...ah... Tommy Herod — he's dead now — Mr. Partridge. Surrell, Bill Surrell…ah... there was five of 'em. I can't think of all their names. 
FA: Did you know any of the people they were beating? 
Knox: Never seen 'em before. 
Poe: No. I hadn't seen 'em to know 'em. I had heard of her. 
FA: Who? Mrs. Hamer? 
Poe: Yeah. I heard she had some people out here in Kilmichael, and I know'd some Hamers out there, but I didn't know her. 
FA: How long did you peep at the police beating the prisoners? 
Knox: Until we heard 'em say they was coming back to the bullpen where we was. 
FA: What did you do then? 
Poe: I went to the back and started washing. 
Knox: I got back on my bed. 
FA: Then what happened? 
Poe: They brought 'em back there with us. In the bullpen. They put the women in the bullpen with us. Baysinger, he said, "Get your black ass up here." So I went over to them and he gave me a slapjack and told me to start hitting. All of 'em told us to beat 'em. They were cussing. They said, God damn, if we didn't do it they was going to get us. He had a pistol on me. There was nothing I could do. 
Knox: Then he told me, "This nigger ain't hittin' her hard enough. You try." What could I do? I had no choice, no choice. We had no choice. 
FA: Who were you hitting? 
Knox: We was hitting Mrs. Hamer. Yeah...Mrs. Hamer. 
FA: How long did you hit her? 
Knox: I don't know. It was awful. 
Poe: So afterwards I think they gave us some whiskey. They all went out after they put them in other cells. They didn't want us to talk with them people.
FA: Did you ever talk to them? 
Poe: Oh, yeah. We'd slip notes. I think they had eavesdropped the jail. So we didn't talk much. I talked to the fellow some. We waited on him. He was in the bullpen. 
FA: Were you able to help them at all? 
Poe: Oh, yeah. I slipped and made a phone call.
FA: How did you get out? 
Poe: Oh, they'd let me out to do work, and I'd slip and make phone calls. 
FA: Who did you call? 
Poe: I don't know. They gave me a number. It was one day on up in the week. They gave us a number they meant to call. In a few days they got out. They made their bond, I guess. A day or two later, they took us out of the jail and kept us at the courthouse. We was there when their folks came and got 'em. 
FA: How did you feel having to beat someone? 
Poe: I felt terrible. Terrible. 
Knox: That left me with a troubled mind. When I see police...what do you call it...hurting someone, I can't help but think on it. I wake up some nights with it on my mind. It was terrible. My family come up that afternoon late. They brought me some food. I didn't eat nothing. I didn't talk much to 'em. They asked me what was wrong. I couldn't tell 'em. I couldn't eat they food. They know'd something was wrong, but I couldn't talk about it. I didn't want to think on it. 
Poe: They might have thought we hated them the way the thing happened. But we had no choice. 
Knox: We had no choice. We had pistols on us. 
On September 12, 1963, the Winona Times reported: 
"The Justice Department Monday (editor's note: September 9) charged five law enforcement officials in Mississippi with kicking and beating Negro prisoners. 
"The seven-count information was filed in United States District Court at Oxford under civil rights laws. 
"Named as co-defendants were Earl W. Partridge, sheriff of Montgomery County, which includes Winona; Thomas J. Herod, Jr., police chiefof Winona; John L. Basinger, a state highway patrolman; and Charles T. Perkins, a former patrolman. 
"The Justice Dept, charged the defendants themselves beat, or directed other Montgomery County Jail prisoners to beat: James Harold West, June Elizabeth Johnson, Lawrence Guyot, Fannie Lou Haner(sic) and Annell Ponder. 
"One count charged the officers with conspiracy to deprive the Negroes of their constitutional rights. The other six counts charged specific beatings. 
"Maximum penalty for each of the five defendants could be a year in prisonanda$1,000 fine on each count. " 
On December 6, 1963, a jury returned a verdict of not guilty against the lawmen in U. S. District Court, according to records there. Poe, who testified for the Justice Department in the trial, was returned to Parchman Prison to complete his sentence for peeping tom. Today, he works as a laborer in a lumberyard and lives in Winona. He is not married. Knox, who also testified for the Justice Department, also returned to Winona. He is married, the father ofnine children, and while partially disabled, works parttime as a night watchman in the same lumberyard as Poe. 
Proud to Dig the Grave 
Few events during the Sixties transfixed the nation as did the assassination of John F. Kennedy. The great and mighty gathered at his graveside, a place dug by men never glimpsed by the throng, but with great pride in their labor nonetheless. 
In the shocked aftermath of the death of the young president, Metro "Mitch" Kowalchick, Sylvester Smith and Clifton Pollard dug the president's grave but were ignored by history in their necessary ritual task. I talked with them in Arlington National Cemetery on a sunny, but chilly, spring day. 
Kowalchick: As I recall, President Kennedy was assassinated on a Friday. Like I guess everyone else, I remember the exact date and what I was doing when I heard the news. I was working at Arlington National Cemetery as a cemetery assistant. I was in charge of burial operations. That particular day, I was participating in a supervisory or middle management course. We were having a coffee break after which we were to receive our certificates. One of the fellows who was attending the course called home. He came back to the table and said, "President Kennedy has been assassinated!'' Ah...this kinda shook everybody up. One of the instructors came down and said they would discontinue the ceremony and just hand out the certificates. We could go. 
When I got back to Arlington Cemetery and the superintendent's office — John C. Metzler was superintendent at that time — I believe news was coming over the radio indicating that he would be buried in his home town. Mr. Metzler had a premonition of some kind. He says, "Mitch, we'd better be prepared. They say he's going to be buried in his home town, but I have a feeling he may come here." 
So we discussed it at some length. Mr. Metzler selected three possible sites. We numbered them on a map, one, two, three. 
The next day was Saturday. It was raining, raining hard. Mr. Metzler called me to meet him at the cemetery. Secretary of Defense McNamara was there and Ted Kennedy for the purpose of selecting a site. Mr. Metzler showed them the map with the three recommendations for possible locations. They immediately selected number one without looking at the others. I think the first site was selected because it was near a place President Kennedy liked. He used to visit the cemetery from time to time. The story goes that at one time he had been visiting on top of the hill up there at the mansion and looking down on Washington. He is supposed to have said, "What a beautiful sight. What a beautiful place. I could stay here forever." Somebody remembered this and I think it had something to do with the site they selected. 
So, as I say, it was raining that day, and raining hard. While Mr. Metzler directed me by eye — he did not use a transit — I drove a stake into the spot. It turned out to be exactly one foot from where he is buried now. When they constructed the present, existing memorial to him, it was necessary to move his body, ah . . . the casket . . . one foot from where Mr. Metzler had sighted by eye. 
We had planned to open the grave sometime Sunday. We figured nobody would be around, and we'd dig it Sunday evening by hand. But as it turned out, when the news got out that he was to be buried in Arlington, the cemetery was loaded with people. People came from everywhere. I still don't know what they were doing there so early. He wasn't to be buried until Wednesday. But they were showing up in droves. Mr. Metzler directed me to dig the grave by machine, and to dig it as quickly as possible. But even so, there were so many people around — even newsmen in helicopters overhead flying above the cemetery — that we built a fence around the site to screen off the operation. 
Smith: Sunday morning the rain was over. I got up bright and early and prepared to come out and open up his grave for him. I was the supervisor at the grave. Mr. Pollard was the backhoe operator. Mr. Kowalchick was there. It was a very sad occasion for me knowing that I was opening it up for one of the greatest presidents. And I hated to do it, but it had to be done. And, then again, as bad as I hated it, it was an honor for me. I didn't boohoo. But there was some tears. 
Pollard: I had no idea when I heard the news that I would be the one to dig the grave. It was an honor, you know. A lot of things crossed my mind when I was digging. I wanted to do the best job I could at the time. I got to work that morning at eight, but they weren't ready to dig the grave until almost noon. We dug it later that afternoon. 
It didn't take too long to do just right. Actually, to dig the grave only took about, I would say, forty-five minutes. Normally, it wouldn't take that long to dig a grave. But we were careful and correct in what we did. I had one or two tears. A lot of people had tears. Sometimes now thinking about it...I think we worked that night until six or seven. 
Kowalchick: While we were digging the grave I was thinking that, you know, the day I bury him I'm going to have all these other burials. How are we going to do all of this? I had no inkling what problems we were going to run into. I had no idea what it was going to be like. 
Monday morning I got up early and came out to the cemetery before we were supposed to open. There were people all over the place. Here again, remember, the burial wasn't until Wednesday. People were coming out in droves. There was a lot going on. We had thirty-one other burials scheduled that day. People wanted to know if the ceremony was going to consist of this, this and that. And there were special units that wanted to participate. No one was inconvenienced because we were burying the President that day. Nobody was rescheduled or cancelled. He was the last one to be buried that day. Everything went off on time. 
By the time the funeral was over, it was actually closing time. The cemetery was closed. We had some hangers-on. The news media were the last. But we finally got them out. We, ah, lowered the casket into the vault, placed the lid on the vault, and back-filled the grave. It was late into the night when we completed the job. We back-filled it, tamped it, and it was all done by hand, and we had sod and we sodded it. The post engineer had built a small white picket fence. It was erected before we left. We worked on into the night so that the next morning the place would be ready. 
Smith: Like I say, I hated doing it. But it had to be done. At first, it bothered me some, but as time goes, I have to bury so many, it has slipped away from me. But I shall never forget it as long as I live. Never. I went home, sat down and hung my head in sorrow. 
Kowalchick: When I got to the cemetery the next morning there were thousands of people already there waiting at the gates. I got here about six o'clock. People were actually sleeping in sleeping bags inside the cemetery, over the wall, and just this side of the wall. We had made no preparations for such crowds. 
Where they walked around the grave became a mud trail. We went down to the warehouses and got canvas and put that down. In no time at all, they had trampled that into the mud. We got our carpenters to build duckboards — wooden walkways — and we put canvas over them. We placed them around the site outside the picket fence. We brought in bluestone to put around the immediate area. Bluestone gave us a problem. It turned out that visitors were picking up the stuff for souvenirs. We had to replace the stone every few days. Finally, we constructed wooden walkways and covered them with canvas. We had to replace the canvas every few days. There were so many people coming out that the canvas just wore out. 
There would be lines of people ten or twelve deep all the way from the Kennedy graveside right down to our main gate every day. At closing time, we had to close the gates and shut some people out. This went on for months. The people never stopped. They never stopped. 
People Lived in Fear 
Bullets are not the only way to end a life's work. The political career of Orval Faubus, who later became world famous for his opposition to public school desegregation in Little Rock, Arkansas, hung in uncertain limbo one night in a Pine Bluff baseball field. 
I found the former governor at the War Eagle Branch of the Huntsville bank where he works as a teller. We talked there and later into the night at his elegant, handcrafted (literally) home, first about Commonwealth College and then about his fateful brush with redbaiting. 
Faubus was making his first run for the governor's seat in 1954. His opponent, the incumbent governor, Francis A. Cherry, had been forced by young Faubus into a primary runoff election. Cherry, apparently shaken by the strength of Faubus' support, charged in a speech delivered Monday, August 2, that Faubus had a pinkish background, that Faubus had been elected president of the student body at Commonwealth College in 1935. Faubus, in 1935, then twenty-five and married, had hitchhiked from his home, a worn farm near Huntsville, to Commonwealth College near Mena, Arkansas, to study, he said, public speaking, bookkeeping, history and literature. He was on a scholarship. He had learned of the school from a mailing his father, Sam Faubus, a socialist, had received. Commonwealth, one of several labor schools across the nation at the time, taught, perhaps more ardently and outspokenly than most, that the Great Depression signalled the arrival of the socialist revolution. The school's aim was to train leaders for that event. 
Commonwealth was under investigation by the Arkansas legislature when Faubus arrived, and the college was finally hectored out of existence by state and federal authorities in 1940. Faubus claimed his election as president of the students was engineered without his knowledge as a front to placate investigators. 
Within a few months, Faubus left Commonwealth. Ideology kept getting in the way of his learning, he said; and the place was not accredited. An evening lecture on economic equality, in which a teacher declared marriage was legalized prostitution, sent Faubus packing. "I immediately thought of my mother who married my father when she was sixteen. Chaste, country girt; never loved but one man. True to him all her life. And I thought if he was going to classify her a prostitute, that was too much for me. That was the straw that broke the camel's back." 
I lived through the Great Depression. I had been teaching school for one year, starting at age eighteen, when in 1929 the Stock Market Crash came. I'd started teaching before I had been to high school. So during the interim between terms of [teaching] school, I'd go to high school two or three months. Took me six years to get through. Then as there would be two or three months left, I would become a timber worker — I was raised a timber worker — and a farmer. I became an itinerant fruit picker. I followed the strawberry harvest one year from Arkansas to Michigan. Pick two weeks in Arkansas, go to Missouri and pick two weeks, then on up to Michigan for two weeks' harvest. On the way to Michigan, we went to Chicago. Our mode of travel was what we called side-door Pullman. We were hoboes riding the freight trains. And every train was covered. Not hundreds of but thousands of workless men. Homeless men. Railroad men without work. I was never completely broke. I never bummed a back door for a handout as I saw many people do. But in Chicago I spent the time in the park. If there was one person sleeping in that park, there was a thousand. They ate twice a day at the Salvation Army soup line. They slept wrapped in newspapers which more affluent people would buy, then sit on the park bench and read, then leave on the bench on purpose for those homeless people to use.... 
It was obvious to anyone that there were what we called then defects of capitalism. It was a time of turmoil. There was no scarcity of goods. Wheat rotted in the fields. Cotton went unpicked. There was want among the people because of the absence of material goods. It was maldistribution. One of my country friends that never could read nor write said, "There never was overproduction. It was underconsumption." We needed overalls. We needed the food. We needed the shirts. But we couldn't buy them. 
But it was in those days that I went to Commonwealth College. It was billed as a labor school. There was no mention of, or thought of socialism or communism, or anything of that kind....But I found it quite different once I arrived. They were more interested in teaching you leftist philosophy than they were in teaching you greater skill or academic excellence in order to make a living....I left without paying anything to become an official student for a semester which was three months, or without finishing any course.... 
Governor Francis Cherry made the charges on Monday night, August 2, over television in Little Rock. The second primary had just opened — the runoff. And it shook my people. It was like firing a shotgun blast into a covey of quail. They were concerned; some struck with consternation; it was a surprise to many of them. Some of my aides knew about it. My own people knew about it. It was no secret to the people of Madison County. They knew when I went down and when I came back. I don't recall any publicity about it at the time, but there doesn't have to be in a small, rural county. It had been twenty years before. In the meantime, I had been elected to county office and made a fairly good record. I had joined the military and served four and a half years and was commissioned an officer in the US Army — actually engaged in undercover work. Then I was home and appointed postmaster. 
I didn't hear the speech. I had been campaigning. But I could sense from the people I met and from my own people that it was a very effective speech. Governor Cherry was quite an eloquent speaker. He was an attorney. In fact, he was chancellor at the time. That is an equity court judge in Arkansas. He was very effective. And I could understand that if the people believed this that I was actually a far left-winger, they would be justified in rejecting my candidacy. But knowing it was an errant journey on my part, or what you might call an indiscretion which I hastened to correct as soon as I could, I believed if I could get this message over to the people that it would not be fatal. 
The big question in people's minds was what's the explanation? So I gave that explanation at Pine Bluff on the night of August 4 on statewide radio hookup. Harry S. Ashmore [executive editor of the Arkansas Gazette] helped write the speech. I never will forget one of the phrases that Ashmore put in there. It was this: "...when I went out from the green valley of my youth..." Well, in those days, people were idealistic. They still believed in the American dream, the rags to riches thing, the Horatio Alger theme — all were very much a part of the scene at that time. Many people were in sympathy with me because of that background. Ashmore had started to write some of it before I arrived at headquarters. I read the first part and I knew it was good. I said fine. That's just what I need. Tell him to keep writing. He was writing all the time. And a runner went back and forth between Ashmore and me bringing portions as he finished. I passed them on to an aide who took them to a typist to put in final form. When we finished we had a speech I guess of an hour long. There wasn't time for all that but there was no time to change it. 
We got to the park and I got out alone. There were groups of people in the semi-darkness. Very few came up to me. Most of them were conversing in subdued tones. It was an air of seriousness that you would envisage if a very dear friend or relative was at the point of death, or maybe had already died. 
In the stands were seated mostly women. Mostly middle-aged women dominated. Of the working class type. You could tell by their dress. I looked at my watch. It was eight minutes to air time. I didn't see anyone to assist me. There was no lecturn to hold the papers. There was just a lone microphone sitting in the baseball field where home plate would be — where the wire barrier separates the players from the spectators. 
I went through a side gate and moved up closer to the people. I liked to be as close to them as possible when I talk. I had a bunch of documents I was going to use — photostats of the testimony that had been taken by this legislative committee, testimony of the president of the college that my name was not among the students there, and things of that nature. I also had the typewritten speech. I had to decide what to delete and what to keep as I went along. 
So I looked for a stone or something to hold the documents. I had to place them on the ground beside the microphone. I had to hold my looseleaf speech. There was a brisk breeze blowing. If I'd lost my speech, the thing would have been scattered and you'd never found it all in time. All I could find was an empty soft drink bottle. Not the most suitable object to hold down the documents. It was round and had a tendency to roll around and your documents could blow away in the wind. 
But I got ready and was prepared to open up and a voice beside me said, "Here, Orval, let me hold those." I looked around and it was a man by the name of Jimmy Karam from Little Rock. As I wrote in my book, which I hope will soon be published, I didn't know if he came to spy. I didn't know if he came out of curiosity. Or if the Lord sent him. But his presence was sufficient. There was not time for explanations or anything. I just handed him the papers and I said, "When I call for one, just hand me the one on top." Then I made the speech. 
I told about my youth. How I grew up. I went over that and then went into the detailed explanation of my journey to the college, what I discovered, and what I found out, and why I left. And then I used those documents which we had researched. The biggest thing they had against me was that I was there and was elected president of the student body. 
As I progressed, the people in the darkness it seemed were unconsciously drawn close to the wire and into the light. At the most critical point in my speech I could see many of the women crying. Wiping their eyes with their handkerchiefs; I knew I was being effective. Once I heard Jimmy say, "Give it to 'em, Orval." I closed out the speech with the issues of the campaign. I think that I explained adequately my presence at the college — how it could happen to anyone — how if I could be smeared and ruined at that particular moment for an errant journey or an indiscretion — that the same thing could be done to their son, or their daughter, or one of them if they were seeking public office or whatever. 
When the speech was over we went back to Little Rock to headquarters. We could tell it was effective. Telephone calls came flooding in. People came back who had disappeared. I think it was a turning point. Then many of the political leaders I couldn't find were voluntarily back at the meetings, were voluntarily back at my headquarters. They came flooding back. You know, it was like a covey of quail recongregating after the danger is gone. And our bandwagon started to roll again. So then people began to say, "Get back to the original issues. They were the ones that made the Governor unpopular." 
I don't recall that I ever entered into active defense of Commonwealth College. But I did not join in its condemnation, and I did not join in the movement to destroy it. They owned their own property. Students came there on a voluntary basis. No one was compelled to go there, or stay. No one was compelled to accept their philosophy. I can see where if you quash and destroy an institution like that because its views are unpopular, that this could destroy freedom of the press, freedom of expression, freedom in education. Now, there's a fine point when it comes to communism, or any subversion. If it advocates overthrow of the government by violence, perhaps that could be made a law which could be constitutional and it would stick. Now if they'll stick to the democratic processes, however unpopular their views — but if you take away the right to express yourself to advocate change through the proper processes of our government, then you are violating the Constitution and you are violating the rights of the people. 
Redbaiting is worse than attempted assassination. I mean physical assassination. If someone tries to kill you, or he succeeds, then it's all over. But if you're smeared, or your reputation destroyed in such a way that you do not have time to repair it in — let us say - a lifetime, that's a pretty heavy burden. And that's a pretty heavy thought. Because not only is it going to affect you personally, it also affects your family and your children. 
This was just about the height of what was known as the McCarthy period where a number of subversives were found in government — enough so that the smear could be extended to many, many others. People lived in fear. I could have been ruined and been denied the governorship by the accusations. 
Before the trip, these places — Scottsboro, Winona and the others — were merely names, pieces in an abstraction entitled The South. Their meaning as places has now become real and alive. No transcending images emerged for me as they did for Fannie Kemble or William Byrd. Nothing I write will add fuel to a civil war or establish the character outlines for a new stereotype. Perhaps what I learned and am learning — and the trip is not over, for memories keep surfacing — is that beneath the cordiality of traditional Southern history lies an abundance of human poignancy which may fruitfully add to our understanding of this unique region. 
Tags
Frank Adams is author of Unearthing Seeds of Fire: The Idea of Highlander, a teacher and long-time friend of the Institute for Southern Studies. He is writing a biography of Jim Dombrowski. (1982)
/*-->*/ /*-->*/ Frank Adams interviewed Mrs. McEwin while traveling through the South for the Institute for Southern Studies' syndicated column, Facing South. (1979)