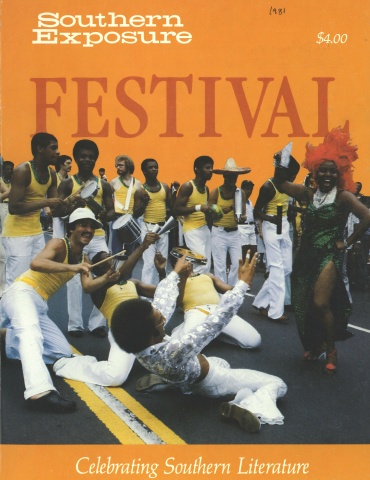 This article originally appeared in Southern Exposure Vol. 9 No. 2, "Festival: Celebrating Southern Literature." Find more from that issue here.
The imposed identity of "hillbilly" once made many young Appalachians ashamed to be from the mountains — caused them to turn away from their own history in migrations both physical and psychological. But appearing in the mountains today is a literature of "hillbilly nationalism." Young writers in Appalachia are exploring and embracing their mountain identity. This embracing of a despised past is more than a declaration of identity; it is a dawning of political consciousness. 
The majority in this country has always specialized in making the minority — Appalachian, black, Irish, chicano — accept the majority's version of what the minority's identity is and must be: you are a hick, hillbilly, nigger, and that's a shameful thing, says the majority, and the minority sometimes accepts the judgment. When this exchange is broken there is a revolution in consciousness, an awakening: yes, I am black, but black is beautiful. 
But the dawning of political consciousness is not that simple, for it involves much more than just a declaration of identity. Achieving awareness means, first of all, seeing yourself — how you may have been manipulated; how you have played someone else's game, complete with someone else's rules; how you have been fooled, tricked, sent on this gull's errand or that; how you have been duped. This vision of self is searing. It drives some mad, some blind. It has put out the eyes of many a would-be revolutionary who cannot contain the paradox of his or her own complicity in victimization. 
While many young Appalachians find mutual comfort and support in the growing numbers of those who have awakened politically, there is no comfort in the larger number of their neighbors and cousins who have not recently changed. That irony is nowhere more starkly illustrated than in a little book called Generation, the 1978 publication of the Eastern Kentucky Youth Media Work shop. There, side by side, you can find the paradox of Appalachia's current politics. On one page, we find an almost standard version of revolutionary rhetoric: 
With the exception of the American Indian, no people have been victimized more than Appalachians. Their land is scarred from years of timber and mineral exploitation, and now their cultural heritage is being drained of all virtue and dignity. More and more the mountaineer is being made to feel like an immigrant in his own land. 
Immediately after this declaration is a statement of now-standard Sacred History: 
The time has come to disregard the old image of dirty, unkempt, barefoot people carrying their trusty rifles and corn jugs. They must now be recognized as what they are and what they can be. They are descendants of independent frontiersmen, feuding clansmen and hillside farmers. They are a proud, loyal and independent people, but they are tended to be bound by the sacredness of home and family. 
This romantic vision indicates a powerful awakening coming over the young author and gives him or her something to cling to in the quest for social and cultural identity. On another page in Generation we find a much more startling and profound version of a political state of mind, written collaboratively by a group of fifth graders in Breathitt County, Kentucky: 
First One in the Van 
I wish I had this and I wish I had that. 
I wish I had a set of mag wheels . . . some 
more of them. 
I wish I had a green bicycle. 
I wish that old foolish mule over 
there was gone, it about killed me. 
It drug me through the creek and 
through the grass. 
I wish I had me a big black race horse. 
I wish I had my bam built. 
I got my old barn tom down and 
built me another. 
I wish I had me a lot of money. 
I wish I had a '72 Nova!  
I wish I had my bridge fixed. 
I wish I had a set of side pipes . . . 
you know, they make it pop and sound 
louder. 
I wish I had me some coal in. 
It's going to be going up to $35.00 a ton! 
I wish I had my cement porch fixed. 
I wish I hadn't let Jiggers go. 
It's a circus dog and would stand 
on its hind legs. 
I wish I had a c.b. base station – 
you could talk right with Jackson. 
I wish the bumblebees would stay 
out of this van. 
The best of the young mountain writers have seen themselves both as victims and as collaborators with the enemy. They have come back home and yet stand off in that "suburb north of themselves" (as Jim Wayne Miller called it). They are wise enough to know that the first one in the van — so to speak — is not necessarily the one who believes Appalachia can be returned easily to some state of purity. The best of the young mountain writers have killed the beast in their own hearts and yet live wrapped in its arms. 
Jim Webb, born in Letcher County, Kentucky, and now a resident of Mingo County, West Virginia, is in many ways representative of the best in the current Appalachian identity movement. A serious poet and playwright, Webb possesses an awesome wit. He teeters on the paradoxes. He might be called the Clown of the Appalachian Apocalypse. 
Webb went to high school in Hazard, Kentucky, where the local middle class presented — and presumably still does — a textbook example of the colonized mentality: ashamed of being associated in any way with "mountain" or "hillbilly," intent on out-mainstreaming the mainstream, the sons and daughters of the town (who likely had cousins in the hills but who could not wait to be professionalized and credentialed and homogenized into that majority society) learn to talk like Tom Brokaw or Jane Pauley and learn to look like them, too. 
Jim was apolitical in school. He resisted the middleclass enticements and inducements only because he was lucky enough to be inattentive. By his own admission, he was more interested in the ways of the flesh than in the road out of the mountains to Success. Later, in college at Berea — that strange nursery of both genteel sensibilities and radicalism — he did not respond to the political rumblings he heard around him. During two college summers Webb worked for strip miners, first on a crew that was faking the restoration of the land and then participating — with considerable pride — in the removal of mountaintops. 
He woke up with a jolt. As a not-very-involved hanger-on at a Save Our Mountains rally in Summers County, West Virginia, he happened to see Bob Gates' independently produced anti-strip-mining film "In Memory of the Land and the People." 
"For the first time I saw what was happening," Webb says. "I had lived every moment of my life where they strip-mined coal." Gates' film was "a veritable turning point" for Webb: "I don't feel I came anywhere close to being a poet until I started writing strip-mine stuff. Before that I was just doing bad Rod McKuen imitations." 
Then came the Appalachian flood of 1977 which devastated Williamson, West Virginia, where Webb was living. That flood — caused largely by the inability of the hills, raked clean by strip mining, to hold the water of a heavy downpour — helped radicalize Webb. He helped begin the Tug River Recovery Center, and he started to write a more politically intense poetry. After the flood he helped edit a little book of protest poems, Mucked, and he wrote his first play, Elmo's Haven, a rollicking political satire that played three performances in Williamson in May, 1980. 
Webb writes some of the most sardonic and arresting lyrics that can be found in the Appalachian renaissance. For example, his "America": 
America, 
You are my teeth, 
Rotting even as I live. 
My tongue 
Searches out the pain. 
One tooth rotted to near nothing 
Hurts even now. 
All of them are filled 
Or capped. 
Some have gone, gone forever. 
Coke bottle, Dairy Queen, popsickle, 
Chewing gum, Milky Way, Forever Yours 
Rot. 
Some I lost head first 
On a concrete street. 
Your fire department 
Hosed away the blood and 
tooth pieces of my mouth. 
You capped the shards 
With plastic and assured me 
The gaps would close with time. 
They did. 
But others cropped up, America, 
And holes remained. 
My plastic teeth 
Look real, America, 
Except for the black line 
Of real tooth stub, dead 
Black bone: no blood, 
No nerve, no sun bleach 
Like bones in your desert 
West, America. 
Others have the look of 
Death. 
Most work, though none are 
Good. They still crush 
Hot dogs & apple pie. 
But sugar daddies devour them, 
America. 
No, I won't stand in your line, America, 
But I will chew & chew & chew, gnash & gnarl 
Till they all fall out, every last 
Lead silver gold bone plastic 
Tooth. 
I'll watch them fly in my spit 
And never never take your 
Set of plastic perties, 
But I will 
Gum you till I die. 
There's a submerged stereotype in this poem: the old snaggle-toothed hillbilly, teeth rotted out from poor nutrition or from "bad genes," grinning at us with a new, sly, much more dangerous awareness. There's a melding here of the personal and the national, the confessional and the political. Above all, this is public poetry that runs distinctly counter to the private obscurities that are now so much in fashion both with those academics who toss around such terms as "post-modernism," and with those few Appalachian poets who seem to associate profundity with impenetrability. 
The overt politics of Webb's "America" emerge more as a frame of mind than a program or policy for change. In the Appalachian identity movement, the relationship between the self and what the self describes is always profoundly political, though the politics may be implicit rather than explicit. For example, Webb's "Hog Killing" may be an anti-strip-mining poem, but it is first a haunting lyric full of carefully observed detail. The final image — "Men standing / In the cold — freezing and dreaming / Of eggs" — touches one of Webb's favorite themes: the ironies of complicity, the colonized doing the work of the colonizers, dreaming their borrowed dreams. 
Nowhere in Webb's poetry is that theme of complicity more fully — and hilariously — developed than in his long tour-de-force, "Pike County: Doo Dee Oomp Wah Wah." It is a jazzy satire of the mountain middle class and that characteristic state of mind — whether one finds it in the high school at Hazard or among the well-to-do of Pike County — that has made broad the way for corporate America to come into the mountains and for Appalachian children to go out. This is the opening section of the poem: 
I 
look at you & your hillsides 
Pike County 
Rich Christian County 
In the Bible Belt 
More gospel groups 'n 
ennybody 
county 
And I scratch my head and 
Wonder bout all those times 
I read the Bible (the world's 
Largest selling book, they say) 
yes, I know 
For the Bible 
doo dee ooh wah wah bop 
she bop doo dee ooh wah wah 
Oh yes & verily 
THE BIBLE, The Bible 
Tells us so 
doo wah 
doo wah 
My mountain mind reels 
As I look at you, Pike, the 
True Cinema Verity. 
Jim Webb has been both academic and roustabout: until recently he taught English at Southern West Virginia Community College (endearing himself, you can be sure, to the powers that be), and he has been punched out at a public meeting in Mingo County after he voiced his opposition to Island Creek Coal's plan to open up new stripping operations on 68,000 acres. He knows an Appalachian Stepinfetchit when he sees one; he knows the desperation and frustration of honest people in the grip of corporate power; he purges these ironies when he can in a poetry that is characteristic of an entire literary stirring in the mountains. He is in many ways paradigmatic of the current Appalachian literary reawakening. 
Many others of Webb's generation are writing in the mountains. Some have been heard from already, will be heard from again. For example: Bob Snyder, who describes himself as a "marginal white-collar worker." As director of the Appalachian branch of Antioch College, Snyder organized a group of young writers — the "Soupbean Poets" — who talked politics, history, literature, and found a collective voice and energy for poetry. Snyder can write beautifully understated lyrics, like "A Prophet's Honor": 
the blast shook the window 
I ceased writing down the dream 
which prophesied the explosion 
laid down my pen 
and walked down into the refinery
to see how my father was 
I met the foreman climbing the fence 
running for his life but 
all people in Saint Marys ever remember 
is my Dad telling his egghead son 
to get the hell out. 
Another leading voice among the contemporary mountain poets is Bob Henry Baber, who recently hosted the fifth annual Appalachian poetry reading on Baber Mountain in West Virginia. Baber sometimes writes a more fragile, more confessional kind of lyric than either Webb or Snyder. Others are Pauletta Hansel, Gail Amburgey, Mary Joan Coleman — all members of the original Soupbean Collective at Beckley, West Virginia.
[1]*
Mary Joan Coleman has written one of the memorable Appalachian emigré torch songs, "D.C. Working Girl Lonesome": 
I hungered for the sound of Appalachian r's 
pronounced like the grate of a sharp rock 
scraping the sandstone cheek of a cliff 
used as a makeshift toy 
in some hill child's hand 
                   I longed for the com tassle yellow 
of my baby cousin's hair 
                and the pink surprise of a Cherokee rose 
                     jumping out of green brier patches 
                        until I found a country bar 
                   where a hillbilly band played 
     "Detroit City" 
                   and some lean Kentucky boys 
thirsted for Southern Comfort. 
im Webb, the Soupbean Poets and the dozens of other young mountain writers — both known and as yet unknown — are important for their vitality and their shared political identity. They have only just begun to find their voices, and time will sift them. But two writers — Jim Wayne Miller in poetry and Gurney Norman in fiction — have already established themselves nationally as voices of contemporary Appalachia. Both Miller and Norman give us powerful versions of the psychological — and the physical — coming home of the mountaineer, Miller in a remarkable sequence of poems published under the title The Mountains Have Come Closer (1980), and Norman in the novel Divine Right's Trip (1971), first serialized in The Last Whole Earth Catalog, and in Ancient Creek (1976). Both Miller and Norman have lived in some measure through the political diaspora that has made being mountain-born a problematic fact in modern America, and both have dealt with that problem by casting themselves resolutely back onto home ground. The simple existence of Appalachia's stereotype in the popular mind gives their writing political force. But neither is, properly speaking, a revolutionary. Where there is anger in their work, it is balanced and gentled by irony and paradox. Both Miller and Norman are extraordinarily gentle spirits who see loss of identity as American rather than merely or exclusively Appalachian. 
For Miller, being severed from one's roots and the sense of self that those roots — only — can bestow, is like being "lost in the American Funhouse": 
Getting Together 
Suddenly old friends are in the house. Laughter. 
Separated years back, we've wandered around 
lost in the American Funhouse. Together again, 
what a crowd we are! The walls are angled 
mirrors multiplying us many times over. 
Each one of us sees the friend he knew 
standing back of the one this friend has become, 
and shyly, like an unacknowledged companion, 
confused by all this familiarity, unseen by our friends, 
stands the person we know we are. Laughter. 
Moving through the crowd, I realize 
I've gradually got used to walking around 
in my life a huge elongated trunk and rippled face, 
a bulging wrap-around brow, moving on stumpy legs, 
my belt just above my shoetops, my chin 
riding level with my fly. I have forgotten parts 
of myself, my ears lie curled like lettuce leaves, 
my hands grow right out of my shoulders, 
no wrists or arms or elbows in between. 
Glancing past familiar strangers, I try 
to hold out a hand to someone who holds out a hand. 
Laughter! We hold back all but the little horrors. 
The Mountains Have Come Closer moves from this absurdist vision of fragmentation back toward home, an identification with people and things that restores the chopped-up self to psychological and political wholeness. In Miller's book, the turning toward home is given an unambiguously religious heading: "You Must Be Born Again." That Miller does not mean anything remotely evangelical by that phrase and yet does mean to imply a rich quickening of the human spirit is best illustrated by "Going South": 
Sorry to inconvenience so many people, 
and feeling it a breach of decorum 
to have so private a thing happen in public, 
I think I will probably die 
in a long line of traffic 
on an evening in November 
when mercury vapor lights are coming on. 
A red light will jam in my brain 
and I'll sit there slumped over the wheel 
blocking a main artery 
while angry cars begin to honk behind me. 
A traffic division helicopter 
will dispatch a cruiser 
and report on a radio station's 
afternoon Traveling Home Show 
one stalled car, one lane of traffic backed up. 
The cruiser, the ambulance, the Live Action tv unit, 
the whirling lights, the curious looking into the camera–
all will flicker on the screen at 10:07. 
The face of the eyewitness who discovered the truth 
will fade into a commercial at 10:09. 
Newsprint will disappear like sooty snow. 
Traffic will flow smoothly again. 
Journalists with their noses into news 
will miss the only story worth the telling. 
So here it is, like footage recovered 
from a correspondent who went careening 
into death, camera clicking to the point 
of impact: high over the town, 
above tiers of power lines, a black river 
of birds turned slowly and flowed south. 
This is a death dream: death of an old self stranded on America's asphalt, alienated from that identity back in the mountains that might save it. You must be born again. In "Getting Together" and "Going South" (as in many of the poems in Part I of The Mountains Have Come Closer), Miller makes the need for a rebirth a very compelling psychological fact. Repeatedly, he shows us the disfranchised at the end of their psychic rope. Then, in Parts II and III of The Mountains Have Come Closer, he gives us that necessary rebirth in the guise of a new character — the Brier. The Brier is the hillbilly come home, one of those middle-class Hazard students who found success outside the mountains but who found fragmentation and political alienation too. He has come home now, or is in the process of coming home, half angry at himself for being such a fool, for allowing himself to be severed from the only roots that count; he is angry, too, at the forces that made being a hillbilly such a shameful thing. The designation "Brier," like "hillbilly," is a term of derision, especially in Northern industrial centers where so many of the mountain migrants have congregated over the last 30 or 40 years. But Miller's Brier embraces that derisive name defiantly, and inhabits it. And the consciousness that dawns is, in a rich sense, political: 
Set Apart
Always now he carried a pearl-handled grudge, 
snub-nosed, heavy, bolstered close to his heart. 
Where once he held his tongue, he carried a blade, 
good steel that held only its cold keen edge. 
He drove his mind so hard it sang like whining 
wheels rolling high over gaps and gorges 
on trestles of determination. Rounding turns, 
he came on his black thoughts, hunched over entrails 
like buzzards eating carrion on the road. 
The thing or two he knew he carried folded 
like the certain knowledge of hundred dollar bills 
whispering in a side flap of his wallet. 
And drove toward mountains, and a self he would become: 
old man in faded denim, gray as a weathered bam, 
fencepost at a field's edge - until he moved. 
This is the new consciousness of a Jim Webb; it cuts clean, it draws blood, it says, "I will be whole in a world that wants me half-whole." 
The Mountains Have Come Closer ends with "Brier Sermon," the single most ambitious distillation of Appalachian politics yet to appear in this Appalachian renaissance. As with the best Appalachian political poetry, it is wrapped in paradoxical irony that saves it from being mere strident polemic. The Brier — by now something of a revolutionary — preaches his sermon on the street in a mountain town, the one place most calculated to find his political and spiritual message uncongenial. He has a good eye for his targets: he sees how the mountain middle class is constantly selling out, compromised by greed and seduced by the mercantile blandishments of the very America that makes them ashamed to be hillbillies. "You've kept the worst," the Brier tells the mountain folks on the street, 
and thrown away the best. 
You've stayed the same where you ought to have changed, 
changed where you ought to have stayed the same. 
Wouldn't you like to know what to throw away 
What to keep 
What to be ashamed of 
What to be proud of? 
Wouldn't you like to know 
how to change and stay the same? 
The Brier — not unlike Jim Webb or any of the other Appalachian nationalist poets — has seen himself, has understood how the dynamic of colonization has worked on his own head and heart. He wants the people of the town to see themselves, too, and by that sight to know who they are and to free themselves at the same time: 
You've heard that prayer that goes: 
Help us to see ourselves as others see us. 
Buddy, that's not a prayer we want to pray. 
I believe we ought to pray: 
Lord, help us to see ourselves — and no more. 
Or maybe: Help us to see ourselves, 
help us to be ourselves, 
help us to free ourselves 
from seeing ourselves 
as others see us. 
Accurate as the Brier is about the complicity of these mountain people in selling out, they will not listen to the message. Everything is new inside the Brier, but nothing is changed among the people to whom he preaches. Ironically, we last see the Brier as he disappears behind a mobile home, that ubiquitous symbol of America's loss of roots, made comic now by the Winnebago illusion that home is always with us. 
In Divine Right's Trip, Gurney Norman, like Miller, begins with a funhouse America where his displaced hillbilly is adrift in fragmentation and spiritual exhaustion. Norman's funhouse is the Southern California drug scene of the late '60s. From there, Norman's hillbilly makes a long odyssey home to the hills and hollows of eastern Kentucky where his full awakening to his lost mountain identity is accompanied by fright (a near-mad, freaked-out wrestling match with a "dragon" in an abandoned coal mine) and pain (he has to relearn physical work in building a hog pen) — all withdrawal symptoms of a person leaving a society that has seduced him. By the end, we see that Divine Right's Trip celebrates a return to a mythic mountain haven. The novel ends with a wedding, with an ode to a revitalized soil, with a family celebration for the prodigal hillbilly who has come home, having shaken off the delirium of the "other" America. The politics of this home coming are more implicit than explicit, though we know well enough that the dragon the hillbilly has had to face is as much corporate America as it is the dark, three-footed creature of the mind, unleashed by drugs. 
Norman's politics are more explicit in his curious modern jack tale, Ancient Creek — curious because it is available to the public only as a recording from June Appal Records. Norman takes the anti-hero Jack from the mountain folk tales of his heritage and rediscovers him as a modern and potent rebel force against the complacency of King Condominum III and the more evil power of the Black Duke, King Condo's local administrator of the mountain domain. Like Jim Wayne Miller in The Mountains Have Come Closer, Norman makes his tale of resistance and redemption a struggle with no resolution, though Ancient Creek ends on a great surge of almost mystical fellow-feeling: the healing force of a group of people who for the first time feel the power of the group against the encroachments of an alien power. 
The force of Norman's personality — the tonic of his warmth and generosity — has made him almost a guru for scores of young Appalachians. He has lived and is still living the psychological odyssey of dispossession/coming home that so many young mountain people have tasted, and they are drawn to him both as a writer who has made good with the mountains in fiction and as a living exemplar of being both free and hillbilly. Norman understands the dispossession and the struggle to get back home as a political struggle well enough, but he synthesizes his politics with an almost mystical whole earthiness that deals with the paradoxes by trying to embrace them. 
At the end of Norman's novel, Divine Right — the hillbilly come home — is in the process of redeeming a derelict family farm that has been hemmed in by strip mines. He sits down and writes a letter to his friend Flash back in California: 
Yesterday I spread rabbit shit on some old dead ground, and today spaded it in and sprinkled two gallons of red worms on it. . . . Our purpose is soil redemption. Salvation! Healing by miracles, signs and wonders. The theme song of our commercials is "The Old Rugged Bam." 
On a hill far away, 
Stood an old rugged barn, 
The emblem of effort and pride. . . . 
Come be my partner, Flash . . . and we'll get into soil salvation. First we'll save our own; we'll breed ten thousand rabbits and twenty million worms, and make this dead old hillside bloom. Then if other people feel like they've got a troubled soil, why let them call upon us, and we'll respond, with miracles, signs and wonders. 
Faith, brother! Faith and rabbit shit, that's the theme! 
A revolution of political consciousness, and the healing of dispossessed identity, never had a humbler, yet more profound, culture on which to grow.
[1]* Many others might also be mentioned. They will all come together in the new anthology of Appalachian writing being assembled now at the University of Kentucky by Gurney Norman, Bob Henry Baber and George Ella Lyon. The anthology is the outgrowth of a 1980 pilot project funded by the Witter Bynner Foundation, designed to stimulate poets and poetry in the central Appalachians. This anthology, when it appears, may be the single most important compilation yet to come out of the Appalachian renaissance. 
Tags
Jerry Williamson was the founding editor of the Appalachian Journal. He has recently had Appalachian-related articles in The Progressive and In These Times. For valuable comments and suggestions, the following people are grate fully acknowledged: David Whisnant, Bob Lysiak, Jim Wayne Miller, Jim Webb, Steve Fisher, Frank Einstein, Bob Snyder and Gurney Norman. (1981)