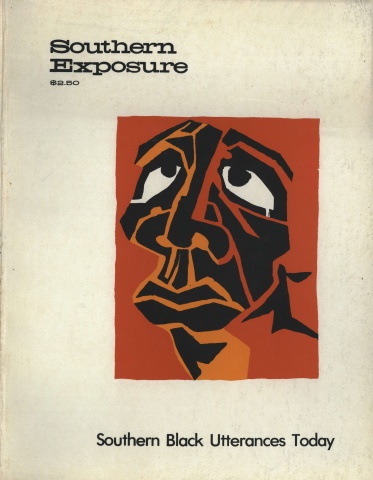 This article originally appeared in Southern Exposure Vol. 3 No. 1, "Southern Black Utterances Today." Find more from that issue here.
We turned to fire when the water hit
Us. Something
Berserk regained
An outmoded regard for sanity
While in the fire station
No one thought of flame
Fame or fortune did them
We did them a fortune. We did
Them a favor just being
Ourselves inside of them
Holy day children
In the nation coming your children will learn all about that
But the water creep about us
Water hit us with force.
We saw a boy transformed into a lion
His tail is vau the syllable of love
A master before fellow craft
The summit of the Royal Arch
Lotus. Mover on the face of the waters . . .
Sleepless Horus, watch me as I lie
Curtained with stars when ye arise
And part the skies. And mount the Royal
Bark
They said the ancient words in shameful English
Their hearts rose up like feathers
In the hidden place
And Horus step into the flood of noon
Shedding his light upon the worlds
It was in Birmingham. It happened.
Week after week in the papers
The proof appears in their faces
Week after week seeing the same moment grow clearer
Raising the water,
Filling the vessel. Raising the water.
Filling the the vessel
O electromagnetic Light shaduf!
Ancient hands bearing water
Ha
   The star broke
Over the tub
   All righteousness
Not deceived by sunshine nor the light
From a man's desire
Deceived by desire
So that in the moment
The people cast light from their bodies
"Light" being the white premeditation
The simplest fashion
What they want is light
Another source to equip
Their dry want
Want fire light. Space light
Discretions of neon
At least.           So to appear natural
         Where the sun is
360° of light
Consumed in the labors of comfort
That cries for the balm
Of all that is natural
        Desire.
Bathing in the dark
The water glowing
In the plastic curtain
Suddenly heated
As another expels past satisfactions.
Cold as she washes gas tears
From her man's eyes. We hate you.
Hot on her soft thigh
Like the dog's breath at noon by the Courthouse
We hate you for that
   But ancient hands raised
This water
As the street's preachers
Have a good understanding hear them
O israel this O israel that
Down here in this place
Crying for common privilege
In a comfortable land
Their anger is drawing the water
Their daughters is drawing the water
Their kindness is laving and
Oiling its patients.
   That day
The figures on the trucks inspired no one
Some threw the water
On their heads
They was Baptists
And that day Horus bathed him in the water
Again
And orisha walked amid the waters with hatchets
Where Allah's useful white men
Came there bearing the water
And made our street Jordan
And we stepped into our new land
Praise God. As it been since the first time
Through the tear of a mother
1970
Tags
Lorenzo Thomas, a regional representative of the National Black Writers Congress, is a member of the Black Arts Center in Houston, Texas. (1975)