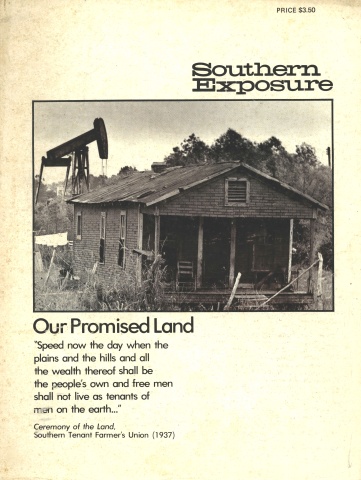 This article originally appeared in Southern Exposure Vol. 2 No. 2/3, "Our Promised Land." Find more from that issue here.
It was early 1969 when James Forman, founder of the Black Economic Development Conference, released a "Black Manifesto" demanding $200 million in reparations from churches and synagogues. Whites were shocked at what they viewed as extortion, and many blacks smiled at the outrageousness of it all. Other blacks — notably black economists — endorsed the notion of a one time capital transfer to correct past ills. But the chance of ever getting the money was non-existent, and consequently little attention was paid to sections of the Manifesto that dealt with exactly how that money would be used.
The Manifesto suggested that a southern land bank be established to acquire land and set up cooperative farms for black people. Professor Robert S. Browne, a black economist, was the man James Forman turned to for the actual writing of that proposal. When the Manifesto failed, Browne joined with other prominent blacks (among them, Julian Bond and Fannie Lou Hamer) to finance a fund-raising advertisement in the New York Times with the headline, "Must all blacks flee the South?" That was April, 1970, and contributions for a southern land bank fell short by some $400 of the cost of the ad.
But Browne — and others — persevered and a year later received a grant from the Rockefeller Brothers Fund to further explore the land bank concept. That study resulted in a lengthy monograph titled, "Only Six Million Acres: the decline of black-owned land in the rural South." Subjected to academic measurement from every conceivable angle, the results were depressing. The 1910 census counted black landholdings at more than 15 million acres. That has been on the decline ever since to the 1974 level of 5.5 million acres — only 3/10 of one per cent of all privately held land for a race that is now 11.5 per cent of the population. "The U.S. is probably more of a white man's country now than ever before in history," the monograph concluded gloomily.
With the specter of being a tenant class by 1988 if nothing is done, a group called the Emeregency Land Fund was hastily pulled together — thanks to a million-dollar donation from an anonymous white woman. The Fund is a sister organization of the New York-based Black Economic Research Center begun earlier by Robert Browne. A third link in the chain is the Twenty-First Century Foundation, also Browne's brainchild, designed to make financial investments in the black community. Their first investment was in a bicycle wheel plant in Mound Bayou, Mississippi, the oldest and largest all-black town in America.
The headquarters of the Emergency Land Fund are in the South where the heart of the problem (and the promise) lies. In a rented yellow frame house across from the Atlanta University Center campus, Executive Director Joseph F. Brooks talked about his hopes and tactics over 65 cents worth of fried chicken from a soul restaurant around the corner.
"This sure is good, but it means somebody's labor is being exploited," he commented between bites. For Joe Brooks is a political economist whose every response has to do with intertwining human and monetary values. Born in California, where he later taught college and founded the Berkeley Black Caucus, his interest was always urban politics. Helping elect an interracial slate in Berkeley, his hometown, and working on Congressman Dellums' 1970 campaign, he discovered, "All of that didn't have the payoff I thought. When you talk about helping black folks in the Bay area, you're really talking about helping displaced rural folk. The South was coming to my attention. We have landholdings here. Even at a conservative estimate of $150 an acre, it's a billion-dollar asset and that's no little bit of money."
Brooks says his job is to think as big and bigger than white folks. He has in his office a detailed architect's rendering of a $25-million development on Hilton Head, an island resort area for wealthy whites that used to be owned solely by blacks. Numerous plots, dating back to Reconstruction, are still in the hands of blacks. The Emergency Land Fund is attempting to organize eight black landowners in a joint venture of townhouses and condominiums in the $100,000 price range. Even though their land can draw $30,000 an acre, these black owners still fall victim to foreclosure, partition sales, tax sales or smooth-talking speculators. "If you're in Philadelphia struggling in the ghetto, you have no idea how fast land appreciates in your home county, Beaufort, South Carolina," emphasizes Brooks. "You need some money right now. You have a low horizon."
What the Emergency Land Fund seeks to do, says Brooks, is advise blacks throughout the fast  growing South, "Look, if you're going to sell, get top dollar. But you don't have to sell because you're sitting on a gold mine." That kind of education plus free legal counsel and loans at 4 per cent interest add up to what Brooks calls "the facts and wherefores of knowing your property rights."
As the South catches up with the industrialized North, more and more black land — especially in the Delta — lies in the path of development. The hooking up of the Tennessee and Tombigbee Rivers by dredging a canal is finally underway after 70 years of ecological debate. It has been likened to TVA in its potential economic impact on the border states. Using students from Tougaloo College, the ELF is getting out and encouraging blacks to hold on to their land. "If they're not informed of what's coming down, they will be bought out by profiteering land speculators," predicts Brooks.
Sleepy farm land will be the home of most of the nation's 103 nuclear power plants, each taking as long as eight years to build. "You're talking about importing white technicians and tipping the racial balance overnight in these rural counties," worries Brooks. And that means the changeover of more land — and power — from black to white. So the ELF is putting pressure on construction companies and power plants to train blacks for the sensitive jobs of the future.
Realizing the whimsical position of a black organization dependent on the largesse of white individuals and foundations, the Emergency Land Fund closed a deal in July that they hope will yield a guaranteed income in five years. After loaning $14,000 to a black riverboat captain for his mortgage payment on 35 acres of Daufuskie Island (a South Carolina community coveted by white developers), the ELF had a friend for life. Saved from foreclosure, the thankful man told them about a four-story cotton warehouse on the Savannah waterfront for sale by a white man. The ELF bought it — in partnership with the riverboat captain — and plans to turn the interior, with its exposed beams and old natural archways, into a seafood restaurant, boutiques and executive suites.
All in all, Joe Brooks figures the Emergency Land Fund has affected 14,000 acres of land in one way or another since its creation two years ago. And he is the first to admit that is not an impressive figure when the annual decline of black-owned land is a staggering 333,000 acres a year. Much of the land that's being lost is idle pasture and unproductive farms at the same time the world is facing a shortage of food. "If they were put in touch with technology," he sighs, "they'd make it. But given the magnitude of the problem, the government is the only somebody that can really do something about it. All we can do is find friends in the Office of Minority Business Enterprise, do small studies, and slowly but surely get the government's interest."
To help speed up governmental interest, Brooks and other interested parties, black and white, put together the Southern Land Congress to lobby for rural black Americans. "The Emergency Land Fund can't shake its finger at government the way it would like because of its non-profit tax status. We can't lobby and we can't support candidates," he explains. "But, I've always seen the necessity of having a sympathetic political arm. That's a reality."
Just as revisionist historians are rewriting the past using the perspectives of today, Joe Brooks is at work on the "Great Map of the South." Over each parcel of black-owned land, he is superimposing a visionary development plan of what could be — from farm federations to playgrounds for the rich — "so when we get a call that 50 acres in Mississippi are about to be lost, we can act with intelligence over  night and know what to do with it. I'm not tied to agriculture. I'm for the best and highest use of land."
One organization that has made some modest, but very concrete, beginnings toward the Great Map is Southern Rural Action, Inc. Founded in 1966, the peak year for urban race riots, SRA's philosophy for saving the cities is based on transforming rural America into an attractive and productive place to live and work. Between 1940 and 1970, four and one-half million blacks, poor and uneducated, migrated North in search of jobs and a decent life. Most of them didn't find what they dreamed of; and teeming ghettoes, burgeoning welfare rolls, and street survival crime were the unhappy results. "People go where houses are built and jobs are available," reasons Randolph Blackwell, SRA's executive director. "If we have rural development we can save the cities in the process."
Serving as program director for SCLC (Southern Christian Leadership Conference) under Dr. Martin Luther King, Jr., during the Civil Rights Movement years 1963 to 1966, Dr. Blackwell is very action-oriented. "We don't need any more commissions with their high-priced researchers," he declares. "The suffering segment of the population is already identified. The races of people being hurt are known." SRA's first project was in Crawfordville, Georgia, where black people were frozen out of jobs by the white, landed power structure following a sixties racial disturbance. Their first impulse was to pass out food stamps, but that suggestion died aborning as Blackwell decided to opt instead for a militant economic approach. And so began the Crawfordville Enterprise Garment Factory, which now employs more than 50 women at $65 a week. While the money is not much better than minimum wage, most of these women were only earning $12 a week as maids. As soon as the women were organized, the men in the small Georgia woods town confessed embarrassment over their lack of livelihood. So Southern Rural Action invested $400 in some basic tools, including a radial arm saw and a power-driven hammer, so the men could turn their years of experience with logging and saw mill work into something profitable. Three weeks later, the Crawfordville men had cleaned out an old horse barn and were making box spring mattress frames. They now have a contract with Sealy Mattresses, a nationally known firm, while the women turn out 400 dozen printed sweatshirts each week for major wholesalers. "We want factories that sell what they produce out of the community," Blackwell emphasizes. "We're not interested in making something for the ghetto and intensifying competition over dollars that don't exist anyway. We'd rather make shirts for Sears, Roebuck and get a check from Chicago or New York because that's where the money is."
An exception to selling out of the community is in the area of housing. Southern Rural Action has set up three "Brikcrete" factories to manufacture low cost homes in Alabama (Wilcox County), Mississippi (Mound Bayou)and Georgia(Plains). Developed during the war years of the 1940's, Brikcrete looks like brick but has the simplicity of concrete block so that each factory can produce enough in one day for one house. (Brikcrete houses are also easier to construct.) SRA's most recent subdivision is in Plains, one of the ten poorest counties in Georgia and Governor Jimmy Carter's hometown. Setting up a roof truss factory as well, the 15 homes of Africana Village took shape in six months. None are less than a thousand square feet, and no two houses are alike. "We stay away from row houses," says Frederick Stokes, SRA's associate director. "We don't want to just build new ghettoes for the future." On the inside and the outside, these low-cost homes ($12,000 each) have escaped the mark of poverty housing and have a pleasing middle-income, ranch-style appearance. "Lord, Maggie, come look — separate places for eating and sleeping," marvelled one new resident unaccustomed to what most people take for granted. SRA managed to build these houses, complete with suburban-like family rooms, for less than $10 a square foot compared to the market rate of $16. And families can purchase them with Farmers Home Administration loans on a 33-year mortgage with payments of $50 a month. Trying to keep costs where they are in an inflation-ridden economy has prompted SRA to set up a low-cost housing research center next to their offices in an abandoned Atlanta public school.
"Total Community Development" is the phrase Randolph Blackwell uses to describe his strategy. Jobs and houses are two components; the third is community involvement. "You're not really developing the rural South unless you can get people to say this is my community. You can put up 50,000 houses and if they don't feel it's theirs, they'll be torn up," says Blackwell, who traces much of the squalor of urban housing projects to an aborted sense of personal responsibility that goes back to tenant farming and an unnatural dependency on "the man." 
On July 4 this year, Plains, Georgia, had a soul barbeque to celebrate the opening of their new swimming pool, an extension of the community center and day-care facility built with brikcrete by local black teenagers. Even though the bricks don't all match in color and the boards don't come out quite even, the black people of Plains have a recreation room, an auditorium for meetings, plays and movies, and day care for 30 children. And it's theirs; they are beholden to no one but themselves. As for the pool, one afternoon in South Georgia's sweltering peanut country proves its worth. There is only one other pool in Plains, owned by the Lions Club, and it is exclusively for white members.
In the past eight years, Southern Rural Action has dotted the countryside with eighteen enterprises, including garment factories, brikcrete factories, roof truss plants, silkscreen plants and offset printing plants. They also started a small bakery in Perry County, Alabama, which uses soybean flour in an effort to boost the protein intake of poor people. "It's fun to make cookies when you know you can say to a child, 'Eat these cookies, they're good for you,' rather than having to say, 'Don't eat too many cookies,' " says one of the bakers in Perry, where 70 per cent of the population relies on federal food subsidies.
While half of SRA's businesses are turning a profit, the other half are what Fred Stokes calls "marginals. . . yeah, they're on the brink of going under. If there's no assistance, they will go under." The ones that are floundering need equipment, operating capital, training and managerial expertise — all of which cost money that Southern Rural Action doesn't have. Refusing any kind of financial return from the factories they begin, they are dependent on government grants and private donations. In 1972 and 1973 they were lucky to get HEW funds, but there is nothing in sight for the fiscal year beginning July 1974. "We have never been able to say we've got the monies," says Fred Stokes. "We haven't ever been able to start the year organizing our projects because we never have the money."
Preoccupied with the King Memorial Center, another of SRA's backers, Coretta King, will also not be able to raise funds as she has in the past. It was Mrs. King's visit to the brikcrete factory in Wilcox County that spurred SRA's first involvement in a water system. A contingent of five citizens, representing 30 families, persistently made their way through the crowd until they got her ear. While she was sympathetic to their plight, it wasn't until one of them said, "Mrs. King, you don't understand what we're talking about. When you have to go four miles to get a bucket of water, you have to make the difficult decision of whether to drink it or take a bath." At that point, Mrs. King pledged $2,000 of the $3,500 needed to put in the Whiskey Run Water System, named after the tiny community. The women sold fish and chicken sandwiches on weekends to raise the balance, and the men in Whiskey Run dug trenches and a well and stretched the precious water pipes. Thirty-eight families are now on the system, and a few of them also have inside bathrooms. This was regarded as a minor miracle in Wilcox County where 78 per cent of the homes have no piped water, and 86 per cent are without flush toilets.
"We don't have a Marshall Plan and we don't think we cured the housing need anywhere," admits Fred Stokes, "but we have demonstrated it can be done." A Gallup poll shows that 88 per cent of the American people prefer to live in the country or the suburbs where there is still some land and greenery. And politicians are beginning to take note. In Dale Bumpers' sensational upset in the Arkansas Senate race (unseating veteran William Fulbright), he gave voice to the bellwether movement away from the cities. "The quality of life depends on how well we can keep people in the rural areas" he asserted in speeches around the state. And how do you keep them down on the farm? With jobs, says Bumpers, who has promised to encourage industry to settle in the rural parts of his state rather than crowd into Little Rock, the only big city.
The fact that developing the rural South has become fashionable in political and maybe some monied circles gives hope to people like Fred Stokes and Randolph Blackwell. "When we first started," says Stokes, "no one was talking about the rural. We've held this thing together with baling wire, and we're going to continue the baling wire approach until someone recognizes the effort we're making."
Unfortunately, it has been a long time since that January, 1970, letter came from the White House, signed by Richard Nixon, then untainted by Watergate, praising Randolph Blackwell for his "successful efforts to enrich the lives of needy families." Yet Southern Rural Action remains today the kind of self-help project that a Republican Administration (or a Democratic Administration) should love. Blackwell hopes that someday one of them will.
Tags
Eleanor Clift is a free-lance writer living in Atlanta, Georgia. Her article originally appeared in the Race Relations Reporter, September, 1974. (1974)