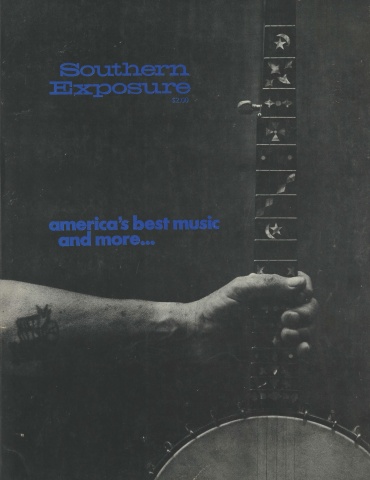 This article originally appeared in Southern Exposure Vol. 2 No. 1, "America's Best Music and More..." Find more from that issue here.
In July, 1973, 180 miners went out on strike against the Eastover Mining Company's Brookside mine in Harlan County, Kentucky. Pay is not as bad as it was in the 1930's in the strife-torn area, but conditions in the mine and mine camp resemble those described in a number of songs from the period. Aunt Molly Jackson, a tough champion of unionization for coal miners, wrote many herself, and having lost her husband, brother and son in the mines, she knew only too well the grief and outrage of life in Kentucky. Her song with her introduction, is presented here with the more recent song about Harlan County by Si Kahn, a free-lance writer-organizer and coordinator for much of the support work for the Brookside strikers. The men are demanding the standard United Mine Workers of America contract, but the Eastover Mining Company has thus far resisted this first organizing drive by the new UMWA leadership. Demands for a safety committee with power to cordon off hazardous portions of the mine, a health and pension program financed from production royalties, and portal-to-portal pay, have been met with injunctions, hired thugs, blacklisting, outright bribery, and jail terms. The connection between coal and electricity alluded to in Kahn's song is no idle generalization, for it turns out Eastover Mining is a wholly-owned subsidiary of the Duke Power Company, the light company serving the North and South Carolina Piedmont and the sixth largest private electric company in the U.S. The UMWA is working with a number of individuals and groups in the Carolinas, including the Institute, to pressure Duke on its home ground. Using a variety of tactics, from newspaper ads to intervention in Duke's rate increase hearings to mass picketing outside the company's headquarters, the miners and their supporters hope to win a critical campaign. If Duke is unconcerned about its miners or customers, it does worry about its income and stock prices—-both of which are apparently now suffering due to the strike. The song by Aunt Molly Jackson is available on her record, The Songs and Stories of Aunt Molly Jackson, Folkways Records, Album #FH 5457, 121 W. 47th St., N.Y.C. Her half-sister, Sarah Gunning, sings "Dreadful Memories" and other tunes in an excellent album which also features Nimrod Workman, George Tucker and Hazel Dickens: Come All You Coal Miners, produced and edited by Guy Carawan, Rounder Record 4005, Roundhouse Records, P.O. Box 474, Somerville, Mass. 02144, or Highlander Center, Box 245A, RFD 3, New Market, Tenn. 37820. Si Kahn has recorded a tape cassette of "Brookside Strike" and other struggle songs available for $1.50 from Cut Cane Associates, P.O. Box 98, Mineral Bluff, Ga. 30559.
BROOKSIDE STRIKE
By Si Kahn
I'm tired of working for nothing
And bad top that's ready to fall
If we can't dig this coal without danger
We ain't gonna dig it at all
Refrain:
And the wind blows hard up the holler
Through the trees with a whistling sound
But the sun's gonna shine
In this old mine
Ain't no one can turn us around
If it weren't for the underground miner
Not a light in this country would burn
You'd think that they'd work with the union
But they fight us at every damn turn
The bosses drive Cadillacs and Lincolns
The miners drive Chevys and Fords
There ain't but three things you can trust in
The union, yourself and the Lord
I'm making my stand here at Brookside
And I'll use any tool I can find
You can lock me up tight in your jailhouse
But you can't put a chain on my mind
"In 19 and 31 the Kentucky coal miners was asked to dig coal for 33 cents a ton and they had to pay the company for the carbide to make a light and coalite to shock the coal. And they had to pay for their picks and augers to be sharpened—the coal company took one dollar from each man's wages every month for having their picks and augers sharpened. And each man paid two dollars a month for a company doctor even if he did not have to call the doctor once. All we had to make a light in our shacks was kerosene lamps, and after the miners was blacklisted for joining the union March 5, 1931, the company doctor refused to come to any one of the coal miner's families unless he was paid in advance. So I had to nurse all the little children till the last breath left them, and all the light I had was a string in a can lid with a little bacon grease in it. Kerosene was five cents a quart, and I could not get five cents. Thirty-seven babies died in my arms in the last three months of 1931. Their stomachs busted open; they was mortified inside. Oh, what an awful way for a baby to die. Not a thing to give our babies to eat but the strong soap from soup beans, and that they bled inside and mortified, and died. And died so hard that before we got help from other states my nerves was so stirred up for four years afterward by the memory of them babies suffering and dying in my arms, and me sitting by their little dead bodies three or four hours before daylight in the dark to keep some hungry dog or cat from eating up little dead bodies. Then four years later I still had such sad memories of these babies that I wrote this song."
DREADFUL MEMORIES
Aunt Molly Jackson
Dreadful memories! How they linger,
How they pain my precious soul!
Little children, sick and hungry
Sick and Hungry, weak and cold.
Little children, cold and hungry,
Without any food at all to eat;
They had no clothes to put on their bodies,
They had no shoes to put on their feet.
Chorus:
Dreadful Memories! How they linger,
How they fill my heart with pain;
Oh, how hard I've tried to forget them,
But I find it all in vain.
I can't forget them, little babies,
With golden hair as soft as silk;
Slowly dying from starvation,
Their parents could not give them milk.
I can't forget them coal miners' children
That starved to death for want of milk;
While the coal operators and their wives and their children
Were all dressed in jewels and silk.
Dreadful memories! how they haunt me
As the lonely moments fly;
Oh, how them little babies suffered!
I saw them starve to death and die.
Tags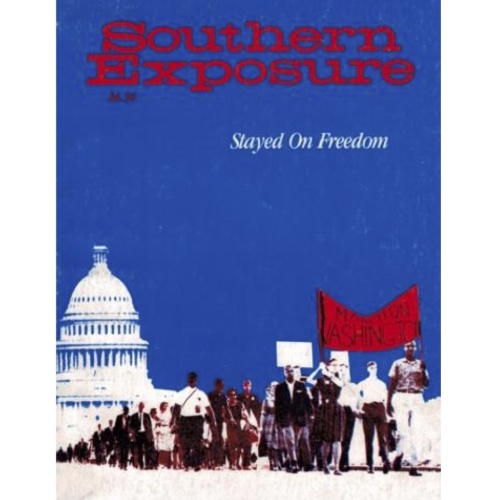 Southern Exposure is a journal that was produced by the Institute for Southern Studies, publisher of Facing South, from 1973 until 2011. It covered a broad range of political and cultural issues in the region, with a special emphasis on investigative journalism and oral history.