Caravan for a Non-Nuclear Future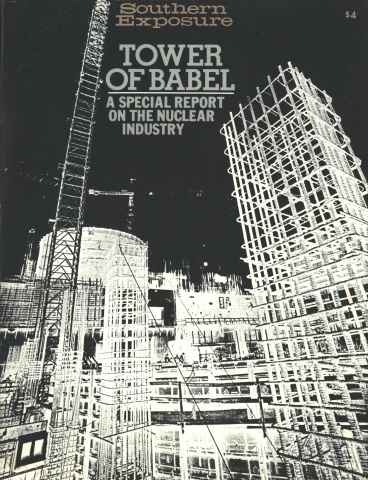 This article originally appeared in Southern Exposure Vol. 7 No. 4, "Tower of Babel: A Special Report on the Nuclear Industry." Find more from that issue here.
When six of us left Florida for Seabrook, New Hampshire, in June of 1978, we had very little idea of what was beginning. We knew the 70-mile "Safe Energy Walk" from Boston to Seabrook meant civil disobedience, arrest and possibly jail. But we didn't know that we would take home insight, knowledge and the idea for a similar action to raise the issue of nuclear power in our home state. 
In the course of the seven-day Walk, several of us became increasingly impressed with the educational value of this action — walking through cities and showing films and sharing information every night; and talking with people who otherwise might not have been exposed to the issue. Once we reached Seabrook, about six of us got together at the Miami-based Conchshell Alliance table. The group discussed a joint action in Florida and set up a planning meeting for August 12 in Tampa. We didn't realize then that the size of Florida called for far more extensive preparations than had the New Hampshire walk. 
Fifteen people representing several anti-nuclear groups arrived for the August 12 meeting. Everyone agreed that our basic goals were both to publicize the dangers of nuclear power and to enlist supporters and enlarge the anti-nuclear movement. For seven hours, we talked, brainstormed and debated. Finally we arrived at a rough idea for our action: we decided to focus on the issue of transportation of nuclear wastes in Florida — not only the radioactive wastes from the four operating nuclear plants in the state, but also the spent fuel rods shipped from overseas through the Port of Miami on the way to the Savannah River Plant in South Carolina. 
The focus on waste transportation led to the decision that a caravan of vehicles — a symbolic waste shipment — could accomplish more than a walk. We planned to start at the Turkey Point Nuclear Plant 30 miles south of Miami, go due north to Jacksonville and then head west to Tallahassee for a big rally in the state capitol. The Caravan for a Non-Nuclear Future would last six days and encompass 500 miles of travel, with rallies, debates and seminars scheduled in as many cities as possible. 
Though we worked out most of the tasks necessary for the campaign, the most difficult task remained: how to convince the press to pay attention to us. Nuclear power was not then a hot issue in Florida, and our group still lacked credibility. 
Over the next few months, every group in the state worked hard to build the necessary momentum. A state-wide mailing in early September brought in enough money to begin our activities and generated additional support for the project. Contact people planned events for the Caravan's stop in their communities. We held four more planning and progress meetings in Tampa to take care of last-minute details. As November 11 approached — the starting date for the Caravan — we finally felt we had logistics under control, a very positive attitude and a batch of new friends, including several in the press. 
We also learned that Westinghouse Electric Company was sending out three nuclear engineers to trail us and "correct" our "mistaken" impressions that nuclear power was a less-than-wise energy choice. But we were prepared to present our case to the public and the media, and felt confident we could handle the engineers as well. 
On November 10, the participants started arriving at a church in Perrine near the South Miami Conchshell Alliance office. Early the next morning, 40 people assembled across the water from the Turkey Point Nuclear Plant. This seemed an appropriate starting point given Turkey Point's poor reliability record. In fact, Florida Power & Light (FP&L) had recently sued Westinghouse for $240 million because the steam generator that was supposed to last 30 years had to be replaced after only six. 
We held a brief rally at the plant site topping it off by releasing hundreds of balloons which carried the message, "If you received this balloon, you could just as easily receive radiation [from this plant]." Then the participants piled into 25 vehicles and started up U.S. 1, headed for Miami. 
Our day-to-day itinerary suggests the variety of activities we undertook to get our message across:
 • Saturday: Our first stop was in Coconut Grove, where we performed guerilla theatre and leafleted people at a sidewalk art show. We continued on to Miami where about 50 people turned out for an evening film and a debate between Caravan members and the Westinghouse engineers. The engineers were very well prepared, but the comments indicated that no one was convinced.
 • Sunday: After a short service and a die-in at Hollywood Park, we moved to the beach, where we spent about two hours leafleting and talking with sympathetic sunbathers. Our die-in at the amphitheater and our songs on the crowded beach attracted a lot of attention. 
That night in West Palm Beach over 100 people, mostly senior citizens, came to a public meeting organized with the help of the Women's International League for Peace and Freedom. A slide show about solar energy led into a lengthy discussion about the pragmatics of alternative technologies and the dangers of nuclear power. We were excited to be so well received.
 • Monday: Karen Silkwood Day. We journeyed to Fort Pierce, the site of FP&L's St. Lucie Nuclear Reactor. Not much of a crowd greeted us, but a lively debate ensued with the nuclear engineers. As at most stops, local speakers expressed fears about living so near an operating nuclear reactor and concern about the dangers of nuclear waste shipments.
 • Tuesday: The Cocoa Beach food co-op gave us a great reception. We then toured the Solar Energy Center at Cape Canaveral, and talked with the scientists who work there. They too were concerned about the dangers of nuclear power, gave us useful information on their own work in solar energy, and generally went out of their way to aid us. 
Later that afternoon, three of us taped a debate with the Westinghouse nuclear engineers at an Orlando television station. We used Amory Lovins' statistics from Energy Futures and Soft Energy Paths to refute their arguments. The rest of the Caravan continued on to Daytona Beach, where more than 50 people watched a film and engaged in a lively discussion.
 • Wednesday: One hundred people showed up for a rally at the Daytona Beach Junior College, which featured a variety of speakers and some lively guerilla theatre. After a police-escorted parade through town, we headed for predominantly black Bethune-Cookman College. The students listened attentively to our concerns, especially when we emphasized the heavy economic price they pay for nuclear power. 
This response sharply contrasted with our reception that evening in Jacksonville. The city hosts Westinghouse's Offshore Power Systems, so we did not expect a warm welcome. But we were unprepared for the packed auditorium at that night's debate. Seventy-five percent of the audience worked at the Westinghouse plant, and they greeted us with laughter, jeers and boos. But Westinghouse has been a bit of a disappointment to the local community, employing only 300 people instead of the expected 12,000, so we did find a number of supporters among the non-Westinghouse audience members. The hostile reaction shook us, but we later realized that under the circumstances we had done okay.
 • Thursday: The caravan ended at Tallahassee, the state capitol. Over 100 people cheered us as we entered the city and followed our motorcade to a downtown park. There over 500 people rallied to voice their anger against nuclear power. We capped off the six-day journey with a pleasant afternoon of speeches, music and guerilla theatre. 
The Caravan for a Non-Nuclear Future succeeded on many different levels. As it turned out, the presence of the Westinghouse engineers opened the door to widespread press coverage. Before the Caravan the local press had tended to ignore the issue of nuclear power, but Westinghouse made the Caravan a newsworthy item by taking an adversary role .People throughout the state saw us, read about us or heard about us. The media showed up everywhere, putting the caravan on every major TV network on the east coast and in most of the state's newspapers, large and small. Even the radio stations turned up to cover our activities. 
The Caravan also reached and educated thousands of people through direct contact. The most rewarding aspect of this contact was the chance to communicate with new groups of people. The senior citizens in West Palm Beach and black students at Bethune-Cookman College, who were among our most receptive audiences, offered us the potential of expanding our support beyond a younger white constituency. 
The diverse groups of people who coordinated the Caravan formed the basis for the Florida Non-Nuclear Network, which has since sponsored an anti-nuclear conference and held two statewide demonstrations. And three new local anti-nuclear groups emerged from the Caravan — a Catfish Alliance group in Broward County, a Conchshell Alliance group in Palm Beach and a Coquina Shell Alliance group in Daytona Beach formed from the local Caravan support team. All these groups have worked hard on the local level and supported the Network's statewide actions. 
Now the Network has branched out beyond the issue of nuclear power. Another new group — Live Without Trident — has organized to oppose the Trident nuclear submarine base planned for northeast Florida. 
The Caravan produced immediate tangible results as well. Shortly after the event, the director of the Port of Miami banned the shipments of nuclear waste which were being unloaded in the city. The concerns and factual information we had presented contributed to this welcome decision. 
The Caravan also deeply influenced the lives of the participants. Our encounters with the Westinghouse engineers, no matter how polite on the surface, made us realize how far the nuclear industry would go to protect its image and its profits. After 25 years of deception through half-truths, outright lies and suppression of damaging information, they had the audacity to claim they were following us to clear up our misinformation and half-truths. 
Those encounters taught us how to answer the types of arguments nuclear advocates use. We, who were not scientists, educated ourselves and held our own with the nuclear engineers. We became credible, understandable and articulate — and persuaded many people that our position was right. 
The Caravan was the first time I had helped coordinate and organize a major action. The responsibilities were more than I'd ever taken on in the past, but handling them made me more sure of my own abilities to assume leadership. We were all able to overcome our fears of failure and learn new and valuable skills throughout the months of planning and carrying out the Caravan. 
I say this to encourage more people to take the risks and try new roles. Alliances should encourage and support people to try leadership roles, to take on new and often frightening responsibilities for our own futures. This is how people are empowered and this is how our movement can grow.  
Tags
Barry Snitkin is an anti-nuclear activist in Tallahassee, Florida. (1979)