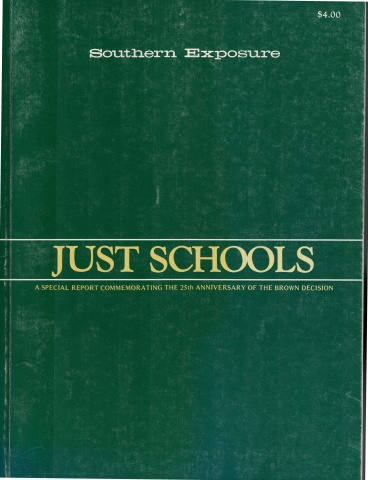 This article originally appeared in Southern Exposure Vol. 7 No. 2, "Just Schools: A Special Report Commemorating the 25th Anniversary of the Brown Decision." Find more from that issue here.
Increasingly, the very existence of black colleges is being challenged. Why do we need black colleges now that we have integration? 
Everyone will certainly acknowledge that opportunities for black citizens have increased, but the question of whether integration or even desegregation has taken place remains. While an increasing number of black college students (more than 50 percent) are going to white institutions, more than 50 percent of the black students who graduate from college graduate from black institutions. This raises a serious question about the extent to which black students are actually being integrated into the life of the institution. There are obvious examples of the so-called "revolving door" in operation. Black students enter the white institutions in September and are dismissed in December. 
In a national survey that I conducted in 1972 to determine how white institutions were adjusting to the black pressure on campus, one large university indicated that more than 200 black students were admitted in September, and all but 10 of them were dismissed at the end of the first semester in December. In other institutions black students are placed in special compensatory programs, kept there for a year, and then dismissed. It is no coincidence that in many black institutions, first-time 134 By James Lyons freshman enrollment is down, while transfer enrollment is up. Each semester, institutions such as ours admit black students who have transferred from white institutions. A surprisingly large percentage of these students did so for nonacademic reasons. Thus, while we applaud the so-called integration that has taken place, many black students who have gone to white colleges and universities and then transferred to black institutions say that they were not made to feel a part of the campus and that their presence was merely a way of cashing in on the available federal dollars. They are returning to the black institutions where they feel they are really wanted. 
Unfortunately, history has dealt many black Americans a severe blow in the area of equal educational opportunity. Many of the students who come to our institution cannot enter white institutions because of the standardized admissions tests. At our institution we believe that every high school graduate who desires to better him/herself should be given the opportunity even though his/her background, by traditional measures, might reveal that the person is not adequately prepared for college work. All of our institutions can cite numerous examples of students who came to college with test scores and high school grades that showed I ittle if any likelihood of success. Yet the students were encouraged to develop to the fullest and went on to some of the world's finest graduate institutions. 
During my research in 1972, I interviewed the vice president for academic affairs of a large black institution in the Deep South. The day that I arrived on campus he had learned that one of his seniors had just been admitted to the Harvard University Medical School. He acknowledged that his institution "took a chance" when it admitted the young lady as a freshman. She had the lowest SAT score ever presented on an application during his tenure. Neither of her parents had gone to high school, and as a result, she had very little in the way of material comfort. The young lady graduated magna cum laude after four years, and after considering several offers, accepted a fellowship to Harvard. 
With the increasing number of students coming out of high school with less than desirable skills, black institutions will continue to serve an important role in higher education. 
Furthermore, a growing number of black students who have gone through integrated elementary and secondary schools are now seeking an opportunity to study in an environment where they are in the majority. Many of these are very able students who feel that they can grow even more in a black environment. 
I once asked the captain of the cheerleaders at a black institution why she chose to attend that institution instead of some others. She indicated that while she had the grades and test scores to go to any institution in the state, she was very frustrated by her high school experience. Whenever there was competition among the girls, the question of meeting the white standard of beauty was apparent. She wanted to matriculate at a college where race would not be an issue. 
One important function of black colleges and universities that is often overlooked is that they provide role models for young black students. Many of our students come from areas where they have seen few if any black professionals. Other than the family physician, all of their professional role models have been white. As white schools, by and large, have very few black administrators and faculty, the contact at black institutions becomes extremely important. Here black students have the opportunity to meet and get to know black scholars and academicians, who in many instances have distinguished themselves in a given area of knowledge. 
One of the most important reasons for the continued existence of black institutions is to preserve the black tradition. Most of the other black institutions, including the church, have been integrated or merged with white institutions. Black unions, medical and dental associations, and churches trained blacks to perform the necessary tasks that were vital to us as a people. Now the black college stands as the only institution still performing this function. Somewhere blacks must be able to look back and explore the richness of their culture and heritage. I have often thought about the old Negro Baseball League, and the many outstanding players it produced. Unless there is a deliberate vehicle for preserving and uplifting the outstanding achievements of these athletes, my sons will probably never hear anything about them. Unless there is some vehicle for preserving the contributions that have been made by black Americans like Booker T. Washington, Charles Drew, Mary McLeod Bethune, Duke Ellington, Jackie Robinson, W.C. Handy, Jack Johnson, Paul Robeson, Paul Laurence Dunbar, and Hiram Rhodes Revels, the roots of millions of Americans may be lost. The black college must meet this important need as we look toward the future. 
Black people have seen, time and again, that integration has meant assimilation. When public schools in the South were integrated, it was the black school that disappeared; it was the black teacher who lost her job; it was the black principal who was demoted to assistant principal; it was the black child who had to leave his/ her neighborhood, seldom the reverse. 
The black college campus can be the place where the white student can learn about the black experience by living in a black environment. Similarly, the black college can and should be the place where both black and white scholars can come together to share, study and conduct research related to the black experience. Centers for the Study of the Black Experience on campuses such as ours would serve as an important social, educational and cultural vehicle. 
Is there a need for a place where those of any race or creed who have been denied access to the mainstream of America may find acceptance and dignity? A place where inadequacy or incompleteness of one's former training is not equated with inability to learn? A place where the heritage and culture of the student (of all races and creeds} becomes a part of the curriculum? A place which considers academic growth as just one component of the total development of a person? 
The answer to these questions is a resounding Yes! Herein lies the need and the justification for the Black College. 
Tags
James Lyons is vice president of academic affairs at Delaware State College in Dover, Delaware, and formerly held the same position at Barber-Scotia College in Concord, North Carolina. (1979)