Fluggle-Boogle Perceptions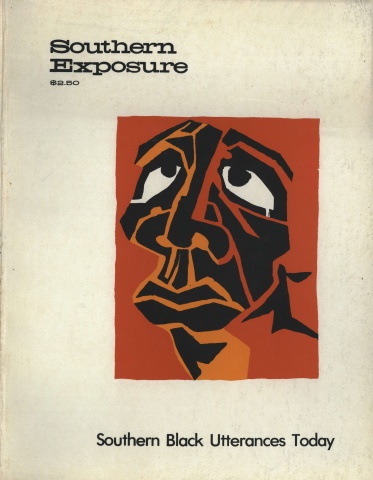 This article originally appeared in Southern Exposure Vol. 3 No. 1, "Southern Black Utterances Today." Find more from that issue here.
dedicated to: Brother Freddie Hubbard
Red double-knit stretched T-l-G-H-T
and temptingly at his groin
Subtle promises of tenderness in
his eyes
Soft, yet gruff, voice makes a dedication . . .
to me; a tribute to Soul City,
As he twiddles with the red cloth
napkin, matching in color only
his heart's depth.
He slowly wipes the sweat away
and gives the audience one of those
grins, not a smile, just one of those
sly, arrogant grins,
The tune: RED CLAY
"Oh, Wow!" I whisper my surprise
and embarrassment,
Excitement sweeps down my spine,
I feel all damp . . . everywhere.
To answer his eyes, I purposefully
and slowly, light my cigarette
with the candle
He knows how I feel.
As I look away from the scented
candle and at my husband's nervous
gestures,
I wait for a stolen glance — Hard accomplishment.
For we are all on stage, "The Saga
of Soul Stirrings," performed for
Soul-less honkies who contentedly
pay the exhorbant prices to "slum"
with the "Hip-Black-Jazz-Lovers."
He keeps the moment unspoiled
by blocking out the un-reality
of the FROG and NIGHTGOWN,
His lower lip is wet and slippery
as he begins:
Soft, melodic lines established,
he wails, and weeps and hollers
Then, he teases a little while
Fantastic Control!!! Calm before
the storm,
As he leads me to the ultimate,
the highest pitch of excitement,
and
At the climax, he, NO — his horn,
NO, THEY are groaning, and
moaning
with
me
Umph, Umph, Umph, Umph !!
Four ounces of spit has oozed from
that hot horn, as I strain to read
the inscription through the mist in
my eyes.
I hear strains of gospel toward the
end . . . Back to the soft, melodic
lines.
From these roots: Red Clay, yea, MUD
The beginning and the End for us, for
Black folk.
Then, Aries is the beginning, and He knows,
and like he's moving us —
ONWARD
And they say Jazz is irrelevant
cultural nationalism
He takes us from clay to church,
to the fields,
and
in the horizon . . .
Earth . . .
Red Clay
It's a long and winding Road—
From Reformism to Revolution
From Struggle to Liberation
From Awareness to Action
From Red Clay to Church
to urban ghetto
to dope
And back to Red Clay
He gives to me this heritage
trip and
Love vibrations, besides:
A moment of Bliss
A moment tinged with Bitterness. . .
(the honky waitress got on my nerves)
A moment full of wonder
A moment of what might have been
But, the moments pass, and we have
Both share it —
Timing is a Bitch; And, 'That'' time is over,
We move on . . .
Blow-on, Brother-Man-Aries,
Blow Pure and Sweet —
I need some happy memories 'cause
the Red Clay Roads are Hard,
much too Hard,
To travel
Alone
April 1973
Tags
The poet Makeda, Jocelyn Myers, is currently in Soul City, North Carolina. (1975)