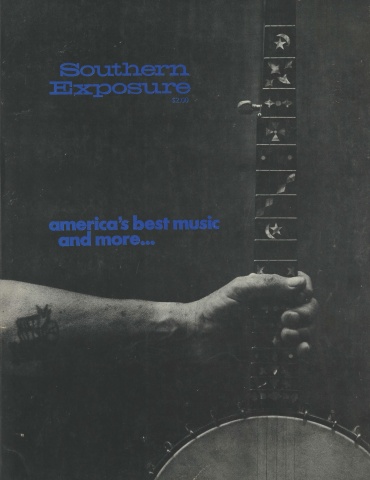 This article originally appeared in Southern Exposure Vol. 2 No. 1, "America's Best Music and More..." Find more from that issue here.
At the age of sixty-six, Flora Molton still takes her life to the people each morning as she walks to 7th and G Streets in downtown Washington to begin a day of street singing and preaching the Word. Despite a long life marked by one rejection after another, made all the more difficult by her partial blindness from birth, Flora Molton has not abandoned her love for music and the Bible. In fact, she has combined her talent and faith in a musical form of remarkable strength and gentleness, a form that bridges the often artificial gulf between blues and gospel. The abuse of her years can be heard in the wail of her guitar, or in the words of her songs, or perhaps most clearly in her adopted symbol of "the rejected stone." Drawing on the Biblical image of the stone "the builders refused" which later became a corner stone, Mrs. Molton expresses her lonesome, yet hopeful, feelings in a recent compositon:
THE REJECTED STONE
Rolling along, singing a song
Ain't gon' do nobody no harm
I'm just rolling along
If you have a vacant place
I'm always ready to fill a vacant space
I'm just rolling along
This old rejected stone
Just rolling along
Please don't throw this old stone away
You may need this stone someday
I'm just rolling along
Just singing my song
This is one thing I've always been told
Never give up till you reach your goal
I'm just rolling along
I'm gonna roll ain't gon' stop
Keep on rolling till I reach the top
I'm just rolling along.
I.
Life for Flora Molton has been a constant uphill fight. The obstacles began at an early age due to the limitations posed by her impaired vision. When she entered school at age seven, she was labeled a failure: "I always believed that I could read large print, but the teacher never —she always thought I couldn't. So, she taught me by memory—tables, readings, letters." At age eight, Flora was taken to Charlottesville, Virginia, to remove the cataracts from her eyes and be fitted for special glasses. The operation improved her vision slightly, but her condition remained grave. Determined to read, Flora continued trying well into her teens until she finally mastered the skill:
I could see the large print, you know the books had large print, then. But, as they say I couldn't, it made me kind of feel that I couldn't and these late days I started reading the large print in the Bible, and that was the first time I really realized I could read.
The Bible was always close at hand in her family's household, and it naturally became her favorite book. Her father pastored several Baptist churches in West Virginia, while her mother, an organist, assumed full responsibility for raising Flora and her brother in Virginia, only occasionally returning to her husband in West Virginia. When she was seven, Flora was baptised despite her mother's objection that she was too young. At seventeen, Flora began preaching and in a few more years she joined the Holiness Church and held mission services in her own home.
But there was no money in this ministry, and when she began seeking work, the stigma of marginal sight again plagued her. Moving to Washington, D.C., in the late 1930's, she was forced "to take to the street'' to support a daughter and son—classified by the government as blind, she was considered "unfit" for employment.
Throughout the Depression and World War II, she drew on her religious convictions for song material and, despite hostile police, managed to survive off the meager offerings placed in her tin cup:
Well, I'm going to tell you, in the early part, long time ago, when I first started, they gave me fits. I would come back home and I would pray and cry and go back the next day and I'd say, "I ain't done no harm." The gentlemen policemen, some of them were very nasty, they talk so nasty. . . .
During the 1950's, Mrs. Molton made several efforts to get a job that would allow her to come "off the street." She did the rounds of the social agencies: You want to talk about that? Trouble. That's all I have had. That's the cause of making me go out in the street." At the Lighthouse for the Blind, Mrs. Molton was placed in a six-week training program that promised a job at its completion. When it ended, there was no job, "and nobody asked me how I was going to eat." At Goodwill, she was given a substitute job that terminated when the worker returned. Nor could she get into the program that trained workers for the vendor stalls manned by the handicapped:
You see, I got so many promises. I just got disgusted. I just took the street for mine, . . . but work, no. If it hadn't been for the street, I would have been dead. ... I tried hard. I sat down and said, "I wish some good Samaritan would come by and would hear me or something."
That day did not occur until sometime in 1963 when Ed Morris, a white guitarist, listened to her and began to understand her form of expression. He arranged for her to give a performance for the first time, in a coffee shop. In recent years, Mrs. Molton has appeared in a number of concerts and on the tour of the Southern Folk Festival. To give her music wider exposure, she saved four hundred dollars to have a record made of two of her songs. She hasn't heard them on the radio yet, but she is not discouraged. Indeed, the reasons she gives for writing one of these songs, "Sun Gonna Shine in Vietnam One Day," reveals the quality of her courage and faith:
Well, I had started singing a song that was pleading for the boys in Vietnam, and then I began to think. I say, "Well, they soon going to be coming home." And you know I'm the kind of person that if I believe anything, I have strong faith and that's been about two or three years ago, and so I wrote this song about the "Sun Gonna Shine in Vietnam One Day." And I cometh to singing and I see this year it's coming to pass. I still sing it and I say, "Well, it's good to have faith."
Special appearances and recordings come and go, but they have not yet allowed Mrs. Molton to abandon her street singing and the mixed reactions of her downtown audience:
These days, they policemen are doing better — now, if there are too many people up there selling, they'll say, "Well, all of you are going to have to move." But when everybody else
leaves, they let me go back. . . . 
I hear so many remarks. I tell people the truth. They won't hear me. If they say, "Are you blind," I say, "partial." Then I hear some of them say, "She ain't blind." I turn around and tell them, "Look lady," they may not even be talking to me, but I say, "If you had asked me I would tell you the truth. I haven't told you I was blind." They never say a word, but I have heard them; some of them will watch me if I go into a store. Look like I am not supposed to do anything I want to do. I wonder why they watch me. I never told them I was blind.
II.
Undaunted, Flora Molton continues to compose and sing, expressing through her music her special loneliness and dignity. During the 1940's, she concentrated on developing guitar techniques which would create a sound representing the sum total of her feelings. She learned the open "D" or Vastepol tuning pioneered in the 1920's by blues guitarists. Her own style requires the use of a piece of steel or a metal ring to fret the strings. A wailing, whining and screaming tone results when she slides the metal on the neck of the guitar. Mrs. Molton fingers with the steel in such a way that a warbled tone is manifested. Dissonance is accomplished by her grouping the sevenths and thirds together. She also fingers three strings at a time; but if the sound of a train is desired, she fingers four strings at a time. The combination of techniques produces a chordal wail with a buzz effect, a quality present in traditional African music.
Flora Molton refers to her music as "a lonesome, mournful sound," but she calls it a "country" sound rather than the blues. The distinction is important because blues have long been considered "secular" music by the devoutly religious. As a singer of religious songs, Mrs. Molton is quick to point out she has not sung blues since she "left the world," or became sanctified. In traditional gospel music, the blues sound is obscured behind the hymnal form; but in Mrs. Molton's music, there is no trace of a hymnal structure. It is in fact the same sound by which blues is most easily identified, yet Flora Molton states that her music expresses its message through herself; her song/sermons come from her experience, and while not accepting the blues, she recognizes that her message requires a lonesome sound.
To Mrs. Molton, the distinction of tunes between blues and gospel is not as important as determining whether the lyrics are secular or sacred. Her own songs have two types of lyrics: those expressing a specific spiritual belief and those telling a story from her personal experience. She frequently uses the blues musical form, but a second style is more akin to a musical/religious drama. In "The Little Country Town Where I Was Born," Mrs. Molton recounts her conversion experience by employing the black minister's chanting style and a rhythmic structure that is chained to a tonal progression. The combined effect is reminiscent of the African storyteller with group response:
I remember it was one Sunday morning—
Ah— my mother, she hooked up the horse and buggy
And she carried me to church.
Started on down—
Lord, down the old dusty road.
They sang this:
None but the righteous
None but the righteous
None but the righteous
Shall see God.
Alright—as we got to the church, ooh—
I was so young.
But something moved—moved on me that morning
And it never moved on me before.
Ah—I began to set down in the church
(this is the truth)
Ah—God knows I began to cry.
Lord I cried, Lord I cried
After while I saw my old uncle come marching down
Ah—want to know what is the matter with Flora?
My Mother said, "she wants to join the church,
She's too young, oh—
She don't know what she's doing."
I heard my uncle say, "Oh—let her go —
You don't know when she goin' die.
I want to tell you something—
God deals with little children.
I was only seven years old—
I cried—my uncle took me by the hand.
Lord he led me to the preacher.
I remember one thing he said—
He said, "daughter—daughter—do you believe?"
I said, "yes—"
I began to shake hands.
And they begin to sing a soul song:
Halleluh, yes, tis done
I believe on the son
I am saved by his blood
Of the true sanctified one.
That's what happened in little country town—
Lord, where I was born.
Oh Lord—I never will forget that day.
I went down to the water,
They didn't have to tell me anything
I closed—closed—my eyes
I held my breath and I fold my little arms.
I went on down in the water
Look like I can hear that song:
Take me to the water
Take me to the water
Take me to the water
To be baptized.
That's what happened in the little country town—
Lord, where I was born.
This form upholds my contention that music is a step above conversational speech in the black communication system. This idea was first brought to my attention by Dr. Fela Sowanda who defined music as "communicative sound in its most powerful form." Flora Molton is a musician who brings into question all efforts to categorize black music by correlating musical forms with social categories. These classifications were built by a Western church which felt all means must be taken to separate and easily identify the "sinner" and the "saved."
Historically, the reclamation process that has allowed black people to "testify" musically, in truth, has involved taking sounds the church labeled worldly, redefining them as Black, and bringing them back to the church. With Flora Molton, we have a musician who says and sings, I am a Christian, a Holiness minister, mother, woman; I need and use all the sounds the black man has created, indiscriminately, to tell the truth.
Tags
Bernice Reagon. singer, lecturer, is currently working towards her Ph.D. in oral history at Howard University. A former member of the Freedom Singers and Harambee Singers, she has been actively engaged in the collection of folk songs and traditions. (1974)