Lafayette's Two School Systems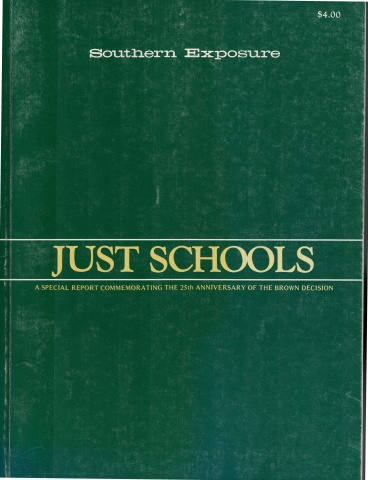 This article originally appeared in Southern Exposure Vol. 7 No. 2, "Just Schools: A Special Report Commemorating the 25th Anniversary of the Brown Decision." Find more from that issue here.
LaFayette, Alabama — There are three traffic lights on main street here. The business district is three blocks long, dominated by the elegant old Chambers County Courthouse on the square. There are three restaurants, one of which serves blacks. There is one bank, a weekly newspaper long on announcements and short on news, no local radio station. The hotel and the theater have been closed for years. And there are more lumberyards in town than doctors and dentists.
LaFayette also has two school systems, one for whites and one for blacks. You might expect that it has always been that way, but it hasn't. The schools here were fully integrated in the early 1970s, but the experiment was short-lived. After two years, all but a handful of whites fled the public schools, going instead to private segregated academies. The town sharply divided over the issue. 
Seven years later, the situation shows some slight prospects for improvement, but the rift is still evident and the public schools are still about 90 percent black.
Like other Southern towns, LaFayette had always operated two sets of public schools, one for white students and one for blacks. It was the old Plessy façade of "separate but equal." But by 1966, federal pressure on the Chambers County Board of Education, which administered the LaFayette schools, had become intense. The board then adopted a "freedom of choice" plan, and 15 black students enrolled at LaFayette High School. By 1969, it was clear that further resistance was futile, and plans were made for full integration of the high school when
the fall term began that year.
There are white people in LaFayette who still don't believe it had to be done. One critic is Jack Hill, a prosperous LaFayette farmer and businessman. The father of five children, he moved home to LaFayette in 1971 from Birmingham and promptly threw his money and support behind Chambers Academy, the private school then being built just south of town.
"I don't feel they had to let the federal government cram things down their throats," Hill said. "It seems that nobody put up any resistance. If our superintendent of education at that time had been more receptive to the people of LaFayette rather than listening to the demands of the federal government, it might have been different. I don't know what they could have done, but it was Iike a deaf ear turned toward us."
In fact, Morse Haynes, the school superintendent at the time, did go to Washington to argue and plead before the Justice Department, HEW, Congress and anyone else who would listen. He begged for permission to continue the freedom of choice plan, but the answer was very simple: comply or go to jail. He came home, called the white principals in the county together and told them to expect a court order setting out the details of desegregation.
"We knew the order was coming," says Max Johnston, then principal of LHS. "We white principals got together and talked it over and then decided it was time to call in the Negro principals. Everything was very congenial. We also had to take some black teachers, and we asked the black principals if they would give us the best teachers they had. They did and that helped."
LaFayette High School had 18 black students in 1968, but there were 208 when classes began in the falI of 1969. Chambers Academy opened the same year, holding its first classes in a former motel owned by the grandfather of one of the 10 senior students. The number of white students at LHS fell from 297 to 271 by the end of the year.
In 1970, the second year of full integration at LHS, there were 167 whites and 400 blacks enrolled. The statistics had begun to make even supportive whites anxious, and the following year white flight became a full-scale retreat. In 1971, there were 79 whites and 439 blacks at LHS, and the ratios have stayed about the same since. "My children were in public school in Birmingham and it was integrated, but not to the point where the white children were so heavily outnumbered," said Jack Hill. "I don't feel that I could honestly put my children over there in that kind of a situation. It looks to me as long as you had a majority of whites working with the blacks, as long as the educational standards were kept up - as long as we would have had a majority and could have kept control - then things would have been different."
Hill is undoubtedly correct. In Lanett, 15 miles east, and Opelika, 30 miles south, and Roanoke, 20 miles north, integration failed to drive the whites from the public schools. But those communities and their schools are predominantly white; LaFayette, for reasons of history and circumstance, happens to be predominantly black.
Nevertheless, some white parents, like Dot Allen, have kept sending their children to the integrated schools. She and her husband, Ed, own and operate two flower shops in LaFayette, and they have four children. One graduated at LHS in the freedom of choice period, two after integration, and one is enrolled there now.
"We were approached about the private school in the very beginning. But our initial reaction was just that we weren't interested. I had no objection to the integration. When you have lived in a community all your life, you know the people and I didn't foresee any problems," said Mrs. Allen.
There were some personal problems, however. People Dot Allen had known all her life began to avoid her. Comments were made about possible boycotts of her business. There were a few anonymous, aggravating letters. "I had never been uncomfortable in church in my life, but all of a sudden the church was split just Iike the school. You were either public or private and that's the way you were. It got so bad and I worried over it so that I believe if I had been younger I might have moved away," she says. "But you know, your roots get so deep in a place that you just can't leave."
So Dot and Ed Allen stayed with the public schools, and before long she had decided to run for the school board. "I grieved and cussed and prayed, and I believe I prayed myself into politics. I looked and none of the people on the school board had any children in school. So I thought
I could contribute something in a first-hand kind of way. I didn't even tell Ed that I was planning to run."
The seat that was up for election at the time was held by Glenn McClendon, the wealthy owner of McClendon Trucking Company, a major LaFayette employer and one of the South's largest motor haulers. McClendon served on the county school board, but he sent his children to private schools.
"I called Glenn up one morning and told him that it was nothing personal, but that I was going to qualify," Mrs. Allen said. "He said he hadn't made up his mind what he was going to do. Then I told Ed. He said, 'Well, what does it cost to qualify? I 'II pay the fee for you.' I said, 'Nope. I'm not going to be obligated to you or anybody else, I'II pay my own fee.' So I qualified and then Glenn decided not to run for re-election, so I had no opposition." Dot Allen is the first woman ever to serve on the Chambers County Board of Education.
"We had no idea of what black people expected of white people in a school situation. But I just told my children, 'You can be courteous to anybody.' And so they were and they got along fine. And now I don't know of any problem in the school except that we don't have enough whites. And you see, that makes the problem even worse because it was the influential white people who pulled out. That left the black community and a very few whites to try to do something about the public schools here. We have done something. I frankly think my child is getting as good an education where he is as he would get at the Academy. And I think it's healthier. They're trying to prolong something over there which doesn't exist anymore."
Academy supporter Jack Hill disagrees with Dot Allen on both of these last points. Asked what percentage of Academy parents he believes have their children in the private schools specifically because of racial beliefs, he says: "There's a few, we have a handful of racists. But our children, they have no hang-ups. They don't have as many hang-ups about the minority race as we parents do."
People outside the Academy aren't so sure of that. One woman member of the First Baptist Church, who requested anonymity, said she was startled by the bitterness and racism frequently expressed by Academy children she sees at church and community function. "It's always 'nigger, nigger, nigger,'" she said.
Hill believes that private school education is far superior. "Our academics, as far as I'm concerned, are much better here than they would be at LaFayette High. We're up on a leve with the city school systems in Opelika and Lanette."
LHS teachers laugh at such statements. English teacher Donna Allen says she has bright students both black and white, but she also has two classes of eighth graders who can't read or write.
Bea Walton, another public school teacher, says she thinks her children "would do okay" in public schools today. "I wouldn't be as afraid for them now." But in 1969, Bea Walton pulled her children out of the LaFayette schools and put them in Lee Academy, a private school 30 miles away in Auburn. She went to work at Lee Academy as a teacher, and she stayed until her children were finished; then she came back to LaFayette and began teaching in the public schools again.
Mrs. Walton believes the community is starting to get behind public education again. "I left them and now I'm coming back to help. I have other friends in private education who will be doing the same thing as soon as their kids finish….There are others who saw this the same way I did. We couldn't change an entire school system, and I was bound and determined that my kids were going to the best school available. It's not that we didn't care for blacks; my children enjoy and accept blacks. And it was a hard decision for us. When your children have thought all their lives that they were going to march in that LaFayette band, play on that LaFayette football team - it was traumatic pulling out."
Bobby Jones, the white president of the PTA of LaFayette High School, believes that the withdrawal of white support from public schools hurt more than the school system. "If you're going to have any industrial growth, you've got to have strong public education. There are some people here now who are returning to that view. This situation could reverse itself as fast as it formed. I think it's totally economic.''
Chambers Academy has its own economic questions to resolve. There are about 325 students enrolled in an average year, and the tuition is about $700 per child, with a reduction for each additional child from the same family. But for an average family with four children, the costs run very high, and people like Dot Allen and Bobby Jones feel that some Academy parents are beginning to question whether private education is worth this sacrifice on their part. Still, Jack Hill estimates that the facilities at the Academy - land, two classroom buildings, a gymnasium, lighted football field, tennis courts - represent an investment worth more than a half million dollars. An investment of that size would be hard to abandon, even if negative feelings about the public schools did begin to recede.
But economic survival is a big issue in the public schools, too. Superintendent Jerry Milner says the Chambers County Board of Education will end up $500,000 in the hole this year and has been borrowing heavily. Public school supporters believe that a new facility for LaFayette High might win back some white support lost in recent years. The present building has holes in the walls, defective heating and inadequate wiring. But Milner says Chambers County support for public education is the lowest in the nation - seven mills of ad valorem tax, the bare minimum to qualify for state support. Three times in the past decade, the voters have rejected measures to increase the tax rate to 12 mills, which would still be far below the national average.
Bobby Jones says the split in the community between public and private school supporters has made it difficult to increase taxes. "You have business people, for example, the leaders of the community, who are reluctant to support public education. But the growth of this community, the economic level, the whole community's welfare is tied to education, and we're going to have to try harder to show people that."
Tags
Randall Williams is a fugitive staff member of the Institute for Southern Studies. He is currently living and working in north Georgia, where he is guiding the start-up of two weekly newspapers, the Chickamauga Journal and the Lafayette Gazette. (1980)
Randall Williams is an Alabama native, a journalist and former editor of the Southern Poverty Law Center's newsletter. He is now on the staff of the Institute for Southern Studies. (1978)