Lesson from the Fund: Band-Aids Don't Cure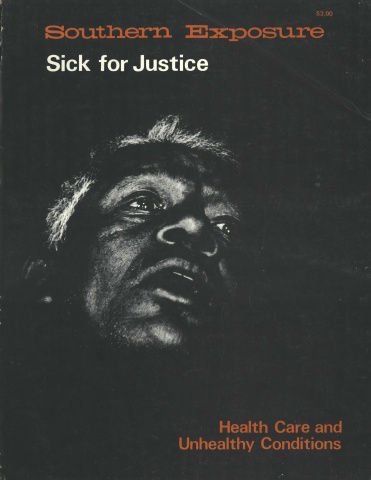 This article originally appeared in Southern Exposure Vol. 6 No. 2, "Sick for Justice: Health Care and Unhealthy Conditions." Find more from that issue here.
Supporters of current national health insurance proposals believe that America's sick health care system can be cured without major surgery. The illness, as they see it, is simply lack of money; many people cannot afford medical help. Make sure everyone has insurance, then the people will be healthy. 
If the experience of the UMWA Welfare and Retirement Fund is any guide, they're wrong. 
When the Fund's health program was started thirty years ago, its medical director, Dr. Warren Draper, made a conscious policy decision not to challenge the health care structure in the coalfields. The Fund's only role would be to pay bills from medical institutions and doctors who would continue to work in their traditional way. Draper, who had been part of the AMA's highest ruling body for more than twenty years, believed that doctors must be allowed to make decisions about health care programs without interference from lay people. 
As a reporter put it, writing during the heyday of the Fund and looking back on its early years, "Dr. Draper and his aides tried to play within the rules dictated by organized medicine.... Frustration was their usual reward." By 1950, the Fund's leaders realized that simply providing money for the existing system was inadequate in two ways: it didn't improve the quality of health care, and it didn't control costs. Many doctors were still putting profits ahead of patients' needs, and service varied greatly from community to community. 
The Fund took a number of steps, the most important of which was supporting the creation of a parallel health care system, including a series of non-profit hospitals and clinics. Reform was never pushed far enough, in part because the Fund lacked national, governmental authority, but the Fund-inspired institutions demonstrated the importance of several principles on which a national health care system should be based: 
• Removing the profit motive. Doctors and hospitals should not be in business, with their income dependent on how many operations or tests they can sell. At the Fund-backed, non-profit hospitals and clinics, doctors were put on salary, so decisions about patient care would be made only on the basis of medical considerations. In general, however, the Fund had to rely on the existing profiteers to provide care to mining families. Retainers were paid instead of fees-for-service, but that reform had only limited impact on the practices of profit-making providers, since retainers were periodically renegotiated based on services provided. 
• Giving the community control. Decisions about the health care system are too important to be left up to doctors alone. Particularly in recent years, a few Fund-supported clinics were run by boards of directors elected from UMWA local unions and the community at large. Asa result, the community had the final say on clinic policies, budgets and equipment purchases. "The community that uses the doctor hires the doctor," explained coal miner Napoleon Martin, a clinic board member at Gary, West Virginia, "so we know we're going to get good service." 
Unfortunately, the Fund never fully used its influence to encourage community control. Miners and their families were not consulted on policy decisions at the Miners' Memorial Hospitals, including the decision to sell the hospital chain. Community participation on boards of directors was not made a condition of support for either public or private hospitals and clinics. Within the Fund itself, miners were never involved on the national or regional level. Benefit cutbacks, and even destruction of the Fund itself, were ordered behind closed doors by a handful of unelected professionals with no personal stake in the outcome. 
• Attacking the occupational and environmental causes of illness. It is only logical that preventing illness in the first place is better than coping with its effects. In many cases, working or living conditions cause sickness, including black lung disease, hearing loss, stress, arthritis and back strain. Fund personnel did research on some of these problems, but because the solutions to them have been historically opposed by the coal companies, the UMW Fund did not agitate for change the way it would have if epidemics of, say, polio or smallpox had swept the coalfields in similar proportion. 
• Providing complete coverage from cradle to grave. Comprehensive coverage is not only a basic human right, but it makes good medical sense because many health problems are interrelated. Although some clinics were reimbursed for office visits and general examinations, the Fund generally did not support such care. The effect was to discourage patients from seeking help for problems that had not yet become serious. 
The Fund largely ignored mental health, a major health problem in its own right and an important factor in physical well-being. Recreation, for instance, was not considered a Fund concern, despite the severe depression experienced by many retired and disabled miners who have few activities to choose from once their working days are past. Eye care and dental care, among the most important health needs, were also excluded from Fund coverage. 
• Coordinating programs nationally and regionally. The US health care system needs planning and coordination to avoid duplication and insure equal access to health resources. The Fund showed in a very limited way how this can work. It built hospitals in the underserved areas of the southern Appalachian mountains. In some cases, it refused requests to finance new equipment because the same services were available nearby. But, again, it often lacked the authority to impose its plans on existing providers of health care. 
• Encouraging patient education and participation. In order to help prevent disease, people must understand how their bodies work; how to regulate their diets and patterns of work, recreation and rest; why particular treatments are prescribed; and so on. The Fund encouraged a few clinic programs for education and counseling, but it was never a significant Fund activity. 
• Restructuring the medical profession. Traditionally, the supply of medical personnel has been kept low. At a number of Fund-backed clinics and hospitals, programs were set up to encourage the training and use of nurse practitioners and other non-doctors qualified to administer many types of health care. Attempts were made to build links with medical schools and to draw more doctors to the coal regions. Group practice was encouraged to make more efficient use of doctors' skills and time. But in most communities, the existing system of private practice received Fund support without significant change. 
The Fund, like the national health insurance plans proposed by some liberals, paid for health care for many people who couldn't afford it, and made some small reforms in health care practices. But the Fund ultimately failed because there was no effective movement to demand fundamental change in the national health care system. 
Those who want to improve American health care today must learn that lesson. 
Tags
Matt Witt, a writer in Washington, DC, is former editor of The United Mine Workers Journal. (1978)