Little Rock, 1976: "Going Back Would Be Unthinkable"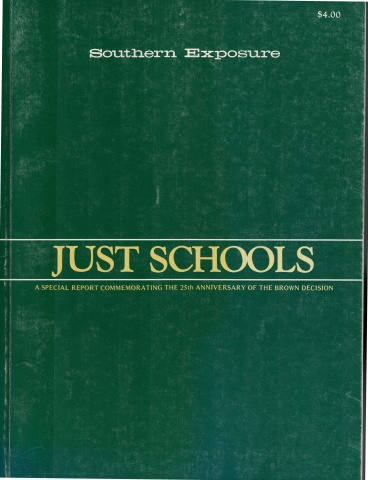 This article originally appeared in Southern Exposure Vol. 7 No. 2, "Just Schools: A Special Report Commemorating the 25th Anniversary of the Brown Decision." Find more from that issue here.
It is surprising to see how much trees can grow in 19 years. In 1957, the magnolias that flanked the main entrance to Little Rock's Central High School barely reached above the ground-floor windows; in 1976, they are more than three stories high. 
More than the trees have changed at Central. 
"It's an interesting time," says Paul Fair, a 22-year veteran in the school system who was superintendent through most of the '70s. "I didn't believe at first that this could be done. Now I believe anything can be done. It's obvious to me now that desegregation of schools is best. In order to build a solid, cohesive community, you have to have it. Quality education for all is essential in our society. And I feel very strongly that desegregation should be pursued in all sections of the country. The Constitution wasn't written to apply only to some sections and not to others." 
Among blacks in Little Rock, ere appears to be a general acceptance of desegregation - or at least an absence of any visible or vocal dissatisfaction. Lottie Shackleford, who as a senior at all-black Mann High School during the crisis at Central in 1957, recalls that "we had less of everything - books, equipment, courses, you name it. Now, the opportunities are equal. It's not perfect, but every time you change something you have gains and losses. I could never regret desegregation. It's right." Mrs. Shackleford recently served as president of the Little Rock PTA Council. 
Fair, Shackleford and others in Little Rock, in and out of the school system, tend to speak of desegregation the past tense, as an accomplished fact, and in a sense they are correct: the ratio of blacks to whites in all but about a half-dozen of the 35 schools is within 10 percentage points, more or less, of the system-wide ratio. Hardly anyone, though - Fair and his colleagues included - asserts that all the problems have been worked out, or that genuine integration has been achieved. Here are some of the reasons why: 
Enrollment. Back in the early 1960s, before any substantial desegregation had taken place, the school system had about 25,000 pupils, less than 30 percent of whom were black. Since then, there has been a steady increase in the number of blacks and a steady decrease in the number of whites. In 1971, the year busing and full desegregation of the secondary schools began, blacks made up 43 percent of the enrollment. In the fall of 1975, total enrollment increased slightly, for the first time in 10 years - but the total (some 22,000) resulted from an additional 600 blacks, offsetting a loss of over 500 more whites. Th is year, for the first time, a majority - 52 percent - of the students are black. 
Discipline. Between 1968 and 1974, while total enrollment was dropping by about 2,000, the number of suspensions increased from 1,300 to 2,000, and the percentage of suspensions meted out to blacks rose from 63 to 85. (In 1974-1975, the total fell off sharply to less than 1,200, and this year the rate has slowed further. It is still true, however, that better than 80 percent of the suspensions are given to blacks.) The administration of discipline is a matter of deep concern to school officials, teachers, parents and students alike. 
Parental participation. Although the school system has had some success in involving parents as volunteers in ongoing school activities, rank-and-file participation of parents in the PT A and other programs of that sort has fallen off. Said one parent: "It's been a total failure. Black, white, rich, poor - they stay away in droves." She cited several reasons, among them the fact that many families live distant from the schools their children attend. Also, she said, "It's an urban thing - there's too much going on - and people work, or they don't think their voices count, or they think everything is settled and there's no need for them to go, or they think they have nothing to contribute, or they simply want to be left alone." 
In-school segregation. By choice or by assignment (the reasons are not altogether clear), some classes end up being virtually all-white or all-black. Outside of classes, there is a considerable amount of self-segregation by both races, particularly in the high schools. There are also divisions by social class. "There are a lot of different social groups here," said one high school student, "and there's not much crossover between them. The splits are racial and economic too - and the only one that's both black and white is the football team." 
One parent said the most serious problem in the schools now is "random and unprovoked violence. It's not so much race as it is class - white against white, black against black. I hear the teachers in despair saying they can't do anything with these kids. What you see in the schools is what you see in the city: some selective integration here and there - personal, individual, casual - but deep divisions along economic lines. Color is a lot less important now than money, than what you can afford. Desegregation was worth it - it has to be - but by itself, it's not sufficient. We've moved beyond where we were, but not necessarily closer together. 1 'm not sure where we've moved." 
To one woman who has played a prominent role in school affairs, current problems in public education have little to do with race and much to do with quality. "We've accomplished desegregation," she says. "That's over, and going back would be unthinkable. The problem now is the overall failure of education. I think schools generally are getting worse and worse, becoming more authoritarian and bureaucratic. Schools don't make a lot of difference for kids. When we were pushing for desegregation, we assumed that some kids were getting a good education. I think that was a false assumption." 
John Walker, as the principal attorney for the black plaintiffs in the Little Rock school case, is perhaps in the best position of anyone to assess the changes which have taken place in the city's schools. Walker, a senior partner in a prominent biracial law firm, has handled a number of desegregation cases in Arkansas and elsewhere for the NAACP Legal Defense Fund, and he is generally regarded as the principal architect of the Little Rock plan. 
"Now that we're no longer preoccupied with the mechanics of desegregation," he says, "It has become possible to concentrate on educational issues. The quality of education, of teaching, is improving. Little Rock schools deliver much better education than they did 10 years ago. I think whites still get the best of it, but there have been gains for blacks too, and the inequities are not as great as they used to be. The dropout rate has been cut in half since the days of segregation. Without desegregation, there never would have been any change, any quality or equality." 
At Central High School, where it all began, the principal is Morris Holmes. He is black, and blunt. His students are rich and poor and middle class, half white and half black. He speaks of "the equal sharing of the burdens of change," and says there is at Central "the spirit of equity, at least, if not yet the fact of it." He is convinced desegregation has been worth the cost: 
"There has been no academic decline. A greater percentage of whites and blacks graduate, and more enter college. Our problems now are more economic than racial. The divisions between blacks and whites may be narrowing, but between rich and poor they are widening. Racially, we are moving in the right direction. The Constitution says it's right, and the quality of democracy demands it. Both races have had to give up some identity. There are frustrations, and 46 temporary setbacks. Nevertheless, 'separate but equal' was a myth, a monster. We can have equity and quality. That's the goal, that's the principle."  
Excerpted from "School Desegregation: A Report Card from the South," a 1976 study written by John Egerton for the Southern Regional Council. 
Tags
John Egerton is a Nashville-based freelance writer. His fifth book, Generations: An American Family, will be published in 1983 by the University Press of Kentucky, after being turned down by more than a dozen commercial publishers.(1983)
John Egerton's latest book is Nashville: The Faces of Two Centuries. (1980)
Tennessee free-lance writer John Egerton is teaching magazine journalism at Virginia Tech in Blacksburg this year. (1978)