Little Rock, 1979: "There Have Been Changes"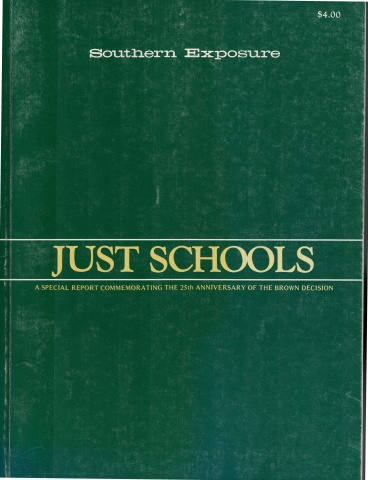 This article originally appeared in Southern Exposure Vol. 7 No. 2, "Just Schools: A Special Report Commemorating the 25th Anniversary of the Brown Decision." Find more from that issue here.
"Back then, we couldn't even begin to envision where we are today," comments Mr. L.C. Bates, publisher of the Arkansas State Press, the outspoken black newspaper which was run out of business in 1959 because of its unrelenting stance on desegregation.  "Now some of the people who bitterly opposed us give us respect. Arch Ford saw me on the street a while back. He said hello, and it was him who brought up the subject of the old days. He told me, 'You and your people and the fight you made helped bring this about.' I can honestly say I don't believe there's a city in this country with better race relations today. People in Little Rock have learned that displays of discrimination can be futile and costly.
"I noticed the other day," he grinned, "that Governor Wallace said desegregation was the best thing that ever happened to the South. These politicians bend with the wind, don't they?"
Mr. Bates is now 77, and his wife Daisy is 62. Daisy Bates was deeply involved in the Little Rock desegregation struggle. She was state president of the NAACP, and served as mentor to the nine black teen-agers during their ordeal at previously all-white Central High. Almost every afternoon after school, they gathered at her house to rehash the day's events, and to work out their own responses to the taunts and blows they were encountering from their white classmates. Like her husband, Mrs. Bates looks back on those days without bitterness. "After a person loses everything," she says, referring to the demise of the State Press, "you have to resign yourself to believing if I can't have what I want I'll want what I have. We're not hungry. We have a good home. And we have our health. And we have people who respect us. They see we were right."
The Bates still live in the salmon-colored brick house where the sound of jeers and broken bottles once echoed outside the door. During the crisis years, the house was bombed, the windows were shot out, and the Bates hired guards at their own expense. 
"We didn't sleep too much," says Mrs. Bates. "The Governor well, he was our adversary and he controlled the law."
"Back then, we didn't really know where the end would be. We just hoped right would prevail. If it came to our lives, we used to tell each other that was just the way it was. Time didn't matter, you see it was the cause."
Mrs. Bates mentions several of the nine students with whom her life was once so closely tied. "Ernest Green is now the Assistant Secretary of Labor," she says, "and Terrance Roberts is a doctor in California. Liz Eckford is doing well at the Employment Security Commission here in Little Rock. They are scattered all over, and making good."
In retrospect, the Bates attribute their life-long strength to faith. "We're religious people," says Mr. Bates, "but not church-going people. We started the paper on that strength … trying to see if we couldn't somehow change the pattern of racism and segregation.
"See, if Daisy sets her mind to doing something, the harder you oppose her, the harder she fights you. We're both that way, I guess. You also gotta understand that if you do a good job with a paper, you're not going to have many friends. You can't help but make enemies along the way."
Opponents to integration have also mellowed. The name of Dr. Dale Alford was synonymous during the crisis with hard-line segregation, though you wouldn't guess it from his comments today. He was an avowedly segregationist member of the school board at the time when the nine black students were attending Central High. With Faubus's support, he was later elected to Congress, where he blamed Arkansas's racial troubles on Communist agitators. 
"The greatest problem at that time," Dr. Alford now admits, "was an objection on my part, and that of thousands of others, to having Little Rock be the first in the nation to desegregate after the Brown decision. As a result, I was misrepresented as a racist. I simply felt it should have been done everywhere at the same time. There was no need for a scapegoat. I also felt it was unconstitutional to override the desires of the electorate, period. However, I know it was never the desire of a majority of people to manifest prejudice or animosity; thus the feeling that we were greatly misrepresented."
Dr. Alford believes many good things resulted from desegregation in Little Rock. "I feel we are making good progress," he says. "I also believe the school system is out in front of other segments of society in matters relative to race relations."
But Dr. Alford still thinks most political leaders acted out of extreme emotions during that period, "Including Chief Justice Earl Warren and Eisenhower. In fact, I've heard it said that Eisenhower made the statement after leaving office that his greatest mistake as President was in sending troops to Little Rock. I don't know if that is true, but I believe it is accurate."*
The superintendent of schools in Little Rock today is Paul Masem, an experienced educator and administrator, who says he's "never seen a more extensive commitment to desegregation anywhere in the country."
"There's a lot of money being poured into human relations in the school system here," he said. "There are constant training programs underway."
Masem came to Little Rock following a nationwide search last summer, the primary school board consideration being an intense devotion to desegregation. He had been assistant superintendent of schools in Montgomery County, Maryland, for several years, and was an administrator in Providence, Rhode Island, schools when that system became the first in the nation to desegregate voluntarily.
Masem asserts that dramatic "white flight" from the city's public schools has not occurred in Little Rock. Statistics of school enrollment appear to support his contention. Records from the Arkansas Department of Education show three percent of the school-aged children in the state were enrolled in private schools in 1957. By 1978, the number had risen to only 3.3 percent. On the other hand, in Pulaski County (Little Rock), over 10 percent of the children are in private schools.
"As a majority black school district, the primary problem today in Little Rock is one of credibility at the enrollment point in school," he said. "There is competition from private schools; but it is at this enrollment point rather than in the higher grades. The process used by these private schools is to enroll children at the preschool level, then add on classes as the children grow into them. In that way, private schools can retain a majority of their school enrollees."
One technique effective in combating the private school approach has been to meet personally with newcoming families and provide them with information packets about the Little Rock school system. "It has been successful," Masem said. In September, 1978, Masem released a formal report that attributed the decline in white enrollment in the Little Rock district to demographic causes (such as a higher birth rate among black families).
"You should understand, too, that the hard-core old-timers were wrong when they said that once the enrollment of blacks rose above 30 percent the quality of a school system was going downhill. Public school students in this city are functioning above the national norm on basic skills tests. It's a total flip-flop from that old philosophy. Thirty percent of school personnel at Central High School are black.
"We also have the highest number of students continuing their education after public school graduation of any other suburban school district in the state. The average SAT scores in Little Rock today are 10 to 15 percent higher than the national average. Yes, there have been changes."
Ernest Green, currently U.S. Assistant Secretary of Labor and the first black graduate of Central High school in 1958, expressed the currently prevailing view in Little Rock in a recent New York Times interview. "A majority of white people don't perceive blacks as invisible anymore. The consciousness has been raised."
*Eisenhower did say, in 1958, that he thought desegregation was proceeding too quickly, a statement the NAACP labeled "incredible." He also wrote, in his 1965 autobiography, that "There was only one justification for the use of troops: to uphold the law. Though Faubus denied it, I, as President of the United States ... had that justification arid the clear obligation to act."
Tags
Mike Masterson is the executive editor of the Hot Springs Sentinel-Record. (1979)