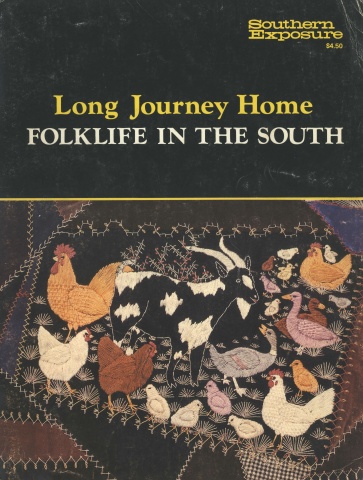 This article originally appeared in Southern Exposure Vol. 5 No. 2, "Long Journey Home: Folklife in the South." Find more from that issue here.
On May 17, 1876, a resident of Randolph County, North Carolina, wrote to her niece to describe a buggy excursion to the pottery of Evan Cole, located about four miles east of Whynot near the Moore County line: 
Dear Niece Anne, 
This leaves us well ecept Paw. Winter has been rough on him and we are all joyed for the warm spring to get crops in.. . . 
I went with Rossinah to the Cole pottery shop past week to get somethings for setting in her house making. They are distant kin to us by Aunt Rach that you never knew but herd us talk of was Marks wife. Sallie was airing beding and showed us one of old Aunt Rach covers that was so fine work but old and worn and not in use for it covered Rafe when he passed. Rossinah got a stone churn and milk pans and pie dishes and saw a teapot but did not buy that. I got you a cake mole with blue decorate since you admired mine so long. Hope you do like it well. 
Coming home the buggy wheel ran into a mudrut and stuck but John came by and moved it out fortunately we was not damaged just muddy. We laughed heartily for John told we had more mud on us than it took to make our ware. We look for you in June. Write when you can. 
Your loving Aunt Rebecca W. 1
Although the known history of the Cole family begins two centuries earlier, Aunt Rebecca's account provides a fitting introduction to their activities. With considerable humor and detail, she presents a rare firsthand portrait of a rural pottery shop and its mean- haps most noticeable is the close personal relationship between the potter and his customers. Not only does Aunt Rebecca appear to have been an intimate friend of Evan's wife, Sallie, but she accurately refers to Evan's father, Raphard, and grandparents, Mark and Rachel. No less significant are the wares Rossinah purchased "for setting in her house making." The stoneware milk pan could be filled with fresh milk, covered and placed in a springhouse, stream bed or other cool place. When the cream had risen, it was scooped out and poured into the stoneware churn. Once transformed into butter, it became part of the fruit pies and other concoctions baked in the lead-glazed earthenware dishes. Other wares that might have tempted Rossinah included pitchers, jugs in varied sizes for vinegar or molasses, and large storage jars for preserving meats and vegetables. 
While Evan's products were utilitarian and essential to an agrarian culture, Aunt Rebecca's comment on the cobalt-decorated earthenware cake mold suggests their aesthetic possibilities as well. Although painted, incised or applied surface ornamentation is rare, this type of pottery possesses a powerful sense of form, and exhibits considerable variation and vitality. Most of the pieces are graceful and sinuous in shape, with wellflanged lips, simple strap or lug handles, and perhaps an incised band or two to accent the break between the shoulder and belly of the piece. With earthy tones ranging from rust and brown to cooler greens and grays, each pot remains close to the clay soil from which it sprang; in fact, its natural qualities are enhanced by the lead and salt glazes put over it. Finally, many unintended effects add to the beauty of texture: the shower of fly ash over the mouth and shoulders; the grassy, green drippings from the roof of the kiln; and the varied colorations resulting from the alternating atmosphere of oxidation and reduction within the kiln. In all respects, this was an intimate, familiar pottery, made not to be placed on a shelf and admired from afar, but to be held and touched and used daily as an integral part of the lives of a rural people. 
As the major figure in the fifth generation of Coles in America, Evan occupies a central position in the history of the Cole potters. The simplified genealogical chart — one restricted to those who played a major role in the pottery business — suggests the range and vitality of this remarkable family. For nine generations spanning 200 years, the Coles have turned pottery in North Carolina. Moreover, the tradition continues today, as three large shops produce thousands of pieces each year: the Cole Pottery, Sanford, Lee County; J.B. Cole's Pottery, in the northeast corner of Montgomery County; and the Seagrove Pottery, Seagrove, Randolph County. Assuredly, their products and technologies differ from those of Evan one hundred years ago, but their links to the past are still firm and their work as craftsmen no less important. 
Early History 
The Coles trace their ancestry back to England, and although no direct links can be established, there is firm evidence that potters of this surname were at work in both England and Wales. In Staffordshire, for example, Mary Cole of Woolstanton married William Adams, an "Earth potter," on September 12, 1771. Subsequently, Mary's younger brother, Caleb, joined forces with his brother-in-law and formed the firm of Caleb Cole & Co., which operated into the early years of the nineteenth century.2 Even earlier, on September 19, 1764, in Swansea, Wales, William Coles obtained a lease to erect the first pottery in that area. Although he was not a potter himself, Coles established a successful business which produced utilitarian earthenwares for domestic use — "such crocks as bread pans, pitchers and baking dishes [which] would find a ready market in the town and its vicinity" — as well as more elaborate creamware and stoneware forms. William's son, John, remained a partner until his death in 1799, and the business continued until 1870.3 
There are a few tantalizing shreds of evidence in The Records of the Virginia Company of London that suggest that on December 4, 1619, a John Cole and a William Cole landed at Jamestown from the ship Margaret out of Bristol, England.4 Bristol was, of course, both a pottery center and an important port in the export trade. Just what craft the two men practiced is not mentioned but the Virginia Company was most certainly bringing in potters at this time. Moreover, the Tidewater clay was suitable for the manufacture of earthenware, and there is solid evidence that such wares were being produced in this vicinity shortly after the middle of the seventeenth century, and possibly much earlier.5 
While some of the Coles remained in Virginia, others appeared to have turned to the new lands available to the Southwest The earliest recorded evidence shows a William Cole owning land in the North Carolina Piedmont by the middle of the eighteenth century, and an apprenticeship bond of 1792 names him as sponsor for Jacob Fox, who came from Bucks County, Pennsylvania to learn the potter's trade. Fox became the first of another large family of North Carolina potters. The bond clearly indicates that William Cole was an established potter by this time. 
Exactly what type of pottery William Cole might have made at this date remains sheer speculation, but it is reasonable to assume that he was producing lead-glazed earthenwares. Common forms would have included pitchers, pans, bowls, dishes, jugs and jars, usually in earthy tones of brown, red, orange or yellow. The glaze was probably produced by grinding lead ore in a simple stone mill, mixing it with water and applying it to the interior of the vessel. Even less is known about the early kilns, though they were likely quite small and shaped like a beehive, perhaps three feet high and five feet in diameter. The wares were fired through one or more fireboxes under the kiln floor, and the flames simply rose straight up through the top of the kiln. Fired to relatively low temperatures, at best 1800° F, earthenware remained rather soft, brittle and porous. At some point during the early nineteenth century, the potters began producing the much stronger, more vitreous stonewares, which were fired to much higher temperatures in large groundhog kilns. However, they continued to produce some earthenware — particularly the ubiquitous "dirt dish" — well into the twentieth century. As Aunt Rebecca and Rossinah well knew, earthenware has one advantage over its stronger relative: it withstands thermal shock and thus is more suitable for cooking. 
Logic would suggest that William's son, Stephen, was also familiar with the craft, but again there is no evidence to prove this. However, two of Stephen's sons are known to have been potters. Mathew moved to Buncombe County by 1798 and made pottery in the Reems Creek area. According to family tradition, he later made ware with the Penland family, whose business continued until about 1944. Mark, earlier referred to in Aunt Rebecca's letter, remained in the area later known as Whynot and died there about 1835. Much more is known about Mark Cole's sons, Michael and Raphard (or Raford), and their activities as potters. 
The Traditional Potters 
Michael and Raphard settled side by side in the Whynot area, making ware together as well as tending their farms. Michael later sold his land and moved to Tennessee, but Raphard remained and raised a large family. As late as 1939, the log house in which he lived was still standing, surrounded by the foundations of his various outbuildings: a barn, springhouse and smokehouse. Some 200 yards east of the house was a rectangular depression in the ground measuring approximately 20 by 8 feet. According to C.C. Cole, a great-grandson, this was Raphard's groundhog kiln, the earliest one known in the area. A few burned rocks, as well as earthenware and stoneware shards, were uncovered, suggesting that Raphard was producing the same types of utilitarian wares that his son Evan was to sell to Aunt Rebecca and Rossinah. 
Of the seven children, three sons followed the father's craft: Raphard, Jr., Evan and Willis. Moreover, two of the daughters married potters in the Craven and Hancock families, and a third married a wagoner. Raphard, Jr., hauled their wares by wagon to the eastern part of the state, and eventually married and settled near Whiteville, Columbus County, about 45 miles west of Wilmington. Willis, the youngest child, also married into the Craven family and made ware with Evan until he died at an early age. The pivotal figure here, however, is Evan. In fact, in two respects, he did more to perpetuate the Cole tradition than any other single figure. First, in 1854 he married Sarah Jane Luck ("Sallie" in Aunt Rebecca's letter), and they proceeded to produce no less than seven active potters: Franklin, Ruffin, Evan, Jr., Marshall, Alfred, Jacon, and Lorenzo (Wrenn). Second, with the assistance of his seven sons, his father-in- law William Luck, his brother-in-law Henry Luck and a neighbor named John Chrisco, he established what was probably the largest pottery shop in the region. Apparently little of the ware was signed; the cream-colored stoneware bottle in Figure 3 is the only known product of the shop. 
While local inhabitants such as Aunt Rebecca and Rossinah purchased wares directly from Cole & Co., the bulk of the production was carefully packed in wheat straw and shipped to distant villages and towns. Even with the Plank Road (which ran from Salem to Fayetteville and passed through Seagrove) and later, the railroad, travel was slow and arduous. John Chrisco was a well-known wagoner, and the following comic anecdote hints at some of the actual problems he must have encountered in moving the Coles' wares: 
It is told that Little John Chrisco would meet another team head-on, and being a burly sort of fellow, would yell out quite loudly, "If you don't move your wagon I'll do you like I did the last one I met. " At such vigorous threats as this the other wagoners reluctantly moved over and John proceeded on his way. After moving out of the mud grooves with much effort, one man cautiously asked, "And what did you do to the other fellow?'' John was far down the road when he answered, "Well, I just moved over and let him pass. "6 
As Cole & Co. gradually extended its markets to the east, the sons took over the production, and Evan concentrated on the sales. The sons packaged and shipped the ware by railroad to depots such as Ivanhoe, a small community near Wilmington. Evan picked it up and peddled it from his wagon; by 1885 he had developed a network of regular customers in this region. In fact, family tradition relates that it was here that he died in 1895. His loaded wagon had become stuck while he was crossing a creek, and in trying to dislodge it, he became chilled. He went to a nearby farm and asked for assistance but died of pneumonia before a doctor could see him. It was nearly a month before the family received the bad news; Evan, Jr., and Will Garner had to "hitchhike" down to the coast by catching rides on wagons to retrieve Evan's wagon, horses and bag of money. 
With Evan's death, the output of Cole & Co. fell sharply. The loss of the eastern markets meant that the sons had to depend on local consumption, and before long they began to look for new opportunities. Franklin set up his own shop and engaged Ruffin as a turner. Evan, Jr., and Marshall joined a turpentine distillery and Alfred went into the lumber business. Finally, Jacon and Wrenn hired out as journeyman potters for other established shops in the area. 
Evan's sons represent the last generation of Coles who can truly be labeled "traditional" potters. Almost exclusively, they made the familiar utilitarian forms in earthenware and stoneware, and they gathered, prepared, turned and fired their raw materials using the time-honored technology of their forebears. A general sketch of their methods is necessary at this point in order to emphasize the changes which occurred in subsequent generations. 
During the late 1890s and early 1900s, Jacon and Wrenn did all of the turning at the Baxter N. Welch shop located at Harper's Crossroads, Chatham County.7 Figure 4 is a truly remarkable photograph of the shop and its various components, taken about 1900. Wrenn can be seen standing in the doorway of the shop, and just to the right are Baxter Welch, his children, Lola and Earnest, and his father Wesley Welch. At the left of the shop is a wagon full of freshly dug clay with a shovel sticking out of the top of the load. 
There were at least three clay pits in the immediate vicinity; Baxter owned one of them and leased another for 99 years for the very reasonable sum of one dollar. Digging the clay was a laborious process. Having located his claybed by sinking a series of test holes, the potter then had to clear off the brush and trees and take off all of the topsoil to expose the vein. Next, he would loosen the lumps of thick clay with his mattock, and shovel them into baskets or, better, the wagon, if it could be maneuvered close to the digging area. Figure 5 shows the Welch crew digging about four feet below the surface in one of the local claypits. No less than six men and one "supervisor" are at work filling the two-wheeled cart. The lunch baskets and jugs above the diggers attest to the fact that this was frequently an all-day task. 
The raw clay was transported back to the pottery where it was shoveled into an open bin, usually adjacent to the shop. Here it was beaten and chopped into small lumps and allowed to weather. Next, it was finely ground in a pug mill, a vertical barrel some three feet in diameter which contained a revolving shaft into which were driven wooden pegs or metal knives. The pug mill is about the only major piece of equipment not visible in the photograph of the Welch shop, but it was likely located to the left or rear of the clay wagon. In appearance very much like a syrup mill, it was powered by a horse which was harnessed to the end of a long wooden sweep and urged to walk endless circles in order to grind the clay. Large "bolts" of clay weighing 30 to 50 pounds were then extracted from the mill and stored in a cool, moist location inside the shop. With further aging, the clay was ready for the potter's wheel. 
The Welch shop appears to have been a log cabin with a framed, board and batten extension to the front. The spacious loft is full of greenware, leather-hard pieces ready for firing in the kiln. Jacon and Wrenn's wheels — or "lathes" as they were frequently called — were located inside the windows. Moreover, there was a low narrow brick drying oven about 20 feet long, over which shelves were probably constructed to hold the greenware. Typical wares are displayed in front of the shop: tall, narrow churns, jugs of varied sizes, and crocks or storage jars. None of the pieces appears to have been stamped or signed with the maker's name, and the only decorations used were a series of incised bands around the shoulder and a large number indicating the capacity in gallons. 
All of the wares produced at the Welch shop were salt-glazed in the groundhog kiln at the extreme right; a close-up is provided in Figure 6. The kiln measured about 20 by 8 feet and was three to four feet high inside — all very typical dimensions. This left the potter a setting area inside, which was about 12 by 6 feet high at the center of the arch. The potter entered the kiln at the near end by crawling across a board over the deep firebox. Once he had filled the kiln with greenware, he constructed a temporary firewall of brick at the front of the setting area and then backed out of the kiln. 
Wood for the firing is visible in the foreground of Figure 4 and usually consisted of four foot slabs (for which Baxter Welch paid 50 cent per cord). The potter would bring the heat up very slowly at first, in order to avoid cracking the wares. Near the end of the firing, which usually lasted about 15 hours, the temperature would reach about 2300° F, and a huge sheet of flame would run the length of the kiln and out the chimney. At full heat, the potters would pull the bricks out of the "peep holes" along the top of the arch and toss in handfuls of salt. As A. R. Cole recalled: 
"There'd be about three rows of these on each side of the kiln. This is where you'd throw in the salt when you started to blast at the very end of the firing. We'd measure out the salt in milk crocks You'd salt it and then blast again — about three times'd get a good coating."8 
In figure 6 the bricks protruding from the peep holes are clearly visible, and there are two milk crocks full of salt just to the right of the kiln. The thick, rolling black smoke suggests that the potter may well have been "blasting" at this point. This was usually accomplished by throwing "lightard" — pine knots full of tar — into the firebox to rapidly elevate the temperature. The tremendous heat would cause the salt to vaporize instantly, and a glassy coating of sodium silicate would glaze the surface of the ware. 
Children frequently assisted their parents in all phases of production and at times were naturally hasty or irresponsible. A typical example is A. R. Cole's shortcut method of salting his father Ruffin's wares: 
I've thought about it many a time, and it almost scared me now how us younguns would pick up a gallon of salt and go down one side of the arch putting it in and then rather than walk around the back of the chimney to get to the other side, we'd run across the top of the kiln to salt the other side. Twenty-three hundred degree or so hot — and they'd get a little shaggy those old kilns, just ready to fall in. Ought to have had more sense but we's just younguns then. We'd not do it if my Daddy was round or he'd skin us.9 
Baxter Welch closed his shop in the early 1900s and spent the remainder of his life as a salesman of agricultural machinery. His specific motives for closing his business are not known, but as an able businessman he must have sensed the decline in demand for the type of product he sold. Cheap containers made of glass, metal and whiteware were rapidly displacing his stoneware vessels. The ready availability of commercial dairy products and sugar eliminated the need for churns, milk crocks and syrup jars. Improved methods of refrigeration and transportation made large crocks for pickling and preserving much less important. And finally, a series of Prohibition laws starting in 1903 drastically reduced the demand for jugs. Altogether, the traditional pottery industry was in serious decline at the beginning of the twentieth century; but in the next several decades, a rapid if unforeseeable chain of events was to renew and reshape it. And the Coles of the next generation, notably the children of Ruffin and Jacon, were foremost among those who adapted to the evolving tastes and technologies. 
Transition and Renewal 
One of the first to benefit from the changing conditions was Franklin Cole, who built his first shop in 1896 some four and a half miles north of Seagrove. One night, according to family tradition, he dreamed of a large mass of white clay, and the next day he went off in search of his vision. Incredibly, he discovered a large body of white-burning stoneware clay on a farm just north of Seagrove, and he soon traded his land for that containing the valuable deposit. The white color of his new wares proved very popular, and there were two other advantages to the move as well. First, he was now located near the newly constructed railroad depot and so began shipping stoneware to merchants in the eastern part of the state. Unlike his father Evan, Franklin insisted that the buyers pick up their orders themselves at the depots, thus eliminating the roving salesman. Second, he was situated on one of the major north-south roads, and travelers headed for resorts in Pinehurst or Florida would stop at his shop. However, he made little concession to the new forms and glazes requested by the travelers and in 1922 sold his shop to the Auman family. 
Franklin's brother, Jacon, proved more innovative. For some 25 years he had worked as a journeyman potter and thus had the opportunity to observe the success or failure of many different shops. Much of the time, he had turned for Franklin, where he must have realized the need for new wares and marketing systems. About 1922 he established his own shop in the very northeastern corner of Montgomery County, three miles south of Seagrove and less than a mile east of US 220. At first he began producing the familiar utilitarian stoneware in a groundhog kiln and selling it by wagon to surrrounding towns. Before long he began adding more decorative wares colored with cobalt blue, such as the bowl in Figure 8. Although common in the North in the nineteenth century, cobalt was rarely used by the Southern traditional potters, both because it was expensive and the competition did not warrant such decorative efforts. A more important development occurred in the late 1920s and early 1930s when Jacon gradually dropped the old salt glaze and began using brightly colored commercial lead glazes. Initially he fired them in his groundhog kiln, but soon that was abandoned for a larger, upright kiln in which his wares could be stacked in saggers (an open-walled clay container used to protect wares during firing). This new kiln was fired with wood, the fuel he had used all his life, but after his death his children converted it to oil. 
With the shift to new forms and bright glazes, Jacon's markets now extended to such areas as Pinehurst and Blowing Rock, North Carolina, and Miami, Florida. To promote such distant sales he began to issue catalogs; a typical page from one published about 1932 appears in Figure 9. There were a total of 524 different forms available, ranging from the smaller items such as pitchers, creamers, mugs and candlesticks to huge classical urns up to 3 feet high. "Any article shown herein," the catalog states, "may be supplied in any of the following colors: yellow, white, rose, dark blue, Alice blue, periwinkle blue, turquoise, blue-green, enamel green, peacock blue, blue and white, orange, rust and antique." The catalog also included a roadmap of central North Carolina designed to steer any interstate traveler to the shop. J aeon's operation thus differs markedly from his father Evan's pottery or that of Baxter Welch, where the forms were severely limited, the glaze was salt, and the market was essentially local. 
For all of the innovations, J.B. Cole's Pottery was and still is a family industry. In his catalog, Jacon declared, "I have made pottery all of my life, and so did my father before me. Then I taught my son and daughter, whom you see at their wheels. Later as business increased, extra workers were required. So I taught my two sons-in-law, making four moulders in all now." 
Figure 10 shows his children Nell and Wayman turning at the shop; note the familiar milk crock being used for water as well as the treadle wheel. Another son, Herman, operated the Smithfield Pottery in Smithfield, Johnston County, from 1927-1942. He even constructed an enormous bottle kiln for firing his lead-glazed wares, but the cost of the building and running it, as well as World War II, put him out of business. Today J.B. Cole's Pottery continues to operate on the original site, guided by Nell, Wayman and one of Jacon's granddaughters, Virginia King Shelton. As such, it is now the oldest continuously operating shop in the Seagrove area. 
As for Evan's other sons, Alfred ran a shop near Carthage, Moore County, while Wrenn remained a journeyman potter all of his life. After the Welch shop closed, Wrenn worked at the Auman Pottery and then leased Joe Steed's Carolina Pottery at Candor, Montgomery County. In his later years he turned at the C.C. Cole Pottery which was owned by his nephew. Ruffin also worked for many others — among them the Wrenn Brothers, J.D. Craven and John Chrisco — but in 1898 he established his own shop near his father's location and produced, traditional stonewares. Here he trained his four sons — Charlie, Arthur, Clarence and Everette — all of whom later ran their own shops and contributed greatly to the evolution of the industry. 
Clarence took over his father's shop about 1925 and added new forms and lead glazes to the old line of stonewares. In particular, he was a skillful mechanic and devised a number of labor-saving devices. For example, he used a Model T Ford to power his clay mill which, unlike the old horse-driven pug mill, was now aligned horizontally. In many unexpected ways, the rise of the automobile proved a boon to the pottery industry, and many shops operating today use engines, transmissions and differentials from the 1920s and 1930s to power their equipment. 
Everette worked with Clarence and then about 1927 erected a shop at New Hill, Wake County, with his brother Charlie. Here they continued to experiment with the new lead glazes. Everette closed his shop in 1933 and returned to his father's home where he worked with his brothers. Later he produced cement and plastic garden ornaments at Candor. 
Arthur, or A. R. Cole as he is best known, opened his first shop in southeastern Randolph County near his father Ruffin's property about 1915. Here he both farmed and made ware, and during the late 1920s began to try the lead glazes, just as his brothers were doing. Apparently, he realized that he could not develop a sufficient market in this somewhat remote location, and so in January of 1934 he moved his family to the side of US 1, just north of Sanford in Lee County. 
The move was very carefully planned; many years later he recalled: "When I came down from Seagrove 37 years ago, I drove up and down this road from Wake Forest to Southern Pines looking for a good spot.... I knew they'd be building up Ft. Bragg and all and that a lot of traffic would have to come by here."10 The decision to leave the Seagrove area must have been a difficult one, but it proved highly successful in terms of sales and reputation. In fact, in 1970 the Sanford Telephone Book featured A.R. on its cover, deeply engrossed in turning yet another piece of ware. 
His shop was originally known as the Rainbow Pottery, but about 1940 he bought out his partner and began to stamp his own name on the ware. He was assisted in his work by his seven children, as well as journeymen such as Jack Kizer, Elvin Owens and Charlie Teague. Originally, he used a woodfired groundhog kiln but converted to oil in the mid-1940s. In 1972 he was forced by the State Highway Commission to move his shop about a mile down the road to make way for a new highway and interchange. He managed to rebuild the entire plant — even the large, upright kiln — almost exactly as it was, but the effort was enormous and probably contributed to his death just two years later, A.R. was perhaps best known for his spatterwares and a red-orange glaze, the secret for which was lost with his death. In October, 1975, Celia Cole Perkinson and Neolia Cole Bass and her husband reopened the shop as the Cole Pottery and except for that red-orange glaze, are continuing their father's tradition. 
Ruffin's oldest son, Charlie orC.C. Cole, took over Clarence's shop at the old homeplace in 1937. In 1940, he relocated in the Westmoore Community in Western Moore County, where he made ware with his children, Thurston and Dorothy, and his brother Everette. Thurston was a particularly rapid and skillful turner and could produce up to 1200 small pieces of pottery per day. As a result, the C.C. Cole Pottery probably produced more pieces than any other shop in the area between 1940 and 1965. Some items, such as the candleholder illustrated in Figure, 11, were sold on a contract basis through the Carolina Soap and Candle Company in Pinehurst. From his experiments with the lead glazes, C.C. developed a multicolored glaze somewhat similar to the English Wheildon ware as well as a Roman Black. He was also the first in the area to build an oil kiln and crush his clay with a hammer mill. 
C.C. Cole died in 1967 and his pottery closed four years later, but his daughter, Dorothy, now operates a shop with her husband, Walter Auman. Located on US 220 just to the north of Seagrove, the Seagrove Pottery hosts the Potter's Museum, a unique collection of two centuries of North Carolina pottery housed in the old Seagroves railroad depot. Built into the hillside next to the Museum is a full-sized groundhog kiln, the type favored by so many earlier generations. Inspired at least in part by C.C. Cole, who was always deeply interested in the potters' history, Dorothy and Walter have spent almost as much time collecting artifacts and historical documents for the Museum as they have making pottery. At the formal dedication on October 5, 1969, the audience of 600 included more than 50 active potters, indicating that the heritage the Museum preserves is yet very much alive. 
A Family Heritage 
As brief as it is, this history of the Coles reveals a consistent pattern of modernization. The key transition period from the traditional to the contemporary was clearly the 1920s and 1930s, when the seventh generation introduced several changes. New forms were added to the older domestic pieces: garden wares, tourist items and "art" pieces (much of the current production, regardless of its intended function, ends up on the mantels or display shelves of the purchasers). And within each category, the potters created an enormous variety of shapes, colors and textures which would appeal to an increasingly heterogeneous clientele. Second, modern, mechanical, labor-saving machinery came into use: hammer mills, oil kilns, electric glaze mills and many homemade power sources ingeniously adapted from the automobile. Moreover, a wide range of glaze ingredients was now available from commercial suppliers at competitive prices. Finally, the entire marketing system was drastically altered. Shops were moved from country roads to major highways, catalogs with elaborate illustrations were issued, and wares were often retailed at craft outlets hundreds of miles distant. 
Despite these necessary innovations, the Cole potters retained many ties with the methods and attitudes of their forebears. Each shop digs its own clay and hauls it back to be prepared. Many years ago, A. R. Cole wisely purchased a five-acre tract in Johnston County which contains a rich deposit of clay. Today, when the stock runs low at the Cole Pottery, a fresh supply is dug out with a back hoe and trucked back to Sanford, where it is ground in a small commercial mill powered by A.R.'s 1928 Dodge. And for all the modern materials and devices, the wares are still totally handmade: each form and glaze is unique, the creation of an artist-craftsman. 
No less apparent is the importance of family and place. All three of the contemporary potteries are owned, directed and largely staffed by Coles, and the few additional workers are recruited from the immediate area. Two still operate in the vicinity of Seagrove, where William Cole initiated the tradition, and J.B. Cole's Pottery has functioned at its present location for well over half a century. Because the practice of wholesaling — which was prevalent from roughly 1930 to 1970 — has been abandoned, almost all of the customers come to the shops and see the pottery being made. This results in a close relationship with the customers, most of whom return to buy more wares and also comment on their utility. A wife, for example, reports that her husband cannot work his index finger through the strap handles on the mugs; immediately the potter enlarges the opening. The potters, in short like to know the people who use their pots, and benefit from both the criticism and admiration of their craft. customer, in turn, knows the craftsman personally and understands the process which produced his dish or vase. In all, the relationship is little different from that between Evan Cole and Aunt Rebecca and Rossina over a century ago. In fact, because of the crude transportation facilities (so well illustrated by Aunt Rebecca's accident), the bulk of Evan's wares had to be wagoned out to distant towns, suggesting that a much more extensive craftsman-customer relationship may prevail in the contemporary potteries. 
In a brief analysis of two other Southern pottery "dynasties," the Brown family of Arden, North Carolina, and the Meaders family of Cleveland, Georgia, Robert Sayers suggests that in the rural South, potters were potters because they had no viable alternatives. Specifically, "anyone to whom pottery had 'got' at the age of five or six was probably pretty well stuck until more glamorous occupations coupled with a decline in the craft's utility came along." He sees the craft itself as essentially moribund: It was "held captive to a limited and poorly-championed technology, a slow inflow of new ideas, a local market which demanded a specific utilitarian ware for home use, and a unique social and cultural tradition that placed severe limits on male members of the family."11 
While it would be foolish to take the opposite romantic extreme and simplistically assert that the Coles have always had pottery-making "in their blood," Sayers' findings in no way explain the persistence of the craft in the Cole family for over 200 years. Clearly, many positive forces have been operating: a sense of fulfillment in the creation of a particular piece; an awareness of one's special abilities and their meaning to others; a feeling of pride in one's heritage. And then there are the large numbers of Coles who continue the craft now that other options are readily available. While not an uncommon point of view on the part of anthropologists or sociologists, Sayers' interpretation is overly pessimistic and one-sided. Such economic and social determinism does little justice to the Southern pottery tradition and its major families. Ultimately, it tends to misconstrue — or at the very least, obscure — the true history of the Cole potters: their cleavage to traditional practices yet willingness to innovate, and above all, their tenacious adherence to the potter's craft as a chosen way of life. 12  
Footnotes   
1. The identity of the writer is not known, though she claims kin to the Coles. The letter was discovered among other papers at an auction in Randolph County and is currently at the Potter's Museum, Seagrove, N.C. 
2. Letter of January 18, 1972, from Arnold R. Mountford, Director, City Museum and Art Gallery, Hanley, Stoke-on- Trent, England. 
3. W.J. Grant-Davidson, "Early Swansea Pottery, 1764-1810," English Ceramic Circle Transactions, 1968, Part I, pp. 59-65. 
4. Ed. Susan Myra Kingsbury (Washington: United States Government Printing Office, 1933), III, p. 230. 
5. See Ivor Noel Hume, Here Lies Virginia: An Archaeologist's View of Colonial Life and History (New York: Alfred A. Knopf, 1963), pp. 208-220. 
6. Dorothy and Walter Auman, Seagrove Area (Asheboro: Village Printing Company, 1976), p. 104. 
7. The photographs and information on the Welch shop were kindly provided by Mr. and Mrs. Gales Welch of Harper's Crossroads, Chatham County, in interviews conducted on March 9, 1977, and April 28, 1977. 
8. Interview with A. R. Cole, July 15, 1973. 9. ibid. 
10. Rick Nichols, "Being Sorry Doesn't Help Sanford Potter A. R. Cole," The News and Observer, January 21, 1972, p. 6. 
11. "Potters in a Changing South," in J. Kenneth Morland, ed., The Not So Solid South: Anthropological Studies in a Regional Subculture (Athens: University of Georgia Press, 1971), p. 104. 
12. The authors wish to thank the University Research Council, the University of North Carolina, for research funds used to produce this study, and the many members of the Cole family who contributed the photographs, information and reminiscences so important to the reconstruction of this history. 
Tags
Dorothy Cole Auman, potter in the Cole tradition, has spent many years researching the history of folk pottery in North Carolina. She and her husband, Walter Auman, operate Seagrove Pottery and the Seagrove Potter's Museum. Charles Zug teaches English and folklore at the University ofNorth Carolina at Chapel Hill. Ms. Auman and Dr. Zug are working on a book about the North Carolina pottery tradition. (1977)
Dorothy Cole Auman, potter in the Cole tradition, has spent many years researching the history of folk pottery in North Carolina. She and her husband, Walter Auman, operate Seagrove Pottery and the Seagrove Potter's Museum. Charles Zug teaches English and folklore at the University of North Carolina at Chapel Hill. Ms. Auman and Dr. Zug are working on a book about the North Carolina pottery tradition. (1977)